Staycation at Home: My Patio Reading Nook!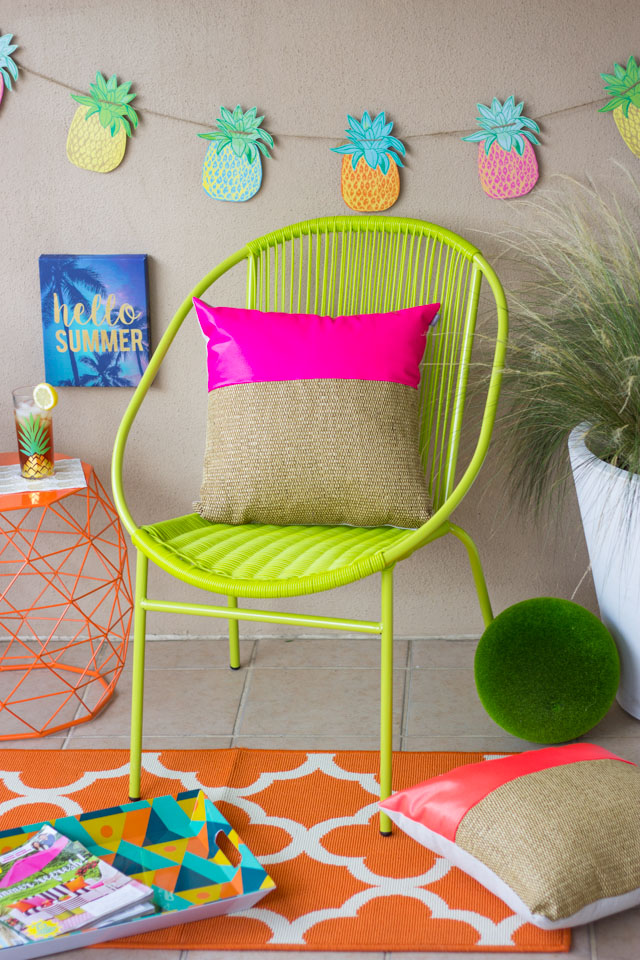 How to Create a Reading Nook
Now that summer is officially here it's time for a staycation at home! When At Home asked me to create my idea of a perfect staycation space, I knew exactly what I wanted – a colorful, cozy, patio reading nook to flip through my favorite magazines. It's my absolute favorite me-time activity whenever I can sneak a few quiet moments away from the kids. We have a small patio off the girls' playroom that I thought would be perfect for carving out a corner for my reading nook. While they play, I relax! That's the goal anyway. 😉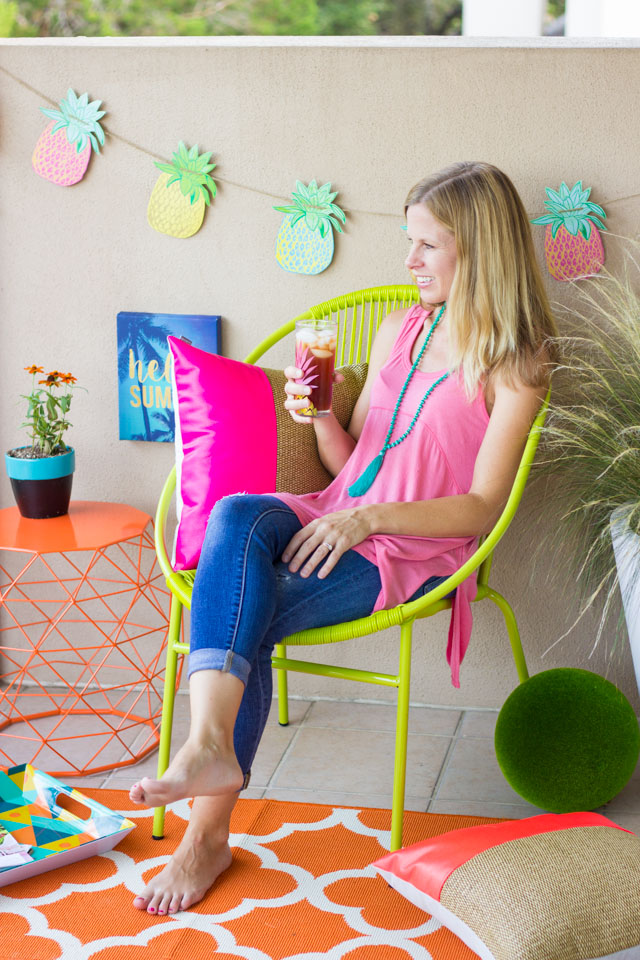 Ice tea in cute glass, check. Stack of magazines, check. Hot pink and pineapple decor, check. How could I not be excited about this space?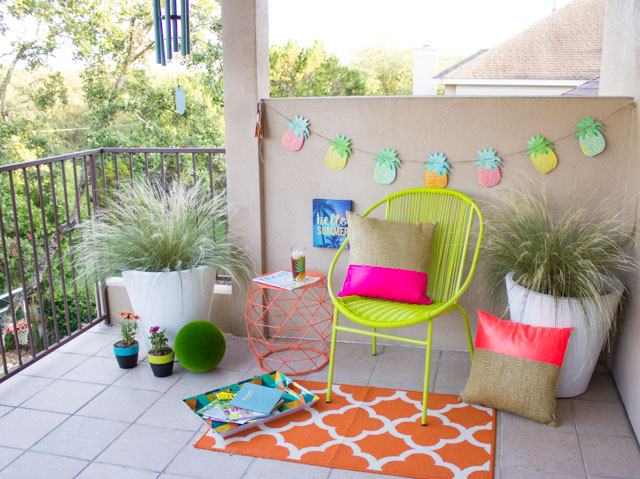 Here's the before shot. Just a small corner of a patio or porch is all you need: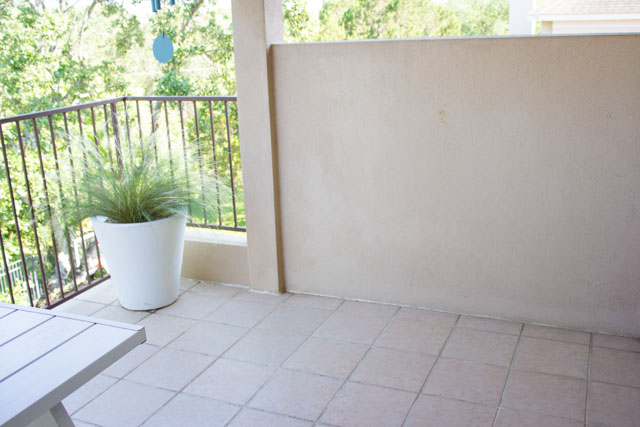 Staycation at Home: How to Create a Reading Nook
1. Start with a cozy chair
Comfort is key when it comes to wanting to read and linger for a long time, and this curved green outdoor chair is comfortable while also being super fun! At Home had a whole section of brightly colored outdoor furniture, making it hard to choose.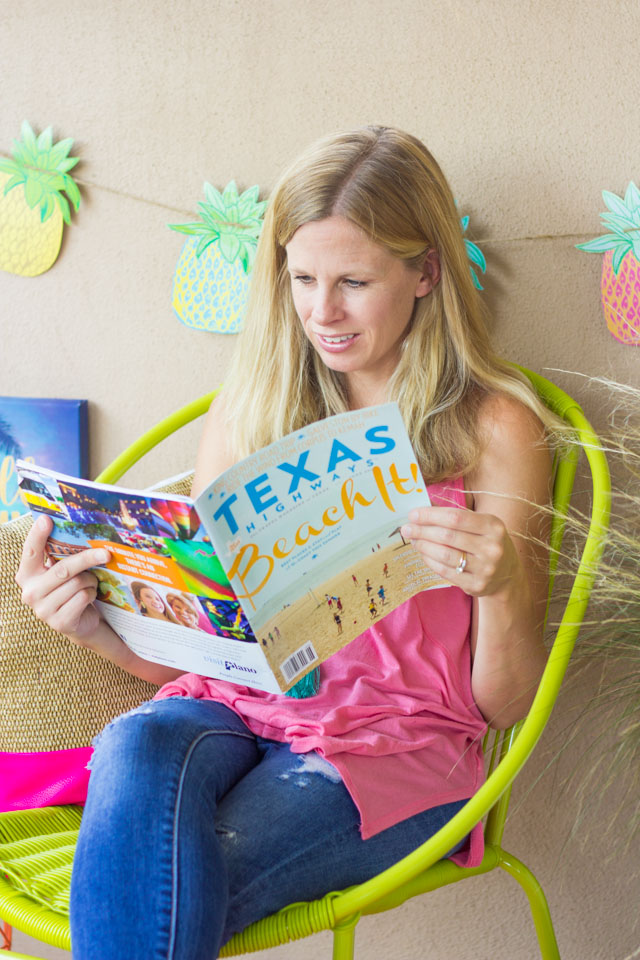 2. Add a side table
A surface to place a drink and your reading materials is a must. It doesn't have to be big. This small side table was just the right size and I loved the geometric details and bright orange color to pair with my bright green chair.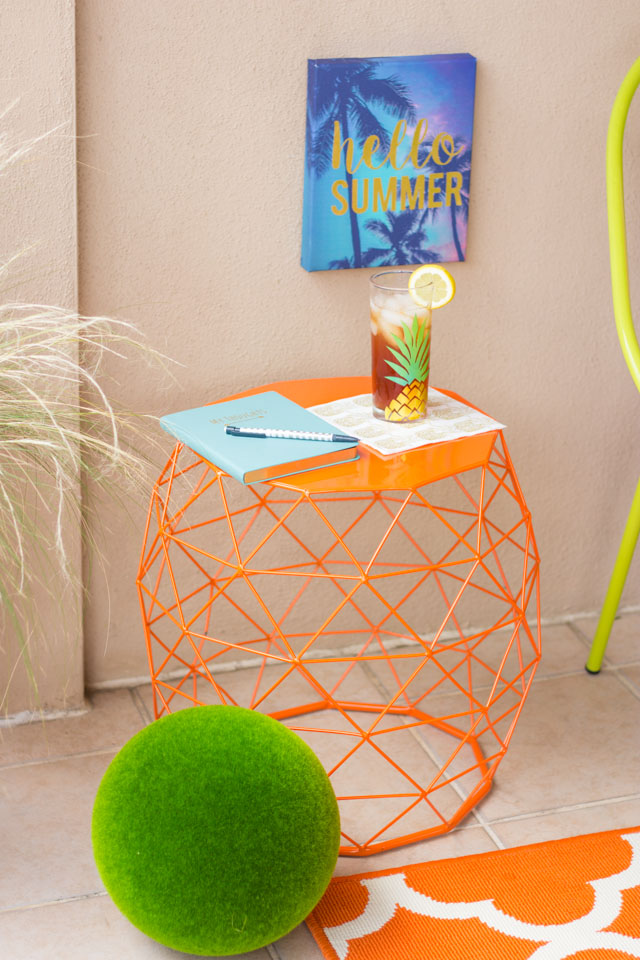 3. Don't forget your feet!
Since I'm typically barefoot out here on the patio, I wanted a comfy place to rest my feet. This small outdoor rug was just the right size and adds another pop of color to the space. An ottoman to rest your feet would be a nice alternative as well.
4. Corral your reading materials
Since I'm typically bringing magazines and drinks up to the patio from downstairs this colorful melamine tray will come in handy, and make it easy to carry things back inside when I'm done.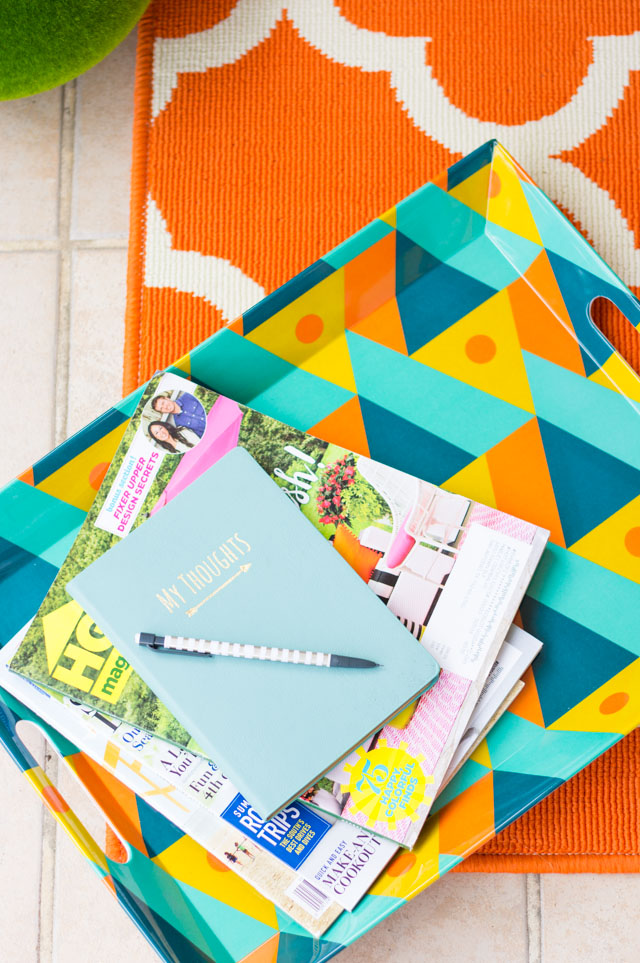 5. Make a special drink
Are you like me and have a favorite coffee mug you like to drink out of when you have your me time? I thought I would replicate that feeling with some fun summery glassware to hold a cold drink. I know my husband and daughters won't be drinking out of these pineapple glasses, which makes them just for me!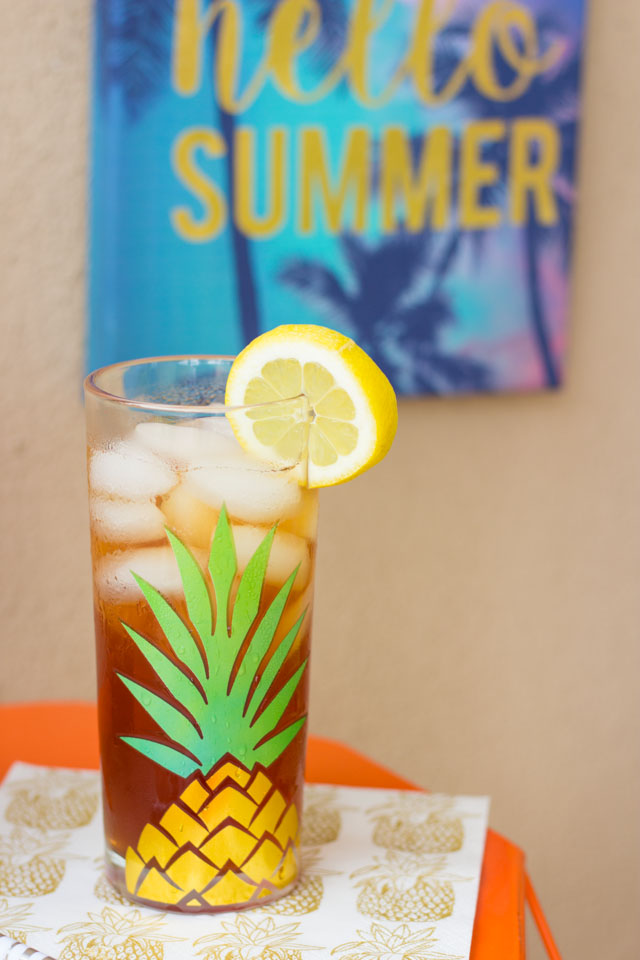 6. Add touches that make you happy
If you have been reading Design Improvised for awhile, you know I love color. Pillows are always an easy way to add some fun color and prints to a space and this hot pink pillow with natural woven details was calling my name.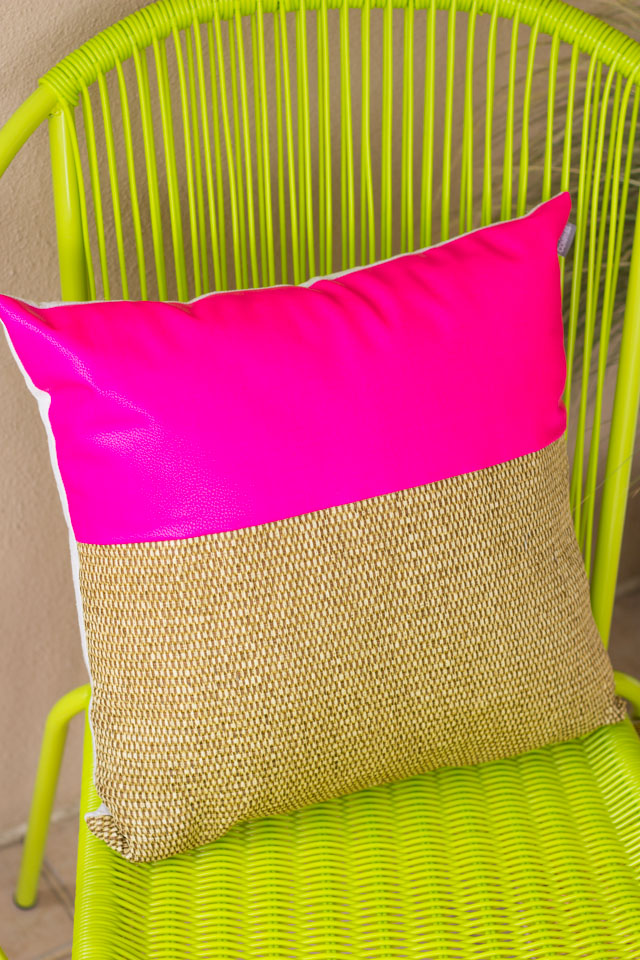 I also love the idea of incorporating indoor accessories outdoors. I think it is an unexpected touch and helps make the space extra cozy. Since the patio is covered and pretty well protected from rain and sun, I added this fun canvas print to the patio wall with a couple 3M Command strips.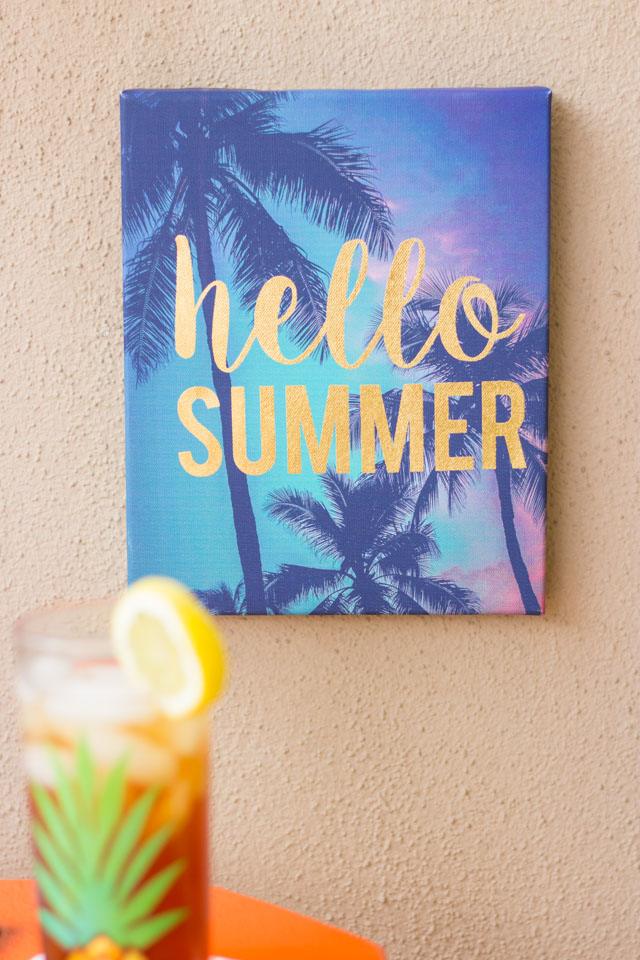 I also strung this colorful pineapple garland using 3M Command hooks made for outdoor surfaces. It worked great!
I also got a special new notebook to fill with ideas in my new staycation space. Summer is the time I like to slow things down on the blog and recharge my creative batteries by daydreaming of new projects and flipping through magazines for inspiration. I always look forward to this downtime each year.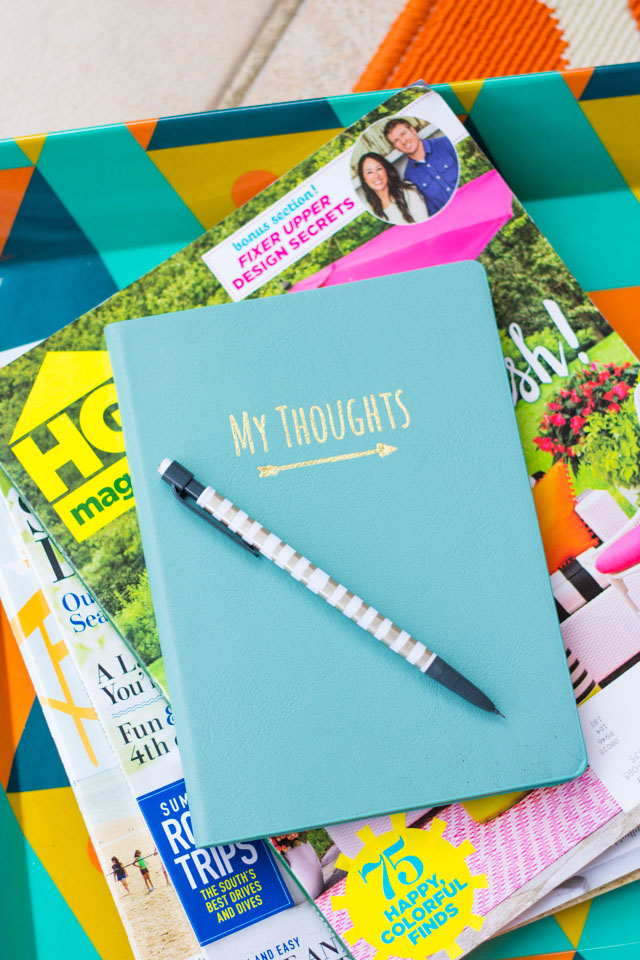 You'll find me here the rest of the summer!