Host a Spring Flower Potting Party!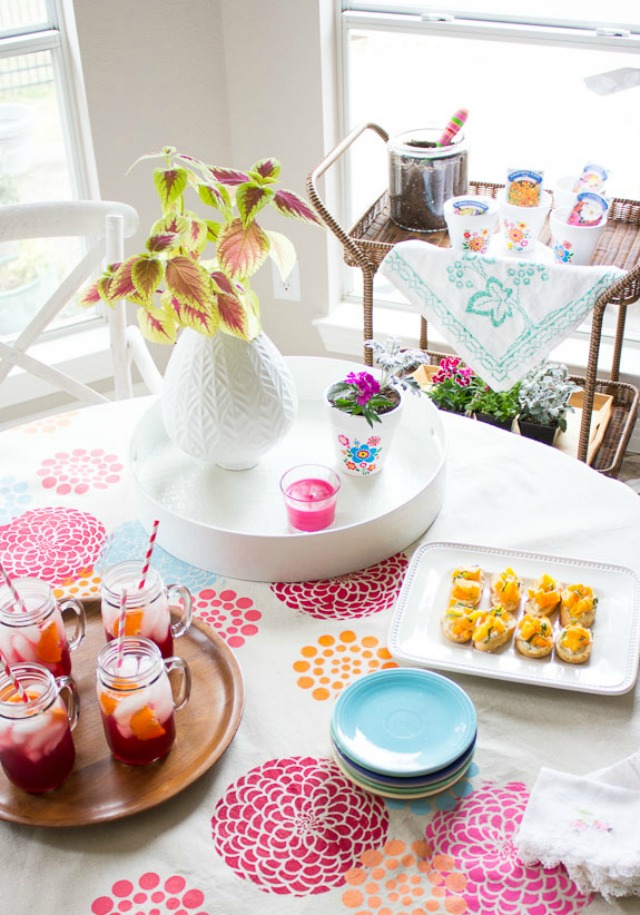 Spring Flower Potting Party
Lately I have been dreaming of all things spring. I get giddy when I see flowers for sale outside the grocery store. I slow down when I drive past a tree in bloom in our neighborhood. Spring comes early here in Texas, and I am soaking up every sign of it that I can! So when Glade asked me to create a playful party inspired by their new Poppy Groove candle, I knew exactly what I wanted to do – a spring potting party for my girlfriends!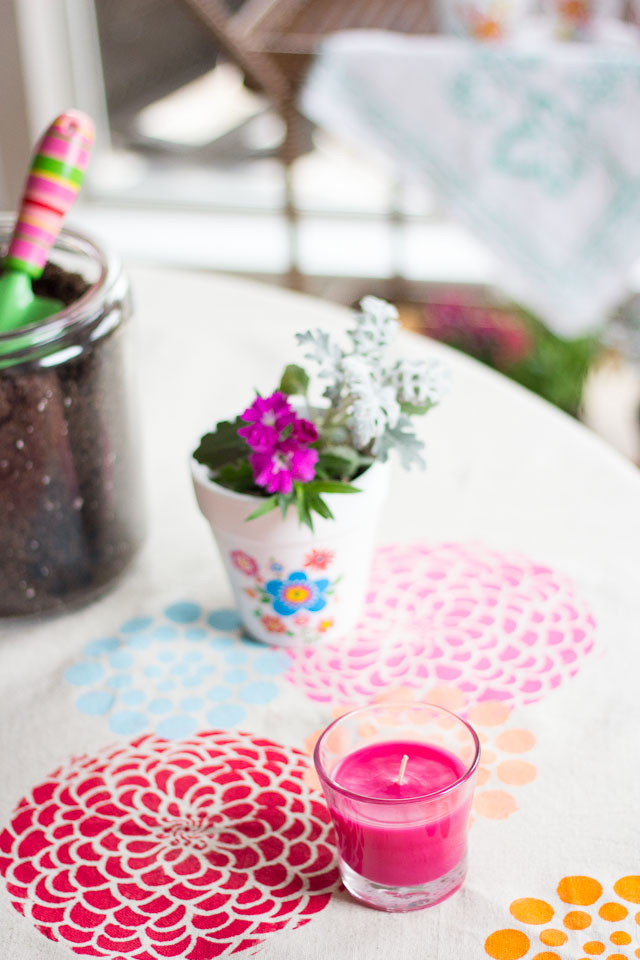 Never heard of a potting party you say? It is a chance to get together and plant a pretty flower arrangement to take home while enjoying some yummy food and conversation and friends – my kind of party!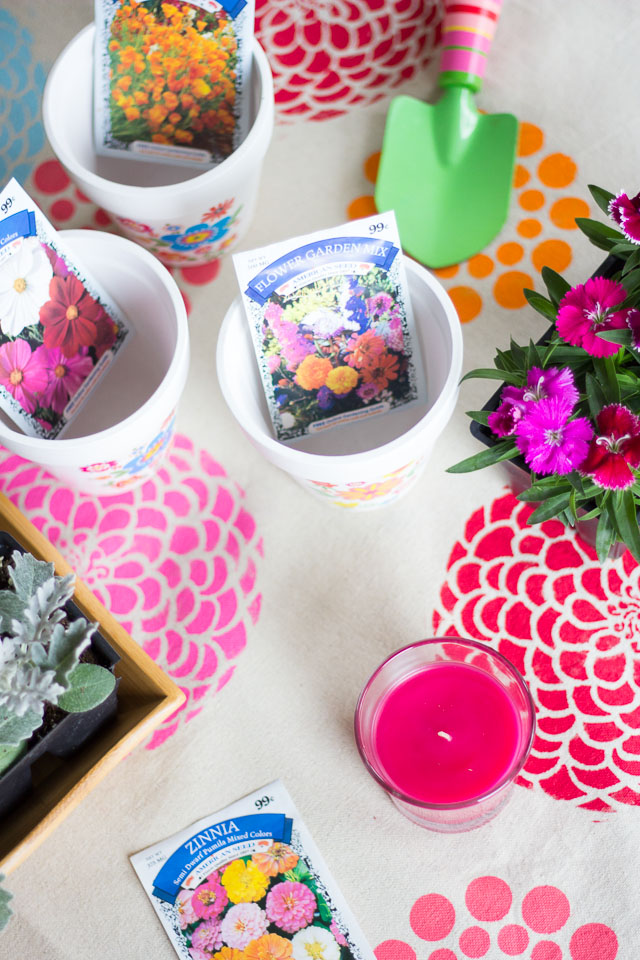 The bright floral scents of the Poppy Groove candle provided the perfect party inspiration. Not only does the candle smell like spring in a jar, its pretty pink color inspired the color palette for the decor and food (like these yummy pomegranate orange spritzers!).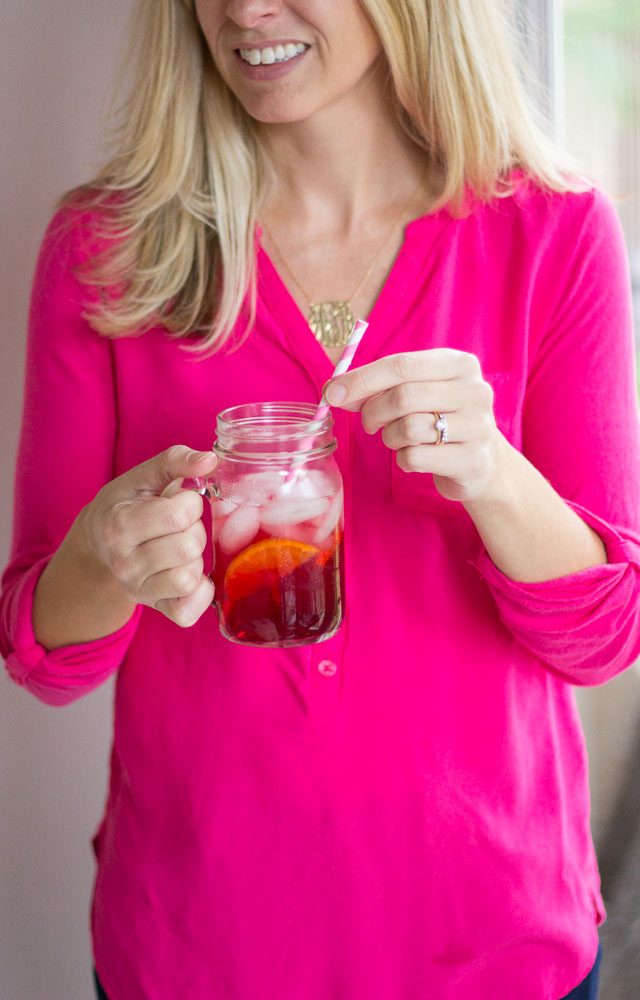 Since the weather has been chilly here lately, I decided play it safe and hold the party indoors by setting up this serving cart with all the supplies next to our kitchen table.
Potting Party Decorations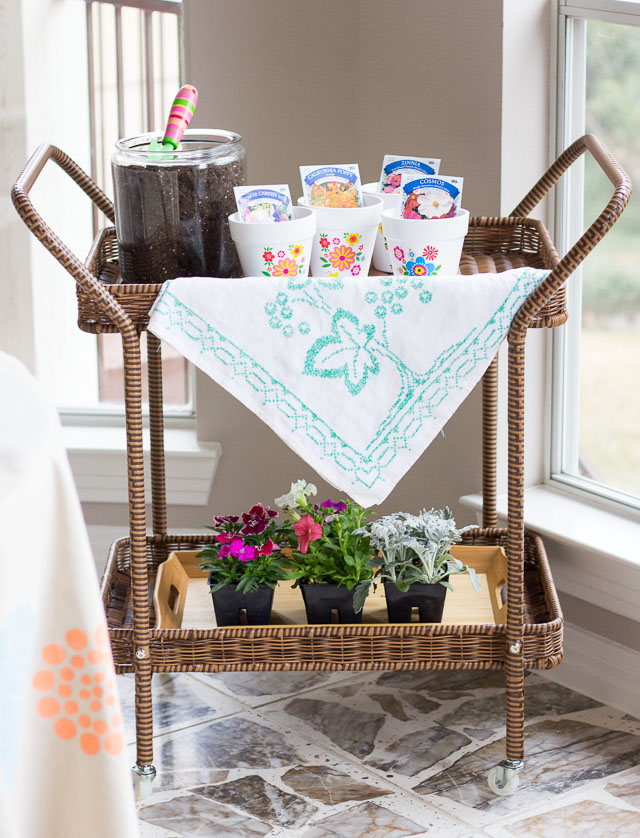 I found these cute little pots at Dollar Tree (only a $1 each) and added a seed packet for guests to take home. I filled a jar with dirt and a small shovel, added some pebbles to the bottom of the pots, and set out a selection of pretty flowers for my guests to choose from.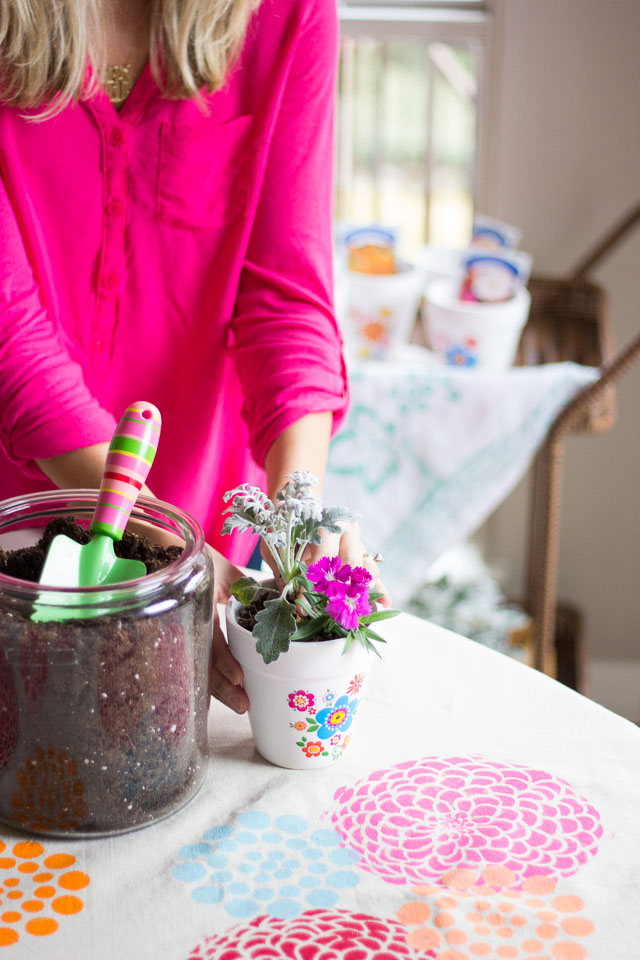 To protect our kitchen table, I used a painter's drop cloth that I stenciled in a bold floral pattern (one of my favorite tricks for an inexpensive, custom tablecloth that washes up great!).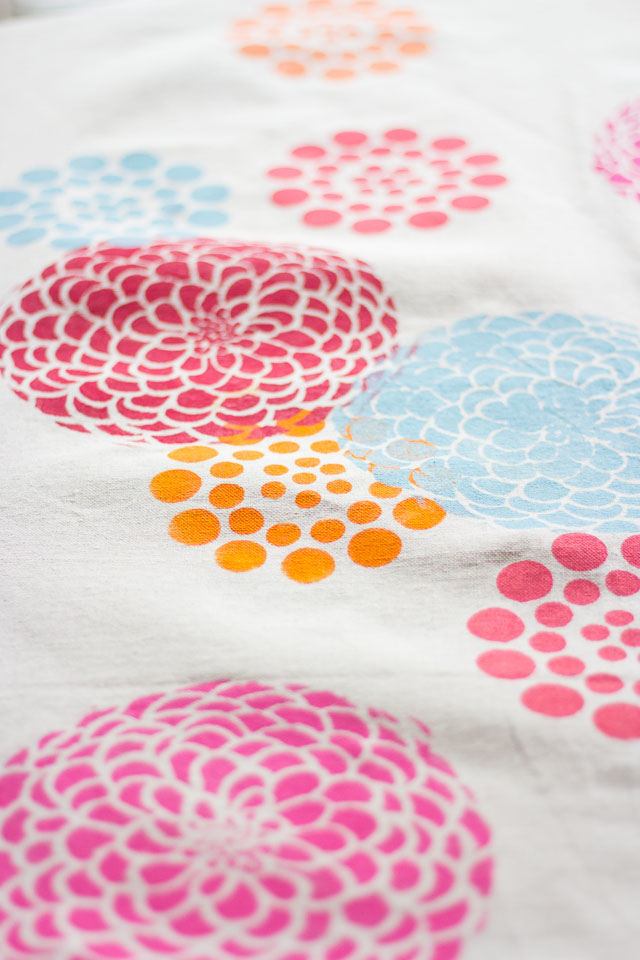 Potting Party Food
I kept food simple but delicious with pomegranate orange spritzers in mason jar glasses, and clementine goat cheese crostini – one of my go-to party foods thanks to a recipe from my sister-in-law!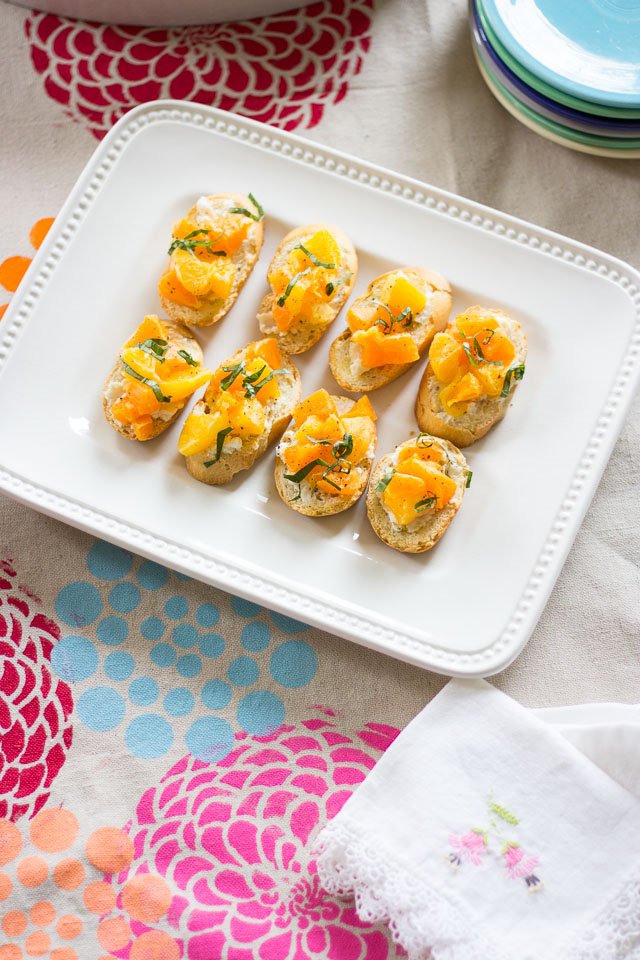 Read on for the recipes and simple tablecloth tutorial!
Pomegranate Orange Spritzers
Makes 4 servings.
16 oz. pomegranate juice
12 oz. orange-flavored sparkling water
Clementine slices for garnish
Ice
Fill 4 glasses with ice. Divide pomegranate juice among glasses. Top with sparkling water and garnish with a couple clementine slices.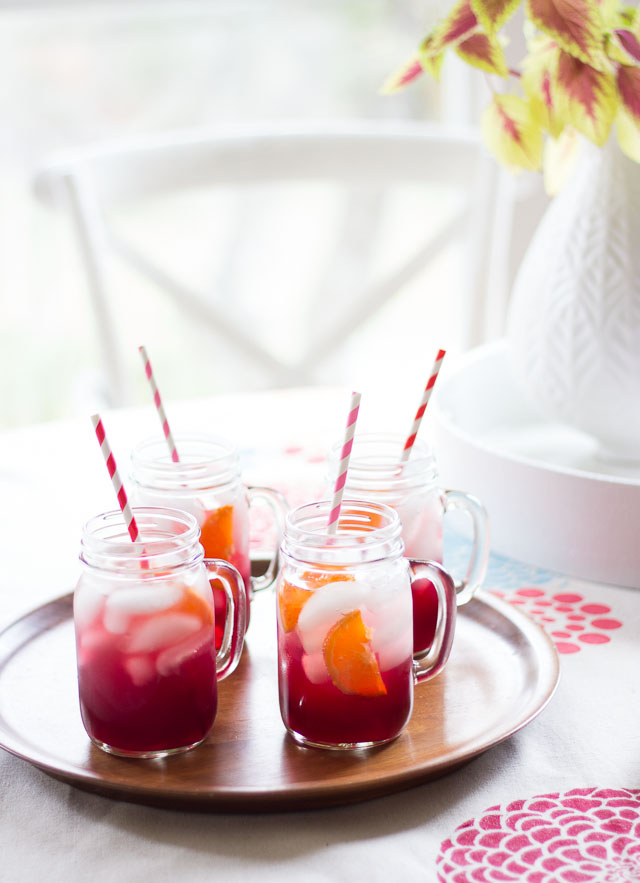 Marisa's Clementine and Goat Cheese Crostini
These are SO delicious – the addition of basil and a touch of black pepper makes them extra special!
Makes 12 crostini
1/2 baguette, sliced on the diagonal into 12 pieces
Olive oil
1/2 log of goat cheese (I used honey flavored goat cheese)
3 clementines, diced
Coarse ground black pepper
Fresh basil, cut into a chiffonade for garnish
Preheat the oven to 400 degrees. Lay the bread slices flat on a baking sheet. Drizzle each piece with olive oil and bake for 6-8 minutes until golden brown. Top each slide with 1 T. goat cheese, 1 T. clementines, pepper and pinch of basil. Serve immediately.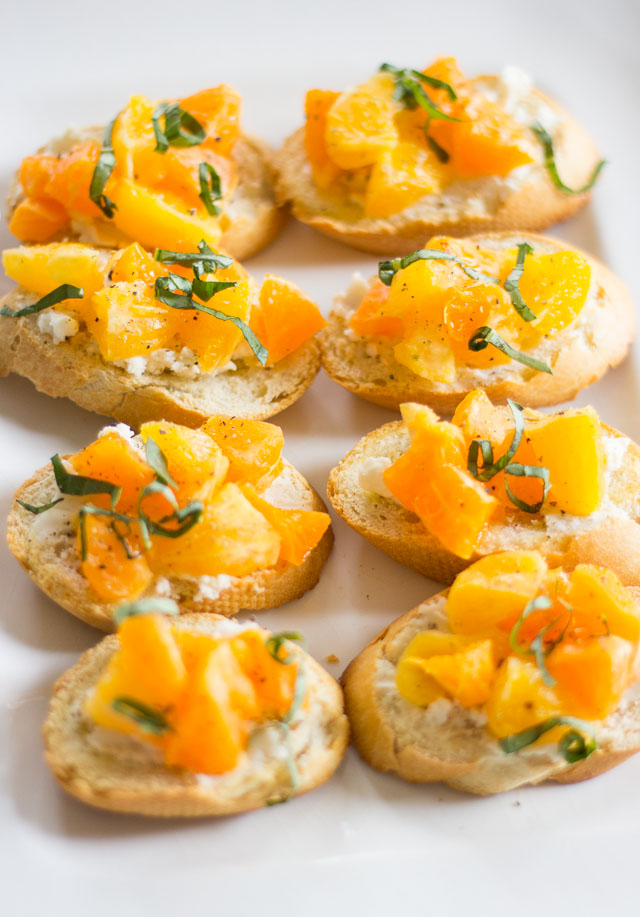 Supplies for Floral Tablecloth
Canvas painter's drop cloth (they come in various sizes – I used a 6'x9′ ft)
Stencils (I used 2 flower stencils from Stencil 1)
Martha Stewart Multi-Surface Craft Paint
Foam pouncers
Masking tape
How to Make Floral Tablecloth
I chose to stencil a design down the middle of the tablecloth vs. all over (it saves you time!). If you want to do the same, locate the middle of the tablecloth and start stenciling!
To stencil – tape down your stencil with a couple pieces of tape to hold it in place. Squeeze a good blob of paint onto a paper plate and dab your foam pouncer in it. Apply to the stencil with an up and down blotting motion, being careful to not go outside the edge of the stencil.
I worked with one color at a time, placing the stencil at different parts of the drop cloth, before moving onto the next color.
With the Martha Stewart craft paints you can wash the dropcloth and the color holds great. I would recommend washing and/or ironing prior to the party to get out any wrinkles!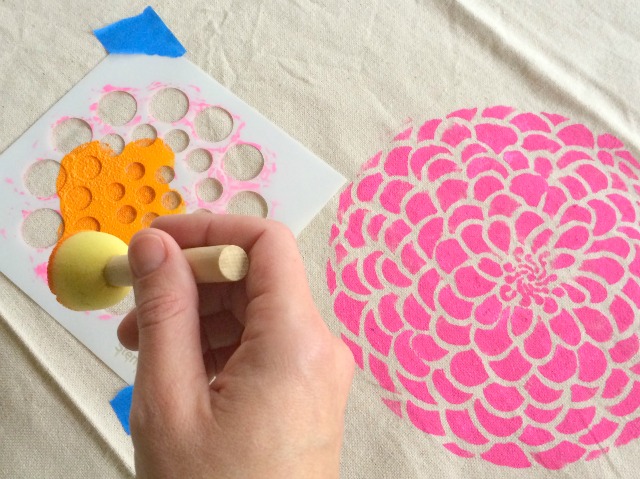 This post is sponsored by Glade. All content and opinions are my own.