Dollar Tree Floral Easter Basket Idea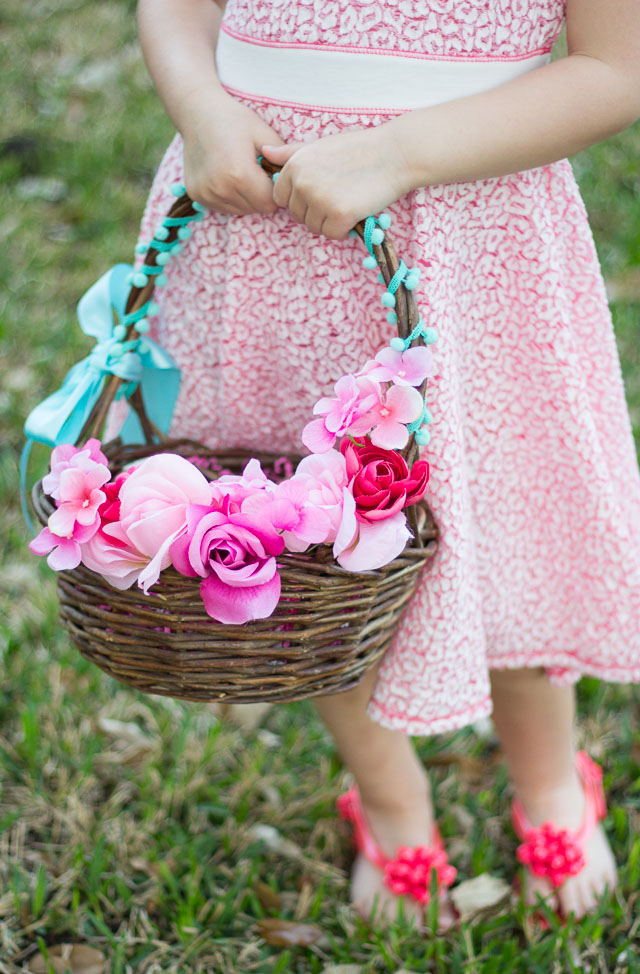 Dollar Tree Easter Basket
Introducing my Dollar Tree floral Easter basket! From what I can tell, Easter baskets typically fall into three categories, the inexpensive woven pastel ones that dominate the store aisles, the plastic tubs with characters like Dora and Sponge Bob, and the expensive fabric lined and monogramed ones from the likes of Pottery Barn.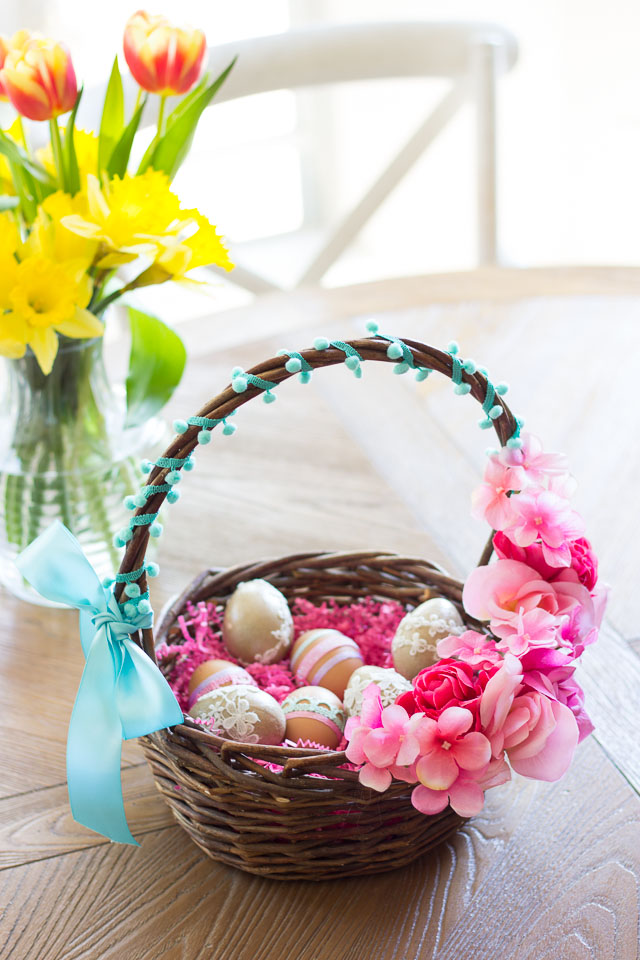 I've got a new option for you today that can't be beat! You can whip up one of these floral Easter baskets in minutes using a basket from the Goodwill, $1 bunches of artificial flowers from the Dollar Tree, and your trusty glue gun. What little girl wouldn't love this for her Easter basket?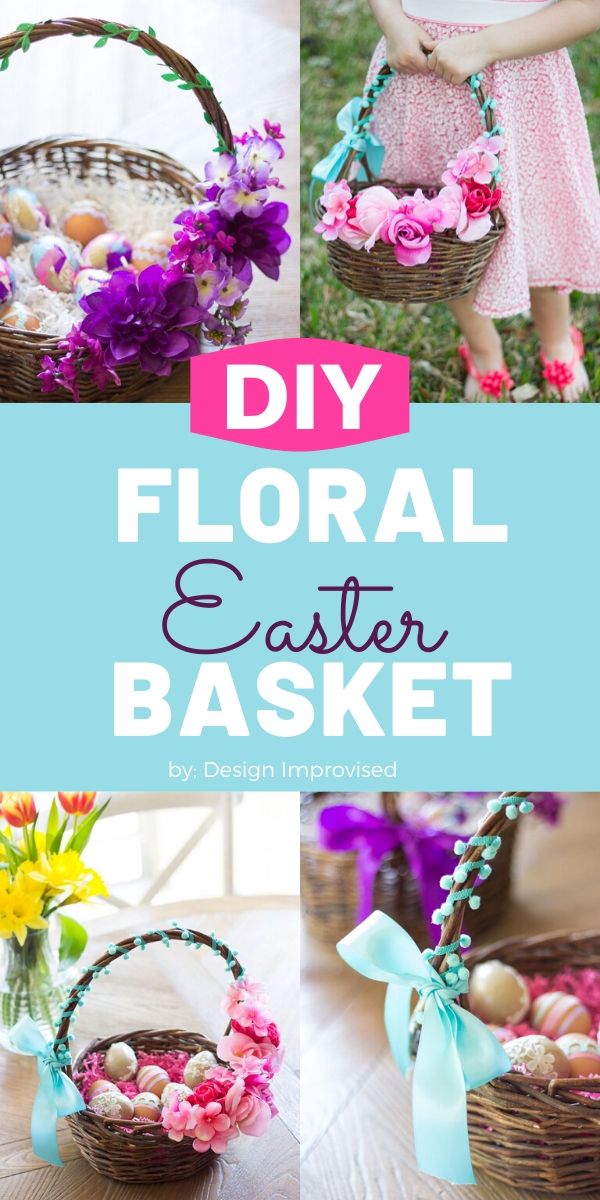 For these baskets, I repurposed the flowers from my DIY floral hearts I made for Valentine's Day (I always love opportunities to recycle my craft supplies!). I finished off the basket with some pom-pom ribbon and a pretty bow.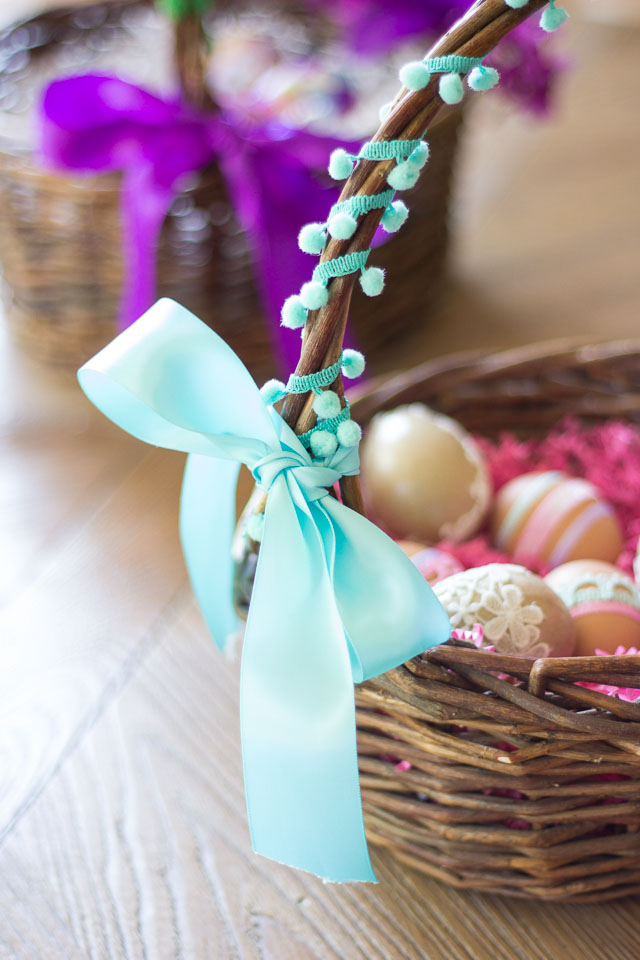 I made a basket for each of my daughters. Pink for Stella and purple for Hazel. 😉 This is a 15 minute craft – my favorite type of project!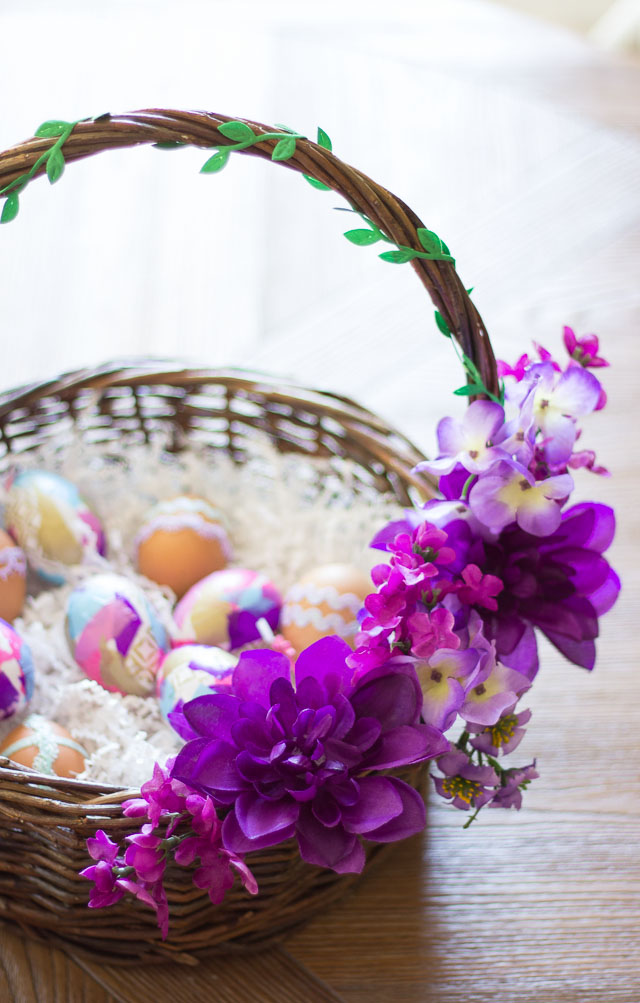 Supplies for Dollar Tree Floral Easter Baskets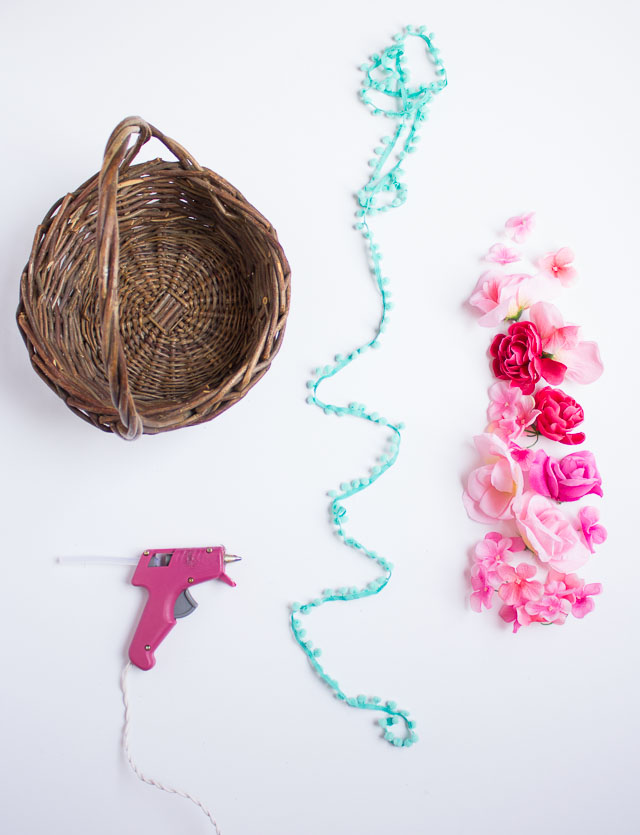 The Goodwill is an amazing source for inexpensive baskets. You'll often find a full aisle of them for $1 a piece!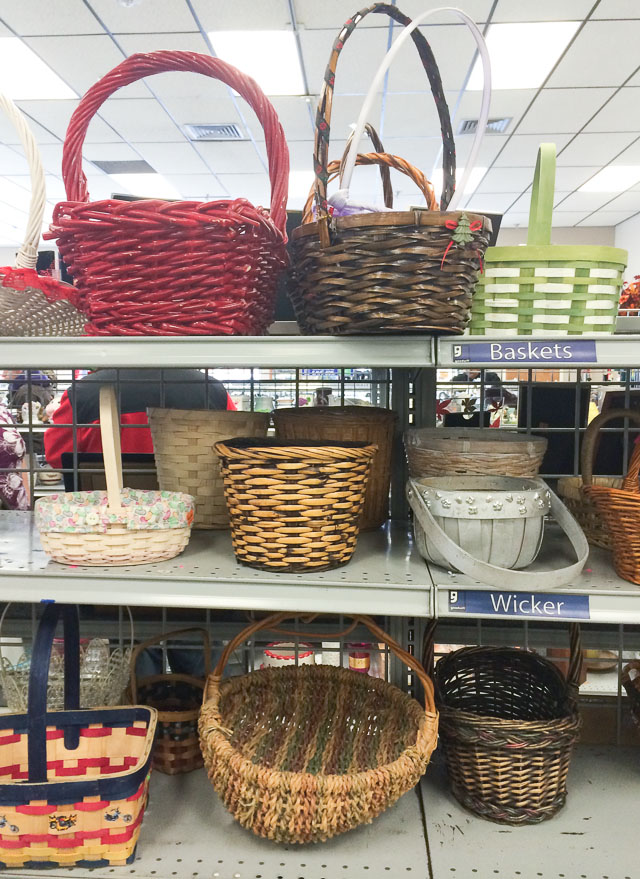 How to Make Easter Flower Baskets
Step 1. Clip petals from stems and glue to handle
If your silk flowers came in a bunch, clip the petals off using wire cutters, leaving a small amount of the stem. This will help you stick between the woven parts of the basket. Add a dab of hot glue to the stem and slot it in. I chose to work my flowers just halfway up the basket handle, but you can add them to the basket wherever you'd like!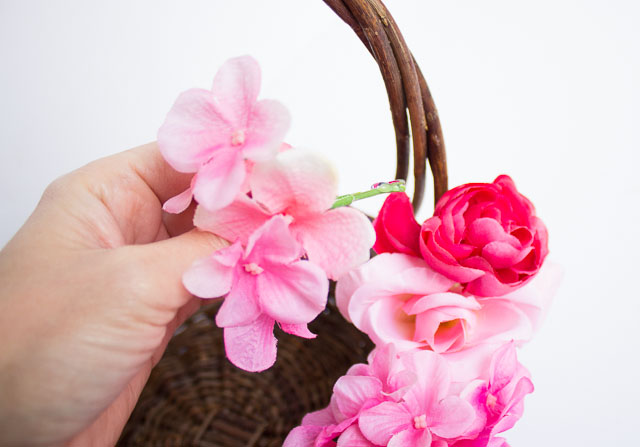 Step 2. Wrap handle with ribbon
To finish it off, I wrapped pom-pom trim around the handle and secured with a dab of hot glue, then tied a silk ribbon to the base of the handle.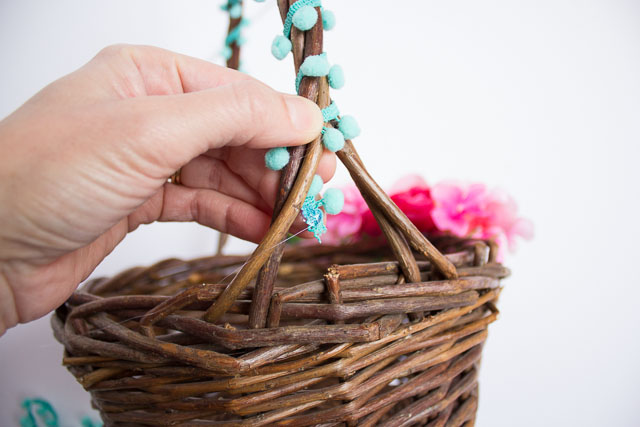 I repeated the same steps for the purple basket, using a pretty vine ribbon for the handle.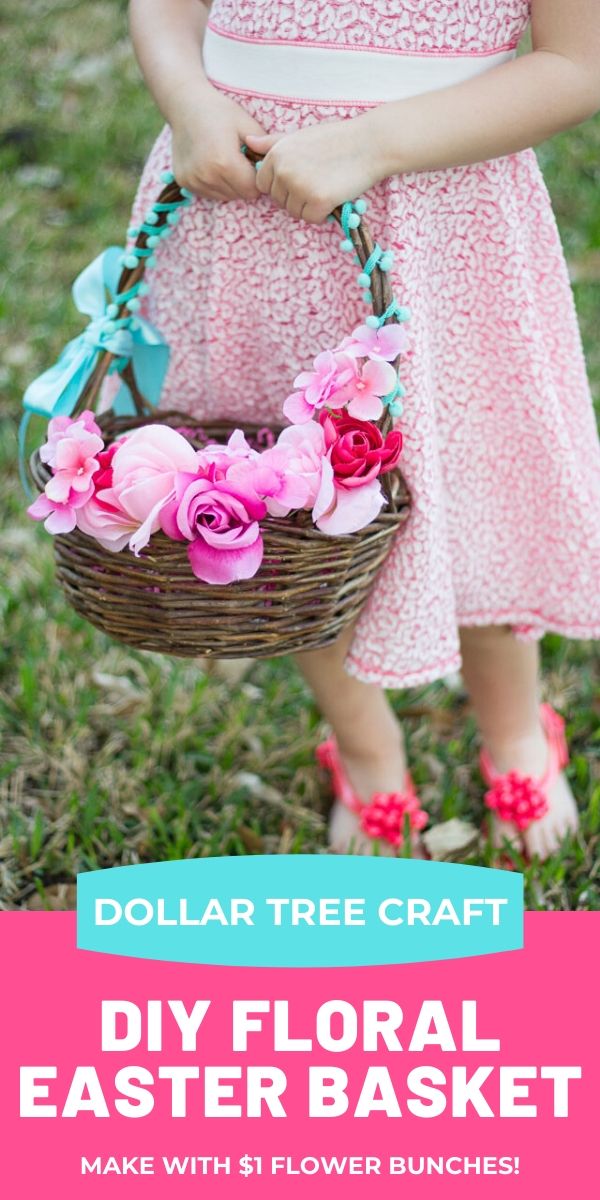 I'm so excited about how these baskets turned out! I must have been onto something when I made these, because I've since seen a similar version using fresh flowers in the April issue of Martha Stewart Living, and a pretty one using crepe paper flowers from blog Oh Happy Day. So not will you be super thrifty by making these baskets, you'll be super trendy too. 😉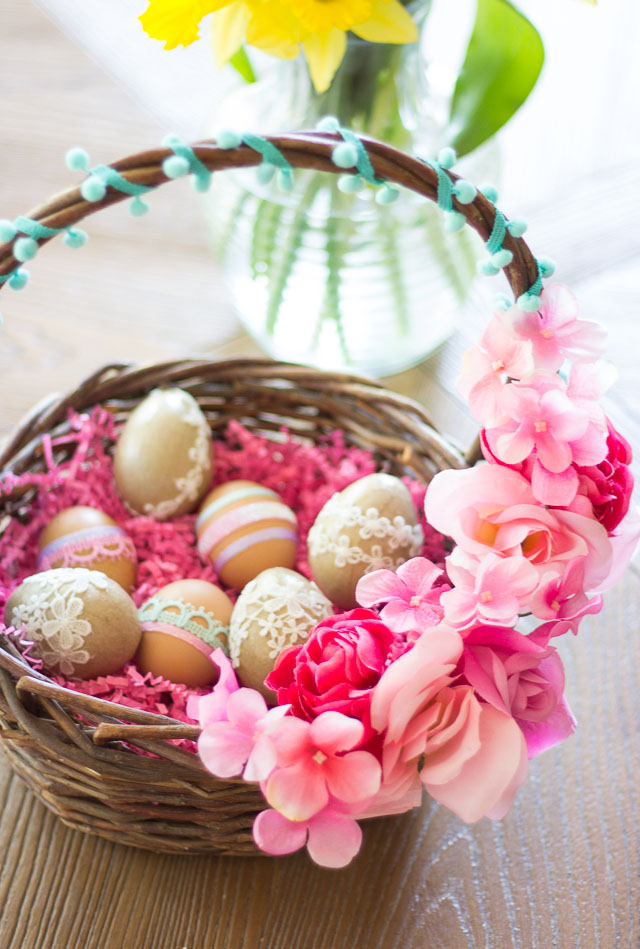 Like this Easter project? Then don't miss all my other Easter craft ideas!