The Gingerbread House Party of Your Dreams!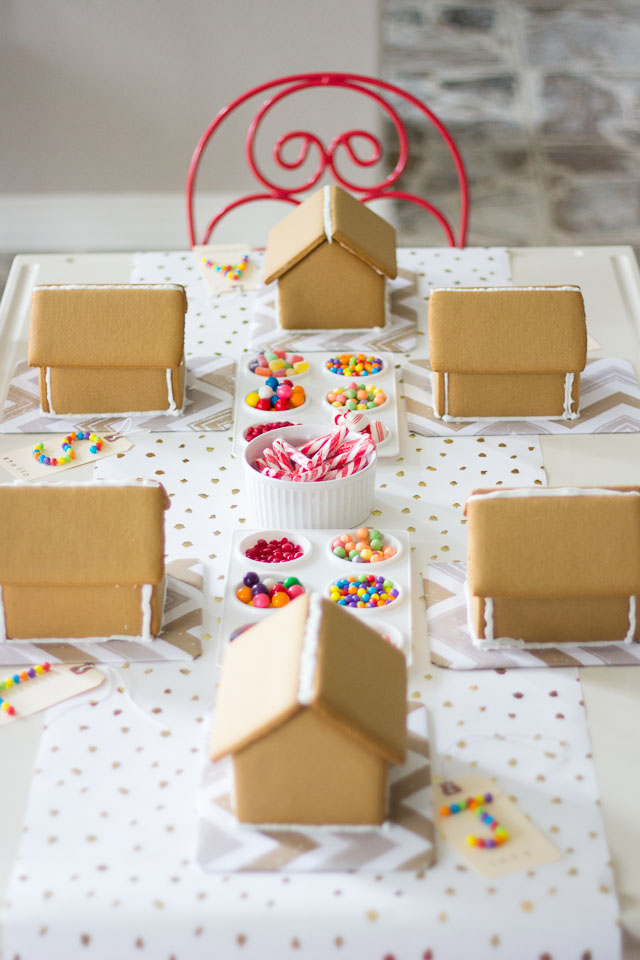 How to Host a Gingerbread House Decorating Party
Introducing the gingerbread house party of your dreams (or at least my dreams!). My girls love to throw a good party (hmm, I wonder where they get that from?). They had been asking me to have their preschool friends over for a "party" ever since Halloween.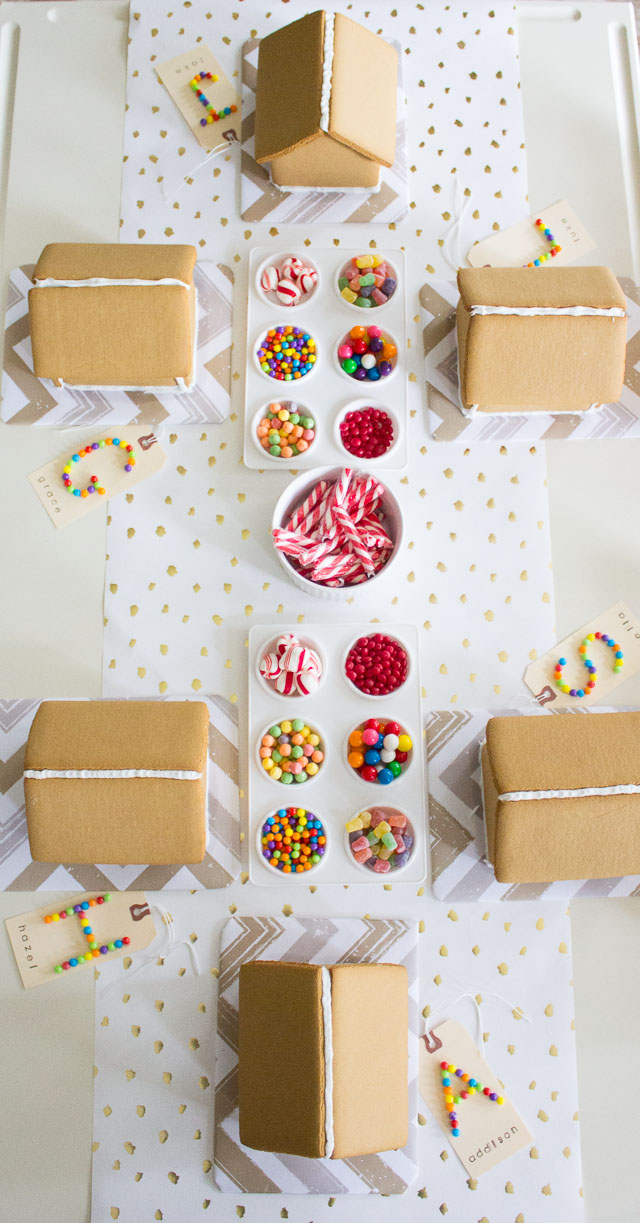 Since that holiday has come and gone, we started scheming a Christmas get-together and decided a gingerbread decorating party would be just right. In fact, National Gingerbread House Day is coming up on December 12. What a better way to celebrate than with your own party?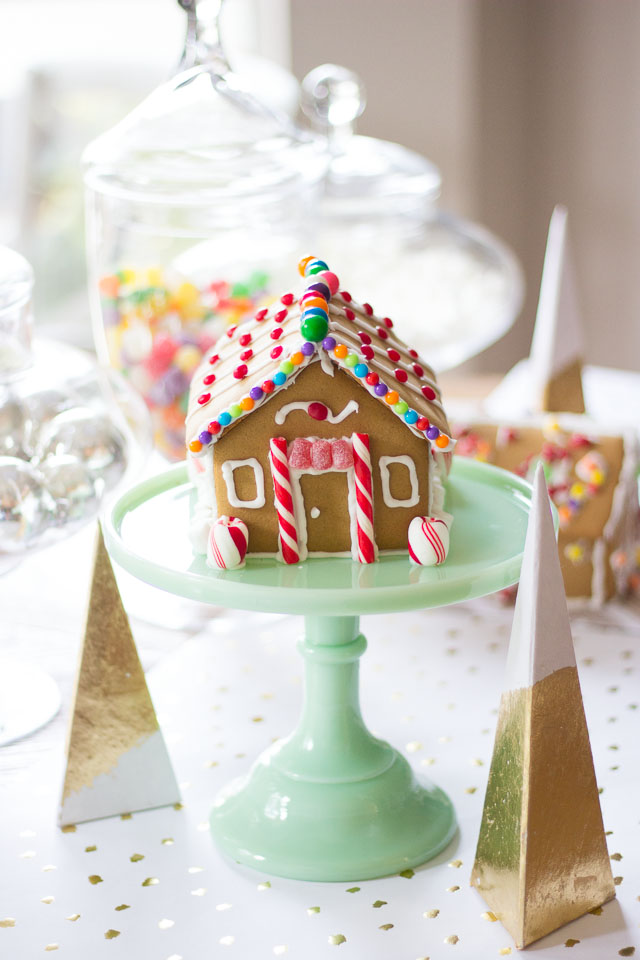 The Gingerbread House Party Essentials
Here are the decor items I used for my party:
Glass apothecary jars filled with candy
Paper table runner to make for easy cleanup
Metallic ornaments – hung above the dining table to make it extra festive
Jadeite cake stand to show off one of your gingerbread creations!
Glassine envelopes for candy takeaway bags
Snowflake stickers to seal the bags
Manila tags to make candy name tags (see below)
Paint palettes to hold candy in all the colors of the rainbows
And of course, pre-baked gingerbread kits!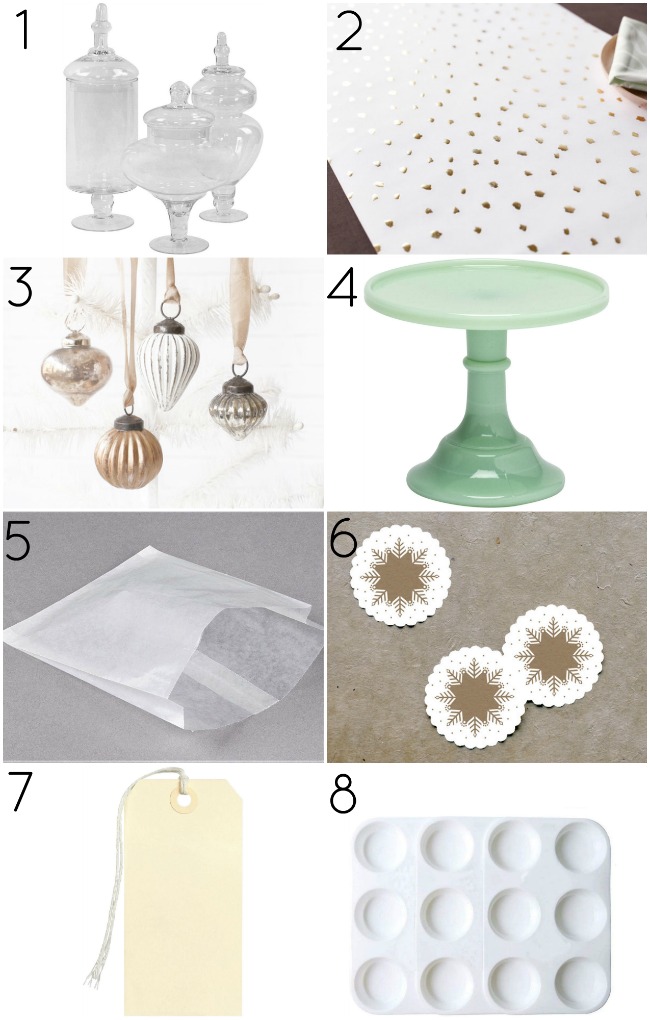 The Candy Table
Of course, once I started thinking about the potential cuteness of a gingerbread decorating party it was hard not to go all out with the decorating!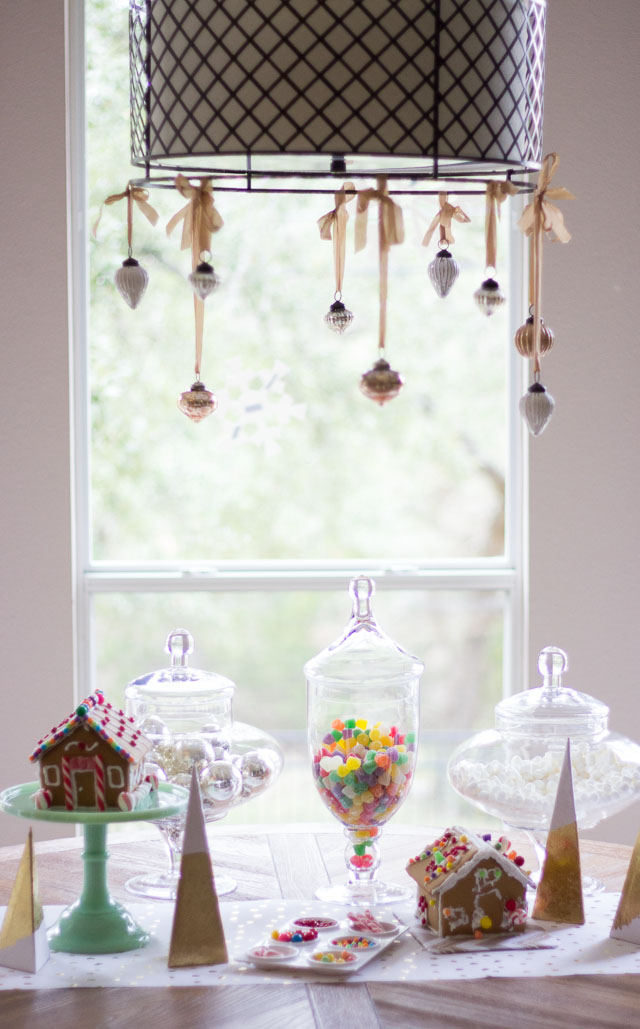 With the help of a few beautiful glass apothecary jars, a jadeite cake plate and lots of candy, I turned our kitchen table into a candy land. I filled the jars with marshmallows and gum drops, and hung shiny metallic ornaments from the light above the table.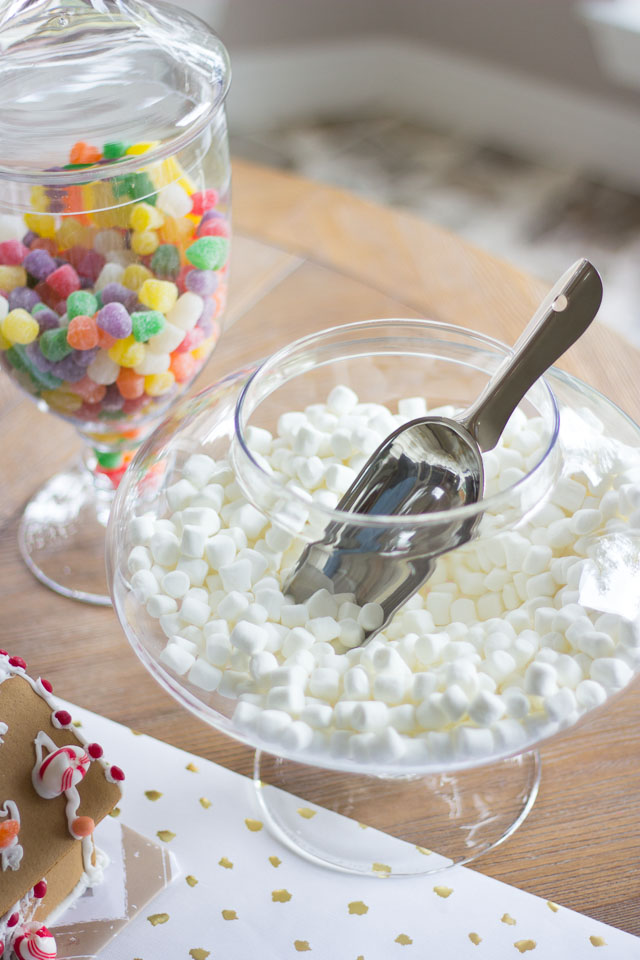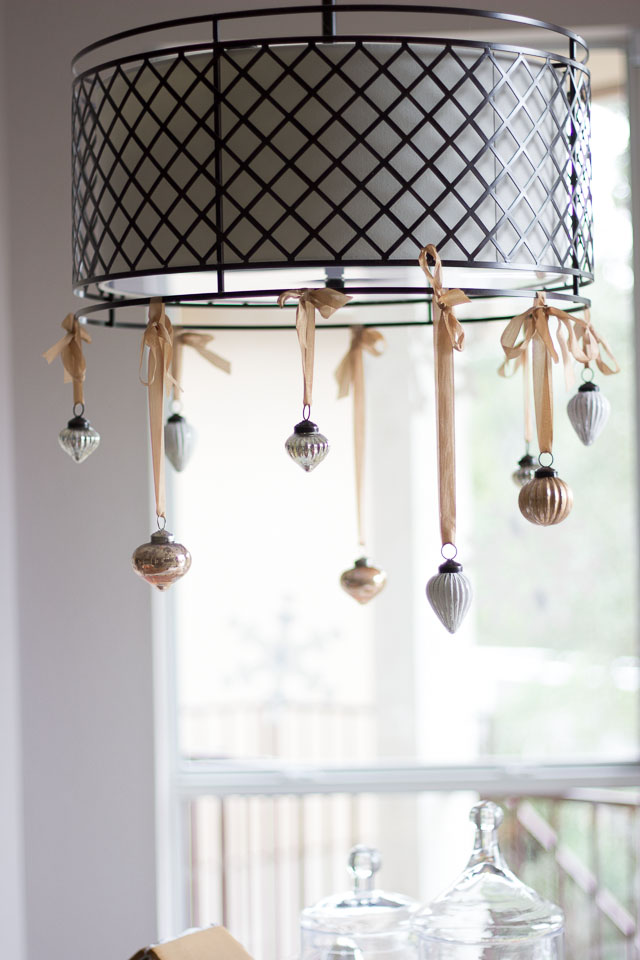 The Gingerbread House Decorating Table
I brought the girls' play table into the kitchen and designated it as house decorating central by rolling a length of gold speckled paper down the middle and having a house ready to go at each spot. To keep it easy, we found pre-baked gingerbread kits at the grocery store and Stella helped me assemble all the houses the day before.
Note: this is an important step to do in advance of the party. The icing needs a few hours to set before the houses are stable enough to decorate!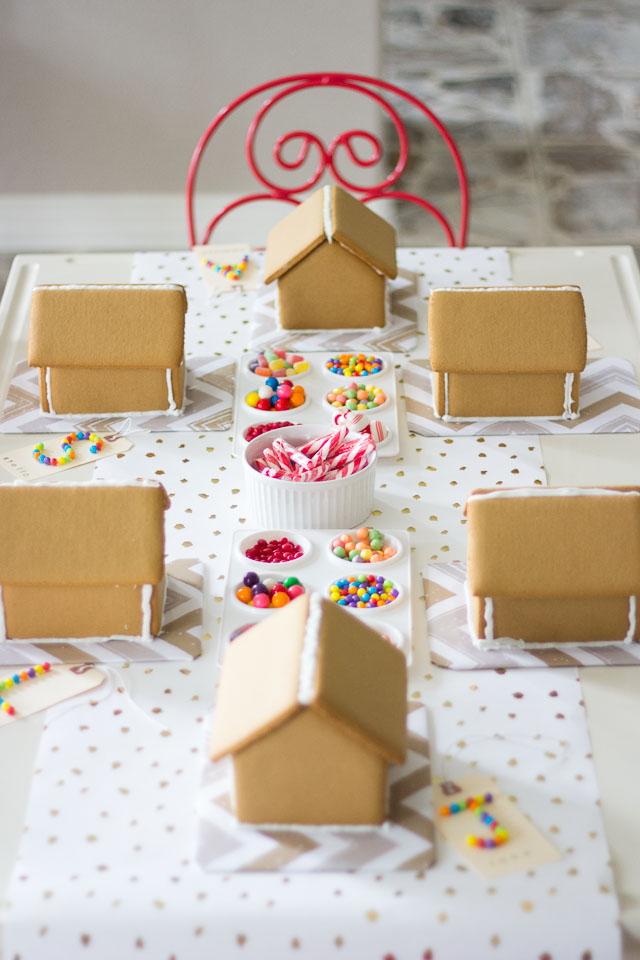 Individual Candy Trays
Stella and I dressed up the plain cardboard bases that came with the houses by wrapping them in pretty metallic chevron paper. For the candy trays, we used inexpensive paint palettes.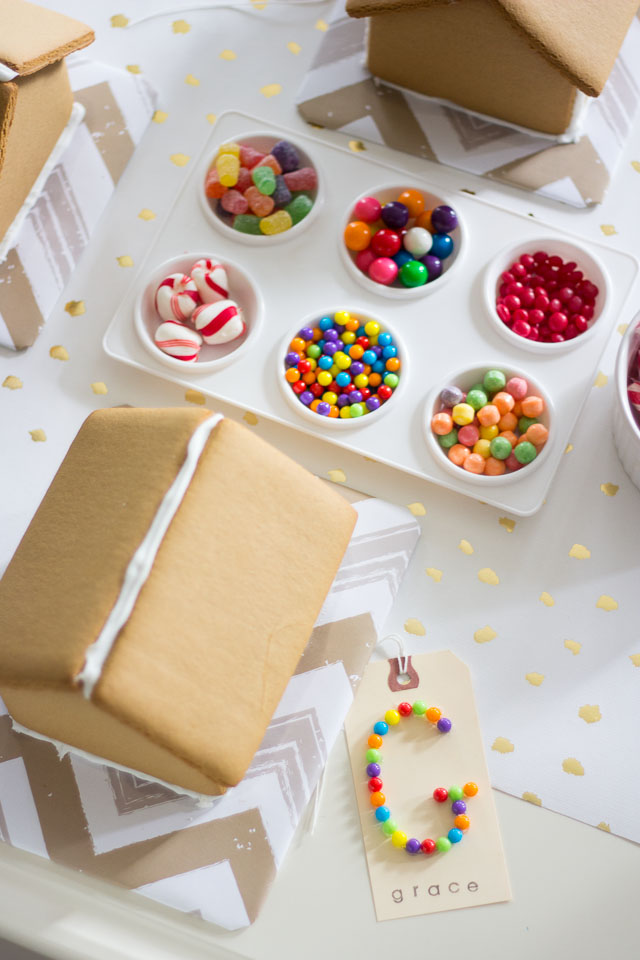 Candy Name Tags
For a personal touch, I created place cards using some colorful candies, a manila tag, and a glue gun! I just traced the letter in pencil and then affixed the candies by adding a small dab of hot glue (on low setting) to the letter and pressing the candy into it. For the name below, I used letter stamps. You could also write freehand or use letter stickers.
The kids were so excited to find their name at the table when they arrived!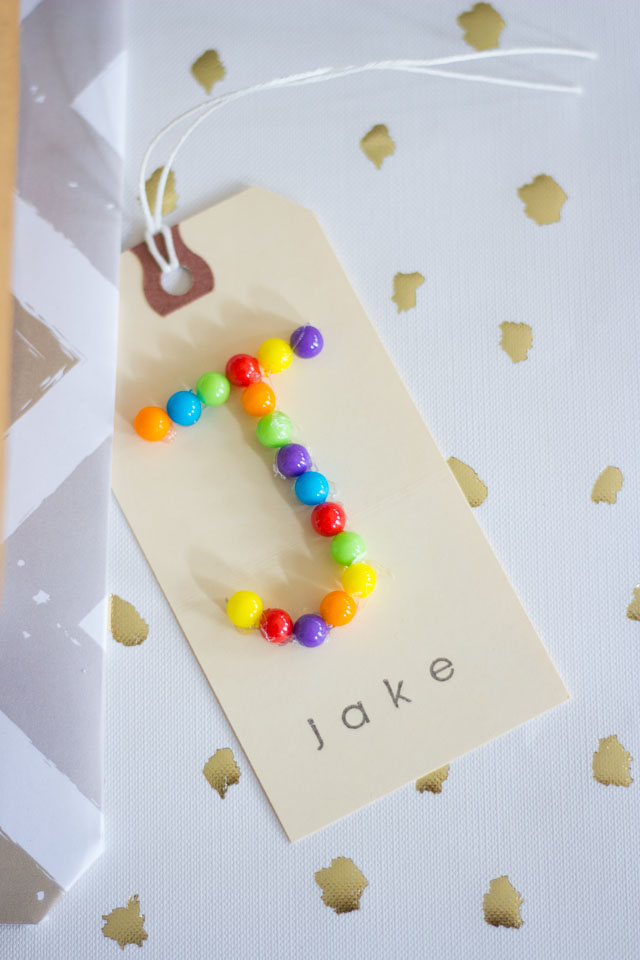 I spent the morning while Stella and Hazel were at preschool setting up the party and when they came home they were so excited to show their friends and dive into decorating (and consuming massive amounts of candy)!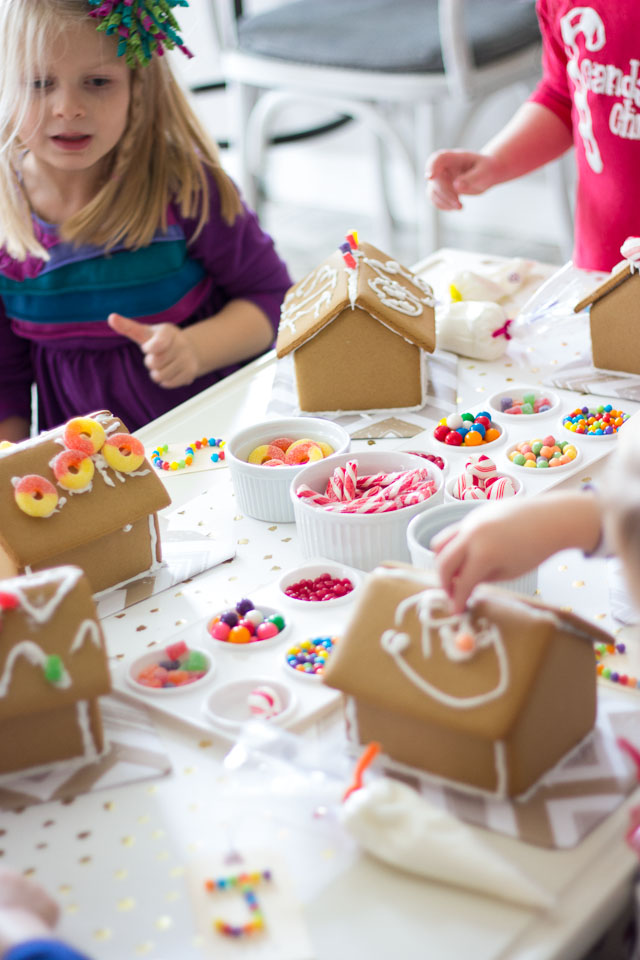 You have to love kids' creative minds. When you pair their imagination with candy, the results are pretty fantastic!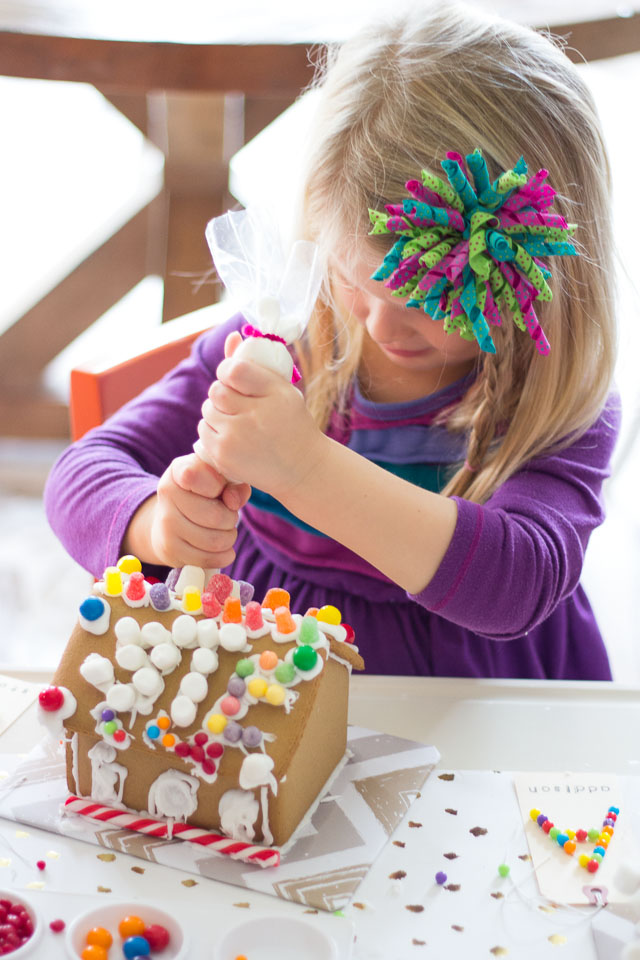 Candy "To Go" Bags
I had little glassine bags and snowflake stickers out for guests to make a mix of their favorite candies to take home with them.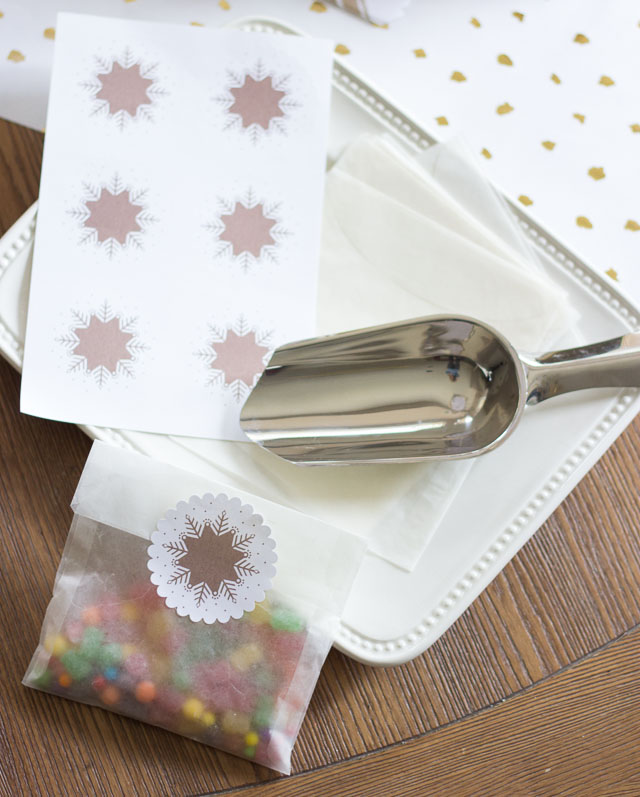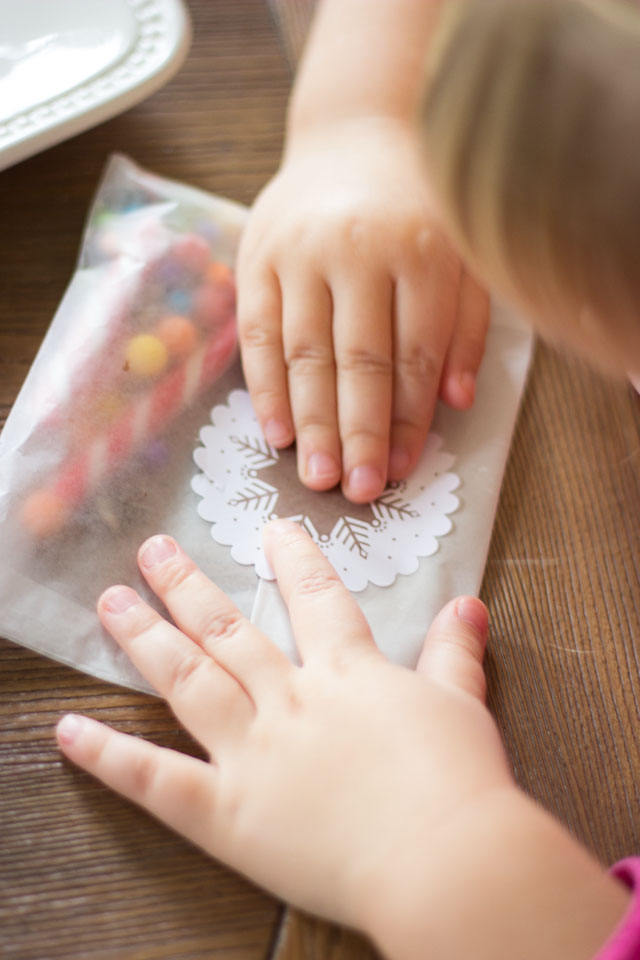 Hazel had as much fun filling up her 'to go' bag with candy as she did decorating her house!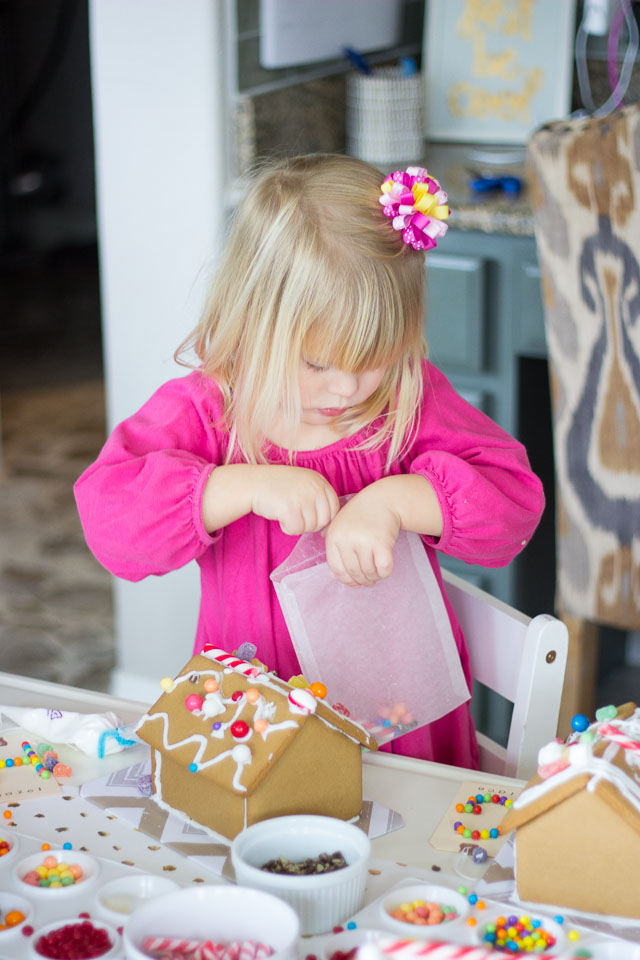 Each house turned out so sweet. Here's a view of the colorful aftermath!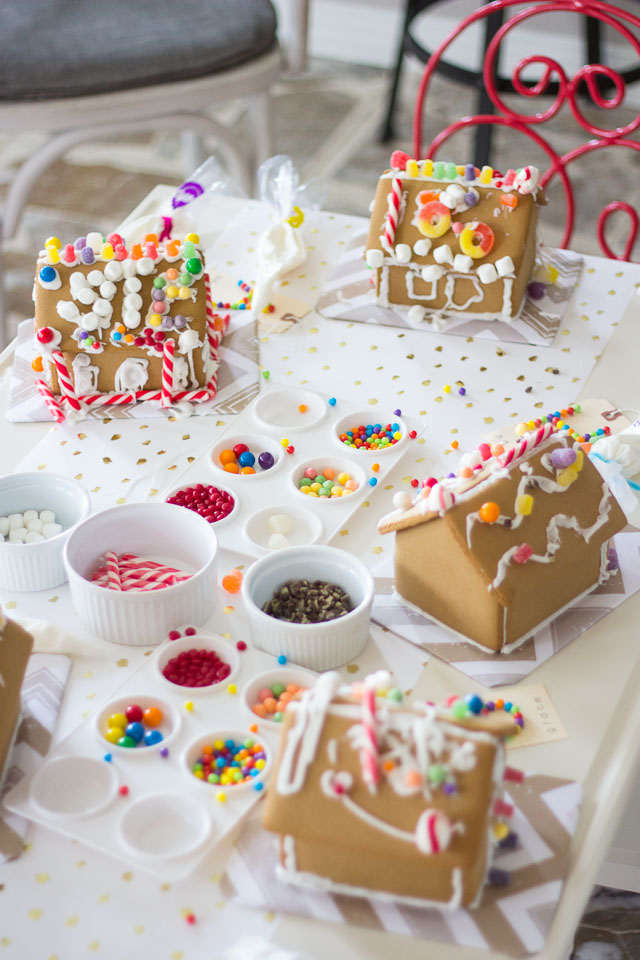 National Gingerbread House Day – December 12
Don't forget to mark your calendars for National Gingerbread House Day on December 12. Did you know that gingerbread was first brought to Europe by an Armenian monk over 1000 years ago? The idea of the gingerbread house originated from the story of Hansel and Gretel. Even if you forgo the party and just decorate your own little gingerbread house on December 12, it is a fun way to celebrate!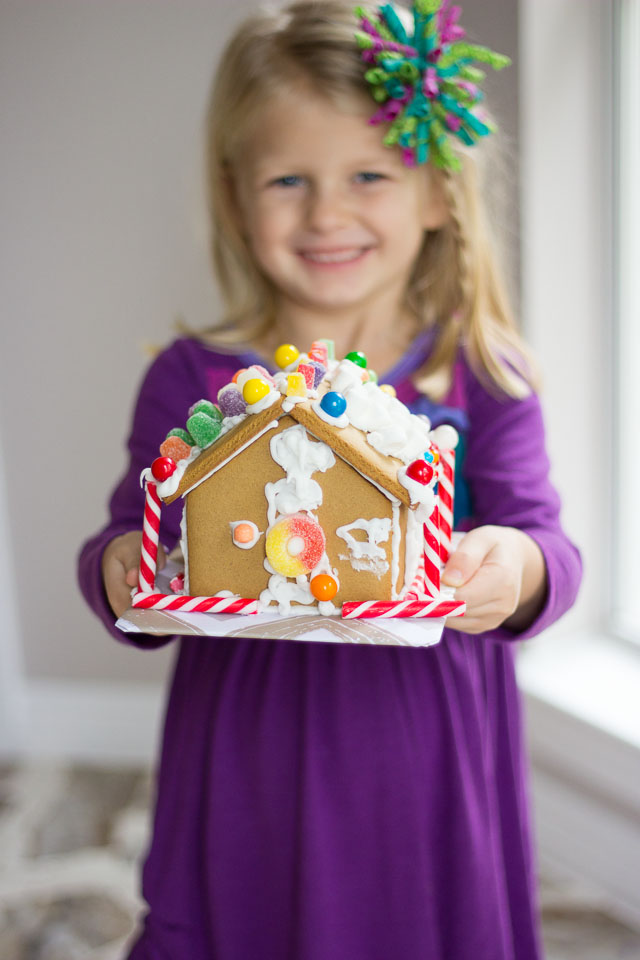 Like this Christmas party idea?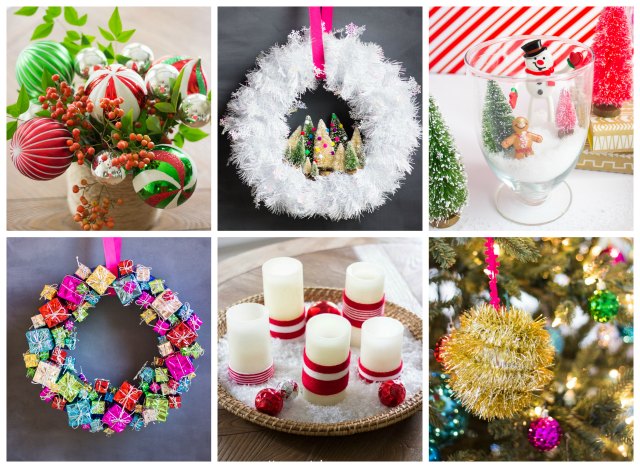 This post is sponsored by Minted. All content and opinions are my own.