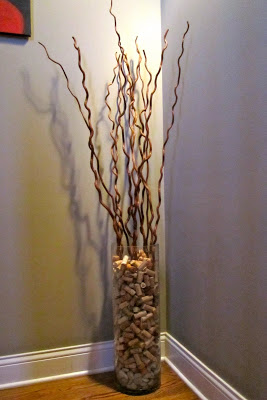 Wine Cork Decor Ideas
Today I'm sharing a few wine cork decor ideas! I'll preface this post by saying the corks you see here have been collected over the course of 10 years! I have pretty much saved every cork from wine we've drunk at home, at a restaurant, or on vacation (especially corks from special occasions – which I write on – see further down…).
This post contains affiliate links. See our full disclosure.
Wine Cork Wreath
This wreath below was the first thing I did with my corks several years ago. I don't quite remember where I got the idea, but I think I'd seen something similar at a winery. My 'improvised' technique turned out to work pretty well. Check out my wine cork wreath tutorial for all the details to make your own!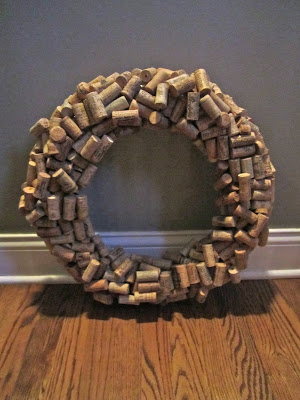 Supplies for Wine Cork Wreath:
Wine corks (you can buy them in bulk if you don't save your own)
Vase Filled with Wine Corks
Below is my attempt to recreate the idea I saw in a magazine of the huge jar filled with corks. I had this tall vase in our stairwell with just a few rocks on the bottom holding the branches. I decided to fill the rest in with all the corks I had previously stashed away in a closet. What do you think?
Supplies for wine cork vase:
Wine Cork Trivet
Finally, over the Christmas holiday I was inspired to fill out this wine cork trivet kit I had gotten as a present a couple years ago (one of those things I've always been meaning to do, but haven't found the time!). It was actually pretty tough to find just the right sizes of corks to fit like a puzzle within the frame, but it was fun to play around to make them fit. I didn't make a completely symmetrical design – more freehand: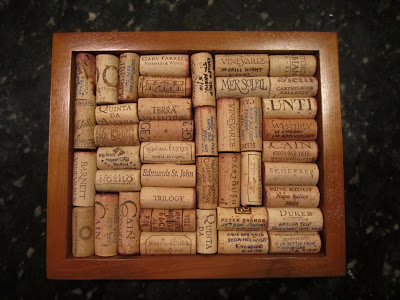 I've propped it above the stove for now to show it off rather than stash it away in a cabinet:

Wine Cork Trivet supplies:
Write on Special Corks!
One habit that I've gotten into, and I'm glad I did, is to write on corks that are from special bottles of wine. It's kind of hard to write easily on corks with a pen, so it doesn't necessarily turn out pretty, but it's so much fun to sift through old corks and come across the ones I've written on that bring back memories of special dinners, celebrations, or everyday moments like our "First BBQ with new grill" on our roof deck in 2007:

Like these wine cork decor ideas?