Stella's Big Girl Room: Reupholstery Project
April 05, 2011 | FILED UNDER: Uncategorized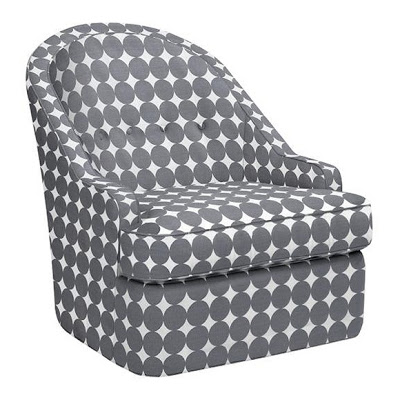 Despite it being Stella's 'big girl' room I've decided it still needs a rocker (and a crib!)… maybe calling it a big girl room is a little ambitious. ;>) The rocker is one of the first pieces of her future room to be complete, so I wanted to provide a sneak peek.
The Inspiration Piece: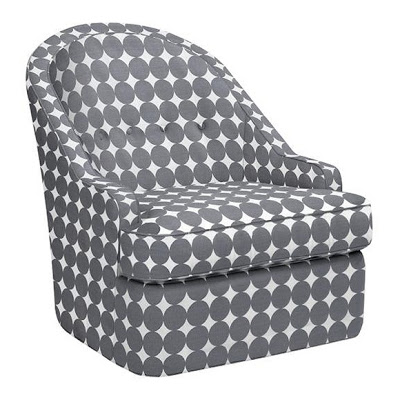 I really like the new modern rocker / glider chairs that are out there, like this one above. Nothing about this chair says 'Grandma' that is for sure! However, its no surprise that these don't come cheap – usually around $1,000 at a modern kids furniture store. So my goal with Stella's room was to find a similarly funky fabric (I love the polka dots) and recover a Craigslist rocker.
Stella's Rocker – the "Before" Pic:
I came across this rocker on Craigslist and snapped it up because it had two features that I like and are hard to come by: 1) It was white, rather than wood colored, and 2) It's cushions had nice straight lines and aren't attached to the actual chair, making it easy to reupholster. The majority of nursery rockers have these cushions with lots of nooks and crannies sewn in them that make it look comfy but also a bit old-fashioned and more expensive to reupholster.
Stella's Rocker – the "After" Pics: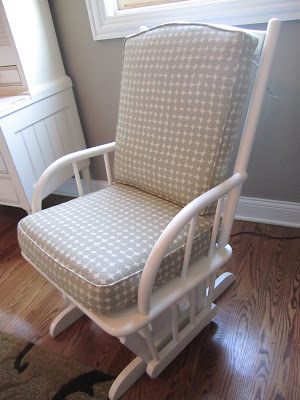 And here it is! I found a similar grey polka dot fabric and had it reupholstered professionally for a fraction of the price of the inspiration chair. I'm really excited about how it turned out!
I got rid of the arm rests to save on reupholstering and I think I like the look of the chair better without them. Since the chair didn't come with an ottoman, I'm thinking of pairing it with a fun 'pouf' like this bright graphic one below: