20 AMAZING Super Bowl Charcuterie Board Ideas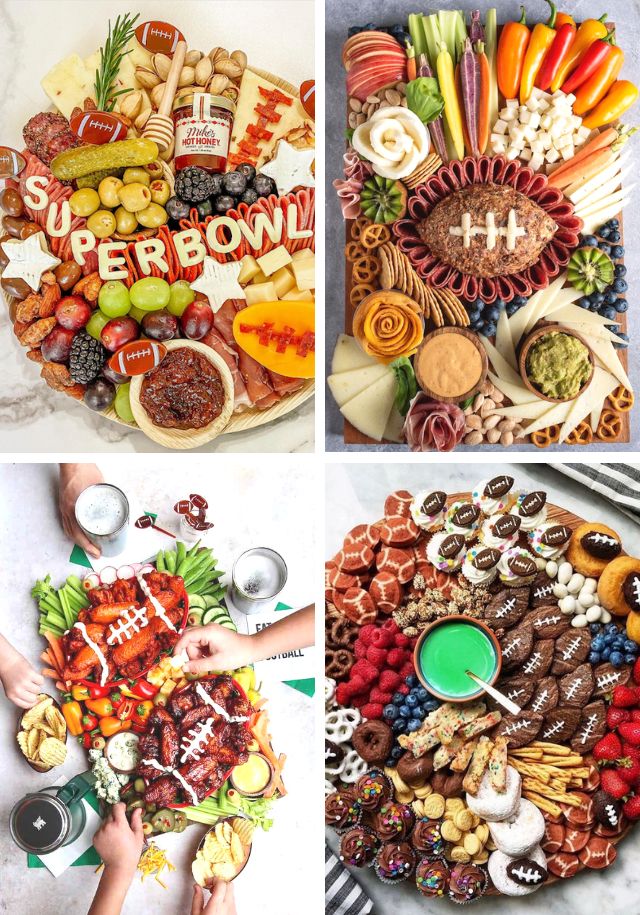 These delicious football charcuterie boards filled with your favorite snacks and grocery store items are a great way to feed a crowd while cheering on your favorite football team at the Super Bowl, or during any football games with friends!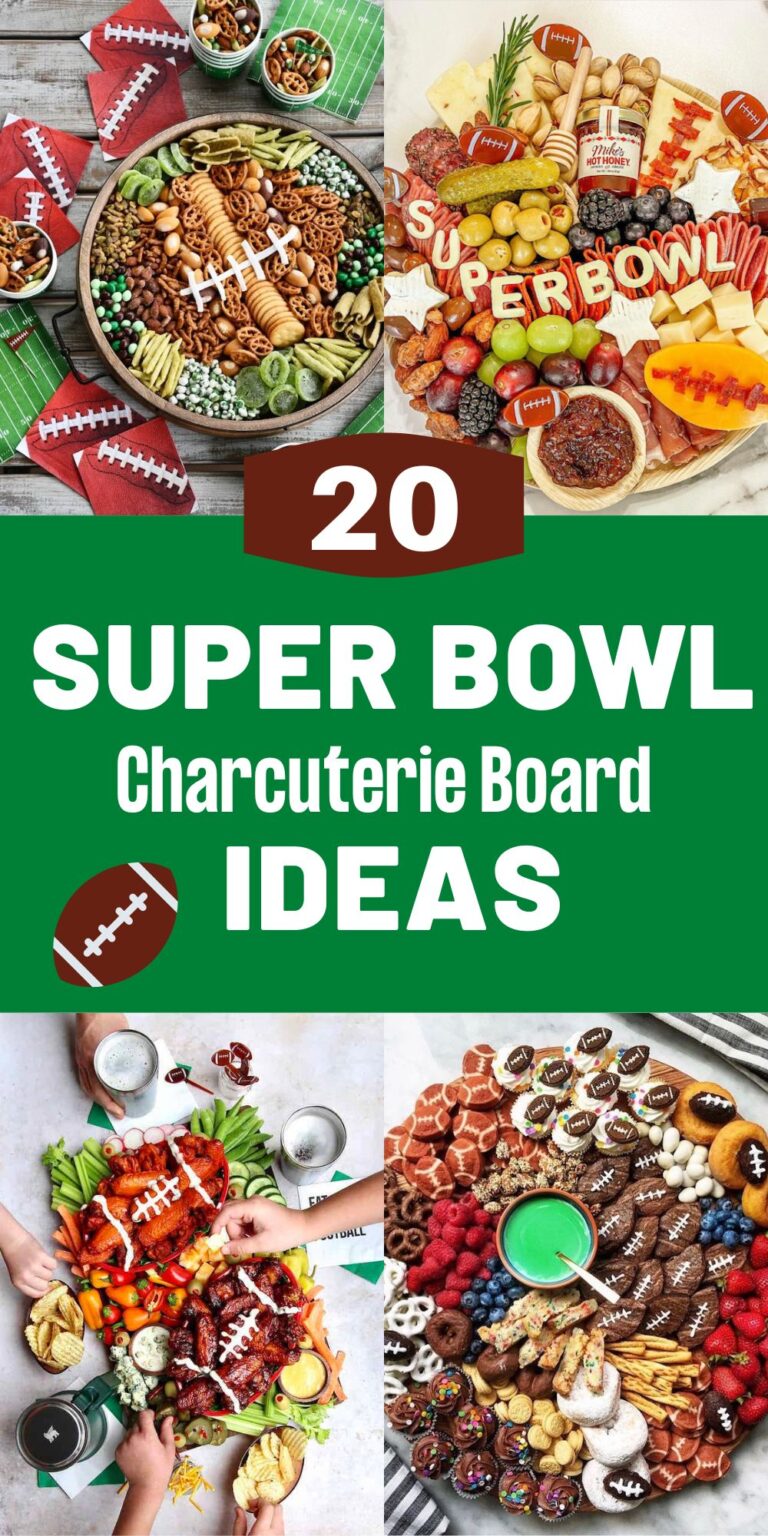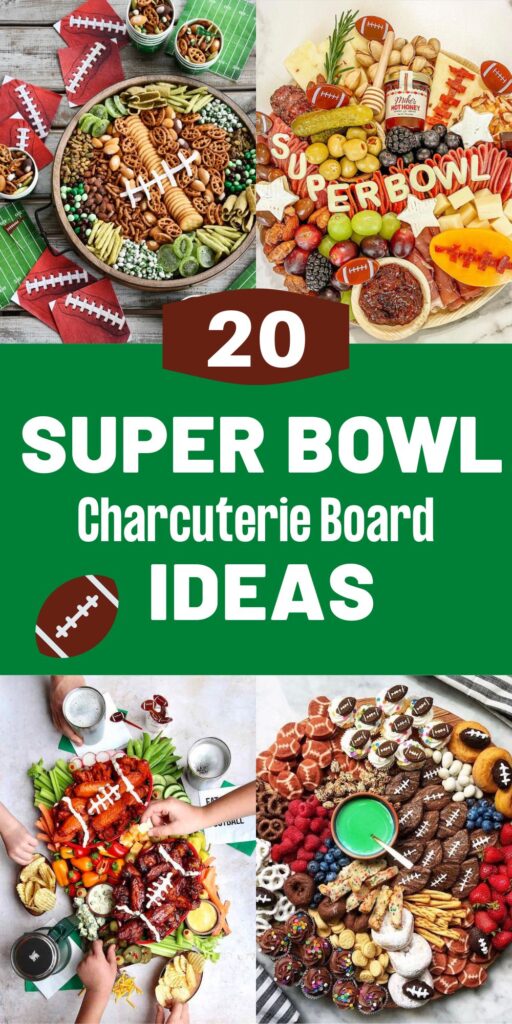 This post contains affiliate links. See our full disclosure.
Top 20 Super Bowl Charcuterie Board Ideas
This is the best board if you have limited time but still want to make something to wow your guests! Start with a circular tray and arrange two rows of pre-cubed colby jack cheese into a goal post shape. Make the base of the goal post with white cheddar cheese slices. From there, just fill in the empty spaces on the board with whatever meats, nuts, and crackers you like! Get the tutorial here.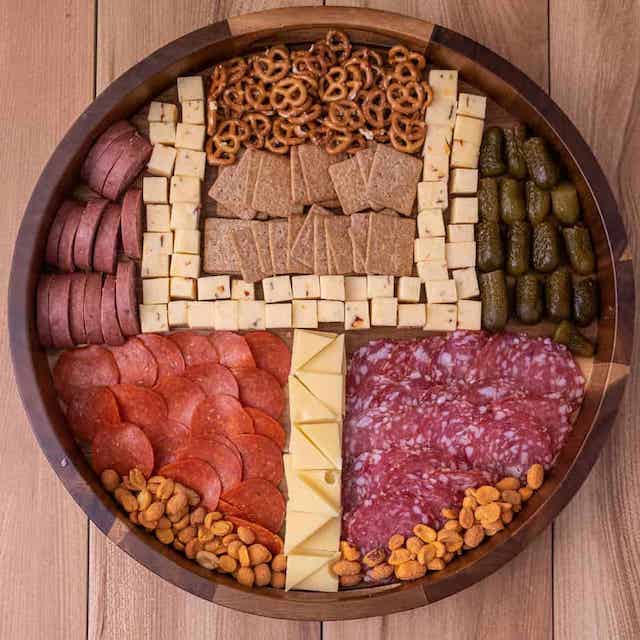 This large board can feed a big crowd. Ham Sliders add some substance to the circular platter along with your favorite appetizers. Incorporate veggies, fruit, and bowls with hummus and sour cream dip to create the perfect charcuterie board. Get the tutorial here.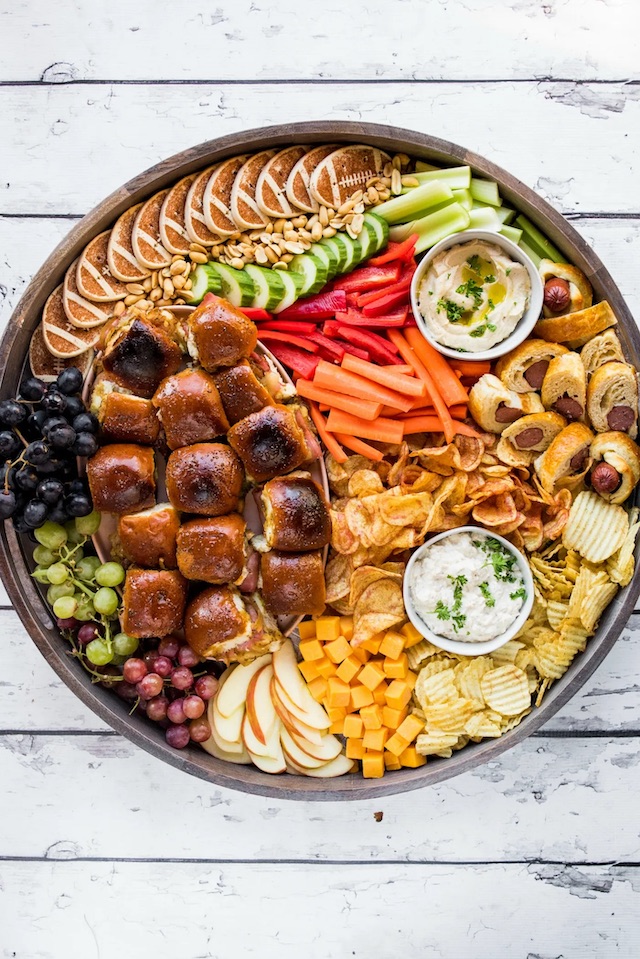 Make a cheese ball in the shape of a football shape for an instant Super Bowl charcuterie board! Surround the football with your favorite crudities, nuts, cheeses, guacamole and a dipping sauce. See on Instagram.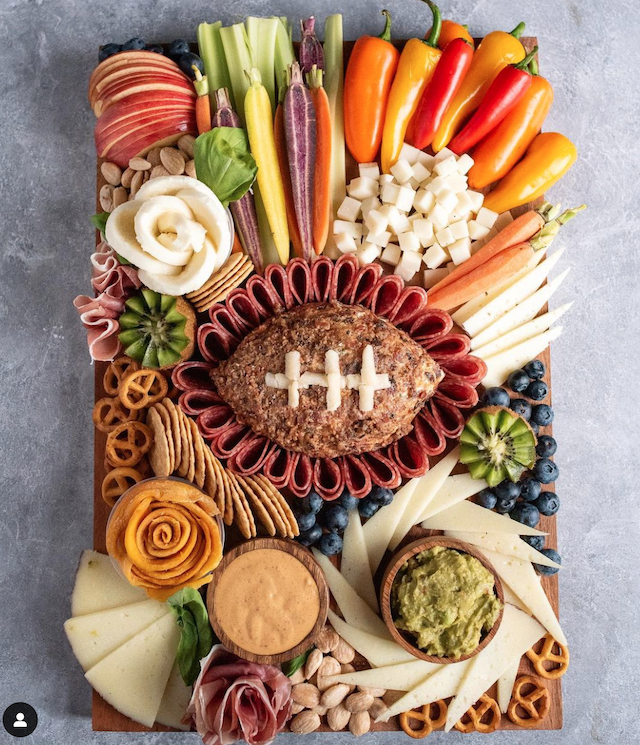 The best part of this board? You won't have to make anything else for your guests! This board is jam-packed with traditional Super Bowl appetizers such as chicken wings, pigs in a blanket, soft pretzels, veggies and your favorite party dips. Get the tutorial here.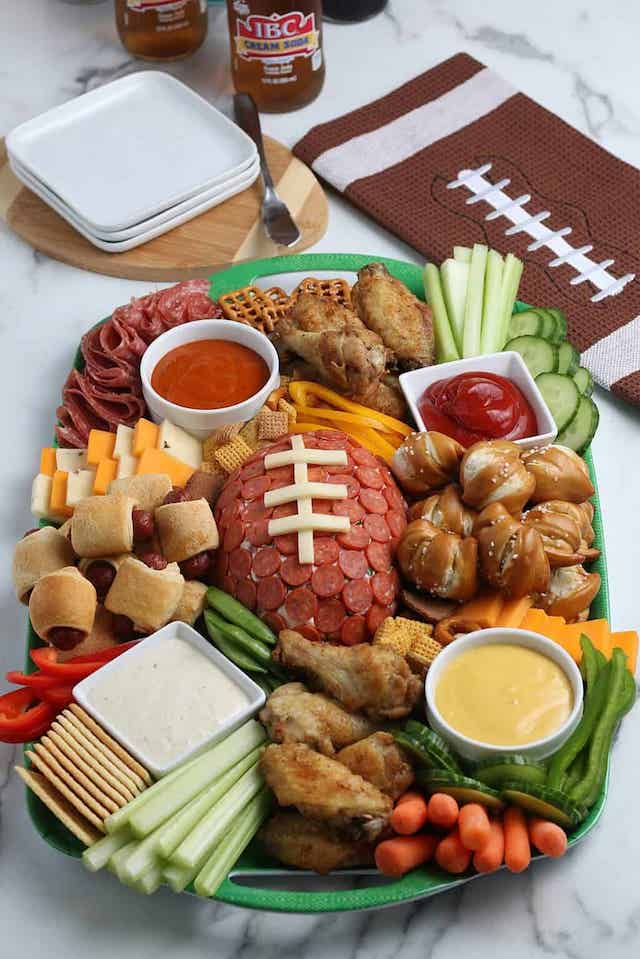 Take hot dogs to the next level by incorporating them into a game day board along with small containers of your favorite hot dog toppings, tortilla chips, and fresh veggies and fruit! Get the tutorial here.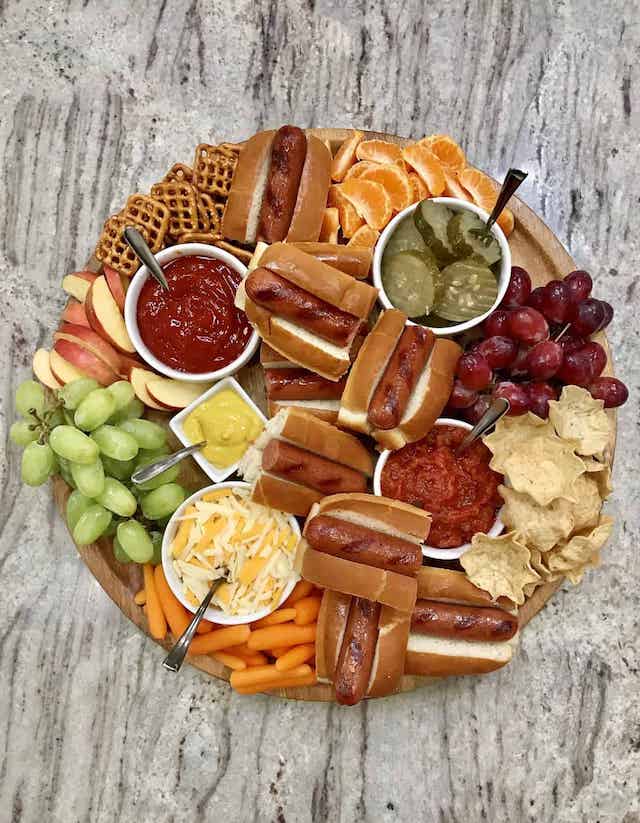 Prefer burgers over hot dogs? Make a burger board instead, or even better make both! I love these fun ideas for displaying traditional burgers and toppings in a beautiful way, without requiring much additional work on your part. Get the tutorial here.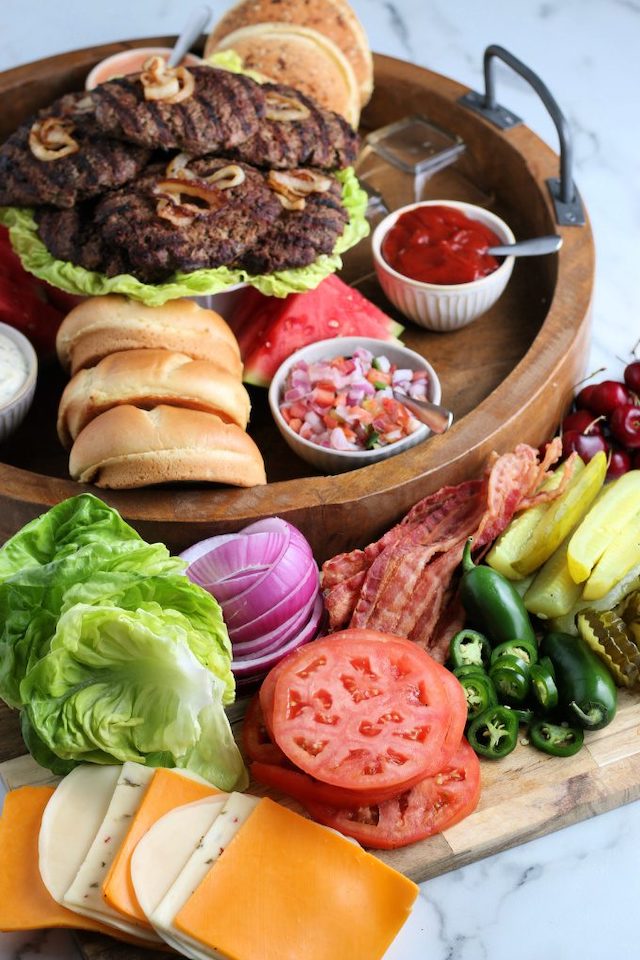 Ordering pizzas for your Super Bowl Party? Arrange one on a charcuterie board with a football-shaped cheese ball, fresh veggies, and your favorite dip for a major wow factor! Much better than just placing a pizza box on the counter. Get the tutorial here.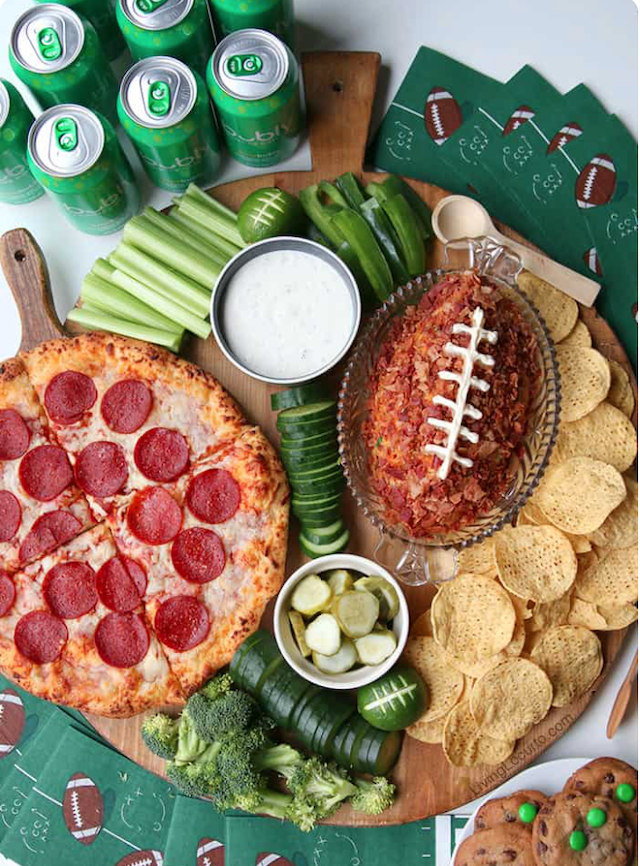 What's a Super Bowl party without wings? I love this clever idea of transforming platters of wings into footballs by drizzling ranch dip on top to create football stitches. Get the tutorial here.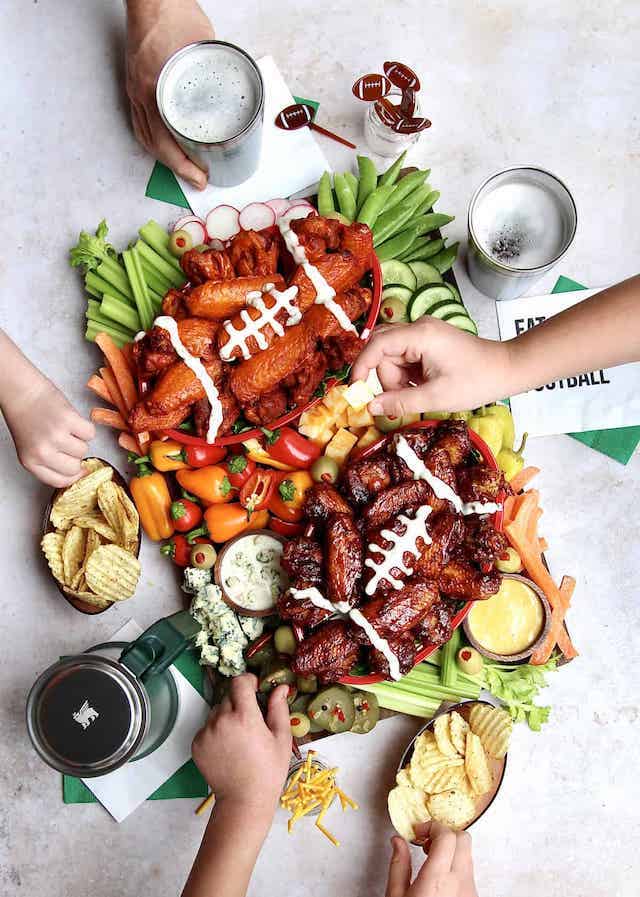 Nachos transformed into a football? Genius! Just create stitches with sour cream and surround the nacho with green toppings such as jalapeños, cilantro, and guac that guests can use to top their own nachos. Get the tutorial here.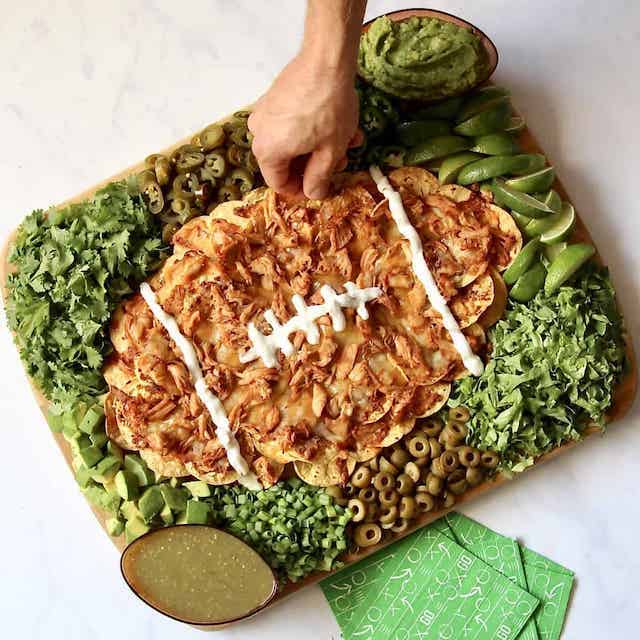 Arrange all your favorite salty snacks on a board in a football shape. A template cut from wax paper and placed on the bottom of the tray can help create the shape. Surround the football with green snacks such as wasabi peas, pistachios and green candies. Get the tutorial here.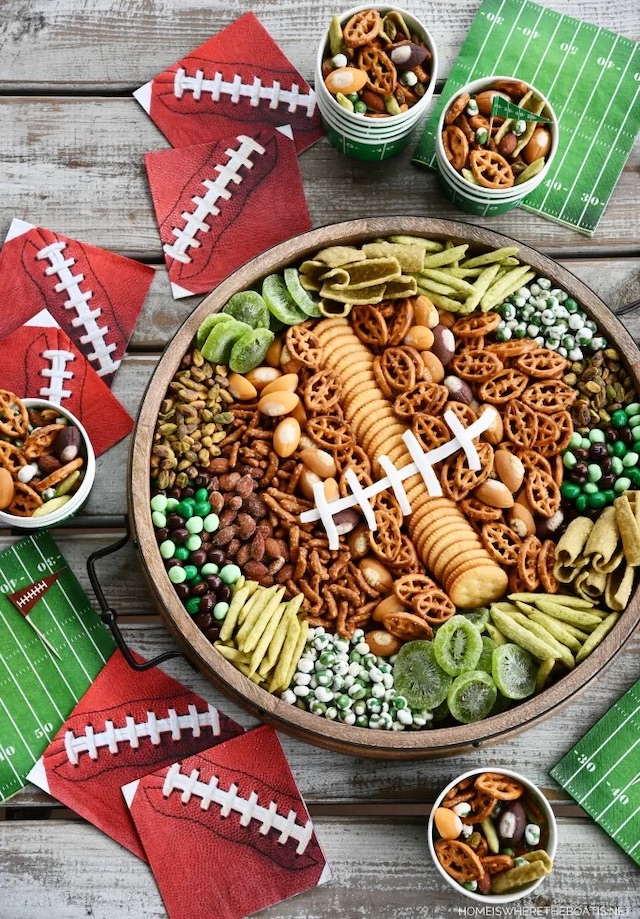 Make a classy cheese board for your Super Bowl party with your favorite hard and soft cheeses, and salami rolled up and arranged in a football shape with cheese cut to look like football laces. See on Instagram.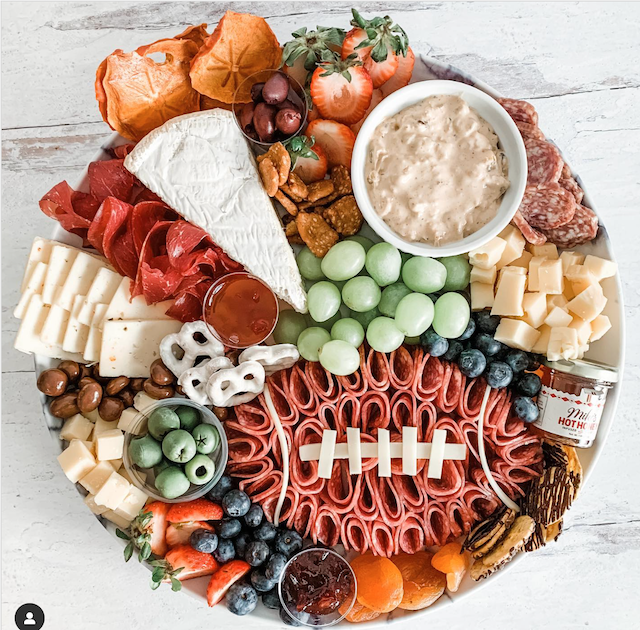 Fill a board with plenty of delicious finger foods including pretzels, chicken nuggets, tortilla chips and dips for the perfect addition to your Super Bowl party spread. Get the tutorial here.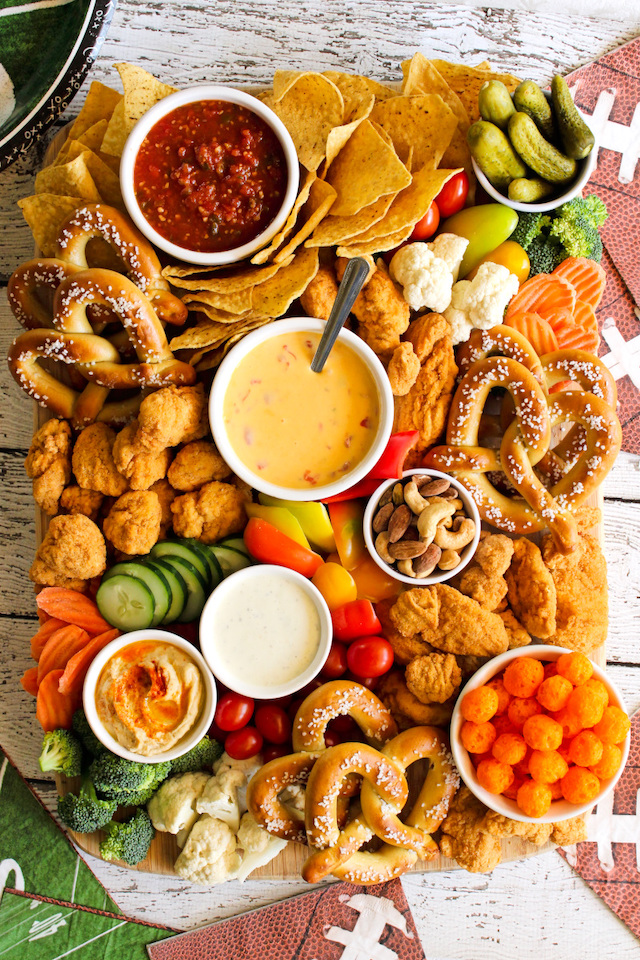 Incorporating little accessories like mini footballs and flags is a super simple way to dress up a basic charcuterie board. Pair with fun football themed napkins and plates. Get the tutorial here.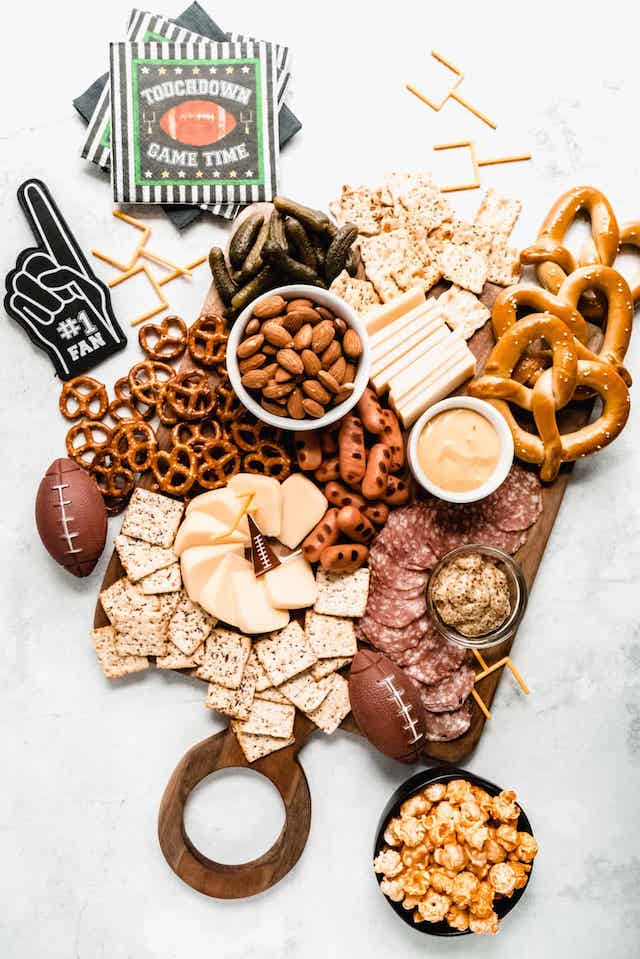 Staying home for the Super Bowl? You can still make a special party for two with this simple idea! Fill up the board to enjoy together in front of the TV and skip dinner. Get the tutorial here.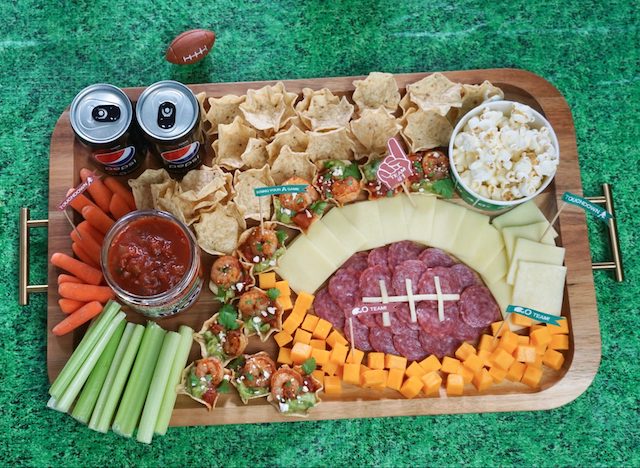 Make sure the kids have something special for your Super Bowl party with this sweet treat filled board. Incorporate kid-friendly football decor. Get the tutorial here.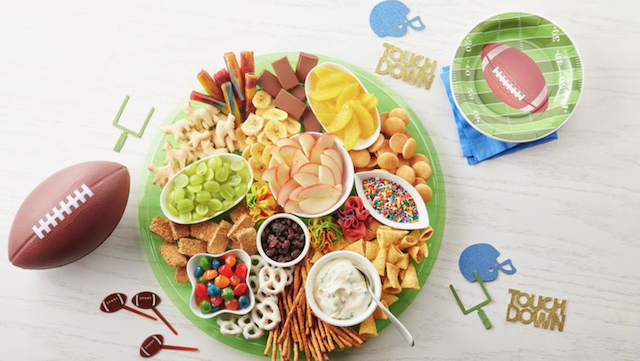 You can make healthy boards for your Super Bowl party too! Skip the fried foods and chips with this low-carb snack board. Get the tutorial here.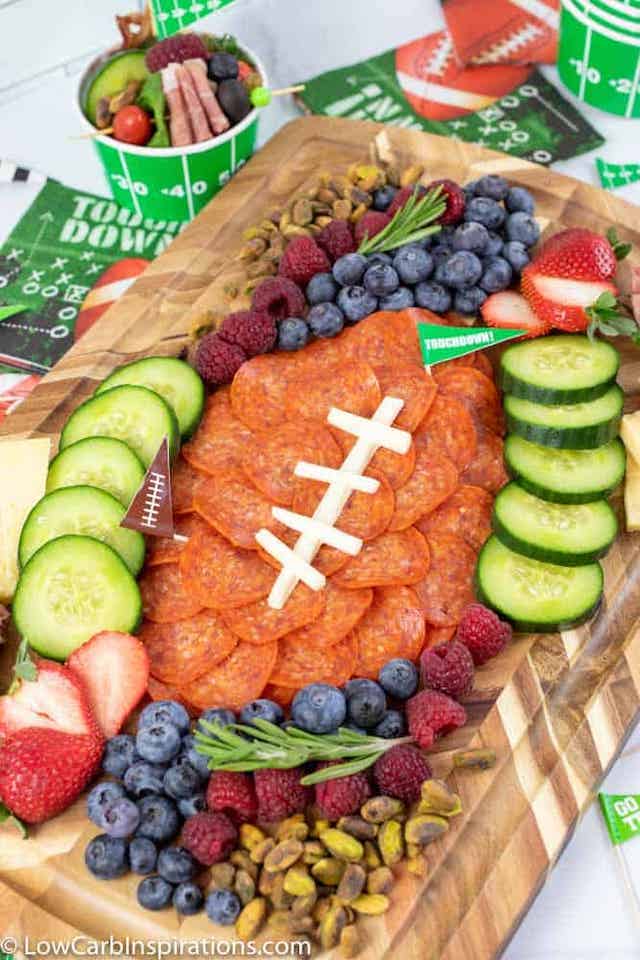 I love the idea of using mini cookie cutters to cut letters from cheese. Add in some mini footballs into your board for an instant crowd pleaser. See on Instagram.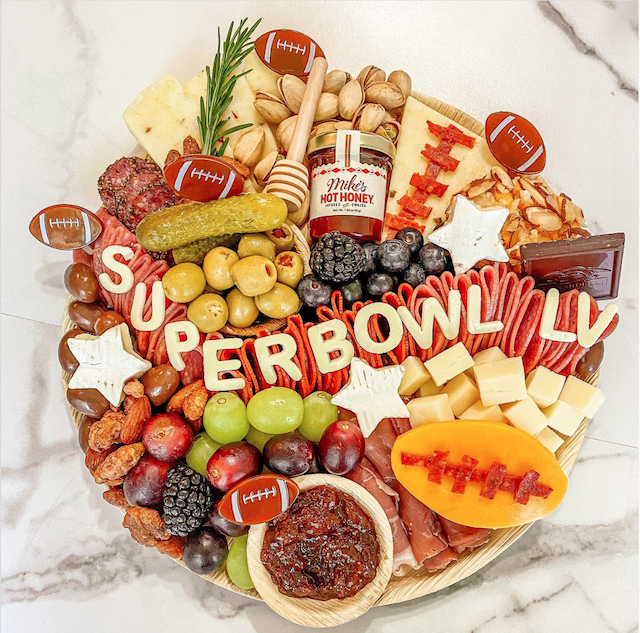 A Super Bowl charcuterie board doesn't have to just include fried foods and chips. How about football shaped sweet treats instead? See on Pinterest.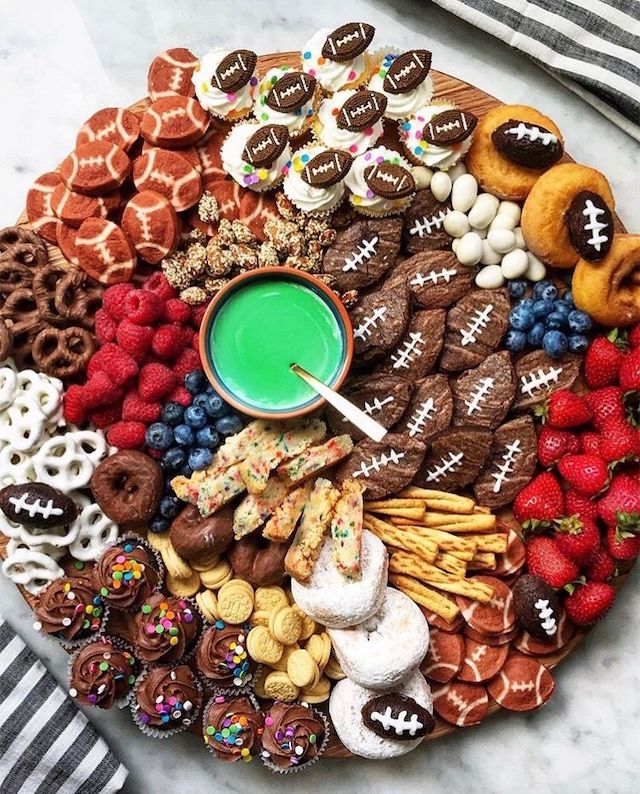 Isn't this colorful board so colorful and healthy looking? Use letter cookie cutters and cheese to spell out Super Bowl on top of salami roses. See on Instagram.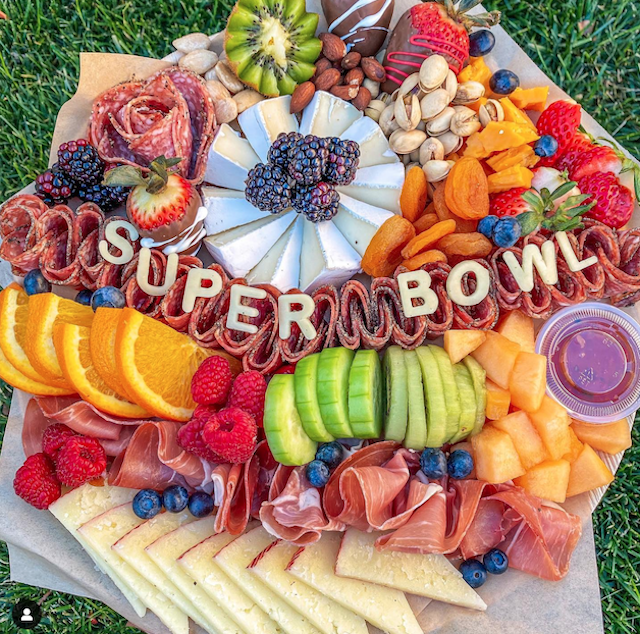 A chocolate cream cheese dessert football? Count me in! This Super Bowl dessert board is the perfect thing to surprise your guests with after halftime. Get the tutorial here.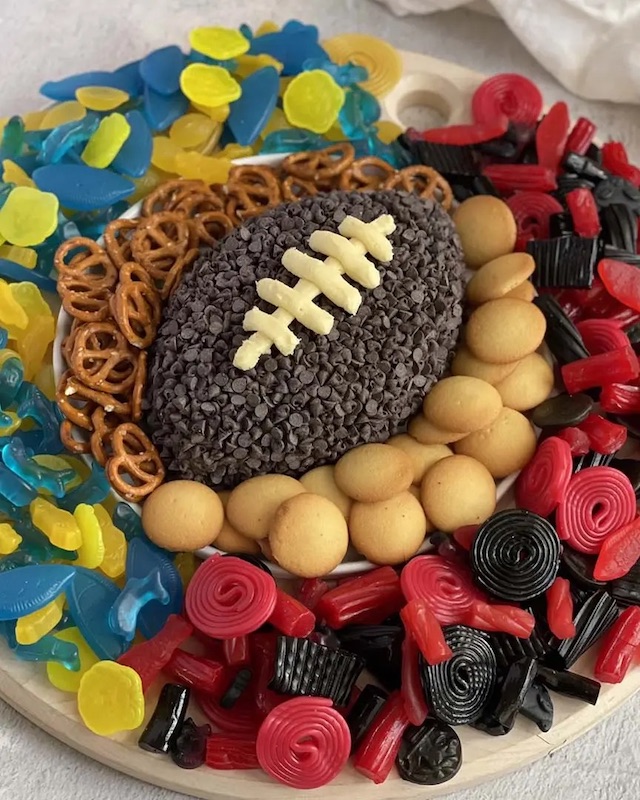 Super Bowl Charcuterie Board Supplies
Round wood charcuterie board
Check out these other charcuterie board ideas: