10 Reasons to try Modsy Virtual Room Design!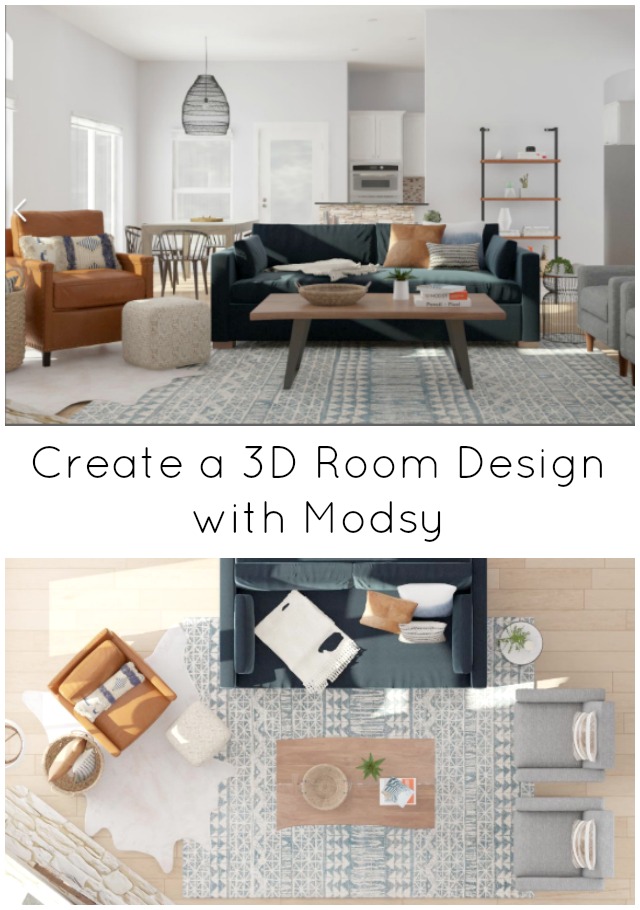 Modsy Virtual Room Design
Do you have a room in your home that you have been wanting to update forever, but don't know where to start? Then you guys, I have just the thing for you! I was asked to try the Modsy 3D room design service and I was blown away. It is an awesome and affordable virtual room design service. You only need to send Modsy photos and measurements of your room and answer a style quiz. Within days Modsy's designers send you a completely lifelike 3D rendering of your room with two fully furnished design options for you.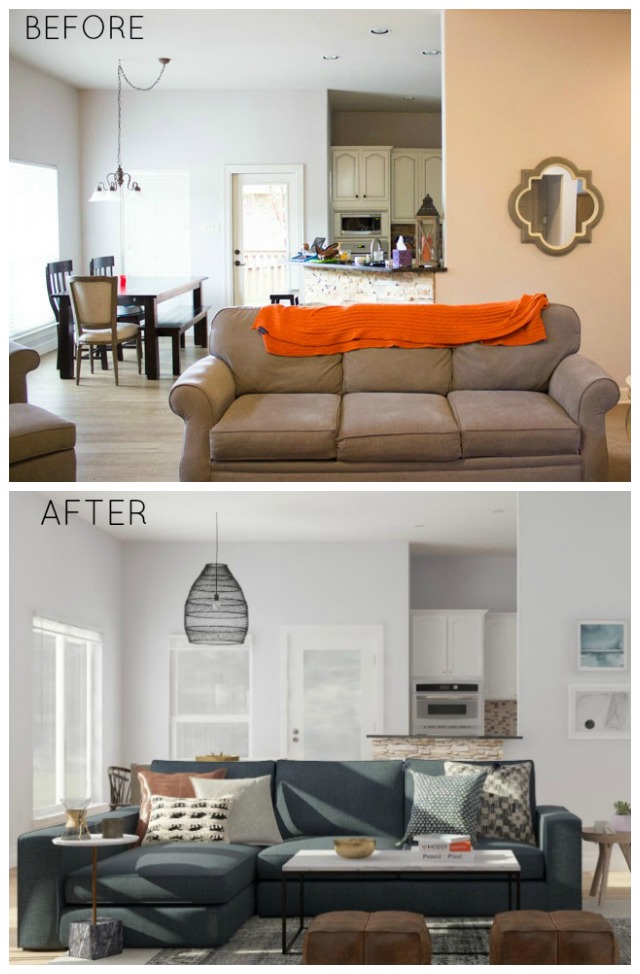 Modsy's design services start at $159 a room, with the ability to make unlimited revisions to your designs. I mean how amazing is that? I often have people ask me for design help, and I will be referring them to Modsy from now on because you can't beat the value for their quality designs.
10 Reasons to Try the Modsy Virtual Room Design Service
I decided to try out the Modsy 3D design service with my friend Olivia's house. I had helped her design her dining room and knew she was looking to update her living room next. Olivia and I were both thrilled with the results and the ease of making changes to the designs to get her exactly what she was hoping for in her living room. Here are my favorite aspects of the Modsy design service:
1. Your actual space shown in 3D
Honestly this is the coolest feature. Their ability to recreate your room and fill it with completely new furnishings is amazing. Each design is shown from numerous angles, including a feature that let's you do a complete 360 degree scroll around the room.
2. Tasteful design that matches your personal style
The Modsy design quiz does a great job narrowing in on your personal design style. They make it easy by having you pick photos of rooms that resonate most with you. You can also provide them with a Pinterest board of images you've collected for room inspiration.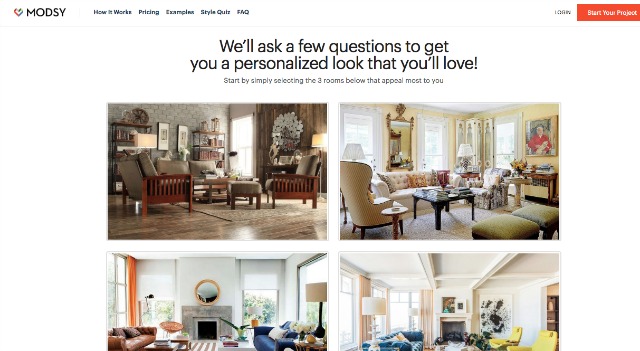 From Olivia's quiz, Modsy determined her style to be "Modern Rustic":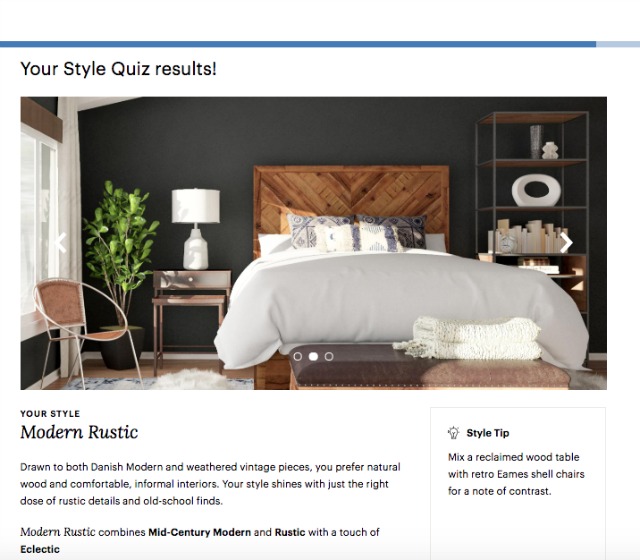 3. Ability to incorporate your favorite furniture pieces
If you have specific furnishings or custom pieces you want to leave in the room design, Modsy can create a 3D model of any piece you currently own: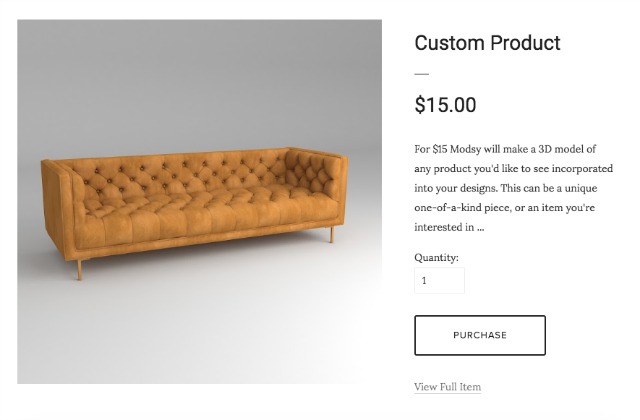 4. Not one, but two room designs
I think it is amazing that you get two completely different room designs. Here are the two that Olivia initially received for her "Modern Rustic" living room space: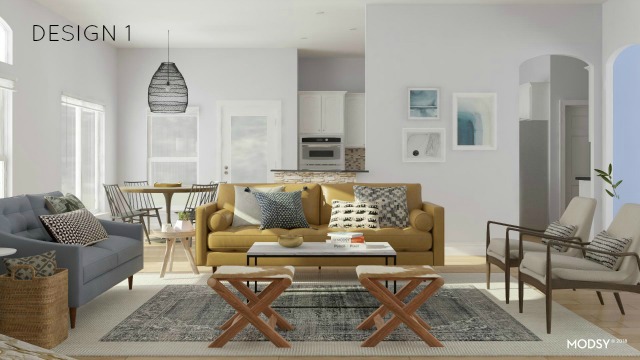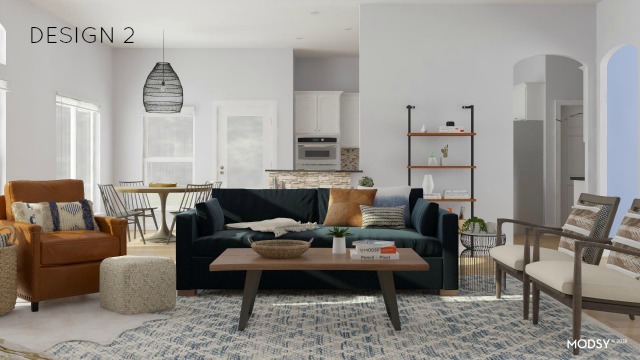 5. Unlimited revisions of your Modsy virtual room design
Once you receive your designs, you can ask your designer to make any revisions you want. For instance, Olivia asked to have the two couches in Design 1 replaced with a sectional to provide a more open view to their fireplace. The designer also replaced the pair of stools in the design with more kid-friendly poufs: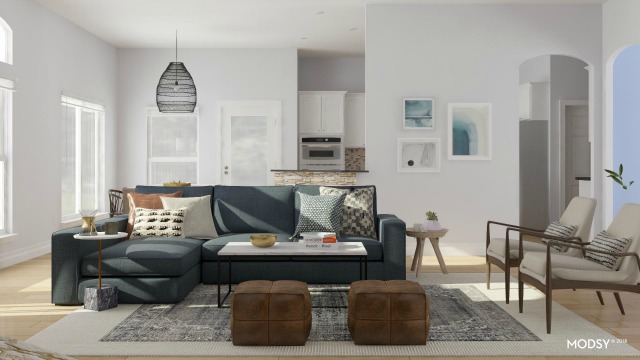 6. Shop directly from the site
If you like any of the pieces, you can click and purchase them directly from the design. However, there is no obligation to purchase anything. You can just use your new design as inspiration to do what you want with!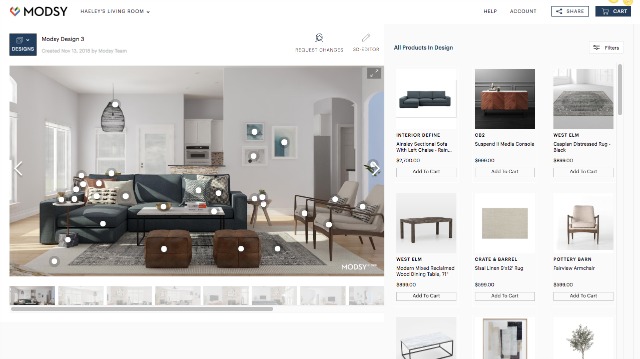 7. The ability to swap in different furnishings yourself
In addition to having the designer make changes, you can also play around directly with the design. For instance if you want to try out a different accent chair, just click it in the design and a ton of other chair options will show up for you to swap into the design.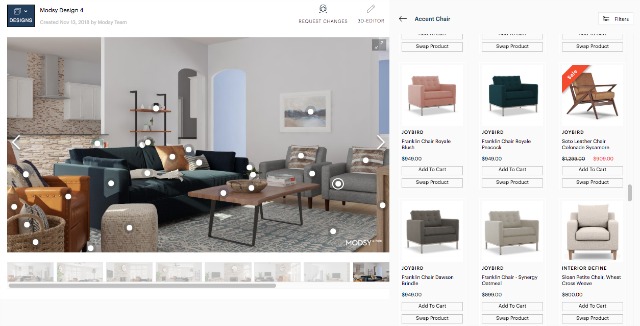 8. Option to speak with designer directly
While I submitted all of Olivia's requested changes through email, you can actually speak to the designer directly if you choose the
Premium design package option
.
9. Affordable design packages
When I was doing virtual design services for clients I was typically charging $250 for a single design. With Modsy, you get two quality designs for just $59…in 3D, with unlimited revisions. I just don't know how you can beat that. Modsy's premium package that provides you with 1:1 sessions with a dedicated designer throughout the process is only $149. I will seriously be recommending this to any friends that are looking for decorating help!
10. Design Improvised discount!
Get 20% off any Modsy design package with the code IMPROVISED20!
This post is sponsored by Modsy. All opinions are my own – I absolutely love this design service. Thanks to Olivia for letting me try it out on her living room!