Gorgeous Living Room with Geode Wall Art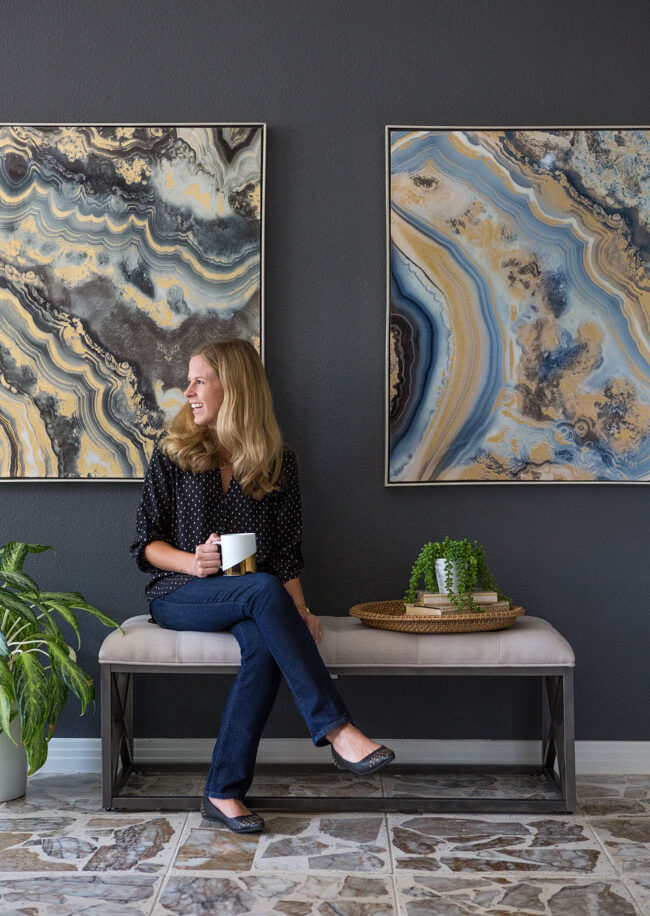 Living Room with Geode Wall Art
It's moody, it's sophisticated, it's filled with geode wall art… it's our new living room! I have been dying to share this room makeover with you all! Over the summer I was busy collaborating with hayneedle.com to give our well-loved living room a grown-up refresh. Our kid-friendly space had served us well for the last several years, but when you're in this profession, it doesn't take long until you're itching to try out a new look!
Hayneedle has been my go-to source for stylish home furnishings and on-trend decor and a great design partner. I'm thrilled with how our latest project turned out. Read on to see the reveal!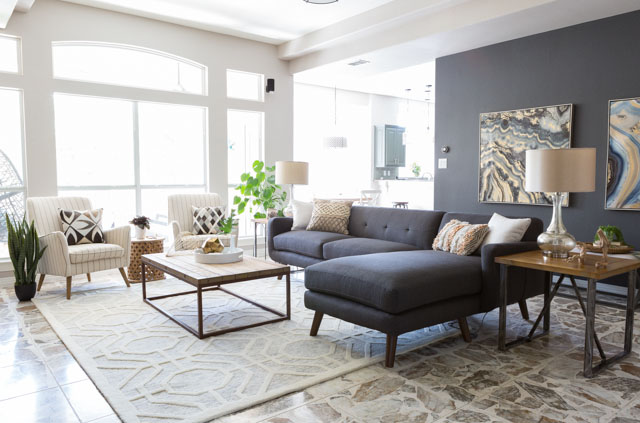 Below is how our living room looked before the makeover. I love this kid-friendly space that I did with hayneedle.com back in 2014, and that hardworking kids play table is worth its weight in gold! We weren't quite ready to give that up yet. It is still nestled in a corner of our new living room to the right of the camera. 🙂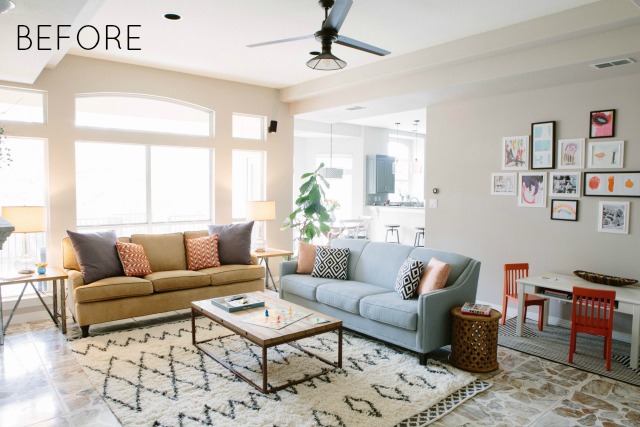 Peppercorn by Sherwin-Williams Focal Wall
It is amazing how a coat of paint and a couple key accents can completely change the look of the room. We painted the main wall a dark moody gray (Peppercorn by Sherwin-Williams). This paint is a winner for transforming a room and is the same color we have in our dining room and Ross's man cave. Painting just one wall while keeping the rest beige created a dramatic backdrop without making the room too dark.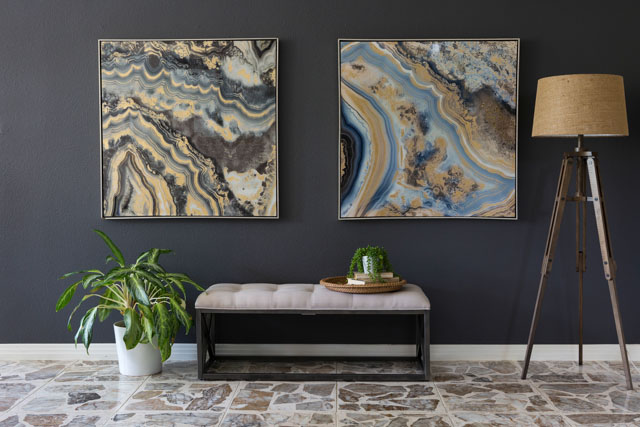 Geode Wall Art
Replacing our kids art gallery wall with these two large scale art pieces also helped create major, sophisticated impact. Aren't these granite wall art canvases gorgeous?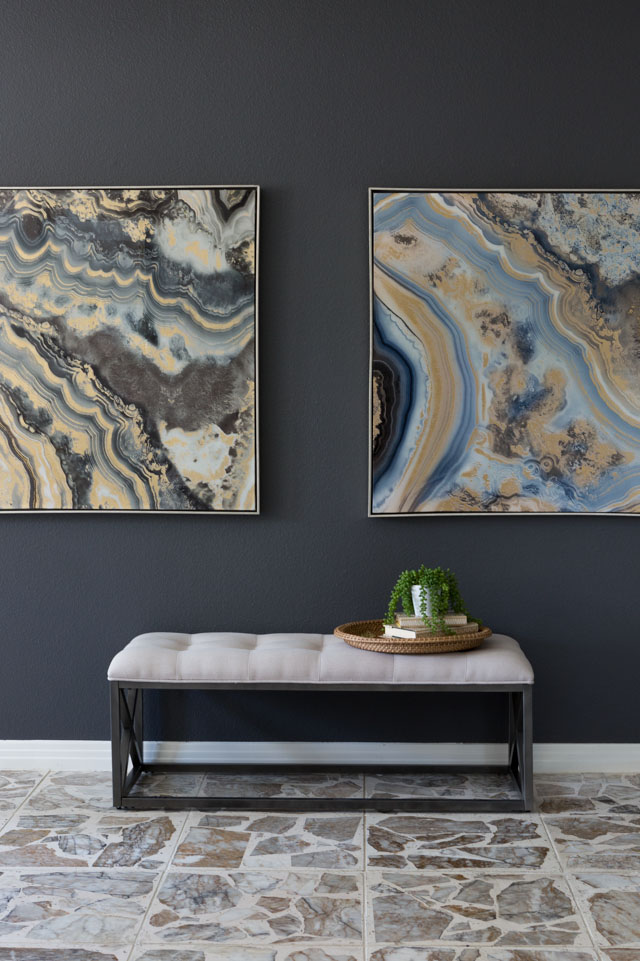 The initial idea to design a geode-inspired room came from the unique floor tiles that are in our living and kitchen area. Known as agglomerate, these were apparently imported from Colombia by the original owners of the house 20 years ago. I have never seen anything like them, and they do an awesome job disguising crumbs and dirt (sometimes too good of a job – ha!). Once I saw the wall art to complement these, I knew we were on to something good!
Here's my original room design. It is always so fulfilling to see my computer mock-up come to life in our home!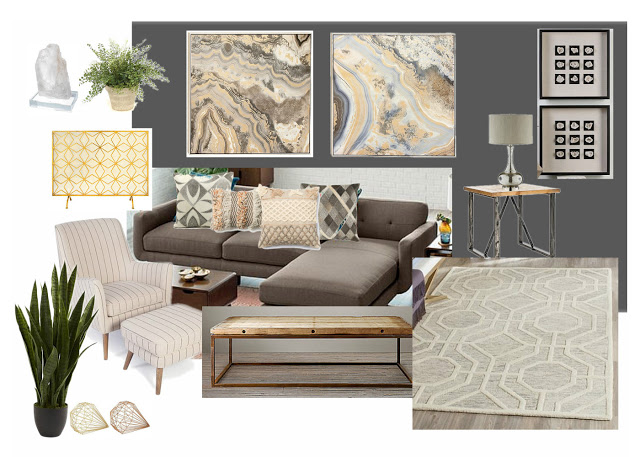 We swapped in a new mid-century sectional (big enough for all four of us to snuggle up on together!) and an easy-to-maintain area rug, but otherwise maximized our existing furnishings.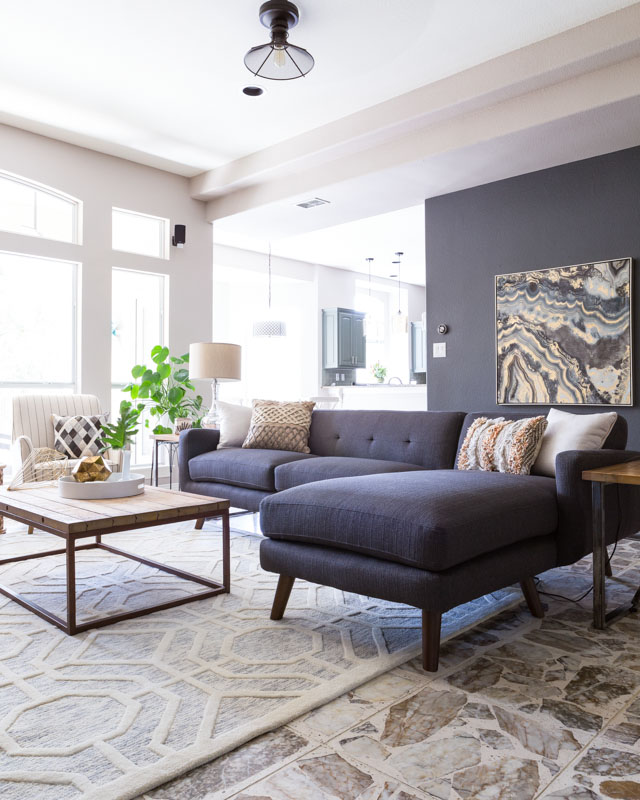 Our mid-century arm chairs are still going strong after a couple years of heavy use, and took on a whole new life when paired with a new set of leather and hide accent pillows.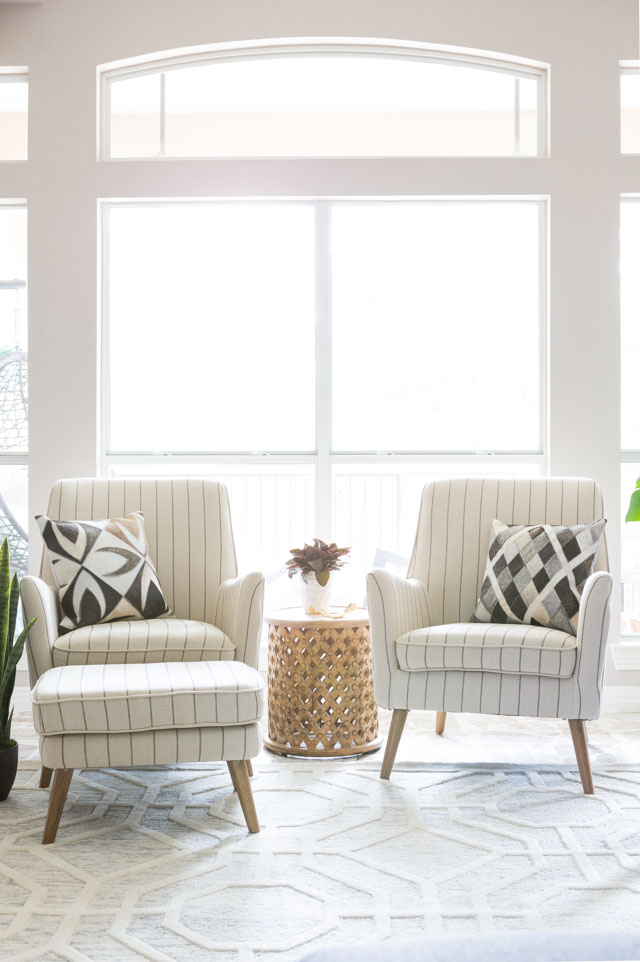 Accents like these modern diamond sculptures were an affordable way to carry the geode and gem theme throughout the rest of the room.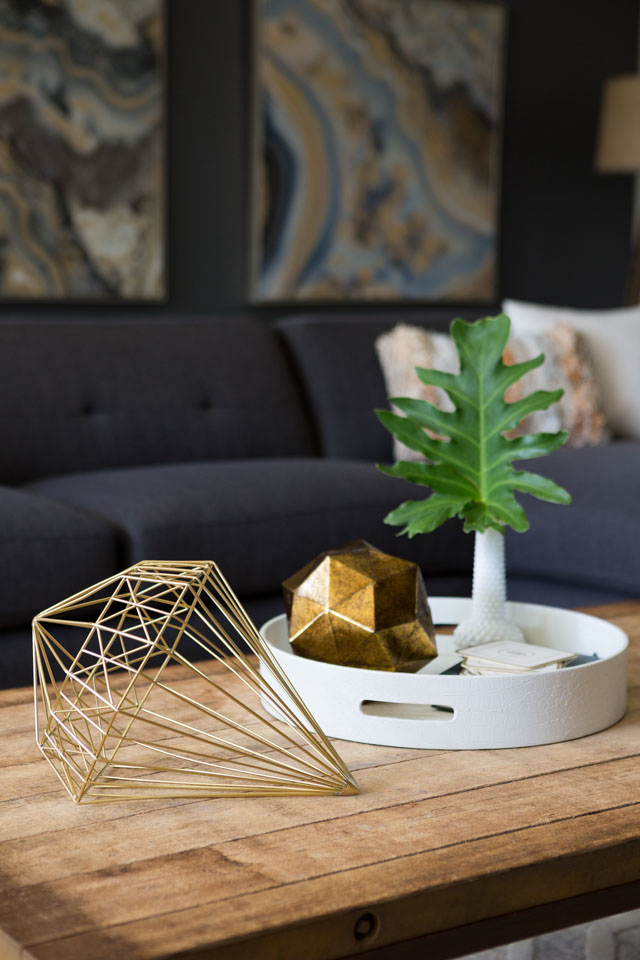 The room makeover gave me a chance to address some problem areas in the room. Fo instance, the big black gaping hole presented by the fireplace when it's not being used. Wow, what a difference a fireplace screen can make! This gorgeous diamond weave fireplace screen completely transformed this side of the room.
I love discovering one-of-a-kind pieces on hayneedle.com like this geode shadow box art. Talk about the perfect complement to the room!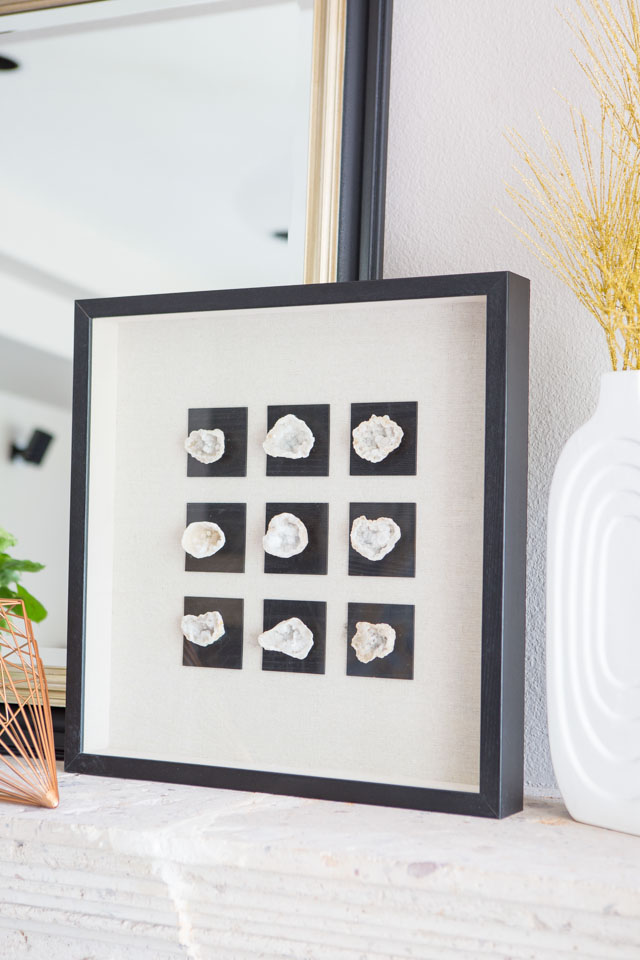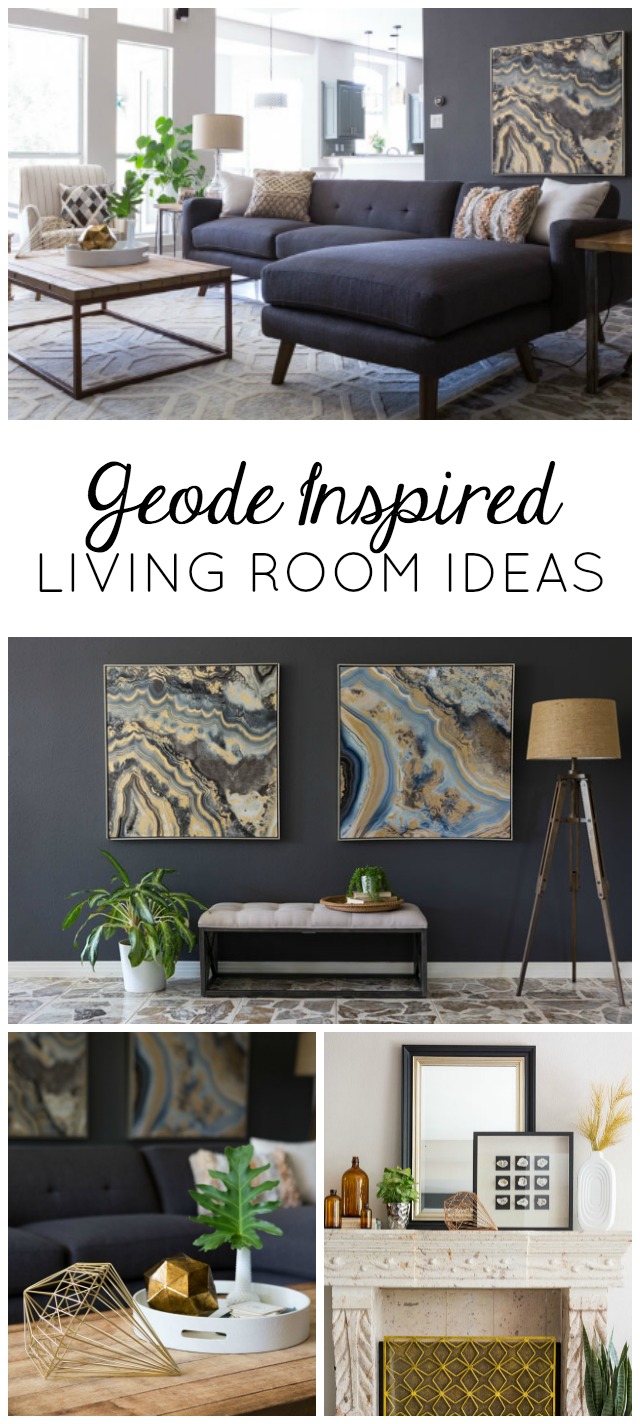 Want to see the rest of our home? Check out our home tour!
This post is sponsored by hayneedle.com. Photos by Candice Stringham.