Thrifty DIY: How to Paint an Artifical Christmas Tree
December 08, 2015 | FILED UNDER: Uncategorized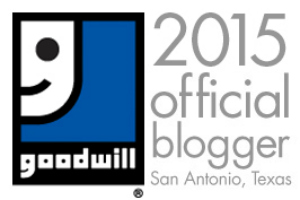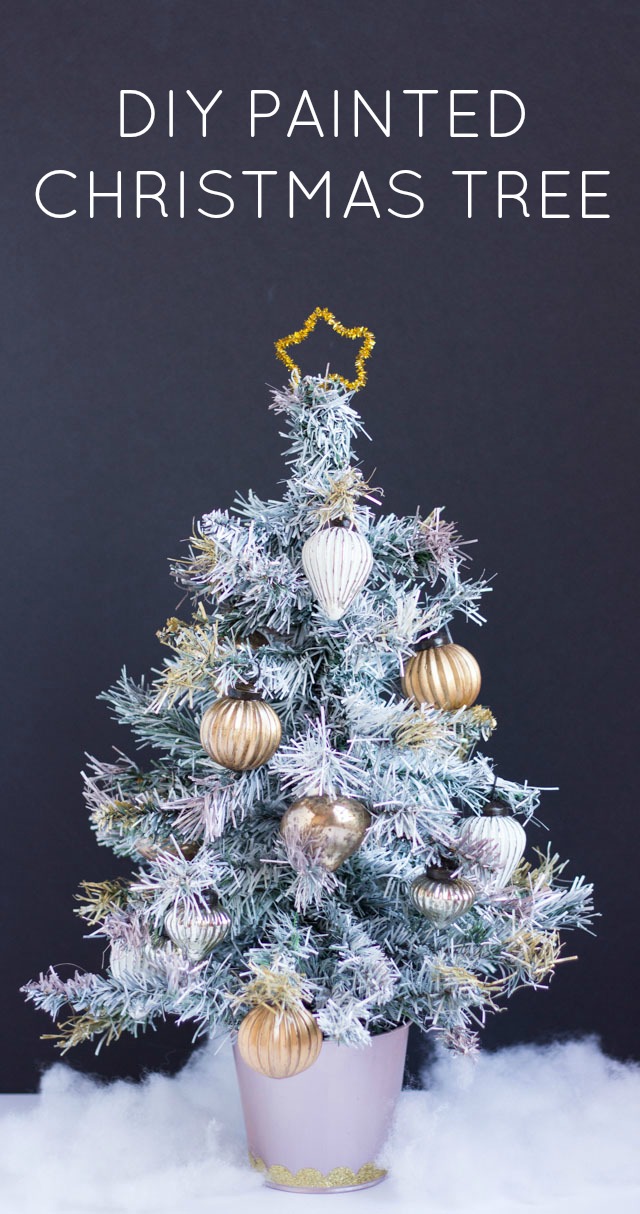 These days artificial Christmas trees come in every color imaginable from white to silver to pink. But if you're looking to try out a different color of tree, there is no need to buy one – you can make one!
For my latest Thrifty DIY, I took a $3.99 tabletop tree from the
Goodwill
and transformed it from traditional green to a flocked white tree with gold and rose chrome tips – all for a total of $10 in supplies and a little over an hour of time:

This was such a fun, doable project because I used a little tree. I have seen bloggers spray paint large trees, and while the end results are super cool it can be a time consuming and costly undertaking (requiring 10+ cans of spray paint!). However, this is the perfect technique to try on a small tree you might already have on hand, or can find at a thrift store for a few bucks! I used about 1/2 can of spray paint to cover my tree.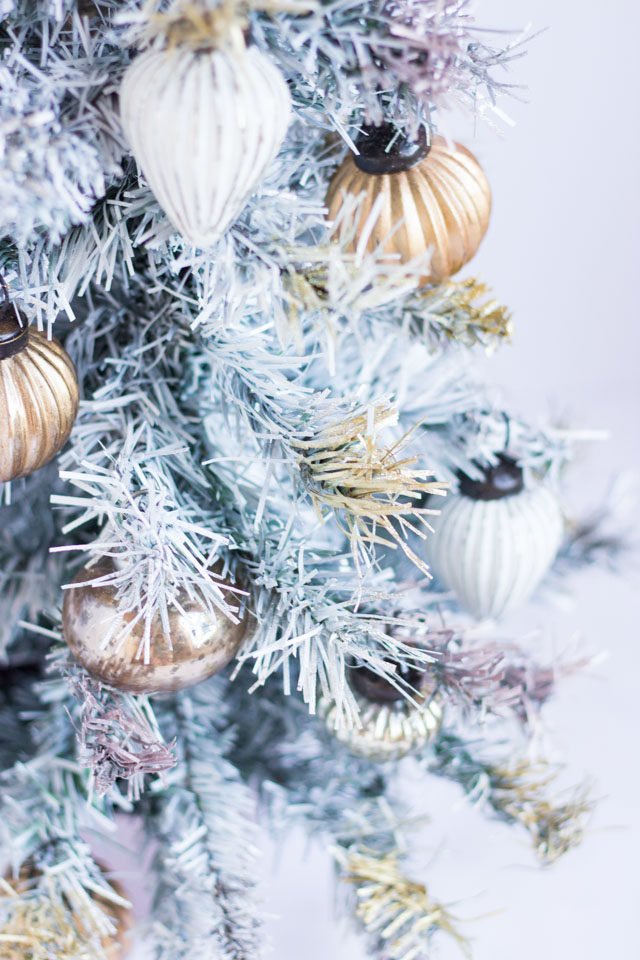 It looks like a completely different tree and looks so cute displayed on our kitchen table.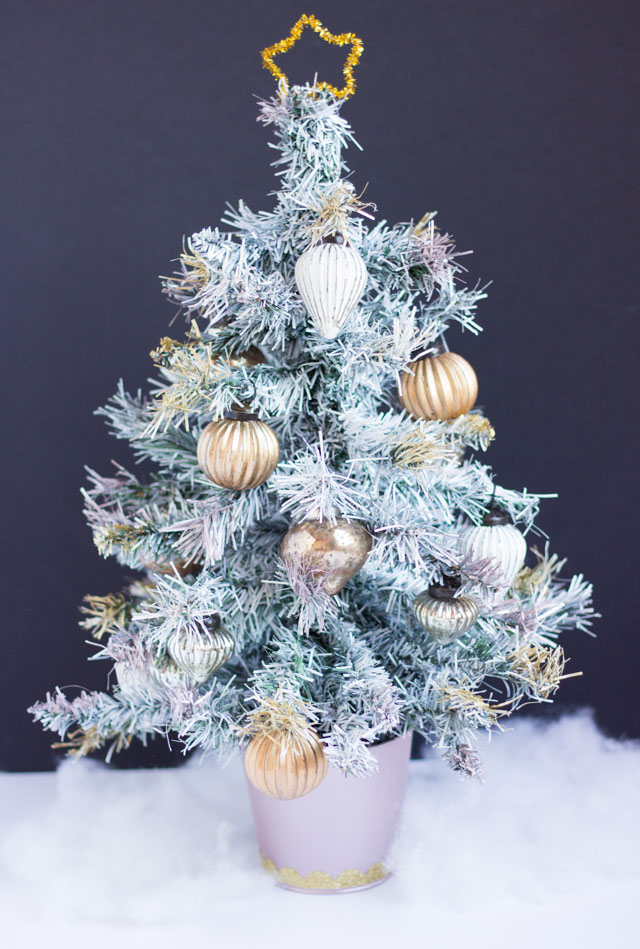 Read on to see how to makeover your own tabletop tree in an hour for under $10!
Supplies for DIY Painted Christmas Tree

How to Make DIY Painted Christmas Tree
1. Head outside and give your tree a coat of white spray paint. Be sure to get on the underside of the branches as well. I found it helpful to stand up the tree and give it a coat, and once that coat was dry, lay the tree on its side so I could spray the underside of the branches. And it's ok to let some of the green tree show through – this gives it that nice flocked look!
2. I went with a mixed metallic look for the tips of the tree, by painting some tips with
gold
and others with
rose chrome
craft paint. Just apply with a small brush, and make sure to get the underside of the branches as well.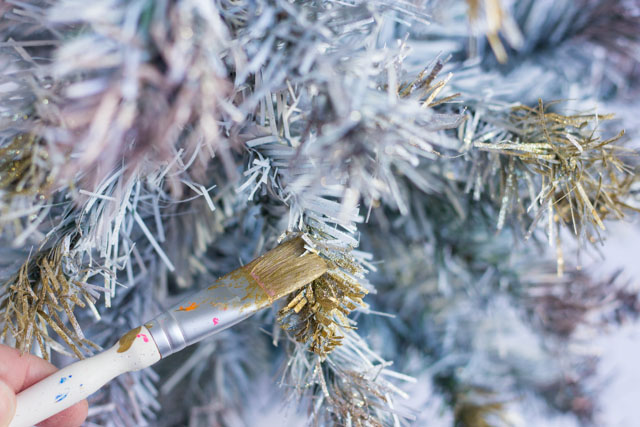 3. If you want, you can sprinkle some glitter on the tips to make them even more sparkly. It will stick to the wet paint if you do it immediately after painting. Just beware that this is messy, so do it outside on a tarp! To keep it easy, you can just skip this step – the metallic paint looks great on its own.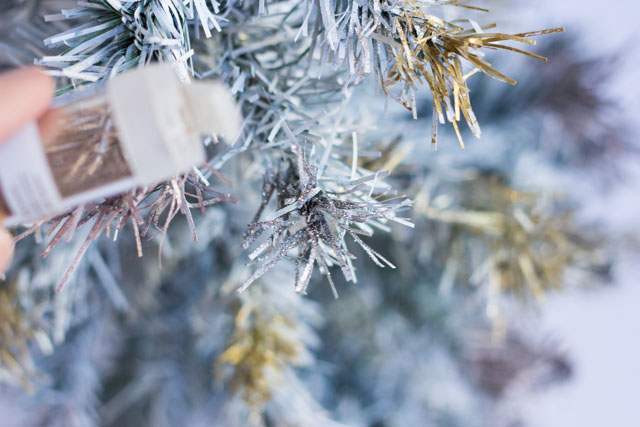 4. Here's what my tree looked like when I was done painting all the tips. My tree originally came in a little red bucket, so I spray painted the bucket white when I painted the rest of the tree.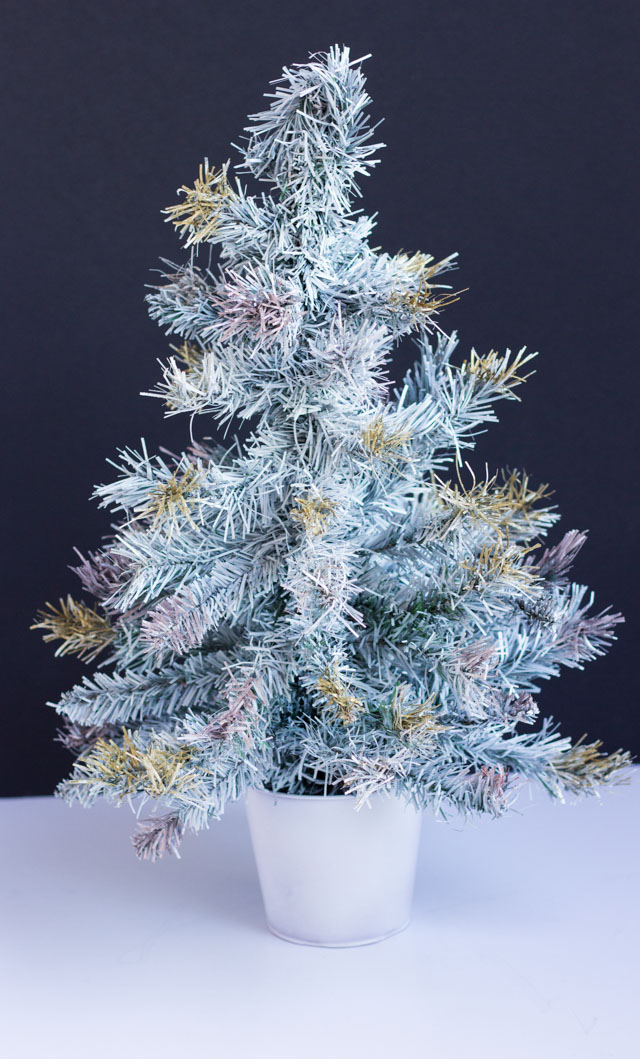 5. I finished the bucket by painting it with two coats of rose chrome craft paint and adding a strip of glittery scalloped tape around the bottom!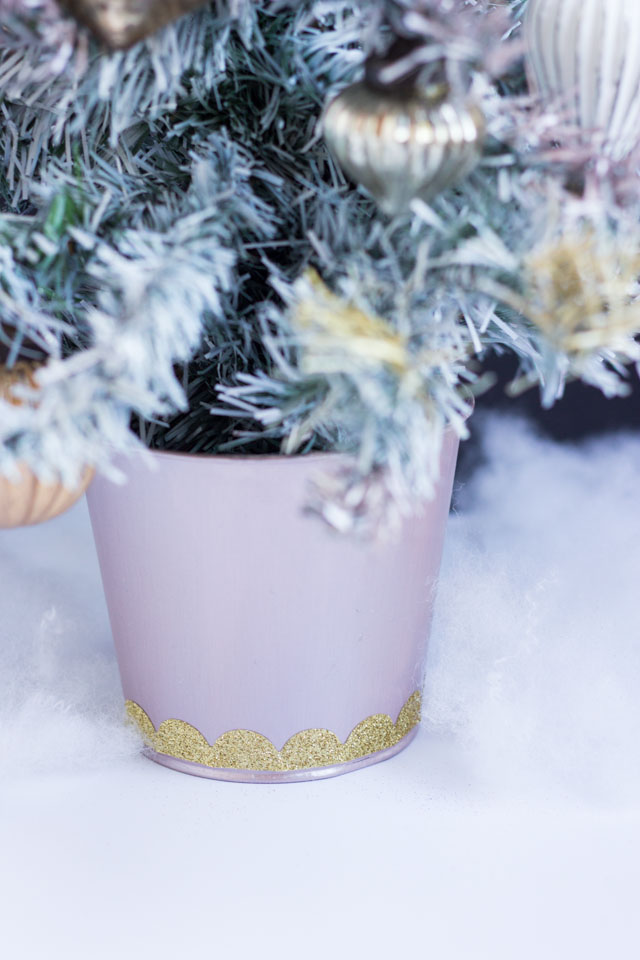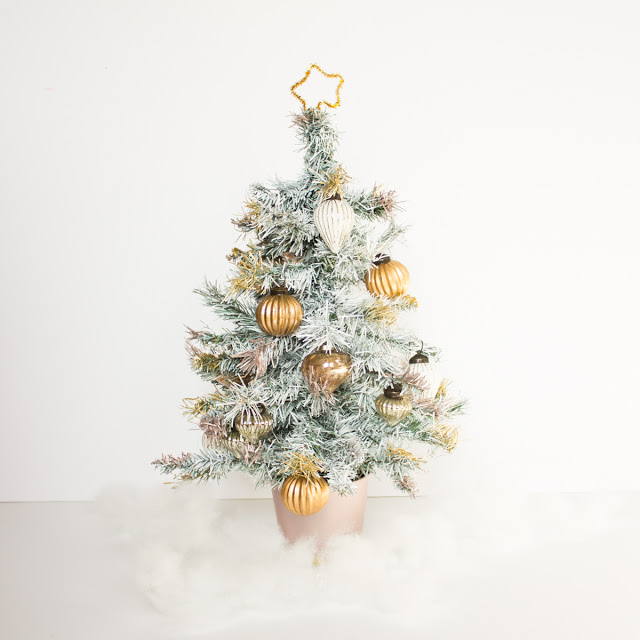 I topped of my tree with these gorgeous
vintage glass ornaments
from Minted and a simple star I made with a gold metallic pipe cleaner by shaping it around a cookie cutter! Talk about a makeover! It was really fun to do – all for an hour of work and $10 of supplies. My kind of project!
This post is written in support of Goodwill San Antonio. All content and opinions are my own.