How to Network at a Creative Conference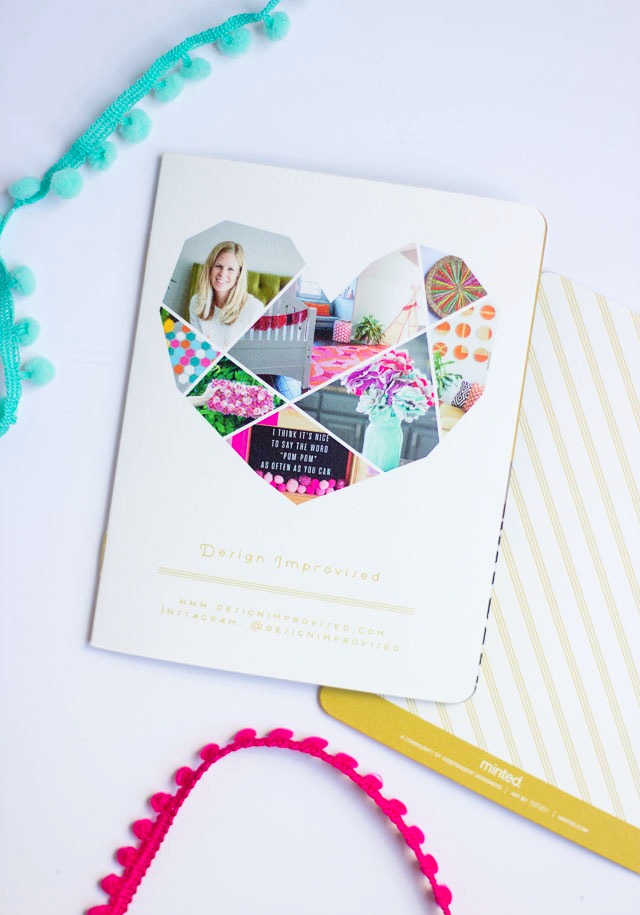 How to Network at a Creative Conference
Today I'm sharing my top 8 secrets for how to network at a creative entrepreneur conference. A little over a week ago, I attended my first SNAP Conference – a 3 day fun-filled event for creative bloggers and influencers. I had the opportunity to speak at the conference, made new blogging friends, explored promising brand partnerships, and came away motivated to make Design Improvised better. To me, the value of a conference is the connections made and I worked hard to network the best I could – and hand out my awesome new Design Improvised business "cards"!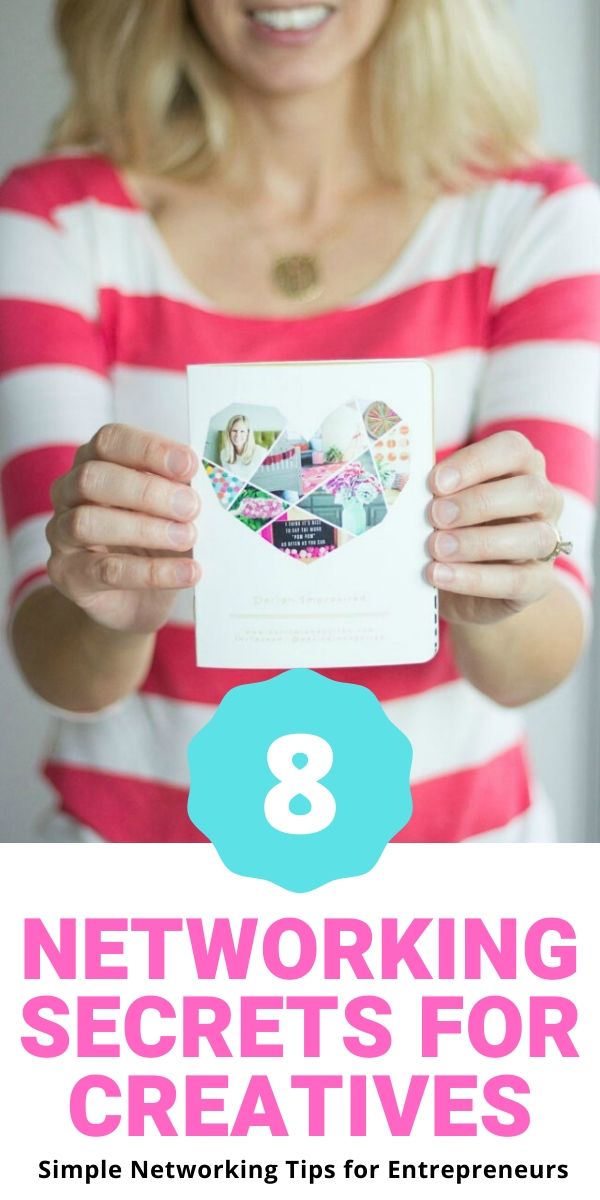 It can be intimidating showing up at a conference of 500+ attendees and introducing yourself to strangers. It struck me while I was at SNAP that many women were hesitant to network, and I was most often introducing myself to someone next to me rather than them taking the first step. So today, I thought I would make a departure from my DIY tutorials and share my 8 tips for how to network at conferences. I'm not claiming to be an expert, but it is something I enjoy and have improved on myself over the years, and want to empower other women to do the same!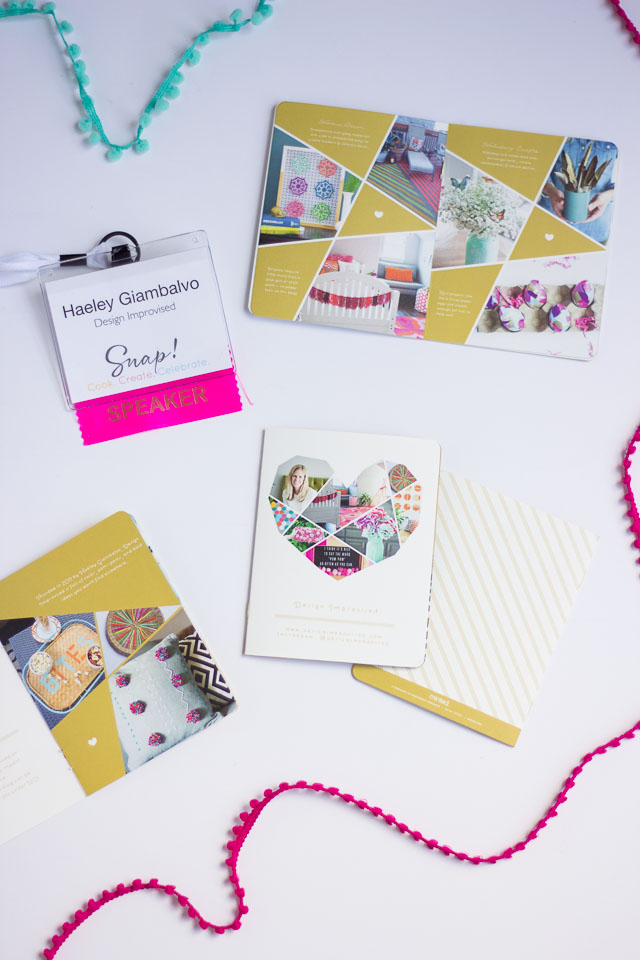 8 Secrets for How to Network at a Creative Conference
1. Have a Conversation Starter
Whether it is your unique business cards, a necklace you made yourself, or a brightly colored pair of shoes, it helps to have something on you that people are drawn to. Because I'm a crafter, I always like to incorporate an accessory I've made into my conference attire. This year, my big conversation starter were my new business cards from Minted. They are really more of a mini booklet showcasing some of my projects than a traditional card – how cool are these?!
2. Bring Something Visual
Especially at a conference where everyone is a craft blogger, it can be really difficult to separate yourself from the pack. My business cards were the perfect opportunity to showcase the "Design Improvised brand". Seeing my brightly colored, simple projects helped others know what my blog was all about. I would've loved seeing examples of other bloggers' work. Whether it is part of your business card, or a printout of images from your blog, or something handmade you hand out, it all helps show what is uniquely you!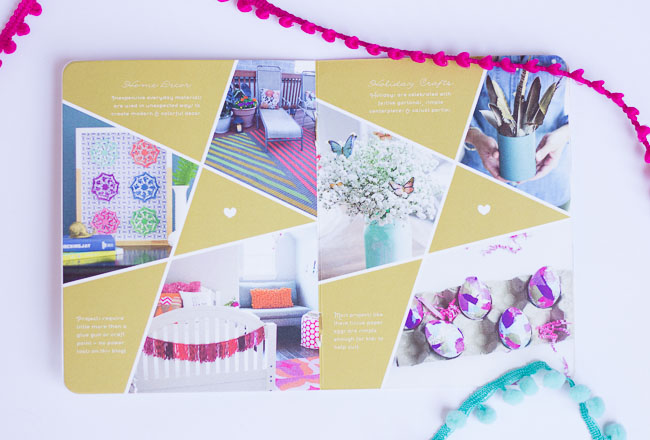 3. Master Your Elevator Pitch
When done right, this can be as powerful as having a visual representation of your work. If you are able to describe what makes your blog unique in a couple sentences it can go a long way towards people remembering you after the conference. So many times, I heard people say "I'm a craft blogger" – but what kind of crafts? What are your favorite projects? What do you do that is a little different than everyone else?
For Design Improvised, my go-to elevator pitch is "Design Improvised is a blog that focuses on simple projects that make a big impact – almost all the home decor & entertaining projects on the blog can be done in under an hour for under $20". While that doesn't fully describe everything I do on Design Improvised, it gets to the heart of the majority of it.
4. Smile and Make Eye Contact
This sounds so simple it is almost silly, but it can really go a long way. Smiling at someone you pass in the hall, sitting at your table, etc. can make yourself so much more approachable.
5. Ask Questions
Don't let an initial conversation stop at "What's your blog's name?" and "What do you blog about"? Show you are genuinely interested in the other person by asking them more questions about the type of projects they do, how they got into blogging, their experiences at conferences, etc. I discovered so many interesting things about other bloggers just by asking them a few additional questions.
6. Introduce Yourself at Every Opportunity
Standing in a buffet line or waiting for the restroom? Introduce yourself to the person next to you! You never know who you might be standing by and the only way to find out is to say hello and start asking questions. It's a missed opportunity if you don't take advantage of these idle times at a conference.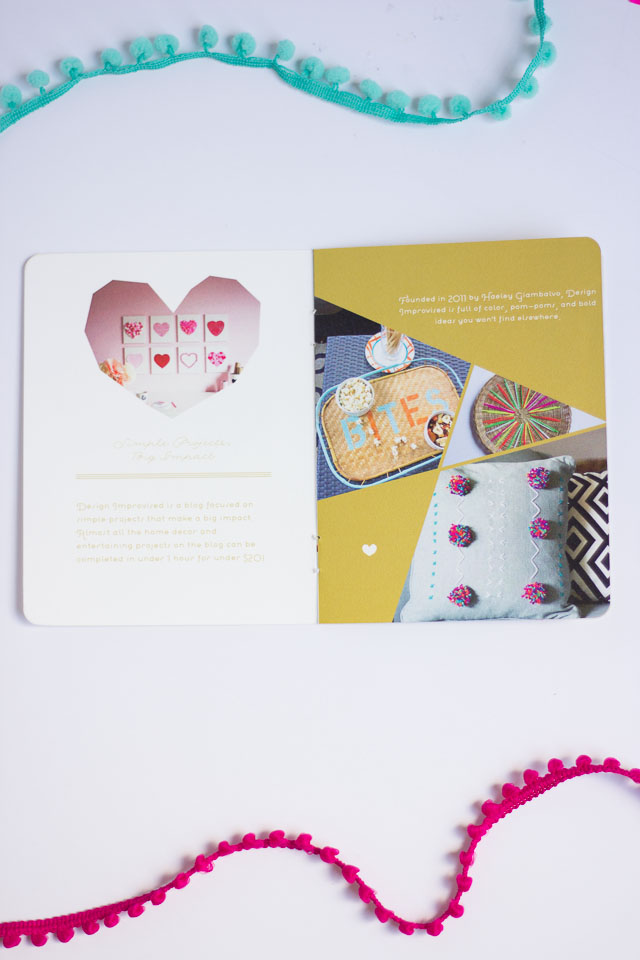 7. Sit With Strangers at Lunch
One of the best places to have a longer conversation with other attendees is at the lunch table. We had several meals at SNAP where we had 30 minutes or so to eat before a speaker took the stage. This is prime opportunity to find a table of strangers and make some new friends! And don't just talk to the two people next to you. I like to walk around the table at the beginning of the meal and introduce myself to each person and hand them my business card.
8. Skip a Session or Two
Looking to have a more in-depth one-on-one conversation with a particular blogger or sponsor? Skip a session and schedule some time to sit down with them. Often times the sponsor booths are open during the sessions and it is prime time to talk to brands without having to fight the crowds.
Lastly, spend a few minutes each night jotting down notes on the business cards of each person you spoke with to help you remember the conversation and follow up with them after the conference.
New to creative conferences? Be sure to check out Alt Summit, one of my favorites!
I hope you enjoyed these conference networking tips. Best of luck to you!
Thank you to Minted for providing my awesome business cards for SNAP. I made these using their Complete Love holiday booklet template.