10 Sidewalk Games to Try This Summer!
May 08, 2015 | FILED UNDER: Fun Activities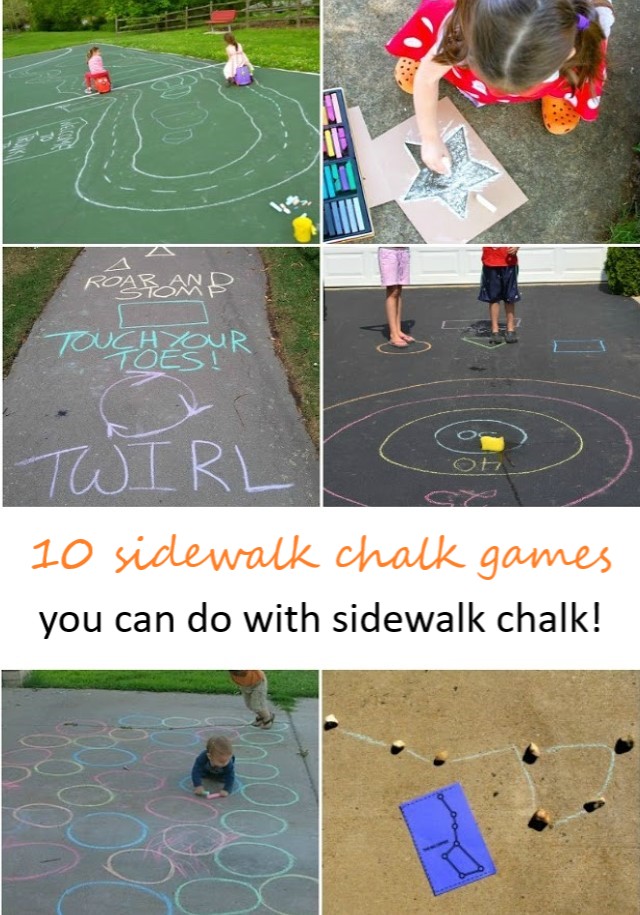 On Wednesday I shared the most used part of our backyard – our concrete patio! Stella and Hazel are always drawing with chalk out there and this list includes some of our favorite chalk activities, as well as a few new ones that I'm excited to try with the girls this summer. For each of these you need little more than some chalk!
1. Sidewalk paint – if you've run out of chalk or are just looking to try something new, this is the recipe for you! All you need is cornstarch, water, and food coloring to make this fun paint that dries into a really cool texture.
2. How to play hopscotch – I'm sure we all played (and loved!) hopscotch as a kid, however now that Stella is getting into it, I had to remind myself of the rules.
3. Chalk race track – this is one we do a lot. We typically draw a track for the girls to ride their bikes around, but we've also made a smaller track for their toy cars before and brought our blocks outside to build little mini cities!
4. Chalk stencils – I love this simple idea, especially for little ones to go beyond their usual scribbles. I know Hazel would get a lot of excitement out of lifting up the stencil and seeing that she created a star (or whatever shape you want to make!)
5. Sidewalk obstacle course – so creative, and so many options for making this one fun!
6. Sidewalk bulls eye – this activity mixes in a little water play by letting the kids through wet sponges at the target, but a bean bag or even a small rock would work just as well.
7. Preschooler jumping game – I'm trying out this game this weekend with my little jumping beans!
8. Constellation chalk art – my girls learned about space recently at preschool and they now love anything space related. Even Hazel, my 3 year old, surprised me the other day by saying, "Look mommy, the Big Dipper!" while pointing to it in a book. This would be a good challenge for them!
9. How to play four square – another one of those games that I loved as a kid but don't remember the rules.
10. Backyard scavenger hunt – kids find the items written in chalk and then add them to the circles. Such a cool idea for exploring your backyard!
Which one are you most excited to try out with your kiddos? The jumping game and the scavenger hunt are on the top of my list!