DIY Feather Centerpiece for Thanksgiving Table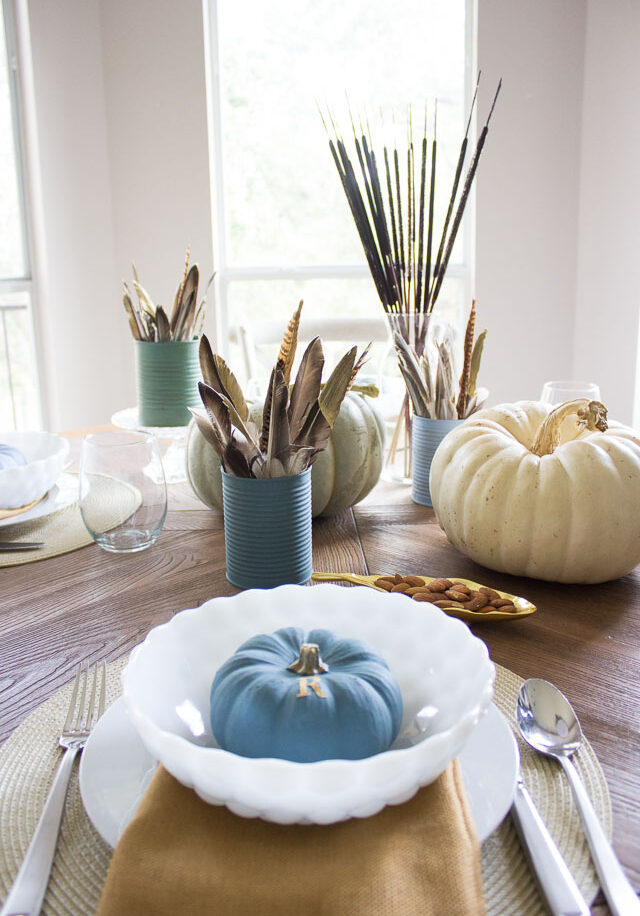 DIY Feather Centerpiece
Introducing my DIY feather centerpiece idea! Thanksgiving is hands down my favorite holiday of the year. I have the best memories of waking up to the smell of turkey in the oven and the Thanksgiving Day parade on TV, followed by a short period of chaos while my mom, sister, and I rushed to set the table and get everything ready for our few guests to arrive, and at last a leisurely lunch with family – indulging in seconds (or thirds!) of the casseroles that my mom made year after year.
Now that I'm hosting the meal, I make all my mom's dishes, but I love adding my own touch to the holiday by decorating the table a little different each year with something I've made.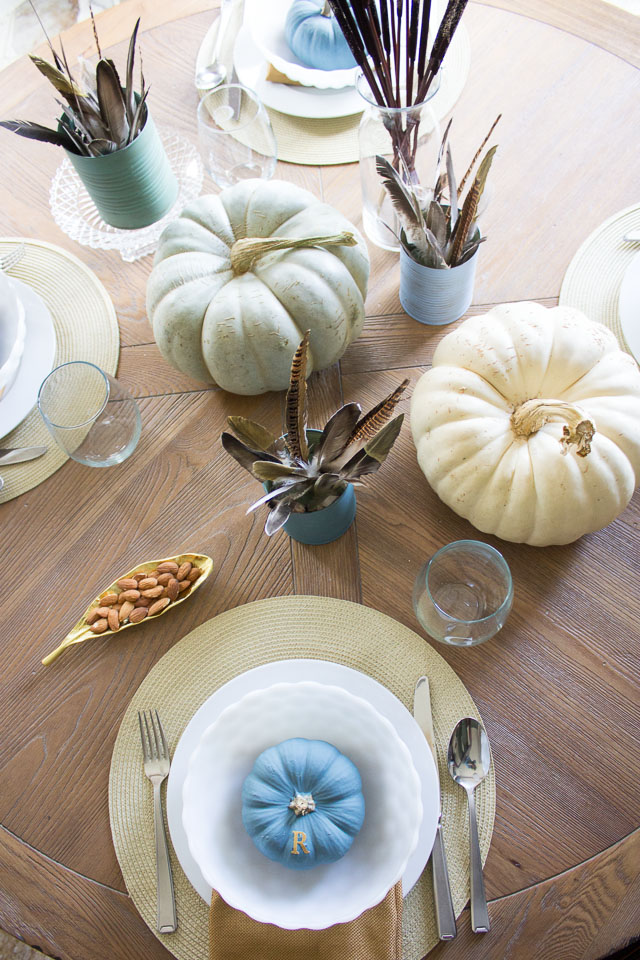 Chalk Painted Vases and Pumpkins
This year I used chalk paint to create a moody table in different shades of muted blues and greens, accented with feathers, cattails, and painted pumpkins. The paint creates a matte chalk finish on wood, metal, glass, and fabric in just 1-2 coats with no other prep. You can seal it with a clear or antique wax for a smooth protective finish.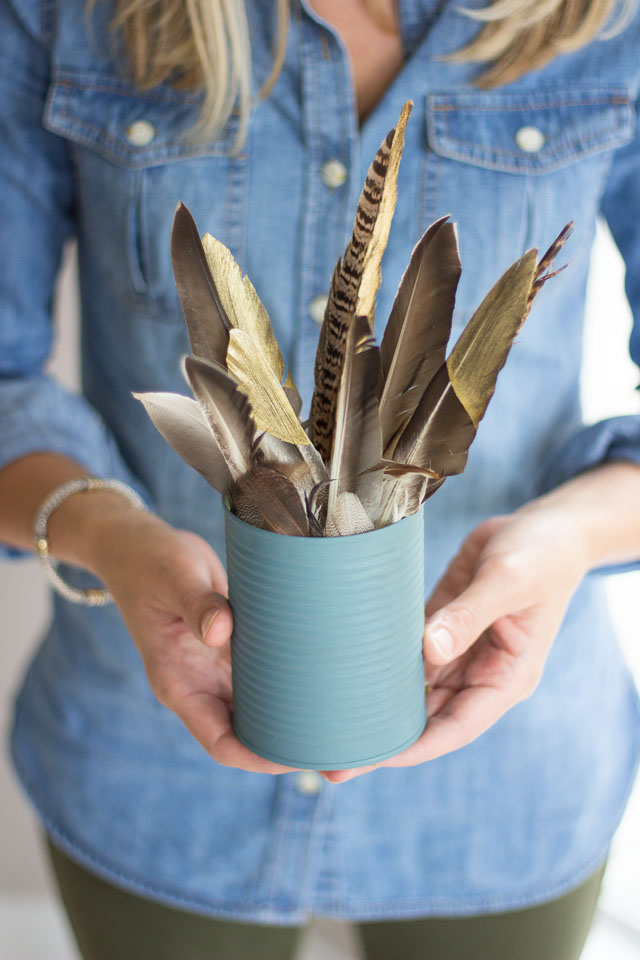 The table is made from simple components – a few empty soup cans (a perfect thing to save when making all those casseroles!), pumpkins left over from Halloween, and a couple packages of feathers from the craft store. The chalk paints transformed them into something special!
For simple place cards, I painted a small pumpkin with two coats of paint and added a gold sticker for an initial.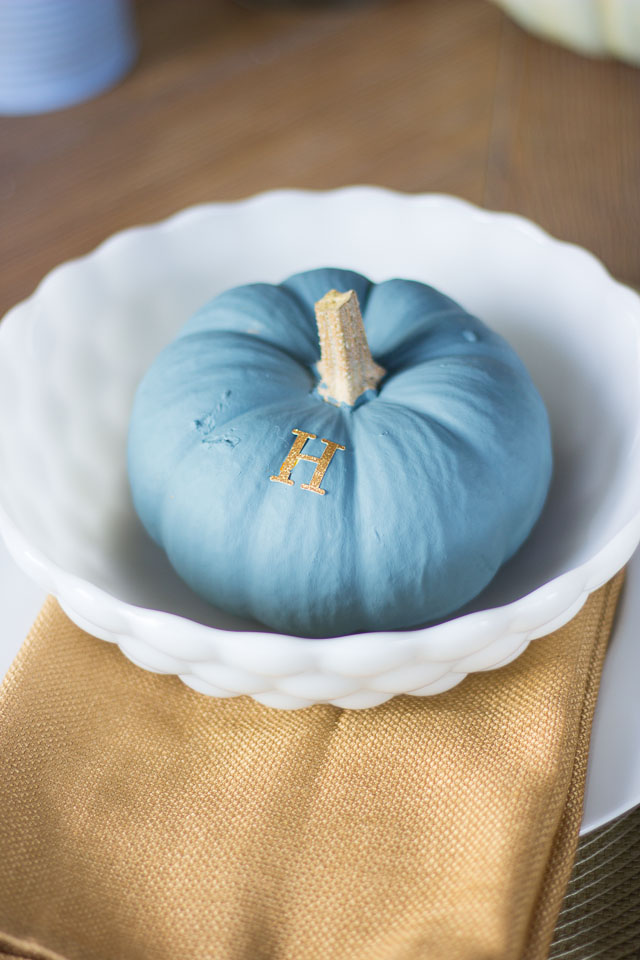 I reused this cattail bouquet that I made for Thanksgiving last year (yay for repurposing past projects!). All I did was buy a bunch of cattails at the craft store and paint some of them with a coat of glitter paint.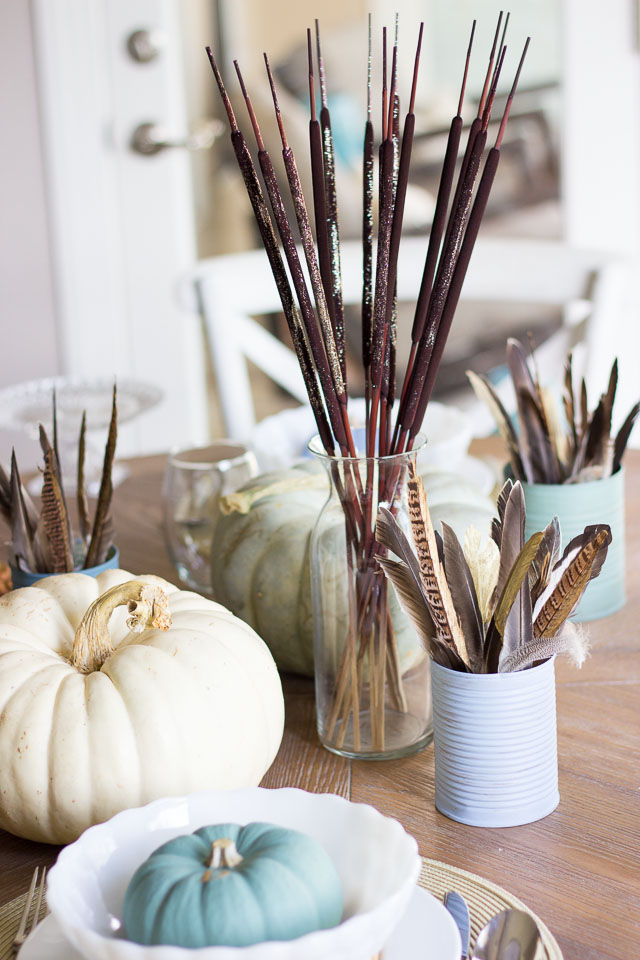 For the other centerpieces, I filled painted cans with a bouquet of different feathers. I painted a few of the feathers gold. I secured the feathers in place with a little round of floral foam at the bottom of each can.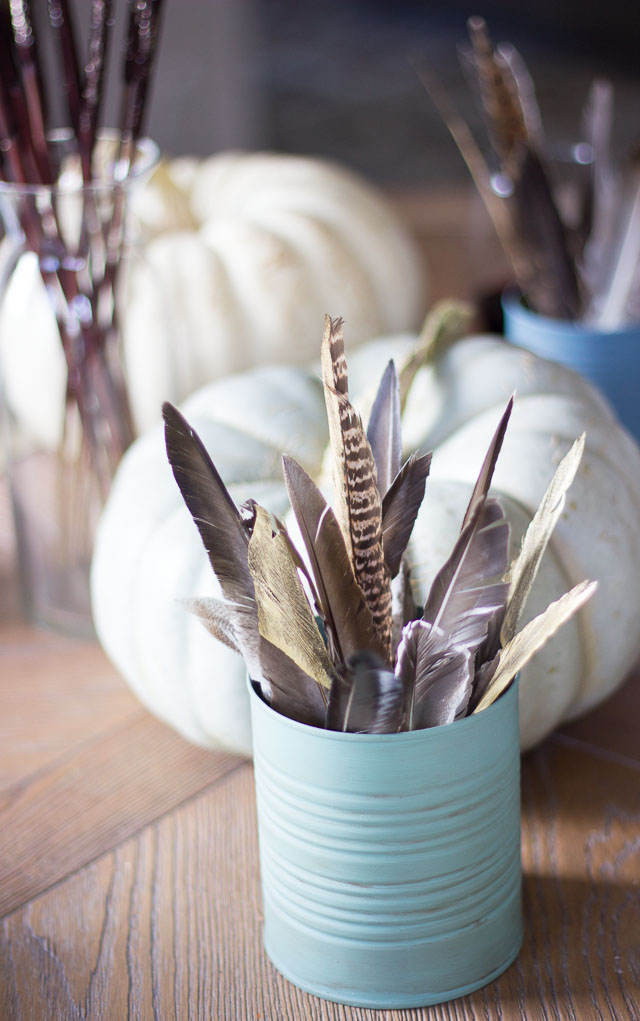 Supplies for DIY Feather Centerpiece
Clean metal cans (with lid & label removed and any adhesive removed to the extent possible)
Paint brushes
Clear wax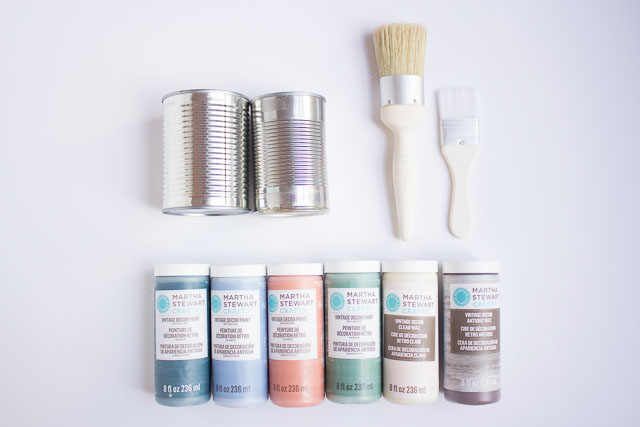 How to Make a Thanksgiving Feather Centerpiece
1. Use your brush to apply an even coat around the outside of the can. Let dry for at least 2 hours and repeat with a second coat of paint.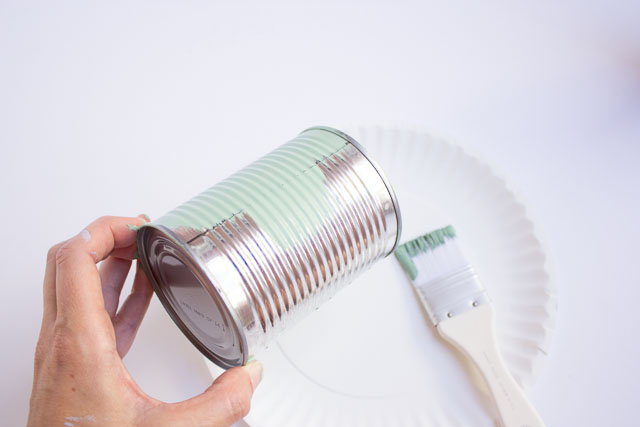 2. Once the second coat is dry, apply a small amount of clear wax with a soft cloth. Use the cloth to cover the can with an even coat and remove any excess wax. Let dry for 24 hours. If you want, you can follow with a coat of antique wax for a weathered look.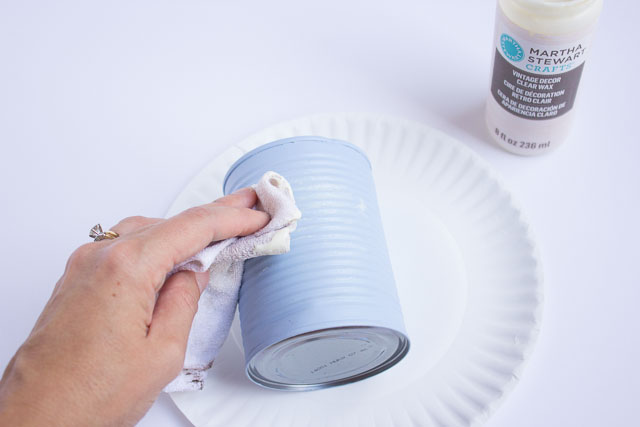 3. To create the feather arrangements, I used a couple different types of feathers, a floral foam disk, and gold acrylic paint.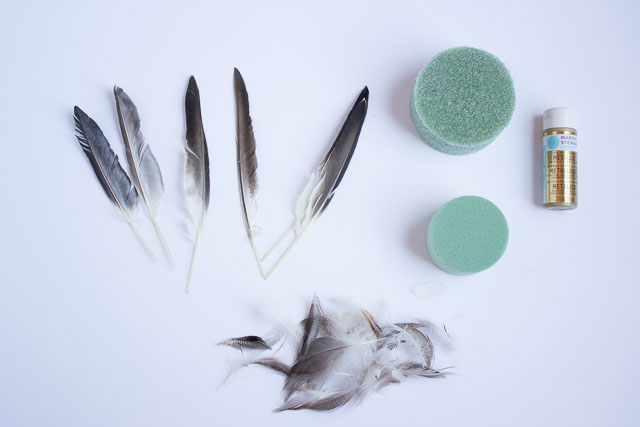 4. I painted the tops of some of the feathers at an angle and let dry.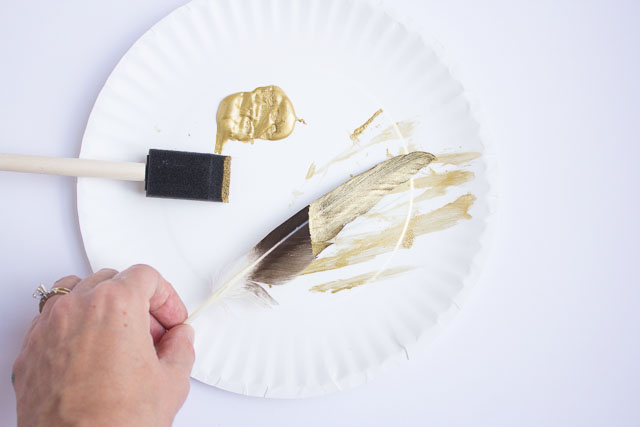 5. I arranged the feathers in the floral foam and that's it!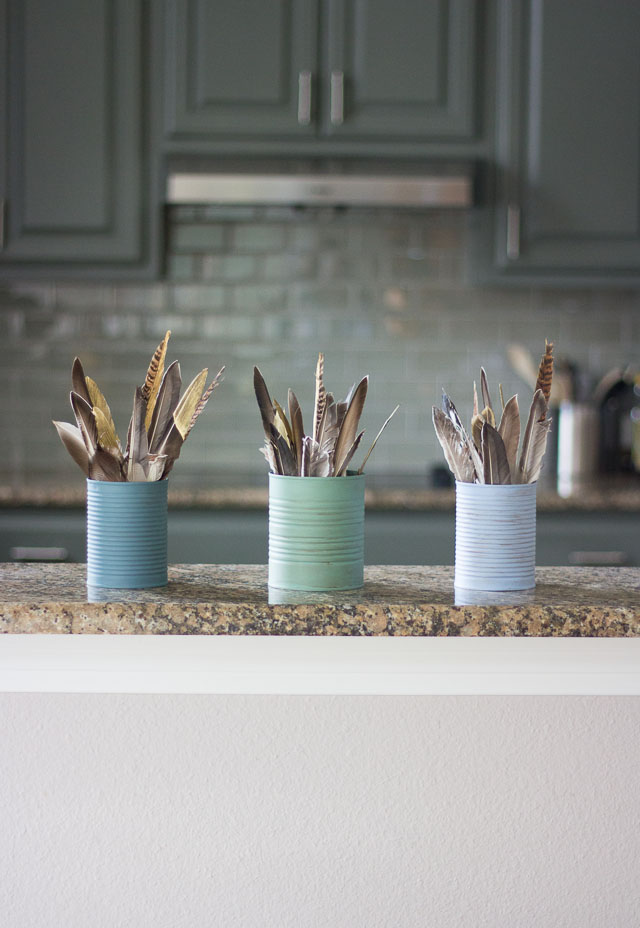 Once you're done with these centerpieces you can reuse these pretty containers in so many ways – to hold pencils, craft supplies, utensils, you name it!