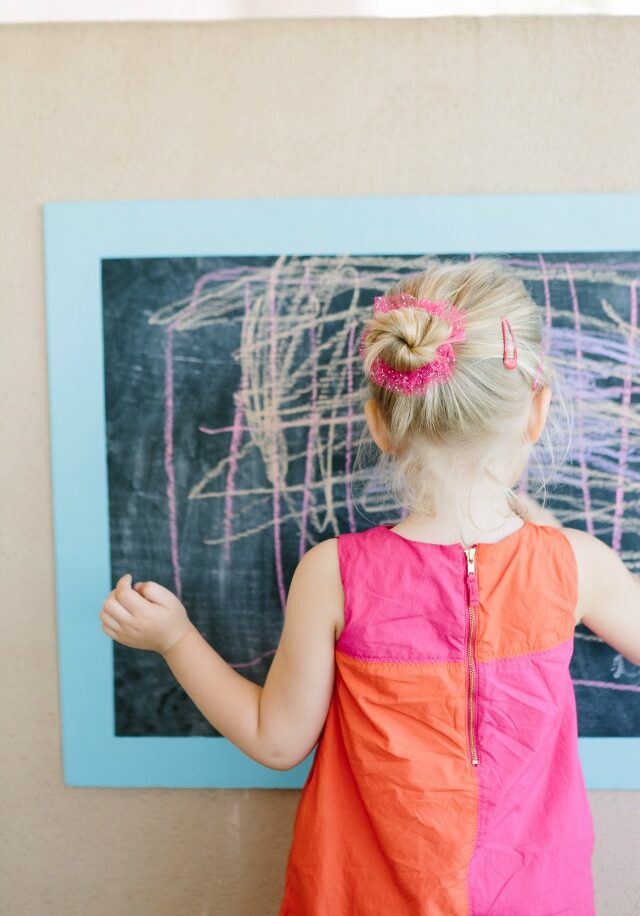 DIY Outdoor Chalkboard
What is it about chalk that makes it so much fun? My girls love to draw with chalk, and honestly I do too! I recently made them an outdoor chalkboard from an old piece of plywood to give them an option to use chalk outside other than on the sidewalk.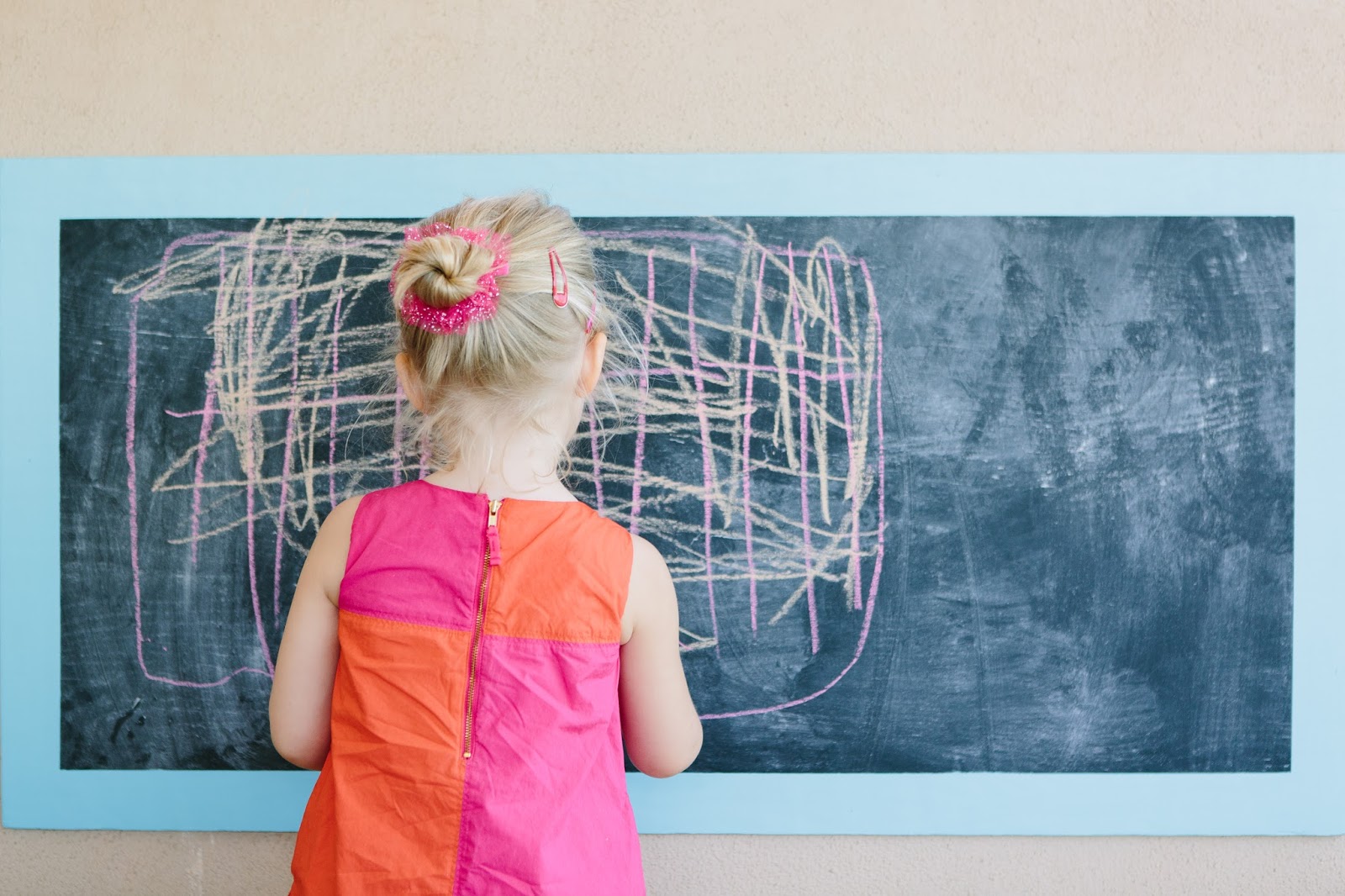 I had actually painted the plywood with chalkboard paint last fall to use as a menu for our housewarming party. It had been sitting in our garage since, and I thought it was time to put it to use again! I wanted to spruce it up a bit more so I added a thick border of summery blue chalkboard paint. Here's what I used:
Supplies for DIY Outdoor Chalkboard
Large piece of plywood
Martha Stewart Chalkboard Paint in Blue
Paint roller
Foam brush
Masking tape
Ruler
Drop cloth
The nice part about using a colored chalkboard paint for the border (vs. a non-chalkboard paint) is that when the kids get chalk on it it will easily wipe off.
How to Make DIY Chalkboard
Step 1. Paint plywood with chalkboard paint
Lay your piece of plywood on a drop cloth. Use a paint roller to cover the plywood with 3 coats of chalkboard paint, letting dry completely between coats.
Step 2. Create a border
Mark off a border with your masking tape and a ruler. My border was 2″ wide. Use your fingernail to make sure the tape is flush with the plywood and no paint can seep underneath.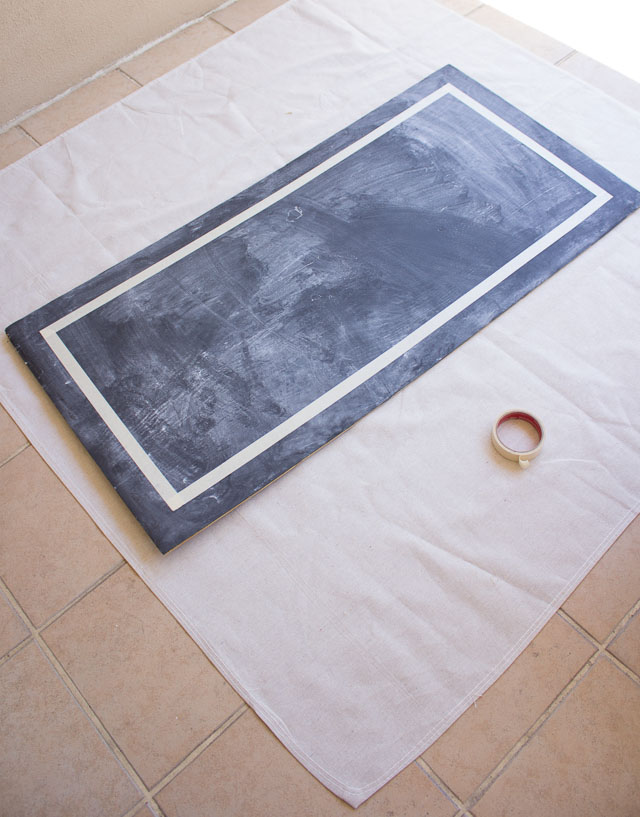 Apply the colored chalkboard paint with a foam brush. I used 3 coats of paint, letting the paint dry an hour between coats.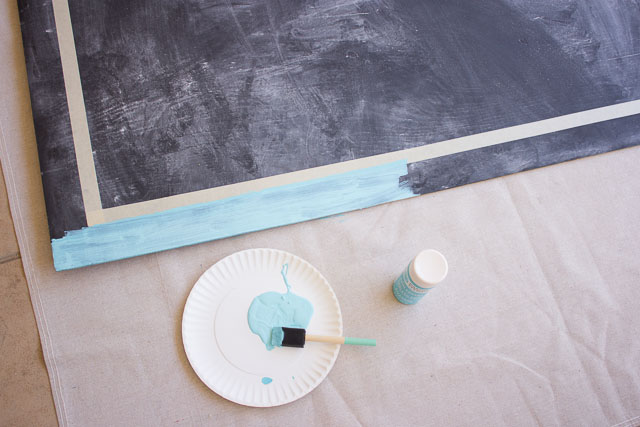 Step 4: Remove masking tape
While the last coat is still wet, carefully remove the masking tape and you are left with a nice clean border!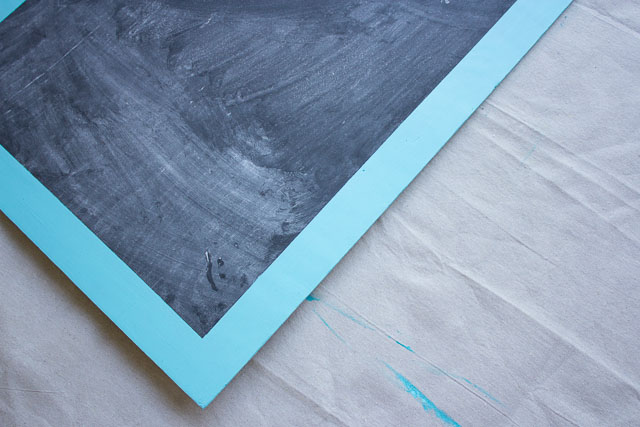 Step 5: Hang chalkboard
Hang your chalkboard outside – I used large 3M Command Hooks for mine. You could also nail it into the wall for a more permanent option.
Here's a sneak peek of where I put the chalkboard. I've been busy on my latest project creating this outdoor playroom for our girls.