St. Patrick's Day Garland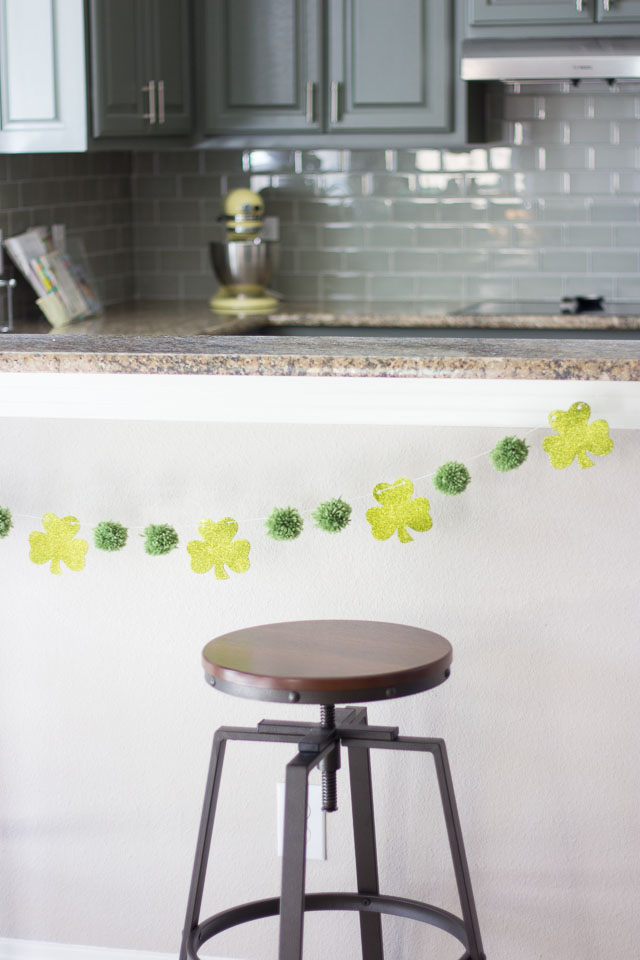 St. Patrick's Day Garland
Can you believe tomorrow is already the first day of March? For some of you buried in snow this winter, I bet it couldn't come soon enough! With St. Patrick's Day only a couple weeks away, I wanted to make a little something to celebrate and came up with this simple St. Patrick's Day garland.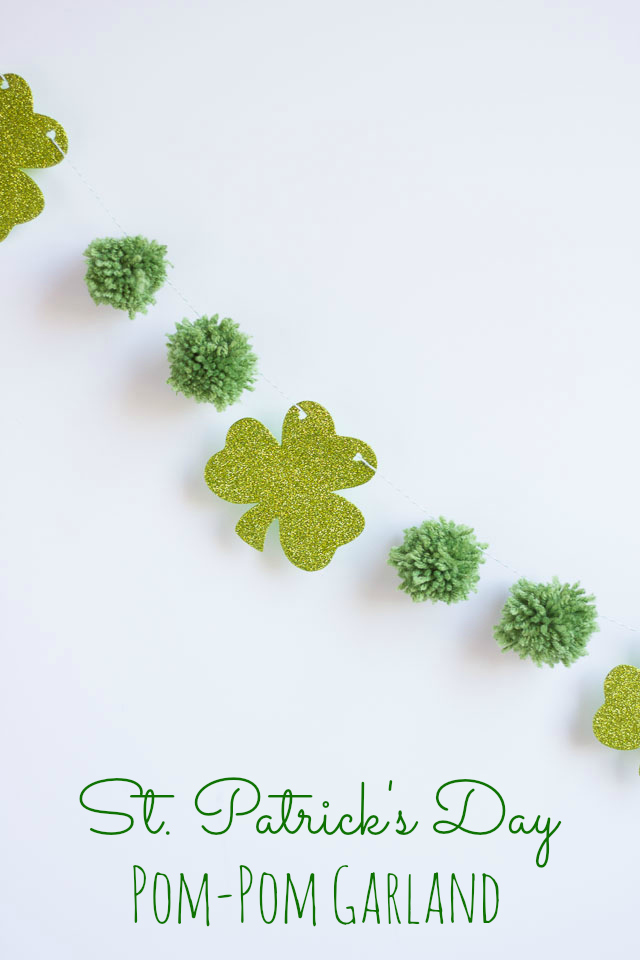 For the past several years we have had my sister and brother-in-law over for a meal of corned beef and potatoes on St. Patrick's Day. It would typically involve a fun tablescape. But now that we're in San Antonio and they're in Chicago, it won't be quite the same. In case we don't get around to having a special meal, this garland is may be it this year!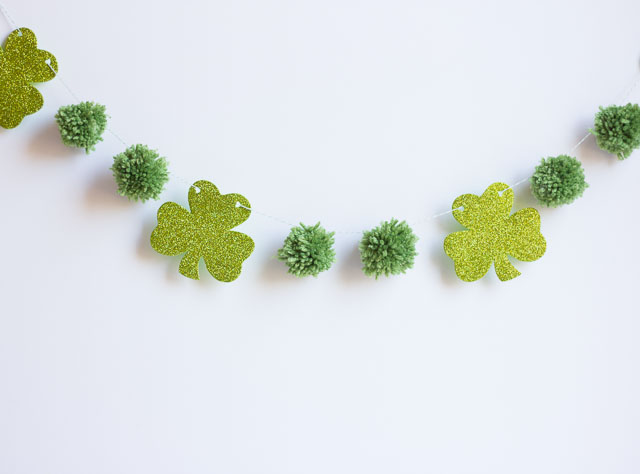 I've gotten in the habit of hanging holiday garlands under the bar in our kitchen. It seems like a little less formal spot than the mantel.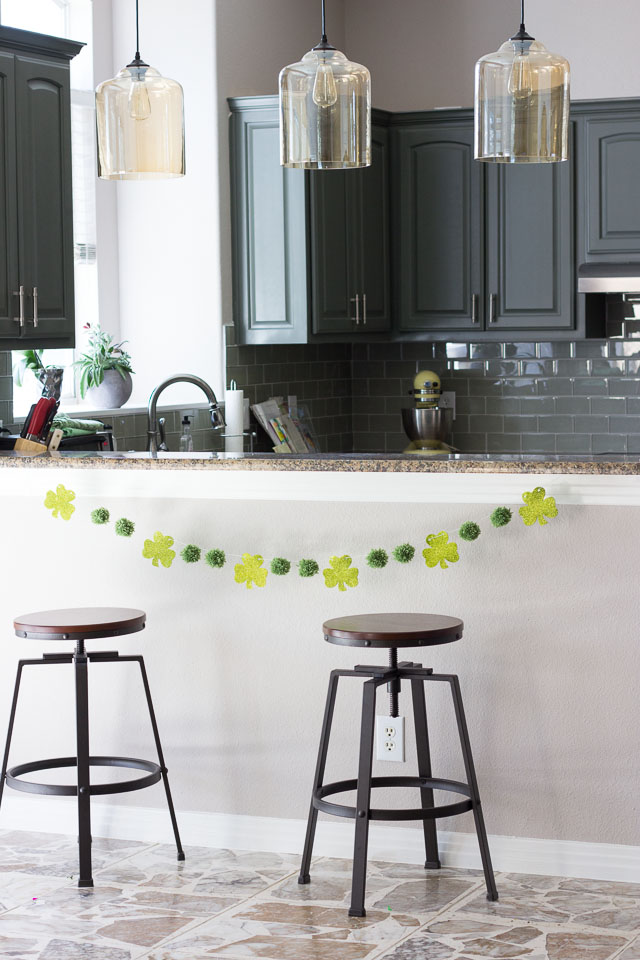 I made this garland in a little over an hour while watching TV. It consists of a pack of glittery shamrocks I got at the dollar store and some green pom-poms. Here's what you need.
Supplies for Shamrock Garland
Green yarn
Foam shamrocks (I got a pack of 12 for $1 at Dollar Tree)
Hole punch
Scissors
Bakers twine or jute twine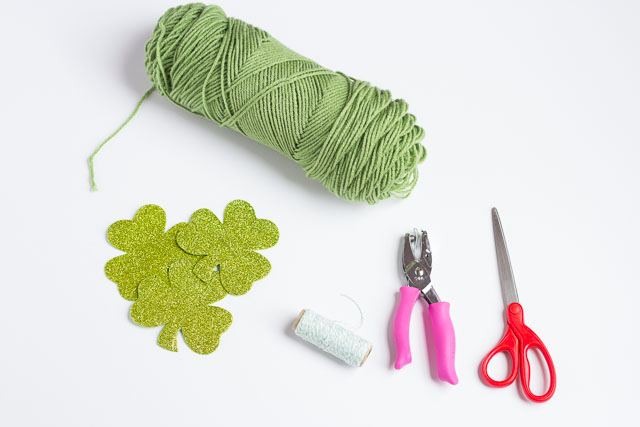 How to Make a St. Patrick's Day Garland
Step 1. Make yarn pom-poms
Make as many pom-poms as you want. Here's a full tutorial for making pom-poms (they're easy!). For these particular pom-poms, I wrapped the yarn around 3 fingers about 85 times. Make sure to leave the two loose ends when trimming your pom-pom. You will need these to tie them to the garland.
Step 2. Punch holes in shamrocks
Use a hole punch to punch two holes at the top of each shamrock.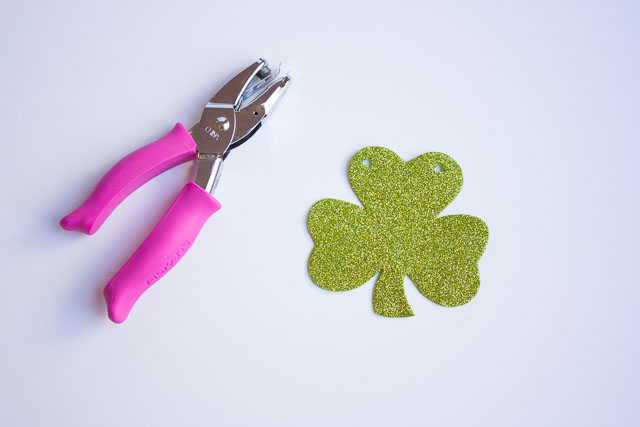 Step 3. String on twine
Unwind a length of twine (as long as you think you'll want your garland). Thread the twine through the holes on a shamrock, sliding it down to the start of the length of twine. Then tie on two pom-poms. Once they are tied on you can slide them around and reposition them as needed. Thread on another shamrock and repeat until you have the garland as long as you want it.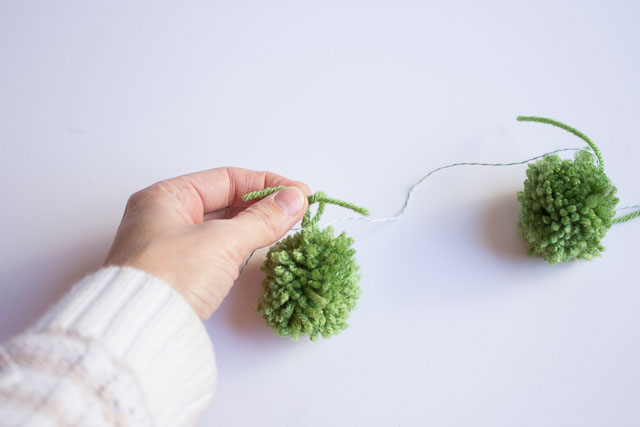 Step 4: Evenly space pom-poms and shamrocks
Slide around the pom-poms and shamrocks to space them out evenly and then trim the long ends on the pom-poms. Hang your garland!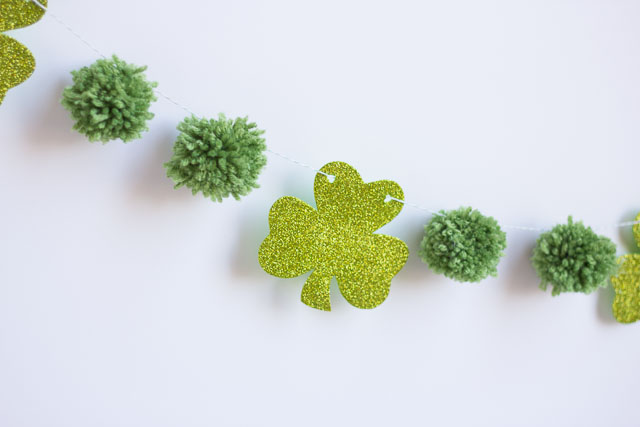 Like this St. Patrick's Day Garland?