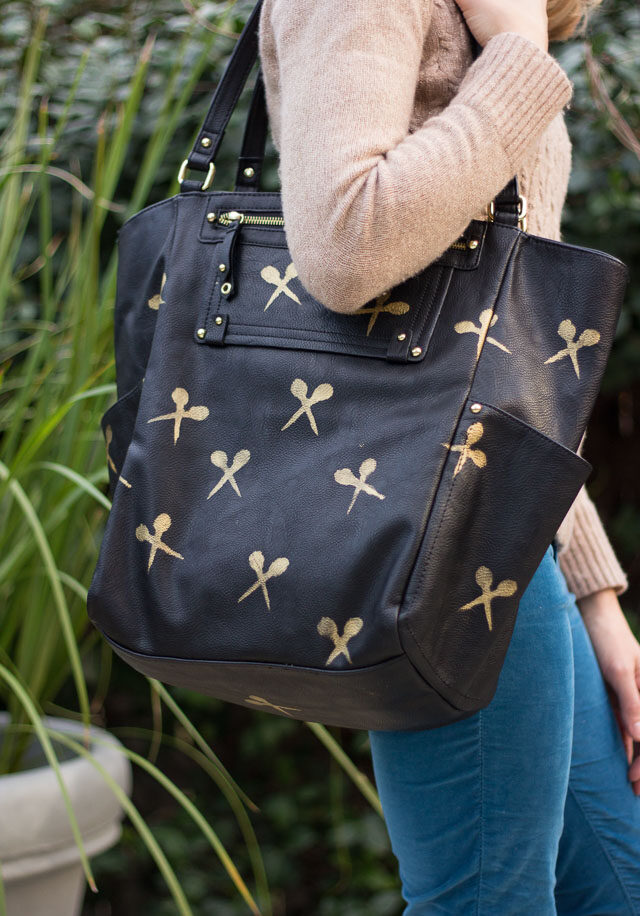 I like scissors almost as much as pom poms. They are on my blog logo, my business cards, a favorite necklace, and now my tote bag!
I'm headed to Alt Summit next week – it will be my fourth trip to the design blogging conference. I've learned some invaluable things from attending Alt, and one is that in a conference of 600+ crafty, fashionable, intelligent women you want to make sure people remember something unique about you.
For a DIY blogger like myself, this is the perfect opportunity to incorporate a little handmade element into my conference attire. Last year I wore my pom-pom necklace – fitting as it turned out 2013 was the year of the pom-pom on this blog! This year, I'll be toting this bag.
No one has to know that my one-of-a-kind bag started as a $20 find on clearance at Target! I'm so happy how it turned out, I'll be using it long after the conference.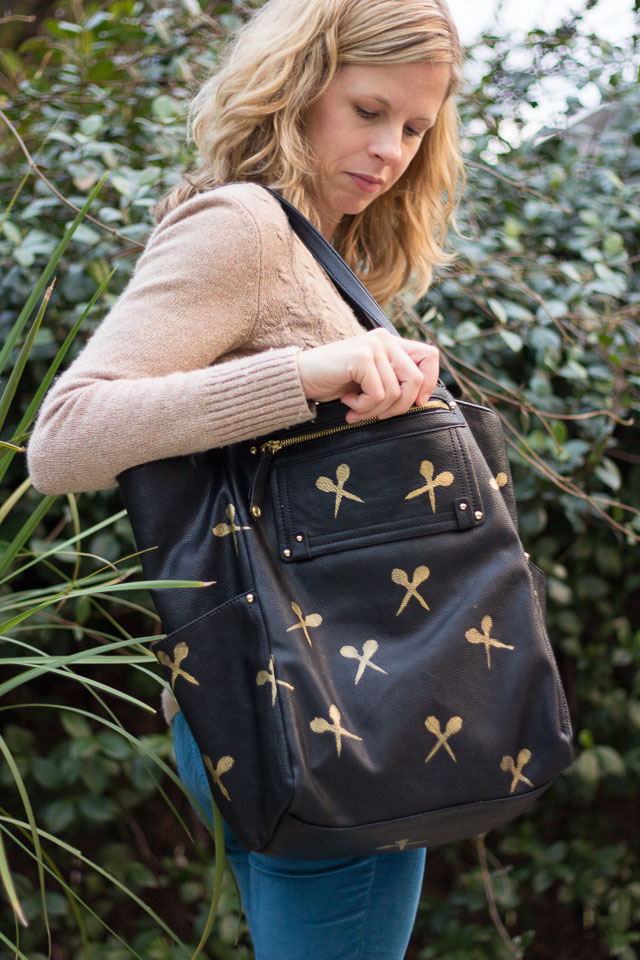 You can make your own personalized bag with any motif, and you don't even need a stencil. I made my own stencil using a scissors paper punch and a piece of cardboard. It was a big 'a ha' moment for me – any paper punch can do double duty as a stencil maker! Perhaps this is old news, but for me it was a big discovery. I was initially going to try to buy a scissors stencil online when I realized I could just use the paper punch I already had to create my own. Here's how:
Supplies for Stenciled Tote Bag
Tote bag (I used a new faux leather Merona bag from Target, but this would be a great project to give new life to an old bag in your closet!)
Stencil or paper punch in your choice of shapes, letters, etc.
Squares of thin cardboard or thick cardstock (if making your own stencil with a paper punch)
Acrylic craft paint that works on fabric (I used Martha Stewart Multi-Surface Acrylic Paint in Metallic Gold)
Foam brush
Painter's tape (not shown)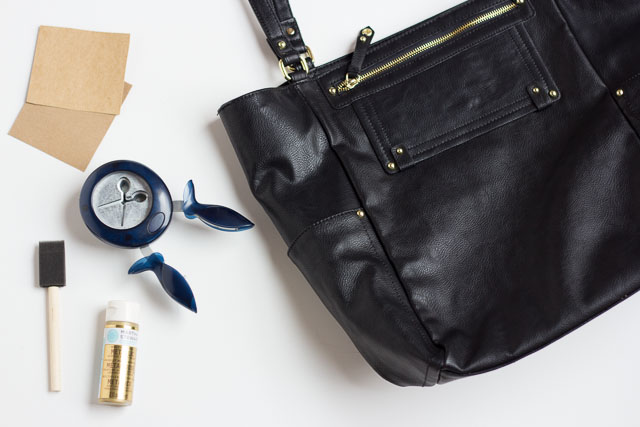 How to Make Stenciled Tote Bag
1. If using a paper punch to make a stencil, cut out a few stencils from scraps of thin cardboard.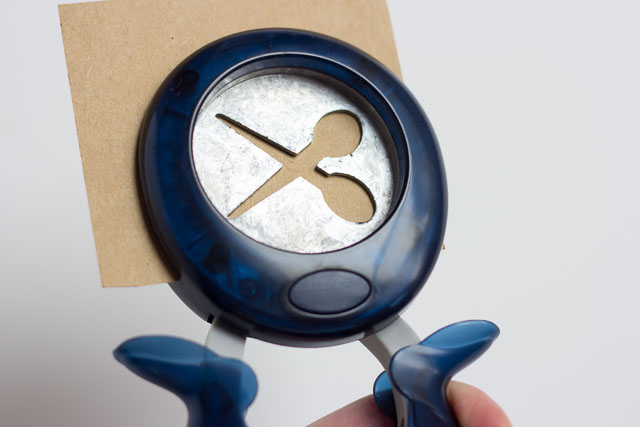 It is helpful to make a couple stencils in case your original one gets warped from the paint.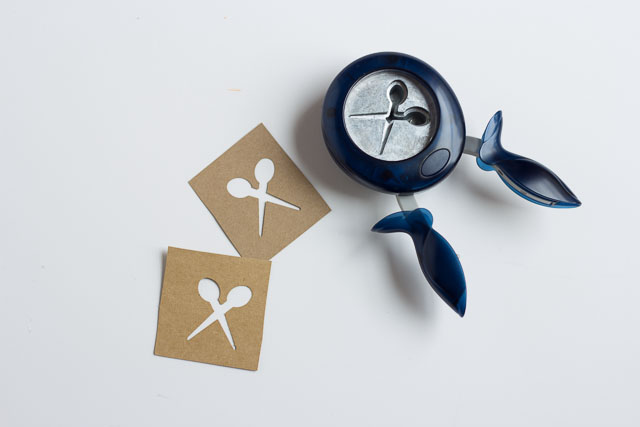 2. Affix the stencil to the bag with a little painter's tape. I would recommend first putting it in an inconspicuous part of the bag (like the bottom side) to test it out before trying out on the rest of the bag.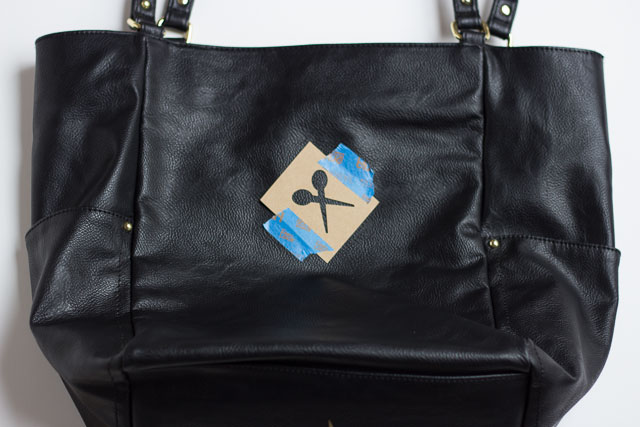 3. Put a very small amount of paint onto your foam brush and dab off any access on a paper plate. When it comes to stenciling, I always find that less is more when it comes to paint. You want to avoid any paint seeping under the stencil. For my bag, I was able to stencil a couple scissors without adding more paint to the brush. Use an up and down blotting motion to apply the paint.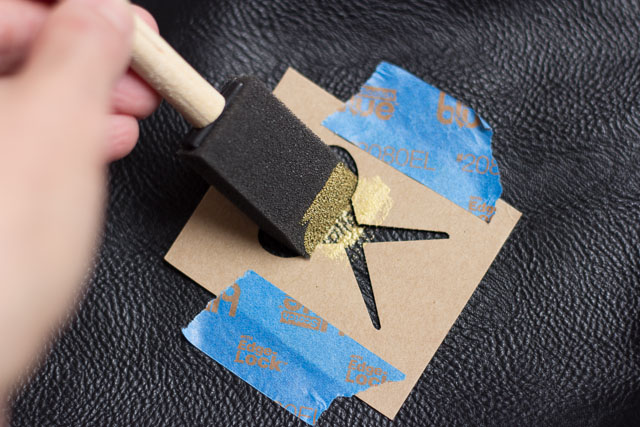 4. Continue around the bag with the stencil. Make sure to check the back side of your stencil from time to time and wipe off any paint that has seeped to the back side. I positioned my scissors randomly around the bag, tilting them in different directions, and even putting some over the the seams to avoid it looking too structured. You can see in this photo that I first tried a scissor on the bottom of the bag to make sure it worked, before trying it on the rest of the bag!
My paint dried very quickly so I was able to work around the bag without having to wait for one side to dry. Just make sure your paint is fully dry before switching the bag over to the other side!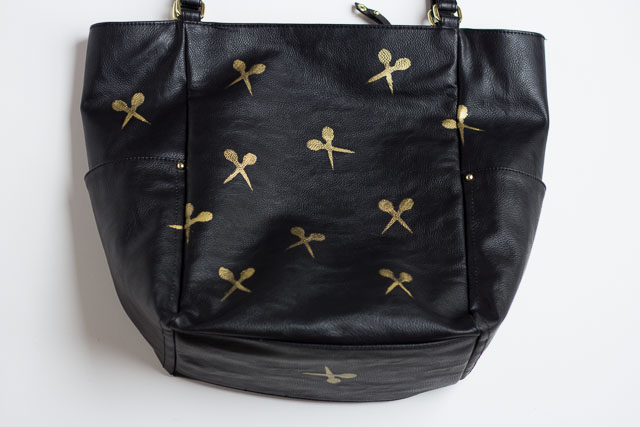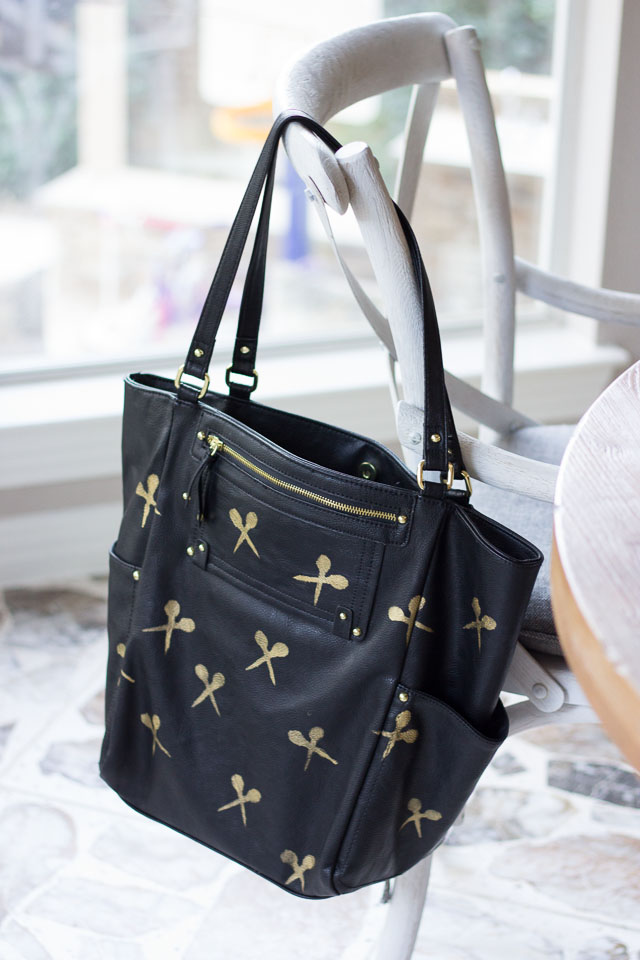 What do you think? What motif would you put on your own bag?