5 Tips for a Backyard Fiesta Party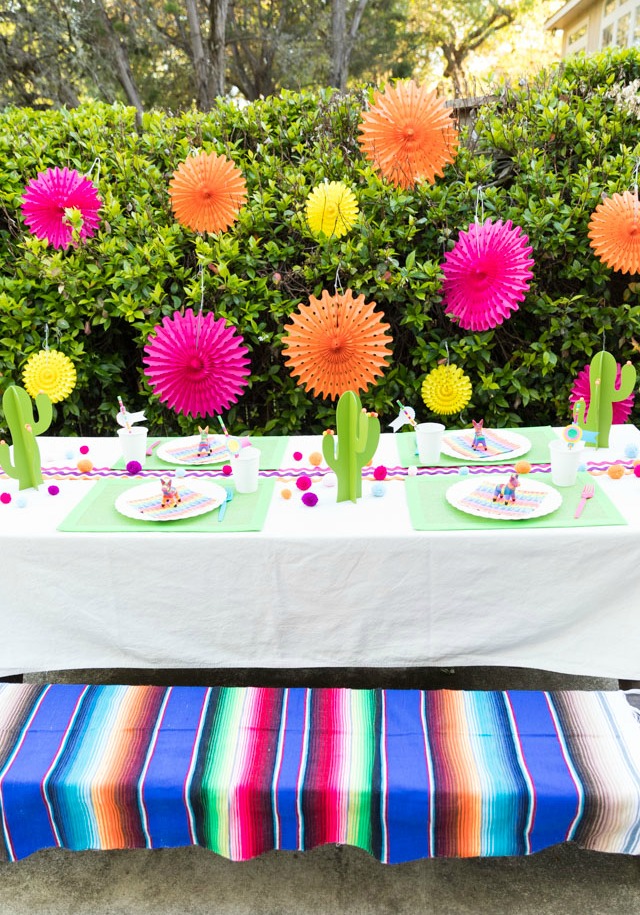 How to Host a Backyard Fiesta Party
What better way to celebrate the start of summer than with a backyard fiesta party? We love inviting our neighbors over a couple times a year for an informal get-together. Rather than get cramped inside, we all head out to the backyard, so the kids can play and the adults can hang out on the patio. This outdoor party that I created with Oriental Trading provides some fun inspiration to hold your own summer get-together. Read on for my 5 tips for a backyard fiesta and head to Fun365.com for all the party details and a full supply list.
5 Tips for a Backyard Fiesta Party
1. Keep it Simple
My main goal when planning an informal party is to make the planning as pain-free as possible with minimal prep and set-up. Decorations are completely optional but just a few simple additions can make your backyard fiesta-ready. If you want to decorate, pick a couple focal areas in your backyard and limit your decorating to those. I kept my decorating to our picnic table and a bench on our back patio. I also hung some colorful honeycomb ball tassels from the trees.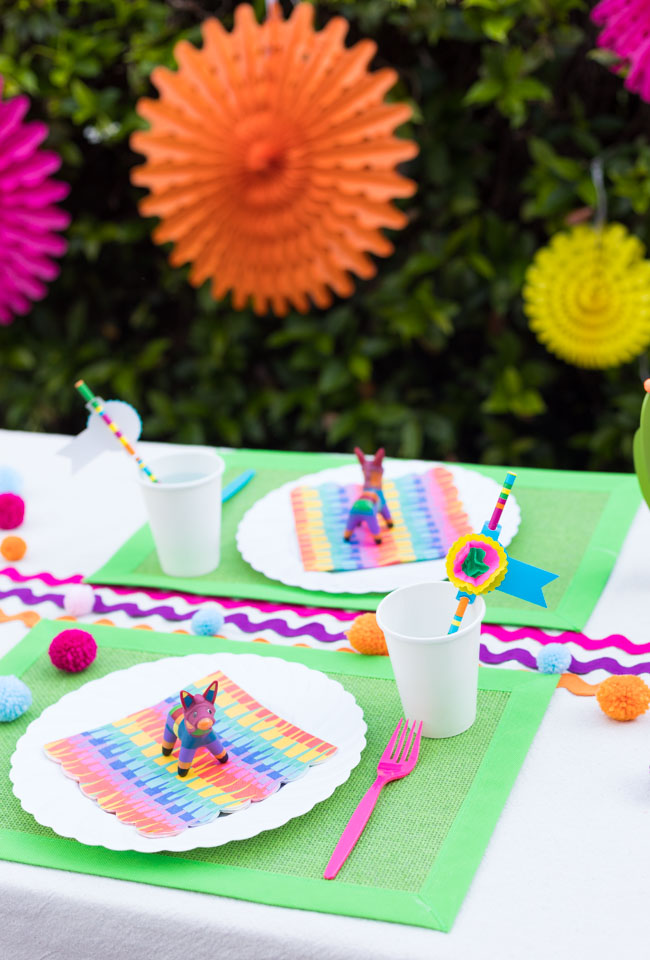 2. Make it Colorful
When I think fiesta, I think color! My favorite way to add color outdoors is with paper fans hung from a fence or the trees. They are inexpensive and make a big statement. I decorated around our picnic table by hanging colorful paper fans on the vine covered fence behind the table and draping a bright serape blanket on the bench. Paper napkins and straws are another simple way to add color. I also sprinkled colorful pom-poms around the picnic table.
If you're up for a bigger project, you can make this paper fan fiesta wreath. This decoration is worth the effort because it can be repurposed on your front door after the party for a fun summer wreath. Get the tutorial to make it here.
3. Bring out the Games
Whenever we have a backyard party, it typically involves a lot of kids, so we make sure to set out plenty of backyard toys, balls, etc. to keep them busy! Oriental Trading has some fun fiesta themed toys like this ball and cup game. I also created a balloon dart game using their supplies. Of course, to make it really feel like a fiesta, a piñata is a must! I love this colorful piñata from Oriental Trading.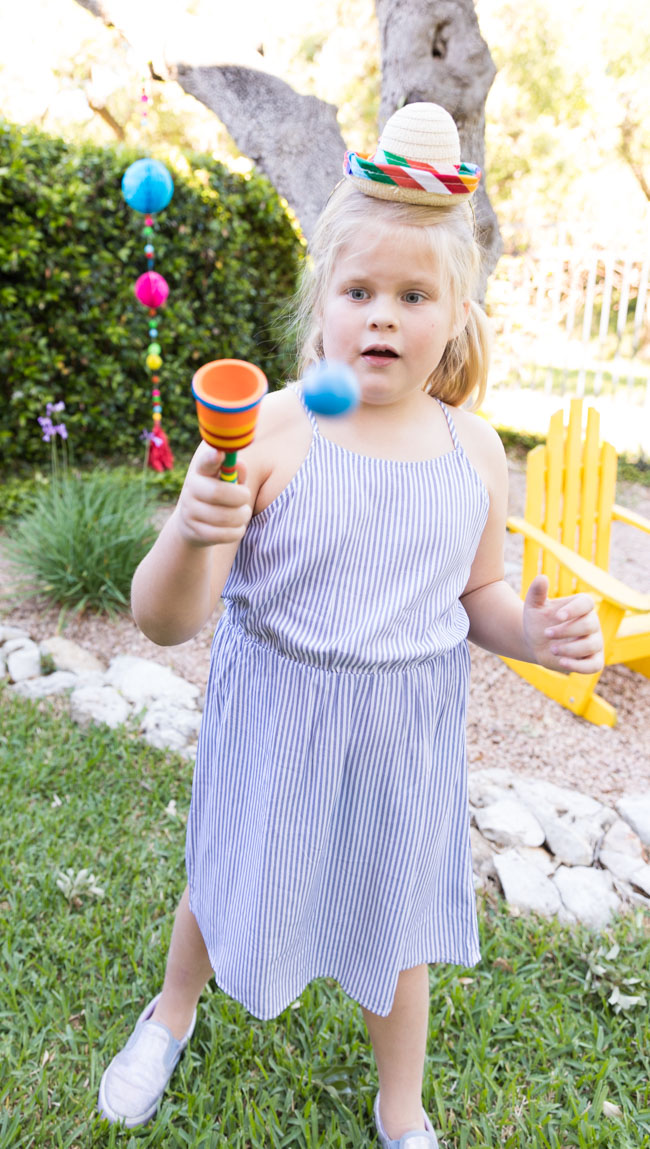 4. Make it a Potluck
My favorite way to host a party is to make it a potluck. Ask everyone to bring an appetizer or drink. You can hold your party during the afternoon so it is not over a meal time. This keeps it simple and allows everyone to hang out and munch on appetizers rather than sit down for a full meal.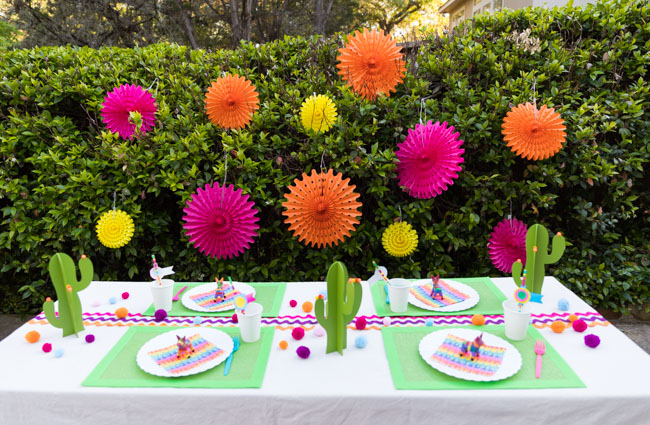 5. Any Occasion Can Be a Fiesta
It doesn't have to be Cinco de Mayo or a specific holiday to have a fiesta party. Just the act of bringing friends together is enough! Our neighbors are thrilled to accept an invite and reconnect with each other during our busy lives. Just pick a weekend afternoon when the weather looks good, give people a few days notice and send around a text invite to have them stop by during a certain time frame. Keep it casual and low key!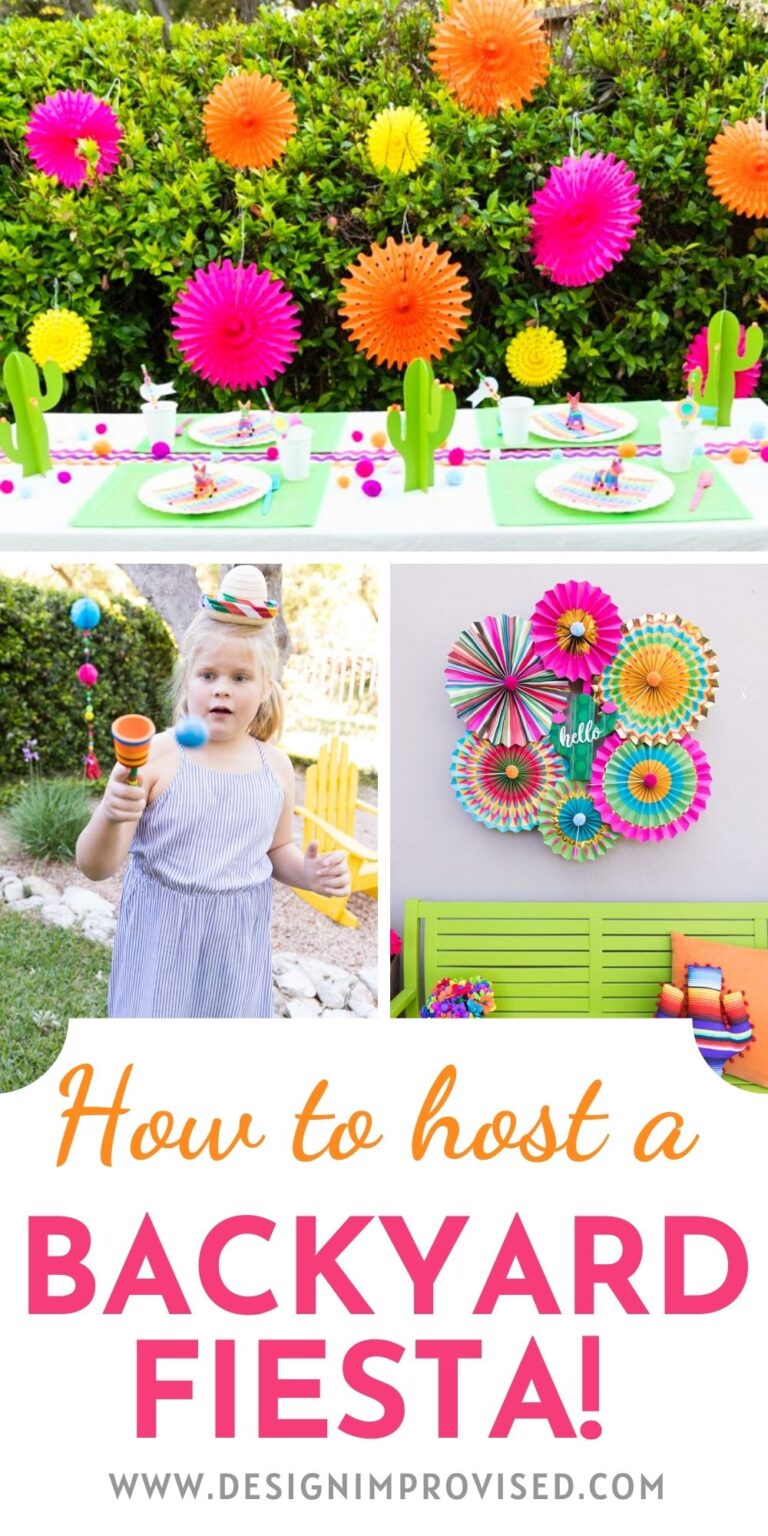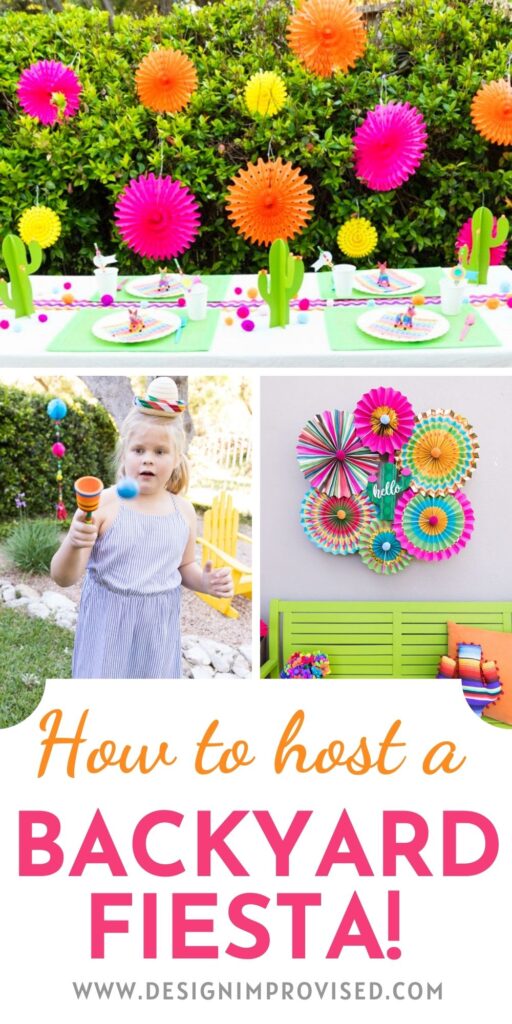 Want more fiesta party ideas? I have a bunch for you on my Fiesta page!
Head to Oriental Trading's Fun365.com for all the party details and a full list of supplies. This post is sponsored by Oriental Trading.