Fiesta Christmas Tree Decorating Ideas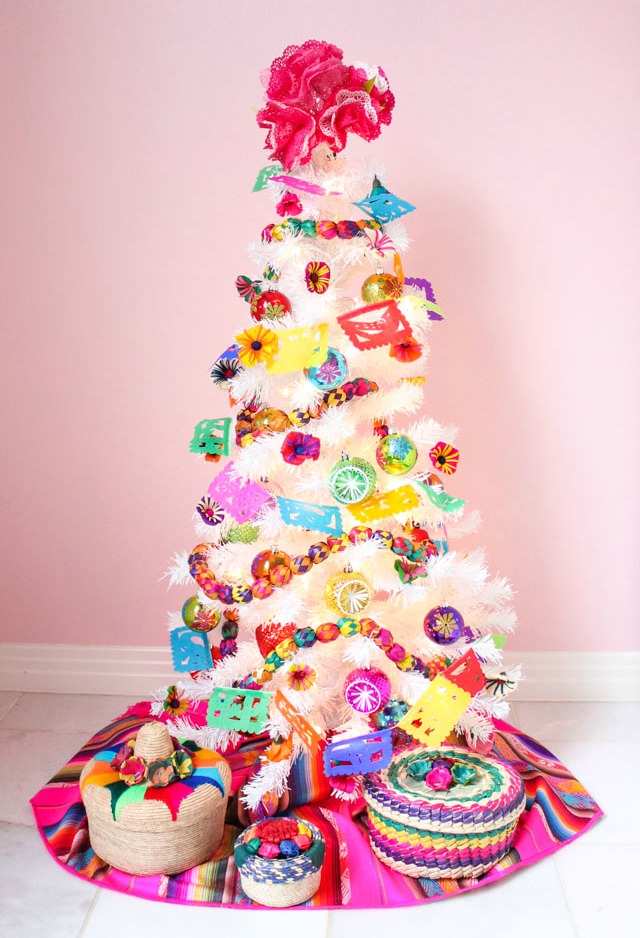 Fiesta Christmas Tree
Introducing the fiesta Christmas tree that is now making my office extra merry and bright! This color-packed tree was inspired by San Antonio, my home for the past four years. I have fallen in love with the vibrant city, its welcoming community, and its unique culture. So when Google Fiber asked me to share how San Antonio inspires me to #MakeTheInternet festive, I knew I wanted to capture the festiveness of the city and its love for all things fiesta! Here's to making the internet more festive this holiday season!
Fiesta in San Antonio, Texas
As you know, "fiesta" means "party" in Spanish, however the word takes on a whole new meaning in San Antonio. Here, Fiesta refers to a two-week city-wide celebration that occurs every April and dates back to the 1800s to commemorate the Battle of the Alamo. Check out the history of Fiesta, and these special fiesta wreaths we like to hang on our doors during that time of year.
The Fiesta spirit is alive year-round in San Antonio, and that will especially be the case in 2018 as the city celebrates its 300th anniversary! Just as exciting, Google Fiber is now bringing faster, fairer, kinder Internet to San Antonio. To celebrate their launch, they are calling on San Antonians to #MakeTheInternet even more awesome by elevating local culture, magnifying the sense of community, interconnection and kindness.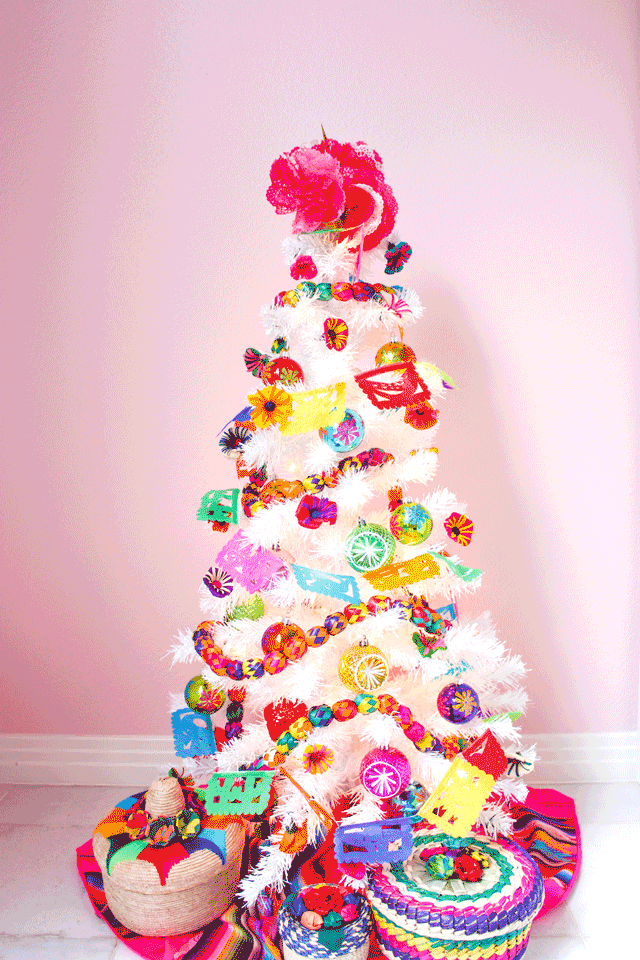 To celebrate, I wanted my Christmas tree to capture the essence of Fiesta, which is known for Mexican-inspired tissue paper flowers, papel picado, shiny medals, and tons and tons of COLOR! I knew exactly where to go for the most festive supplies in town – historic Market Square. It has one of the largest selections of Mexican-made handicrafts outside of Mexico. If you live in San Antonio and haven't made it down to Market Square you must plan a trip. It is a beautiful, vibrant and festive place!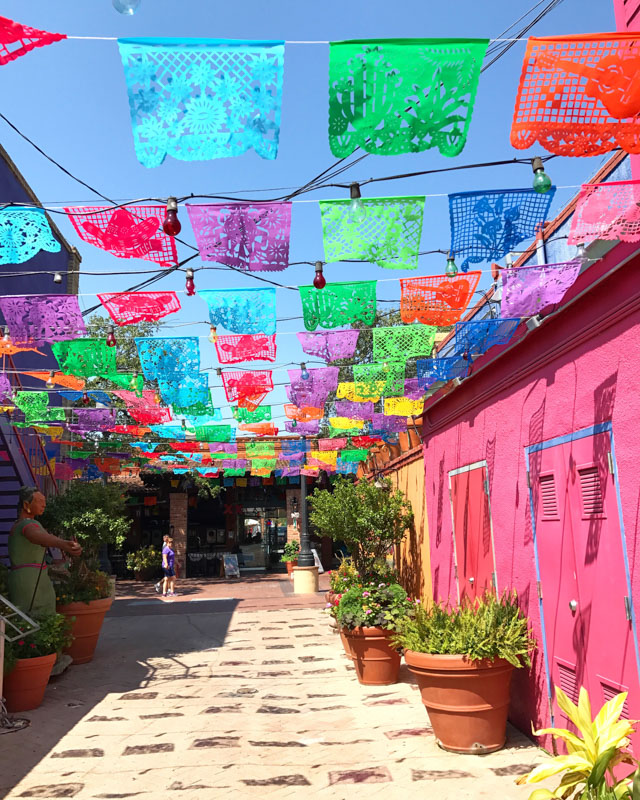 Shopping for Fiesta Decorations
My friend Heather and I spent an afternoon scouring the market for just the right Christmas tree decor. Here I am checking out a colorful runner that I decided to use as my tree skirt.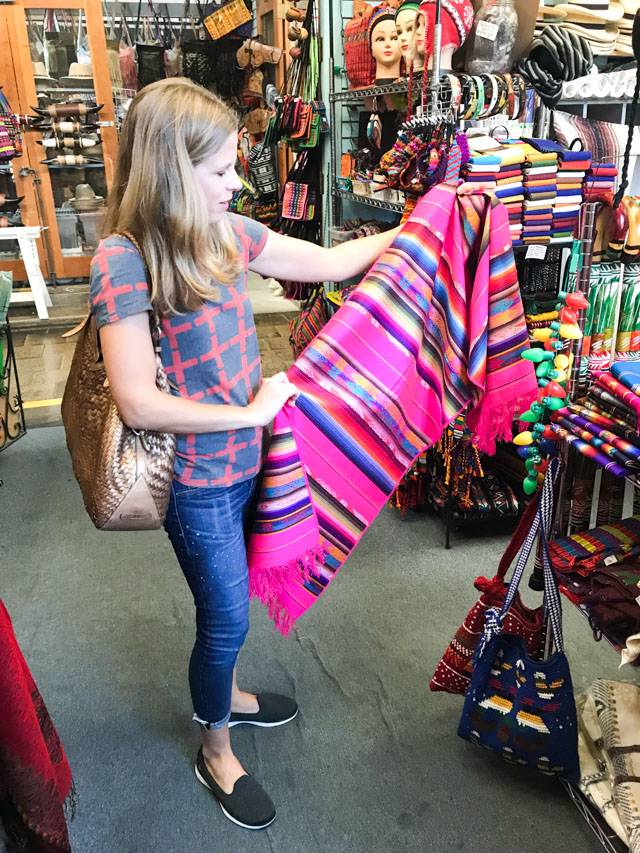 Inspiration in the market is everywhere – even hanging from the ceiling!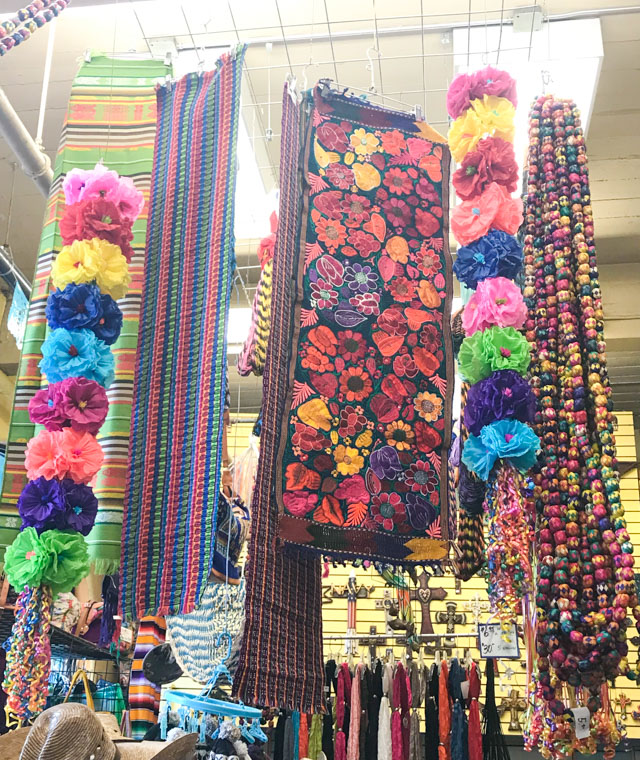 Check out all the goodies I found at Market Square for my Fiesta tree: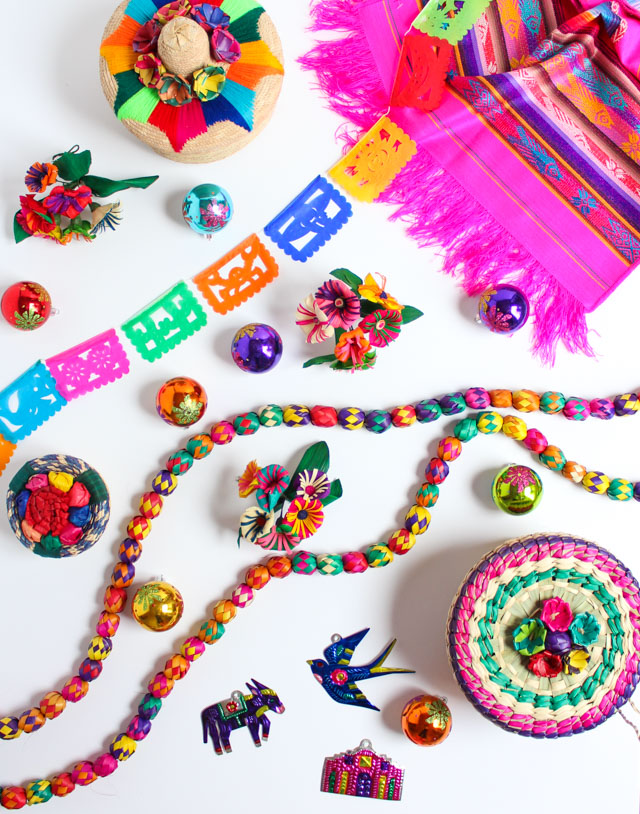 Fiesta Christmas Tree Decorations
I started with a small white tree and then added shiny ball ornaments, colorful cornhusk flowers, papel picado garlands, and few special Mexican tin ornaments like this one of the Alamo:
This bird is so pretty too!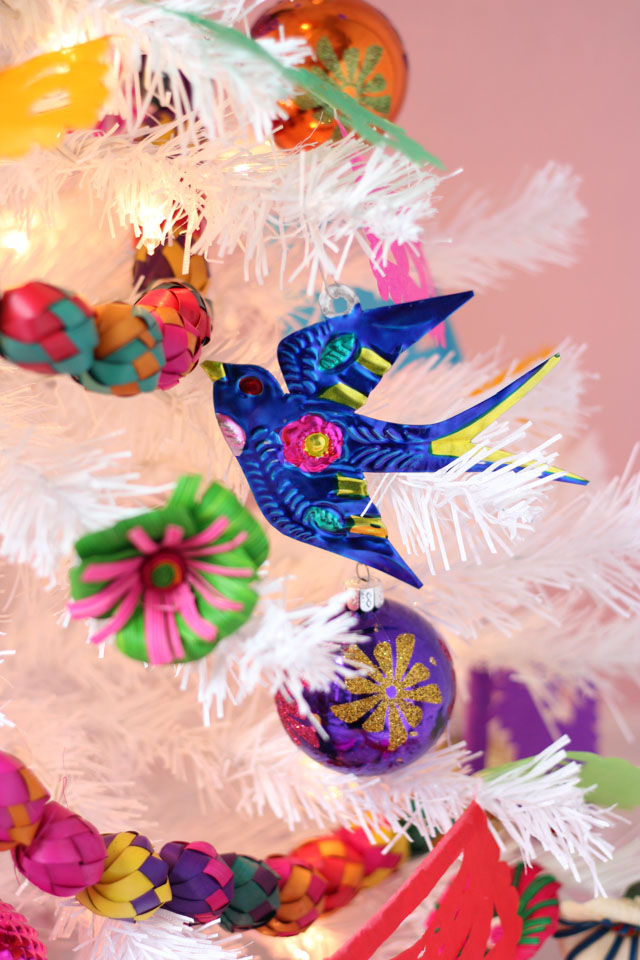 These cornhusk flowers are my absolute favorite. They came in a colorful bunch of 6 flowers for just a couple dollars.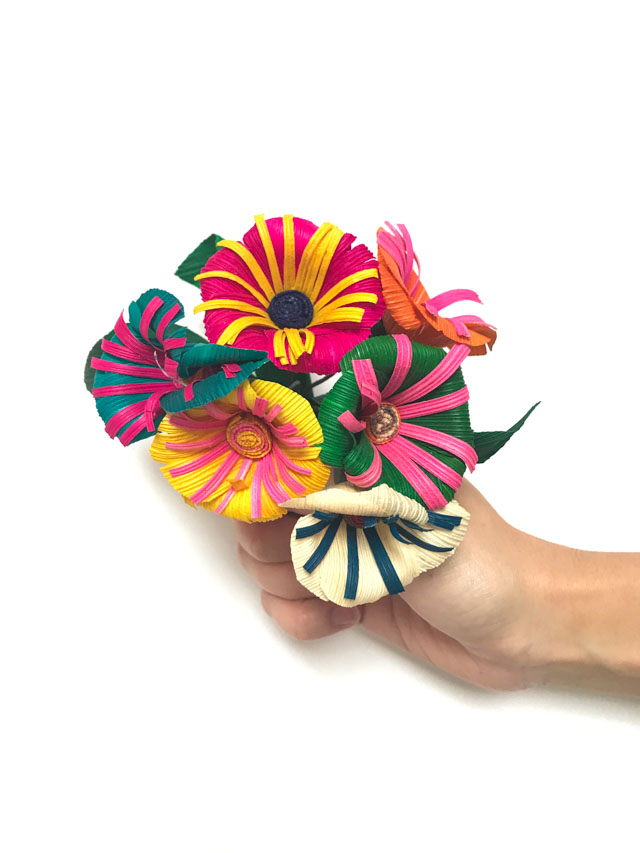 To turn the flowers into tree decorations, I used a wire cutter to cut them from the bunch leaving a couple inches of stem. I then just twisted the stem around the end of the tree branch. Voila!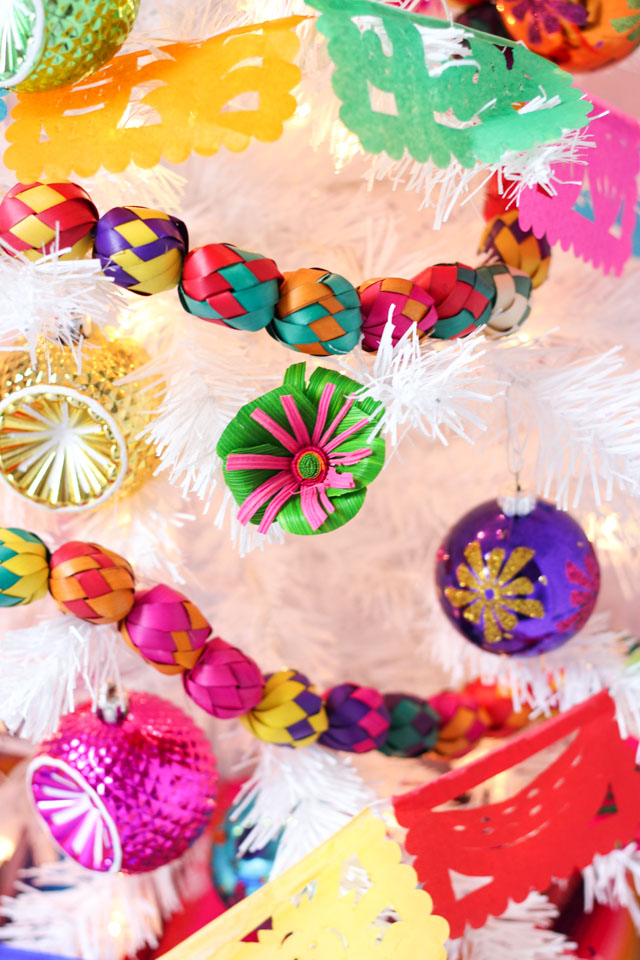 I topped off my tree with an improvised tissue paper tree topper. Check out how I made these delicate doily flowers.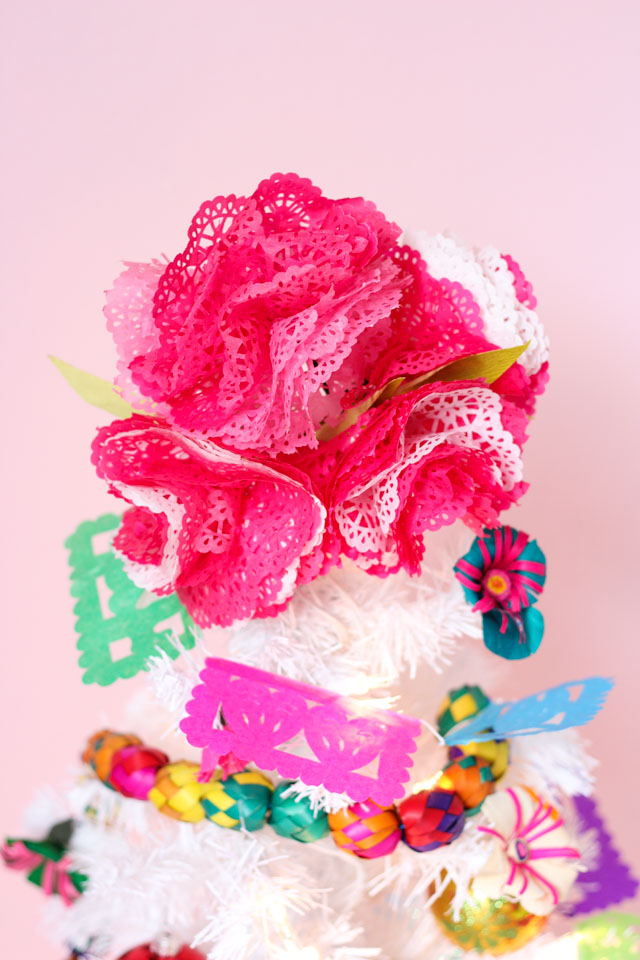 In place of presents wrapped in paper under the tree, I put these colorful tortilleros. Meant to keep tortillas warm, they also make for the most beautiful present holders! I have always been drawn to these colorful tortilleros and they were the inspiration for my yarn woven baskets.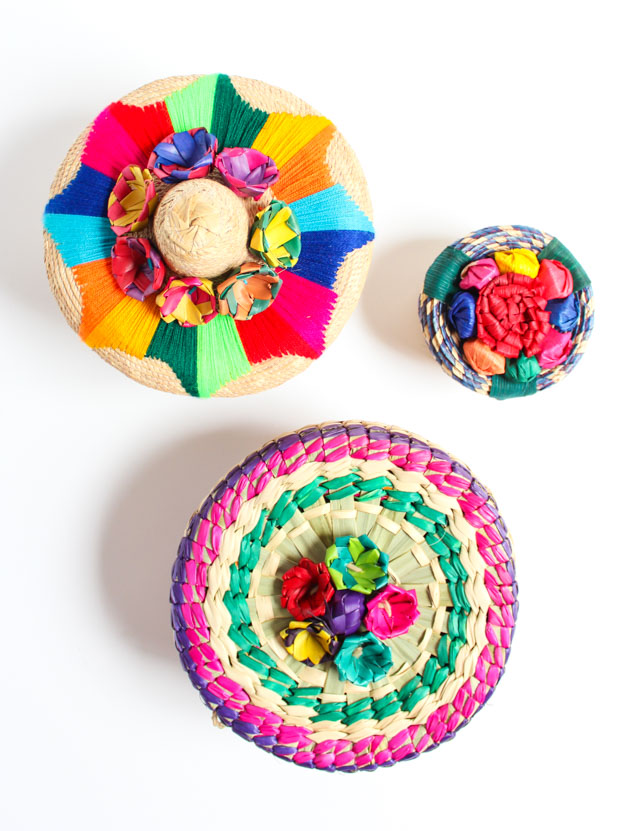 It certainly does feel like a party in my office thanks to my Fiesta Christmas tree, and I hope I've inspired you to bring some more festiveness into your home over the holidays!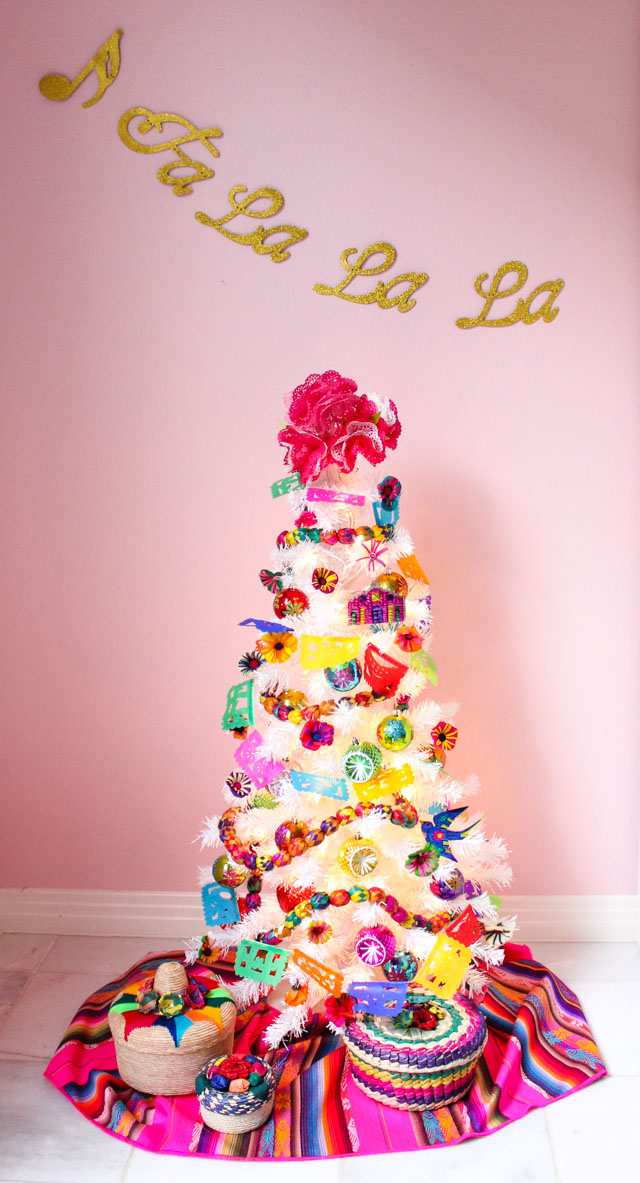 This is a sponsored post written by me on behalf of Google Fiber. All opinions are 100% mine.