How to Make a Whataburger Mum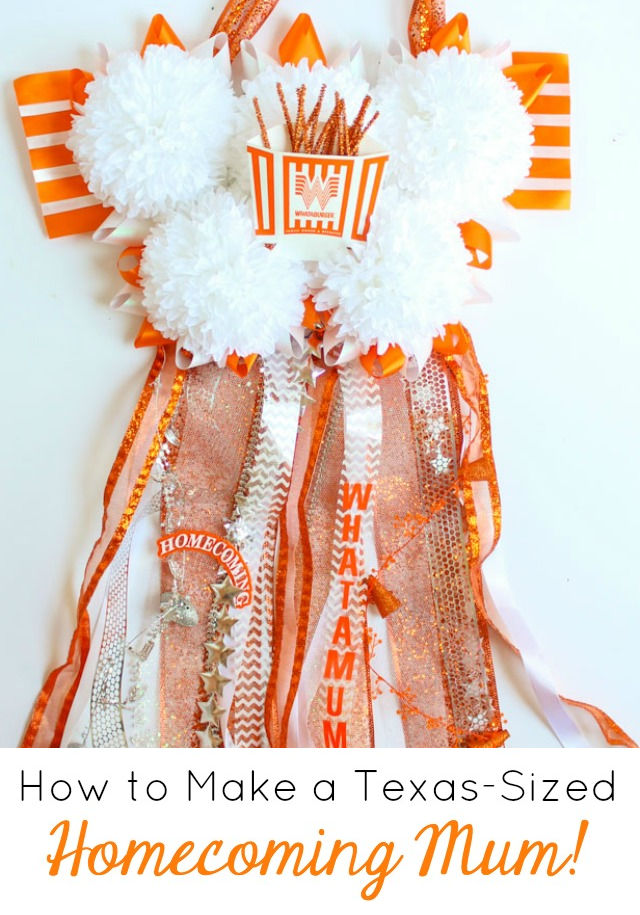 How to Make a Whataburger Mum for Homecoming
Introducing my giant Whataburger homecoming mum! I was asked by Whataburger (a popular burger chain in the South, headquartered right here in San Antonio) to make a Whataburger themed homecoming mum. What is a homecoming mum, you ask? This is a great question, and one I had myself! It is quite a unique high school tradition here in Texas that was completely new to me.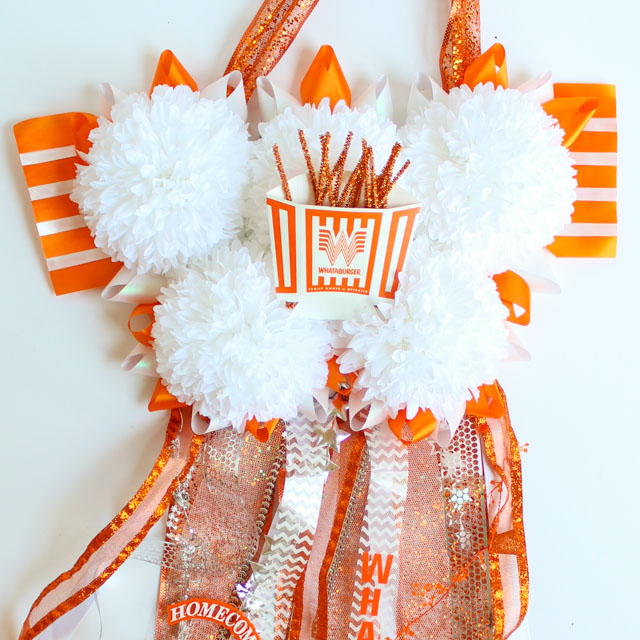 When I first moved to Texas five years ago, I noticed local craft stores like Hobby Lobby and Michaels displaying a special set of supplies at this time of year. There would be big circular cardboard cutouts with holes in them, endless lengths of ribbon in local school colors, and embellishments galore. It took me several years to figure out what in the world they were for. High school homecoming mums, of course! Here is an example of the cardboard bases for heart shaped mums. I overlapped two of them to make a Whataburger "W".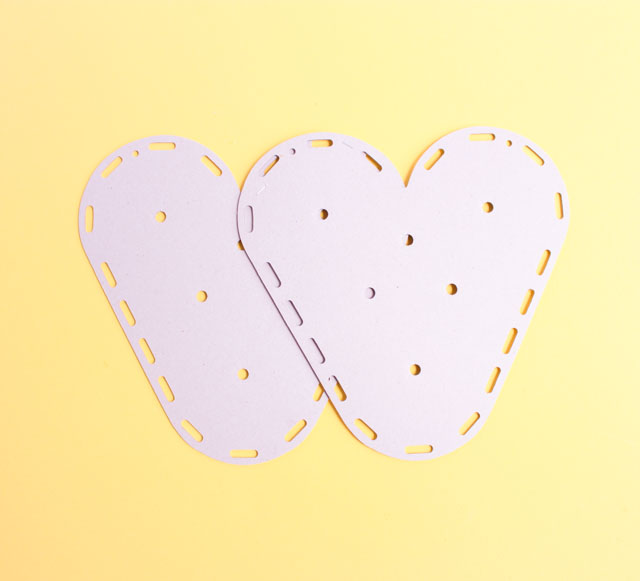 What is a Texas homecoming mum?
The Texas tradition is for a high school girl to wear a mum the day of homecoming, often given to her by her homecoming date. Mums are typically made by the date's mom, or outsourced to one of the many professional mum makers that do a healthy business at this time of the year! Originally, mums were just that – a chrysanthemum that you would pin to your dress.
Of course, in Texas, bigger is always better, so over the years the mums have evolved to be huge. The more outrageous and ridiculous the better! Many custom mums include multiple faux mums accompanied by numerous lengths of ribbons, bells, and whistles. Some are heavy enough they require a "harness" to wear them around your neck! A quick search of homecoming mums on Pinterest will show you just how ornate and massive these mums can be!
How to Make a Whataburger Mum
It was in this "bigger is better" spirit that I created the "Whatamum" – a play on Whataburger's branding. I combined two different heart shape bases to create a giant "W" like the one on all the Whataburger signs. I then included a bunch of fancy ribbons in Whataburger's orange and white color scheme. Adding the embellishments was the best part – from a burger squishee to a box of "fries", anything goes!
I got to spend a morning at the Whataburger headquarters recreating the mum for a Facebook video. The whole process took an hour but the video is only 18 seconds!