How to Clean Hockey Equipment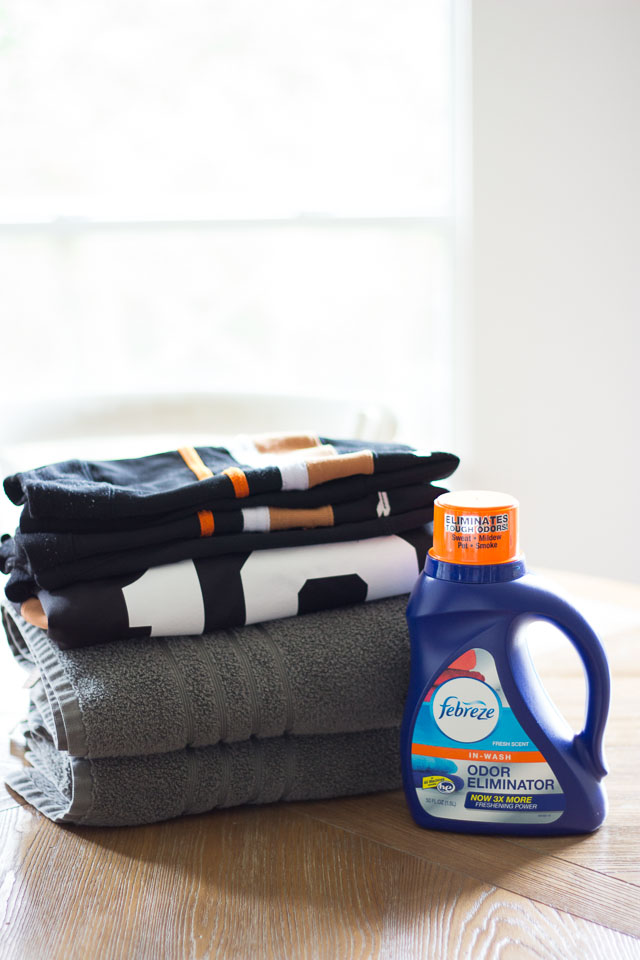 How to Clean Hockey Equipment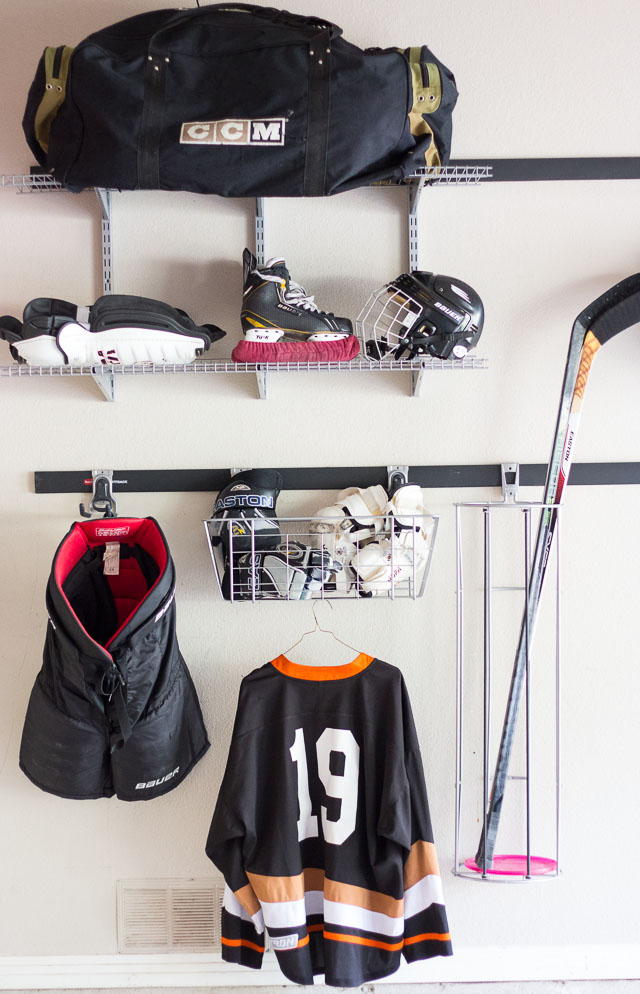 Today I'm partnering with Febreze to take a little break from my usual craft programming and tell you how to clean hockey equipment with one of their products. Yep, in this house of pom-pom crafts, pink walls, and a 3:1 ratio of females to males, we are also hockey fans thanks to my husband Ross!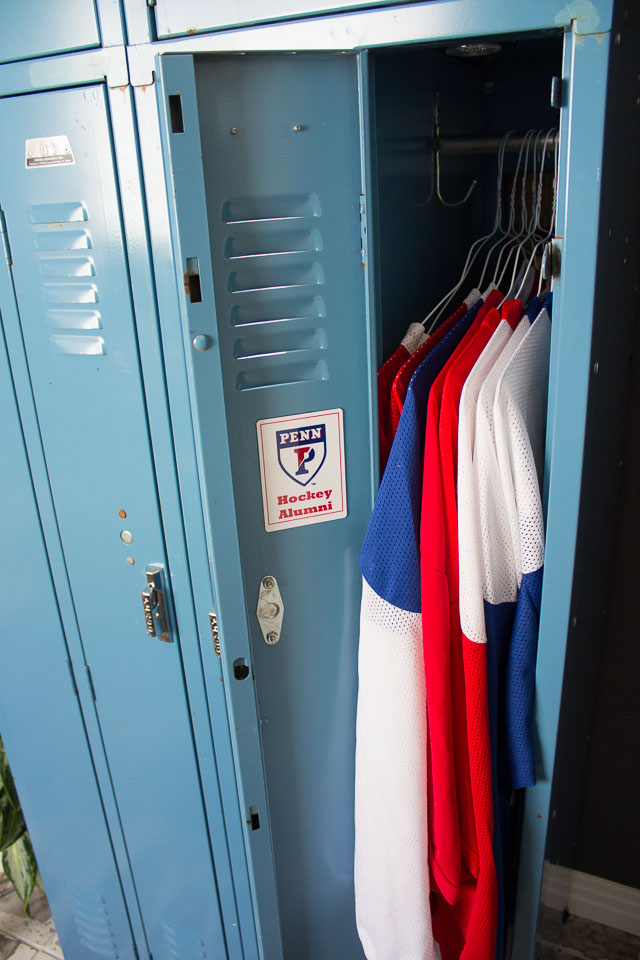 While I've been a lifelong crafter, Ross has been a lifelong hockey player. It was one of the first things that intrigued me about him when I first met him at college years ago – a hockey player who grew up in Dallas? Interesting! He played for the University of Pennsylvania club team throughout college, served on the team's alumni board for many years, and now plays in a men's league here in San Antonio 2 nights a week.
You know he's passionate when he's willing to play games that start as late as 11pm on a Sunday night, and then go into the office for an 8am meeting the next morning! I admire him for that.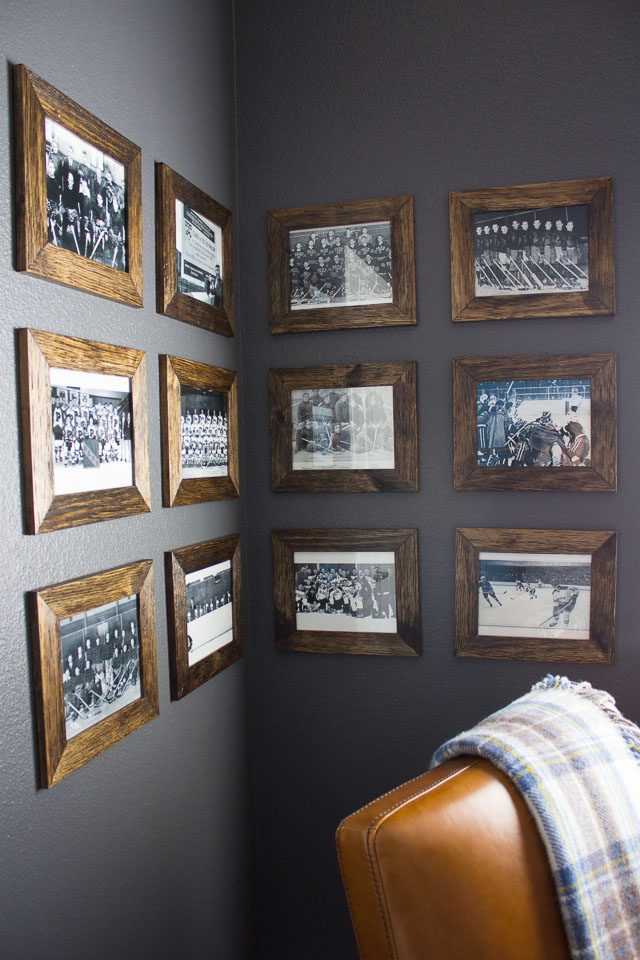 Ross's man cave is full of hockey mementos, and I especially love this gallery wall he made from vintage photos of past Penn hockey teams. So cool! You can find out all about his man cave here.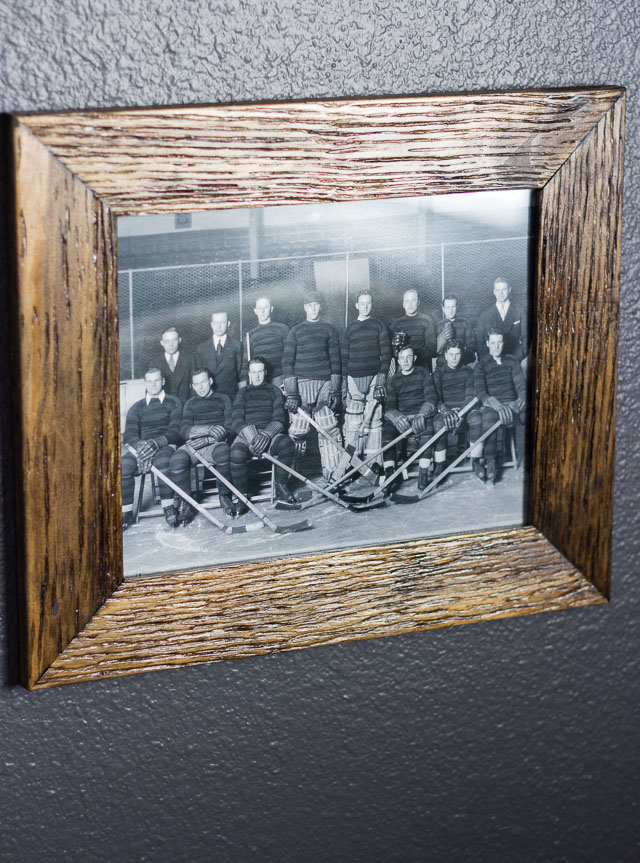 I love supporting Ross in his hockey endeavors, just like I so appreciate all the support he gives me with my blog. But what I'm not crazy about is the lingering smell that comes with hockey equipment! Anyone else with hockey players at home? Then you know what I mean!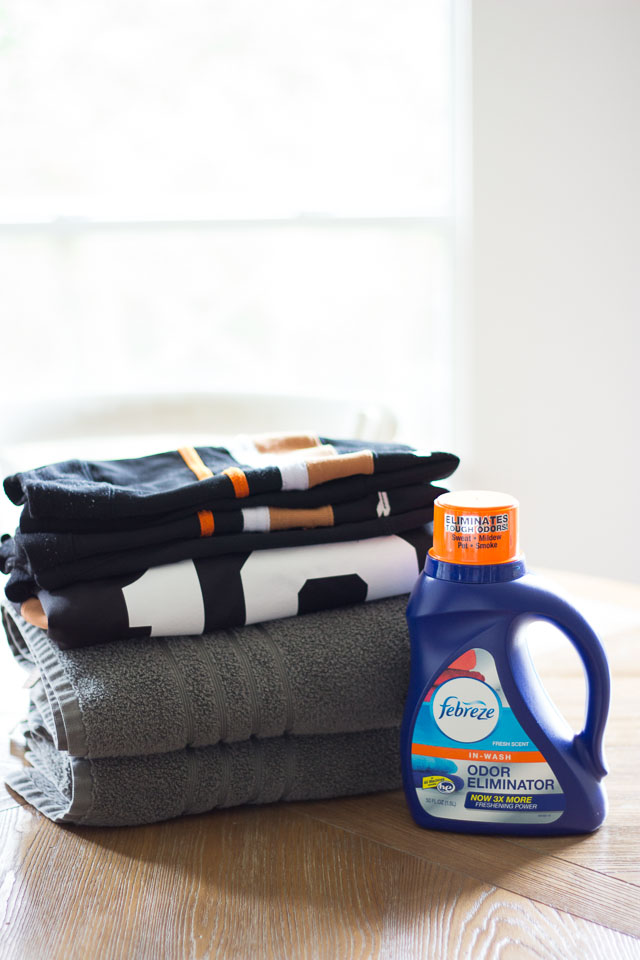 Febreze In-Wash Odor Eliminator to Eliminate Hockey Odors
So when the fall hockey season started on Sunday, I was anxious to try a couple new things to improve the hockey smell situation. First, I was very excited when Febreze asked me to try their In-Wash Odor Eliminator. It couldn't have come at a better time! I used it on a load of Ross's hockey garments that may or may not have been washed since the end of last season. 😉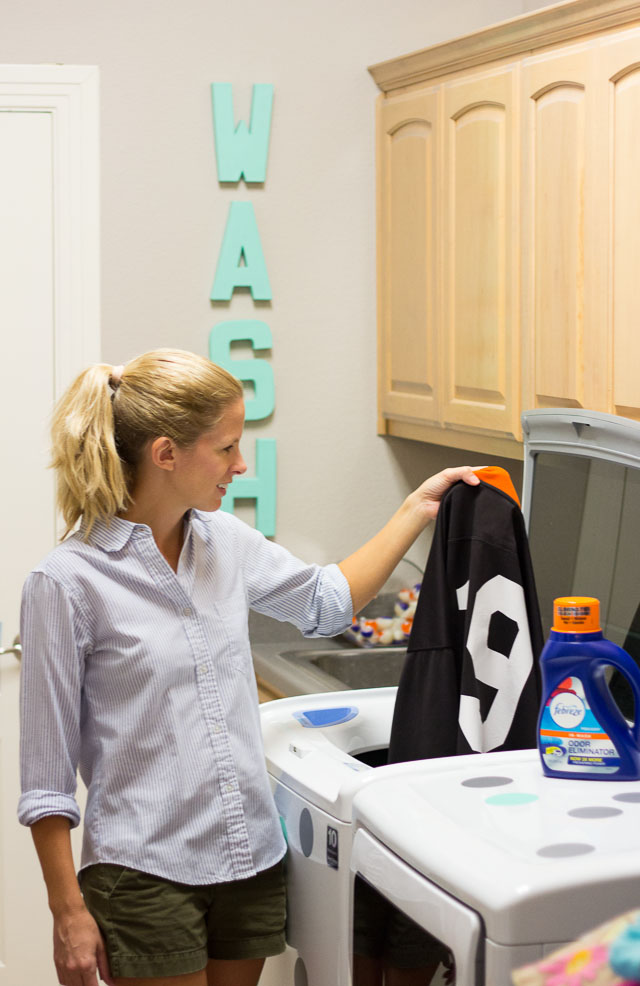 Just a capful added to the wash along with the laundry detergent made a significant difference! I'm going to start using this with every hockey load and also try it on our bathroom towels to eliminate the mildew smell they can sometimes get.

How to Store Hockey Equipment
The second thing we did is move Ross's hockey gear out to the garage after a good wash down outside with a hose and dish soap, and a day set out in the hot sun to sanitize them!
Remember this post where we used the Rubbermaid FastTrack system to hold our pool equipment? Well, with summer ending we deflated our inner tubes, stored away the pool toys for next year, and replaced the hooks with Ross's hockey gear. It holds them great!
Previously he aired it out between games in a bathroom off the laundry room. Let me tell you, it was not the ideal solution. I'm hoping this one works better!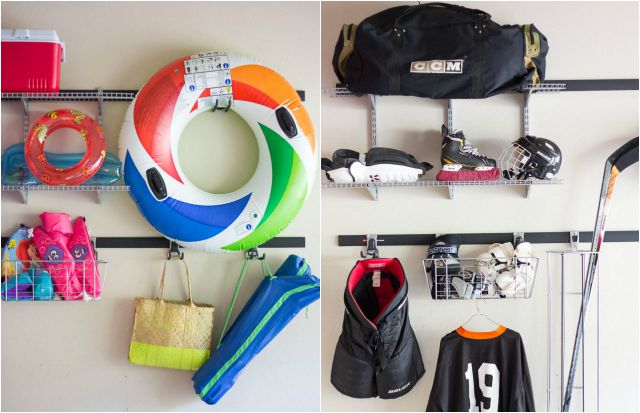 Anyone else have hockey players at home? What do you to keep the equipment clean and minimize odors? I'd love some more tips!
Disclosure: This post is a part of the Mom to Mom Campaign with KSW Media. Thanks to Febreze In-Wash Odor Eliminator for sponsoring today's conversation. All content and opinions are my own.