Doily Stencil Napkins & Tea Towels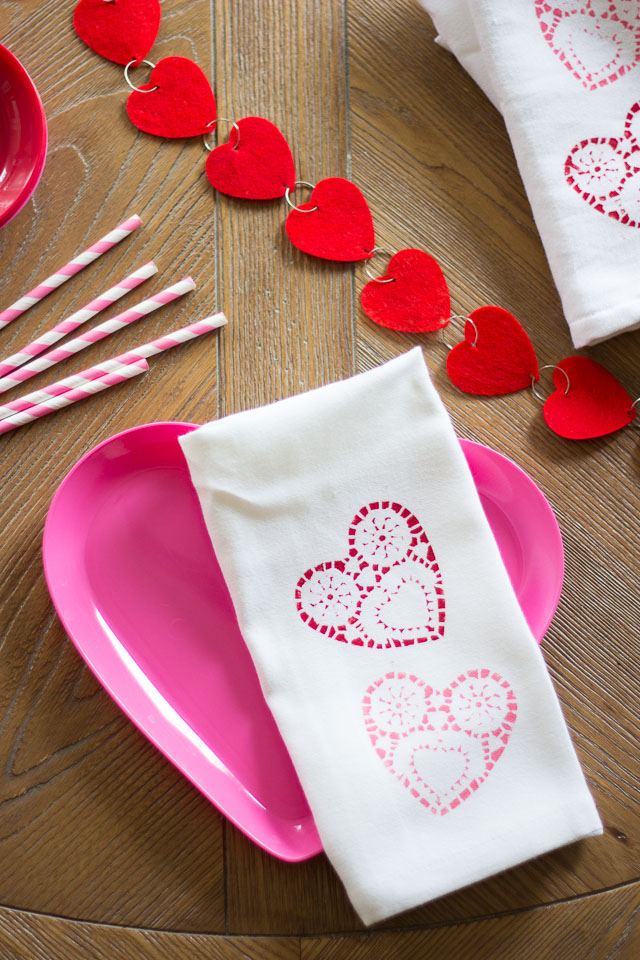 Doily Stencil Napkins
Introducing my doily stencil napkins! Every Valentine's Day I always buy a pack (or two, or three!) of heart doilies. For me they are quintessential Valentine's Day – sweet, delicate, and nostalgic all wrapped in one! I love them because not only are they inexpensive ($1-2 a pack) they can be used in so many different ways – from being scattered down a table, to decorating a wall, to lining envelopes. Check out my top 10 heart doily crafts for more ideas!
The little holes in the doily make for the perfect stamp. I used a couple sizes of doilies to make some these Valentine's Day napkins and tea towels. If you're looking for a last minute Valentine's Day gift for a friend, this is it!
You can experiment with any number of designs or colors. I stuck with a few different shades of pink and red. For the tea towels, I stamped a vertical line down the middle so the hearts would be front and center when hanging in the kitchen. For the napkins, I kept it simple and just stamped two hearts on the part of the napkin that would show when folded.
This post contains affiliate links. See my full disclosure.
Need a last minute Valentine's Day shirt for your little one? Just stamp a doily on the front of a white t-shirt! Here's all you need to stamp anything in sight with delicate doily hearts!
Supplies for Heart Doily Stamped Napkins
How to Stencil with Heart Doilies
Step 1. Position doily in place
Position your doily flat where you want to start stamping. Make sure you only have one doily – they stick together easily! Squeeze some paint onto a paper plate and then dip your foam brush into it, blotting it a couple times on the paper plate to remove excess paint. Start blotting the doily with paint using an up and down motion.
2. Cover all doily holes with paint
Once you start painting on the doily it does stick to the fabric a bit and hold itself in place pretty nicely, but you will want to hold it down with one hand to make sure it doesn't shift while you are covering it in paint. Continue until all the holes are covered, being careful not to paint outside the outer edge of the doily!
3. Carefully lift doily
Lift up the doily to reveal the pretty design! I recommend using a new doily each time you stamp as the paper can get warped from the paint. Clean any paint off your hands to avoid smudging the towel, grab another doily, and repeat! It's a pretty foolproof and quick process for getting a pretty heart every time.
These tea towels would make a pretty gift bundled up with a pretty gift tag and doily slotted in!
Love this doily stencil craft?