Valentine Rice Krispie Treats with Heart Sprinkles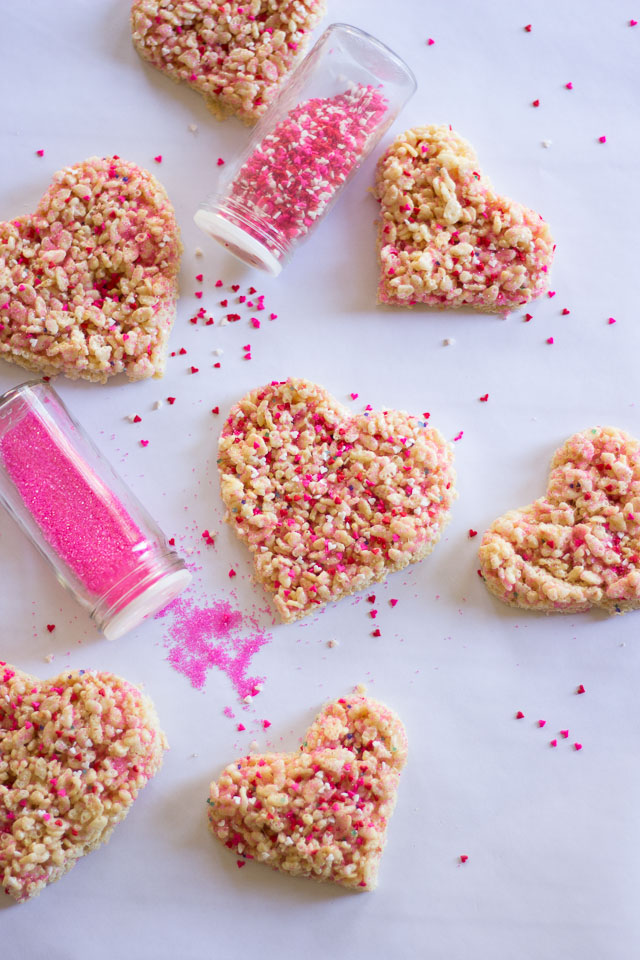 Valentine Rice Krispie Treats
I've got one last Valentine's Day project for you, and these Valentine rice krispie treats are the perfect activity to do with your little ones. What kid wouldn't love Rice Krispie hearts loaded with sprinkles. These are easy enough for preschoolers to help make!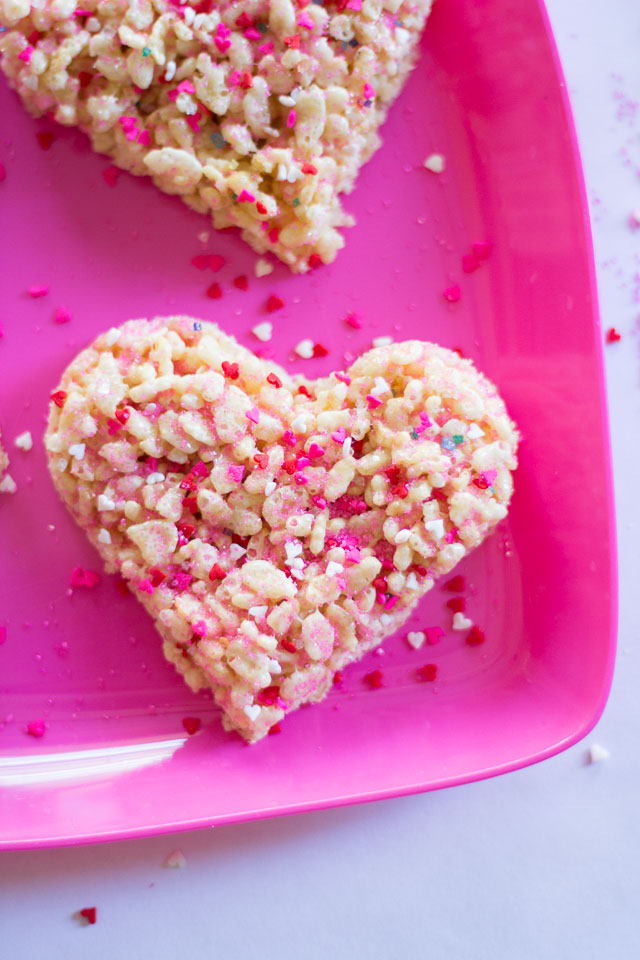 These are actually a bit of a tradition for us. I started making these with Stella and Hazel for their first Valentine's Day party with their little friends when Stella was just two. (Please forgive the amateur photography and blogging in this post circa 2012!).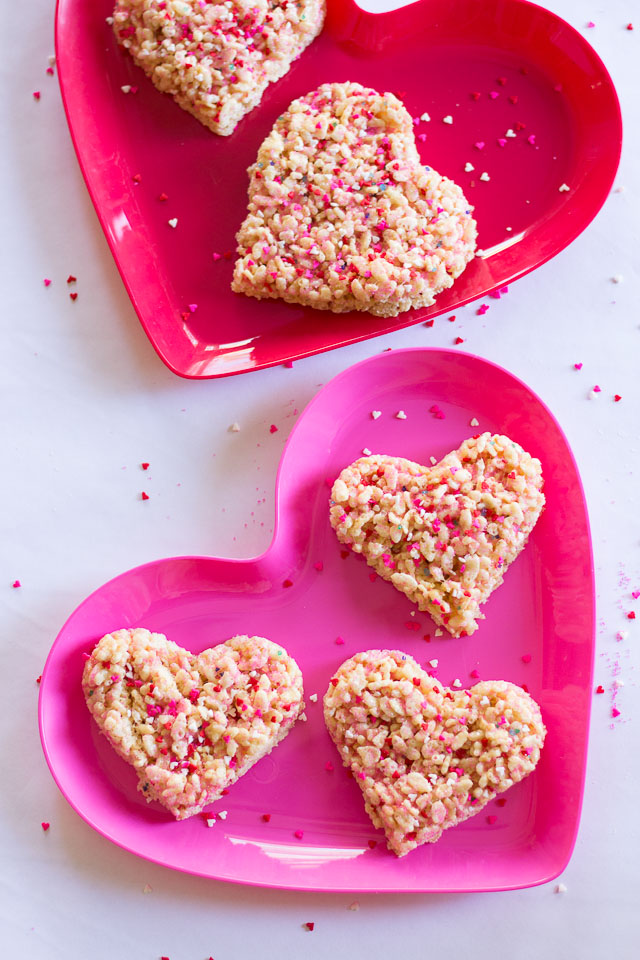 The reason these are fun for preschoolers is that they can go crazy with sprinkles but you don't have to deal with messy frosting. The sprinkles stick right to the treats and there is something about their crunch combined with the texture of the Rice Krispies! Also, the Rice Krispie treats are easy for little hands to cut with cookie cutters if you spread them fairly thin in the pan. Here's what you'll need:
Supplies for Heart Shaped Valentine Rice Krispie Treats
6 cups of Rice Krispies
4 cups of mini marshmallows
3 T. butter
Sprinkles
Heart cookie cutters
11″x15″ baking dish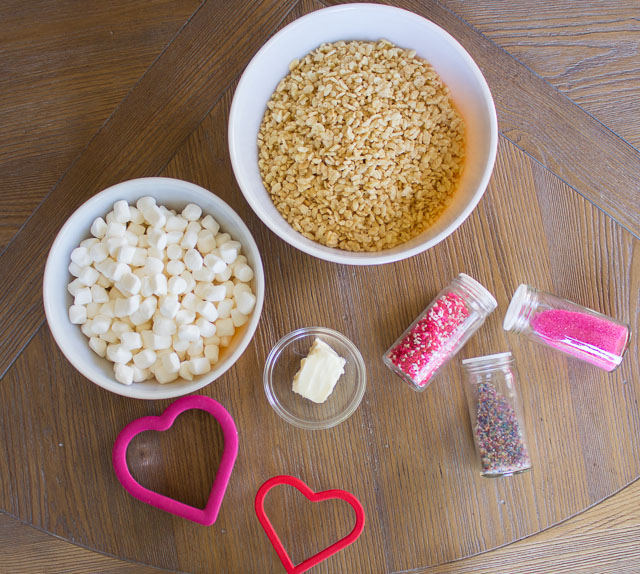 How to Make Sprinkled Heart Rice Krispie Treats
Step 1. I just followed the directions for the classic Rice Krispie treats recipe by melting the marshmallows and butter on the stove and then stirring in the Rice Krispies. I used a large 11″x15″ pan to spread them out in. You can also use a 9″x13″ pan, but I find that making them thinner helps little ones cut though them on their own with the cookie cutters.
Step 2. While the Rice Krispie treats are still warm and sticky, add the sprinkles. They will stick right to the treats!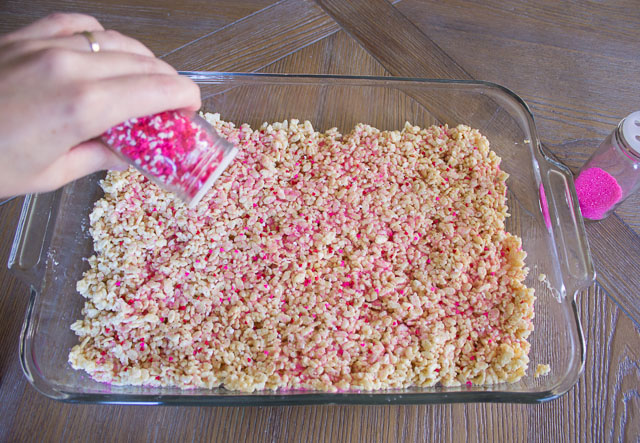 Step 3. Cut out hearts with cookie cutters – it is also easiest to do this while they are still warm.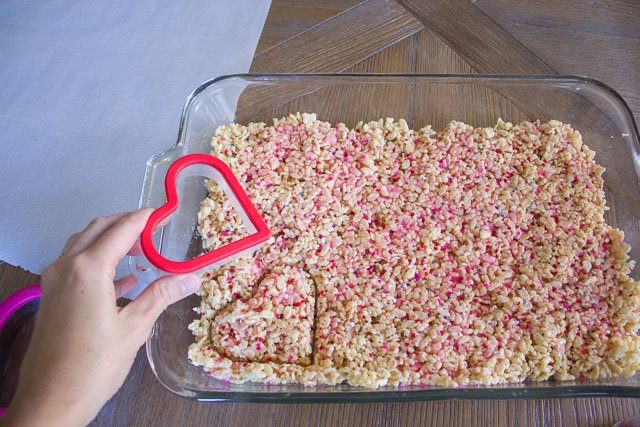 Step 4. Here's a trick – similar to cookie dough, you can actually pinch all the remaining scraps together and press down to make more hearts… or you can be like me and eat all of the scraps, leaving the hearts for the kids! 😉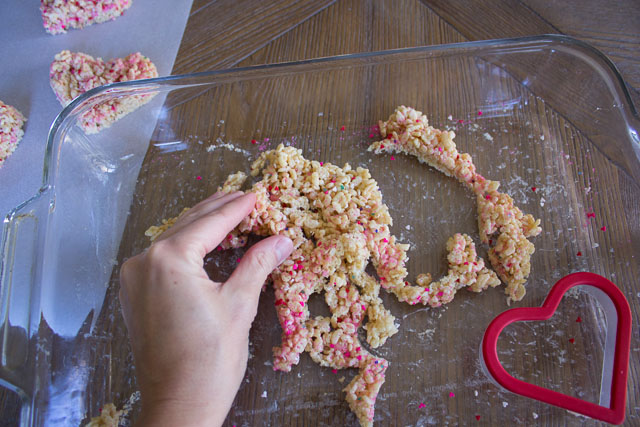 These are simple, yummy, and fun! Of course, you don't have to make just hearts. Any cookie cutter shape will work.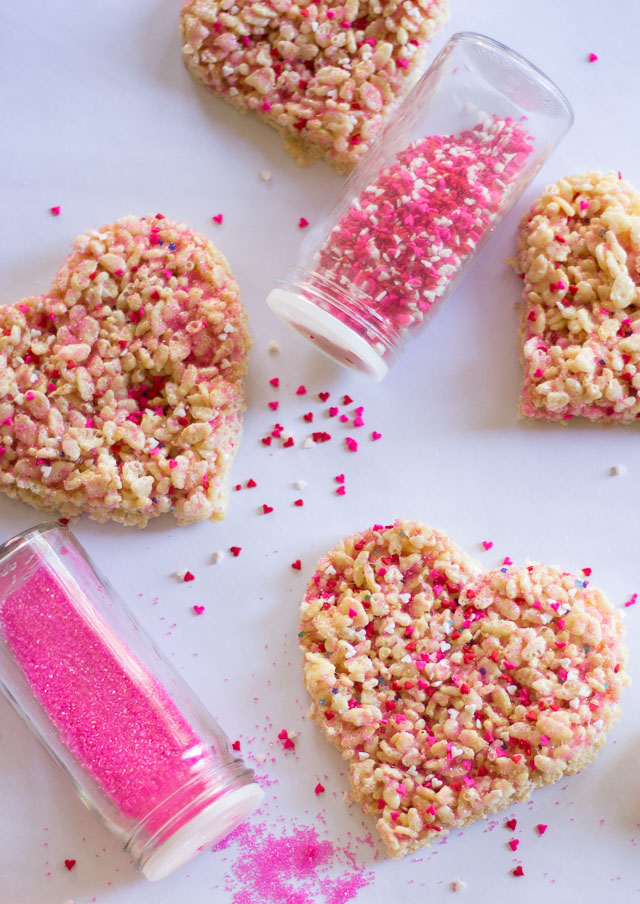 Like this Valentine's Day idea?