New Years Eve Confetti Balloons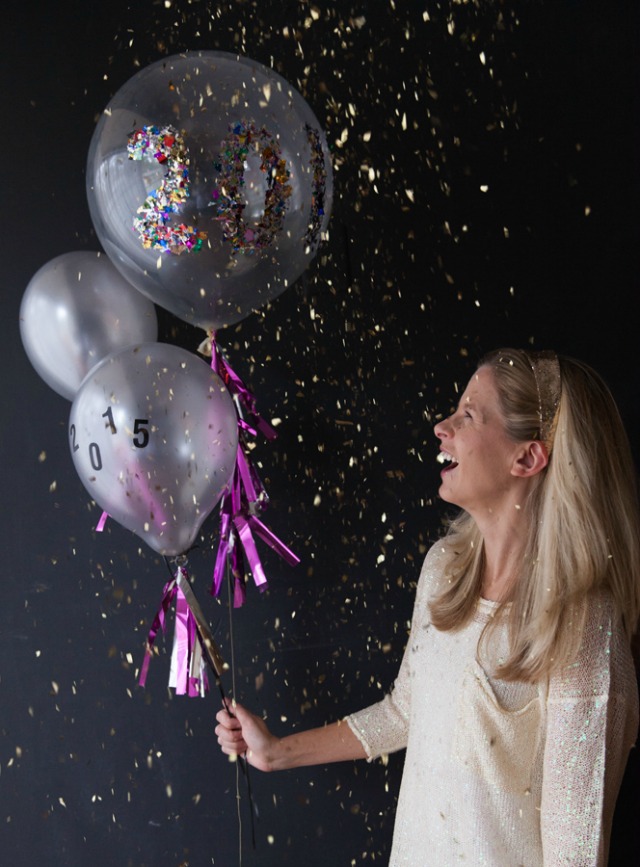 New Years Eve Confetti Balloons
For my last project of 2014, I'm going out with a bang! Introducing my New Years Eve confetti balloons!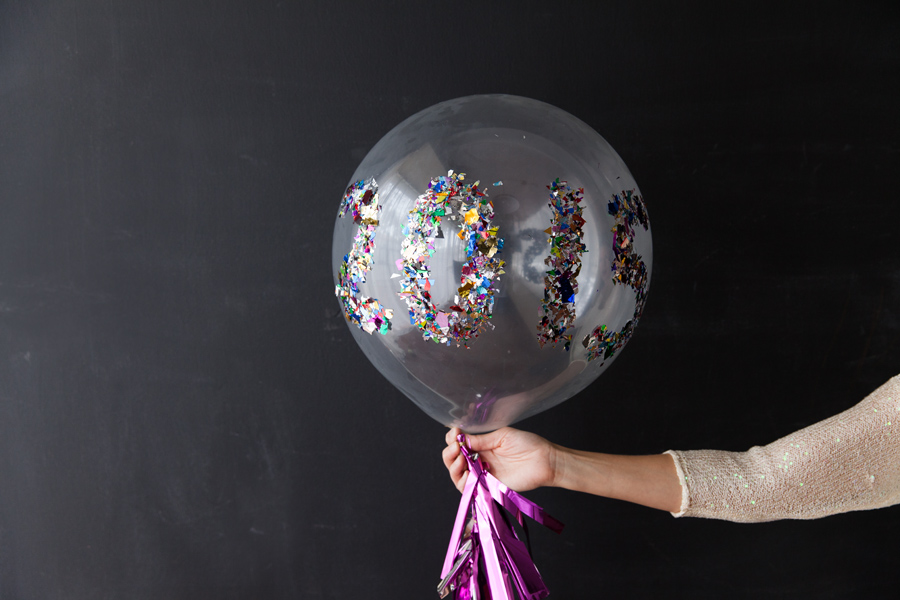 How about a sparkly 2015 confetti balloon to ring in your New Year? These balloons are super fun and easy to make – as long as you don't mind getting covered in confetti. 😉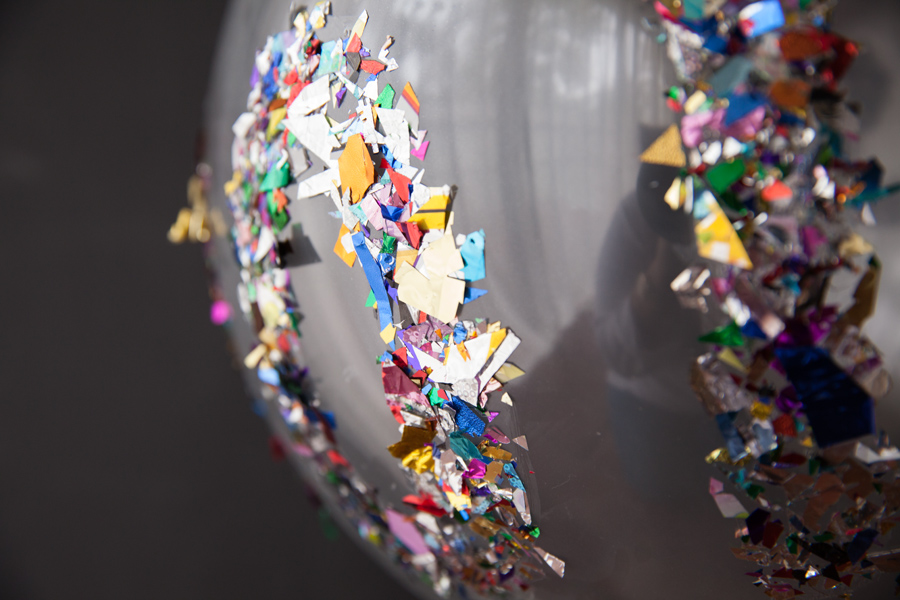 While I wrote out "2015", you can write anything on a balloon with confetti! You could also spread the 2015 across 4 balloons, with a different number on each. I finished off the balloons with some pretty metallic tassels thanks to my new Martha Stewart fringe cutter.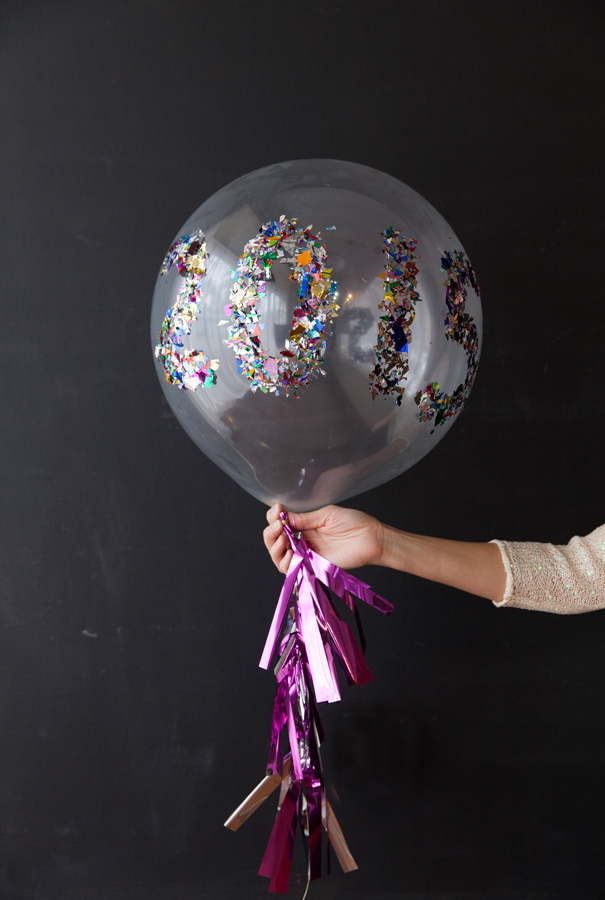 This post contains affiliate links. See our full disclosure.
Supplies for New Years Eve Confetti Balloons
Helium grade latex balloons (I used clear 17″ balloons, but the standard 12″ balloons also work if you do a single number on each. You can use any color of balloon!)
Mod Podge
Small brush
String
Martha Stewart fringe cutter
Mylar tissue paper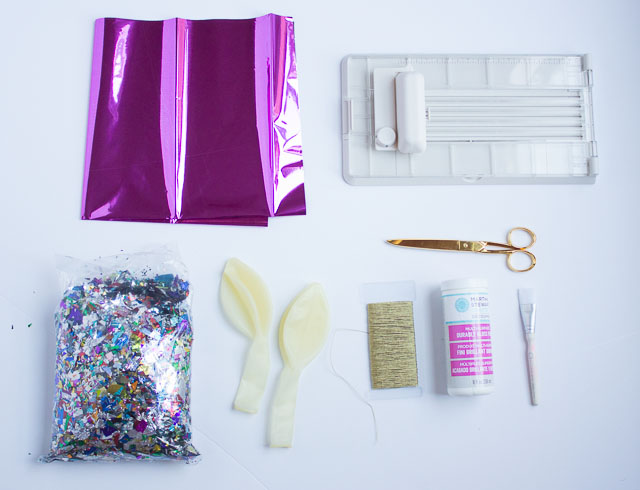 How to Make Confetti Balloons
1. Inflate your balloons
Use either at home using a small personal tank or have your local party store inflate them. If you are using the large 17″ inch balloons like I did, you can expect the balloons to stay afloat for a good 8 hours. If you are using the smaller 12″ balloons expect 4-6 hours. You can ask your party store to add Hi-Float to the balloons to keep them afloat longer.
2. Paint number with Mod Podge
Hold your balloon down and freehand paint a number on the balloon using your brush and Mod Podge.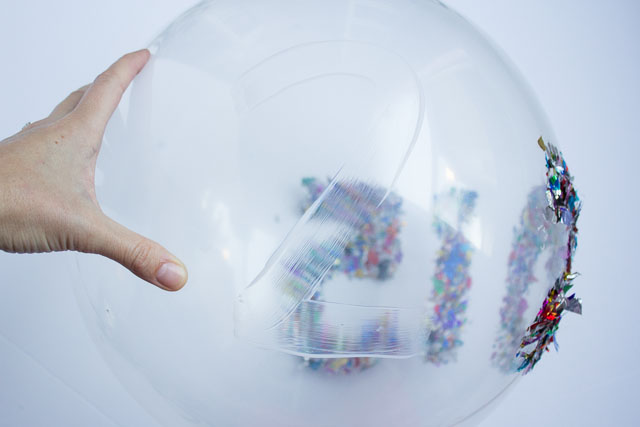 3. Sprinkle confetti on top
Sprinkle a handful of confetti on top of the Mod Podge number, making sure all parts are covered and pressing down lightly with your hand.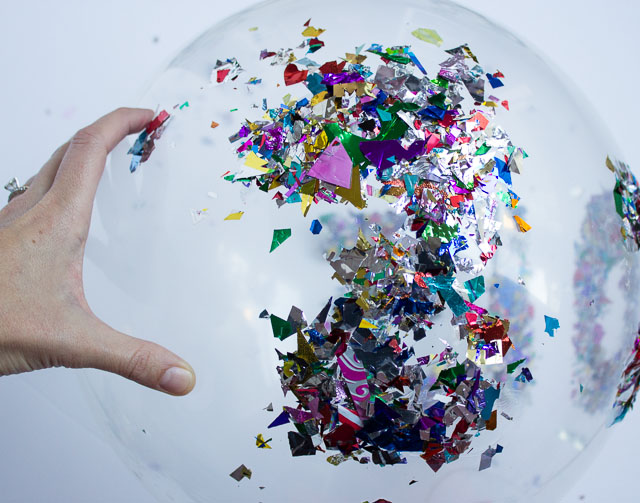 4. Shake off excess confetti
Shake the balloon to remove the extra confetti. Use your hands to cover any bare spots with a lift more confetti. During this process just be careful not to touch the balloon all over with Mod Podge fingers! I kept a damp paper towel nearby to keep my hands clean.
Repeat this process for the other numbers. Making these balloons is really quick, just messy! You'll want to lay something out on the floor to catch all the confetti. Or just leave it on the floor as part of your NYE party decor. 😉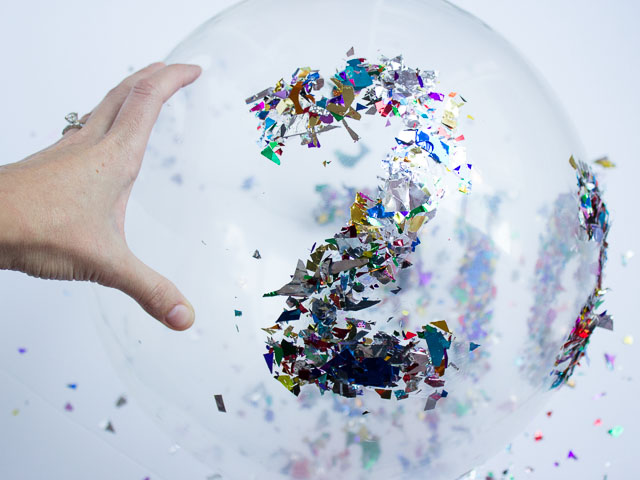 How to Make Mylar Tassels
1. Use a fringe cutter or scissors
To make the mylar tassels, set your Martha Stewart fringe cutter to make 8 inch fringe. Take a piece of mylar tissue paper and fold in half once horizontally and again vertically and place in the fringe cutter, aligning according to package directions. If you don't have a fringe cutter, you can cut 8 inch long slits using a pair of scissors.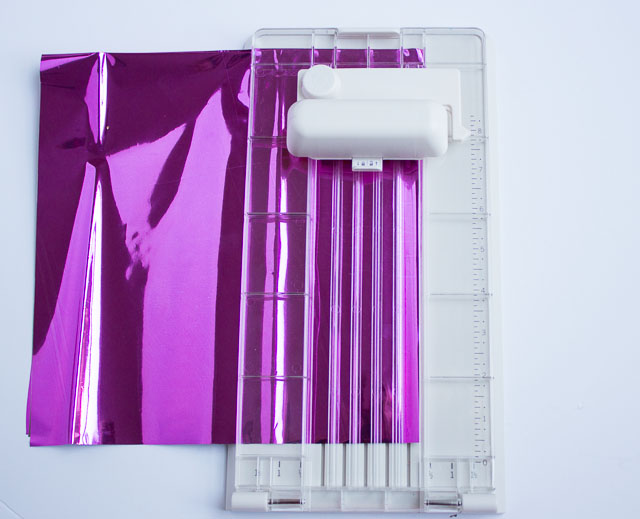 Pull down the lever to create the fringe. Repeat until you have worked your way across the paper.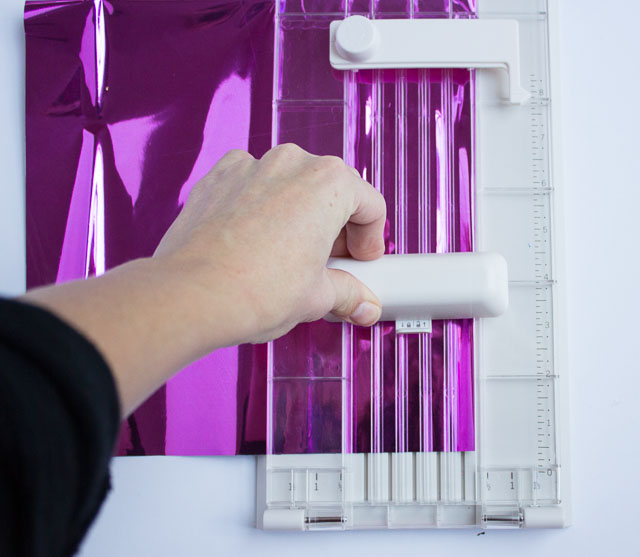 2. Leave 2 inch band at top of fringe
Open up the tissue paper and there will be 8 inch fringe on each side. I cut off each side of fringe, leaving a ~2 inch band across the top.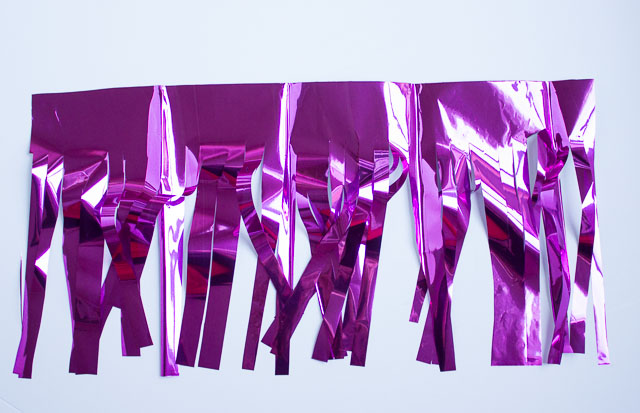 3. Roll up fringe
Start rolling up your fringe to create a tassel. Keep the roll as tight as you can and be extra careful when you handle mylar. It can tear easily.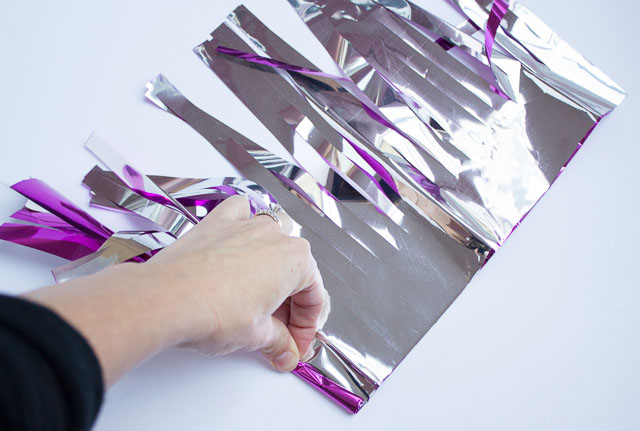 Once it's rolled, it should look like this.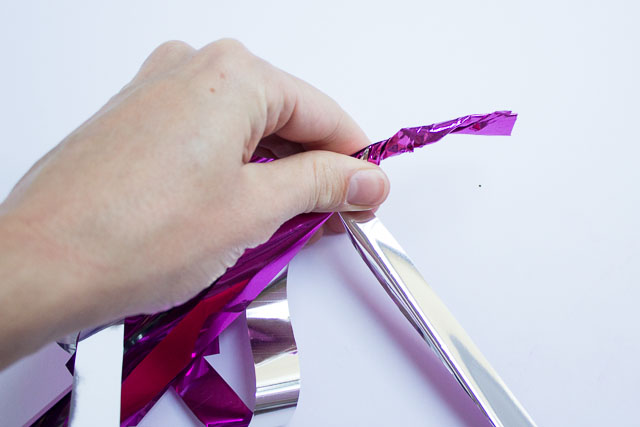 4. Bend to form a loop
Bend it in half to form a loop.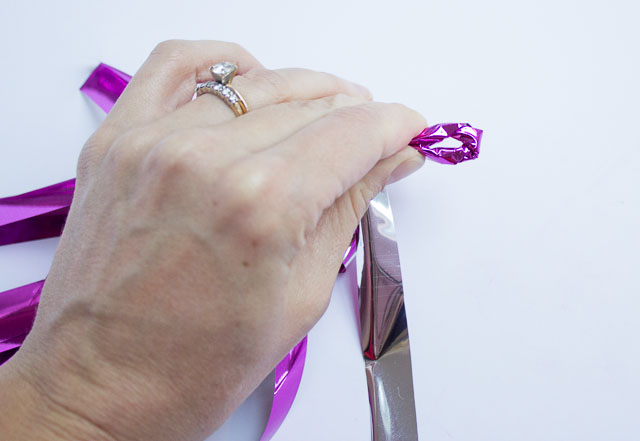 5. Wrap with string
I wrapped a piece of gold string around the loop to hold it in place and create the tassel. I left a a bit of string on each end to tie to the balloon. Tie a few to the balloon and you're done!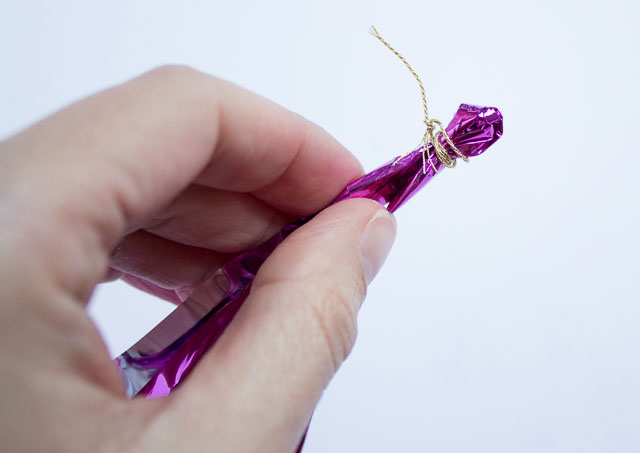 Like these DIY New Years Eve Balloons?