Master Bedroom Reveal with Minted!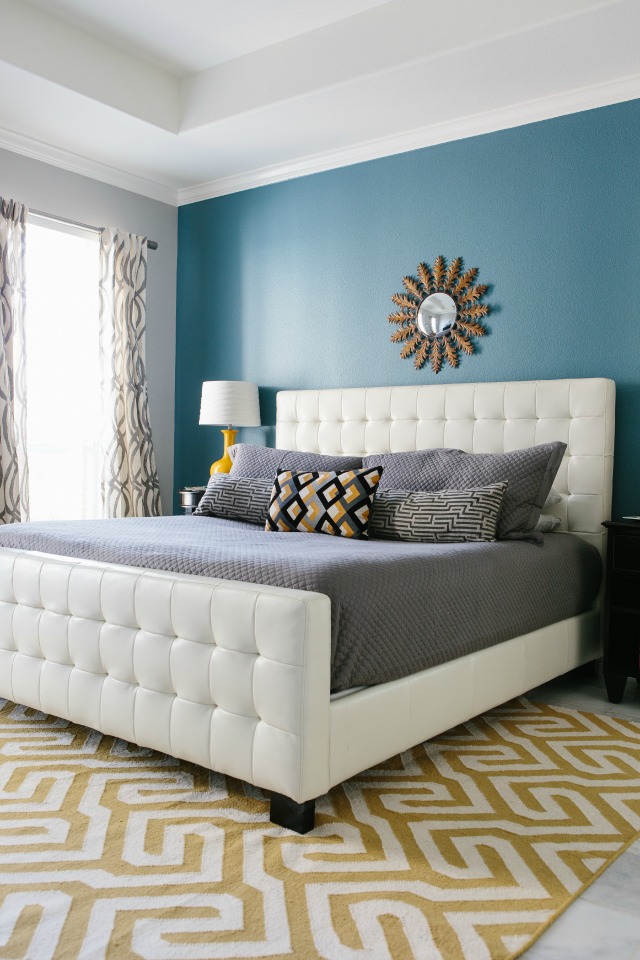 I can't believe it, but we're coming up to the one year mark in San Antonio…and I'm proud to say we finally have our master bedroom 'finished'. You might remember this initial design I shared last August. Well sometimes good things take awhile, and it wasn't until we finally got some art on the walls a couple weeks ago that the room really felt complete.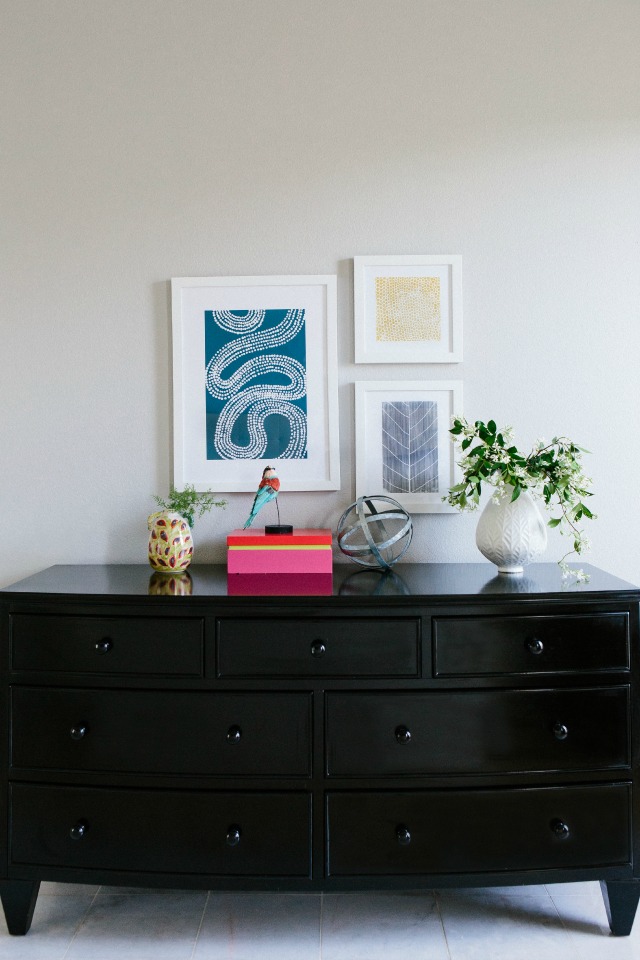 Are you like me and tend to wait awhile to put something on your walls because you want to find just the right thing? It can be a daunting (and often expensive) task to find something great. I was pretty excited when I found this arrow print – it was just what I had been looking for!
To help add the finishing touches of art to the room, I turned to my friends at Minted. I have been so impressed with their affordable limited edition art prints. Their designs are all created by independent artists and are so modern and fresh. Even more, each print comes in a variety of color palettes and sizes to help you get just the right look for your space.
I was able to customize this grouping of Minted prints in a color palette that really complemented the rest of our room (prints clockwise from left are River of Dots, Abstract Circles, Leaf Study):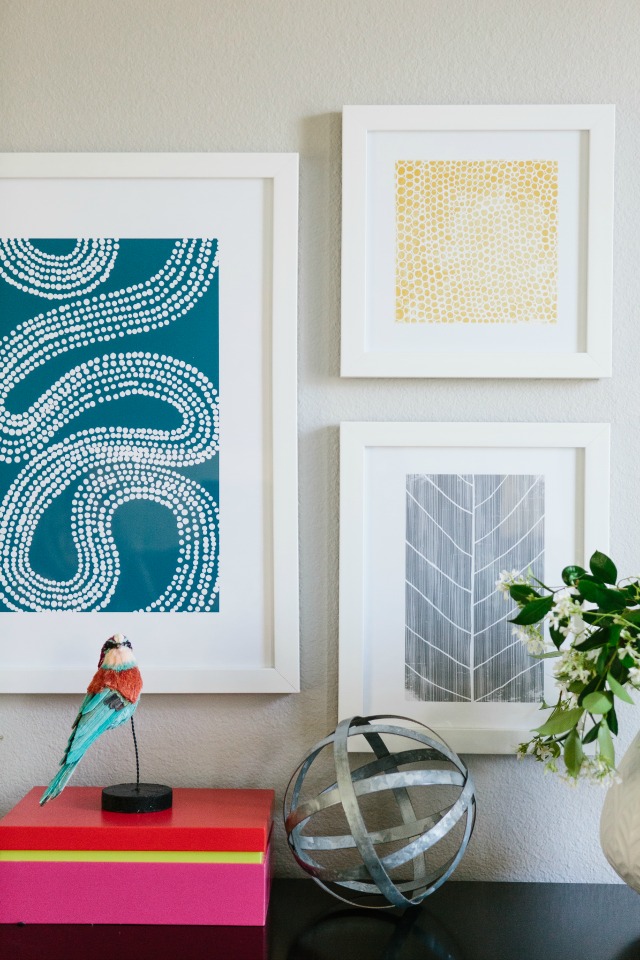 We've worked on the room in bits and pieces over the last year – the first major change was a new color of paint on the walls – transforming them from a boring beige to a focal wall in Sherwin-Williams Refuge and the other walls in Light French Gray. I love how the colors turned out, and just the paint alone made it a completely different room from when we bought the house.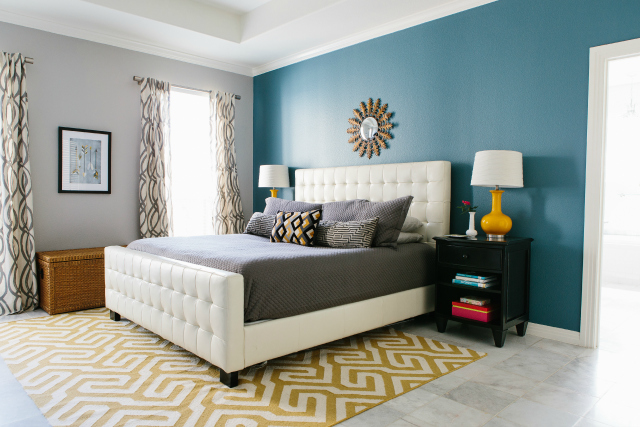 We were able to use all our same furniture from our Chicago master bedroom, but when paired with the new paint colors, West Elm rug, and Target lamps, the furniture took on a completely different look!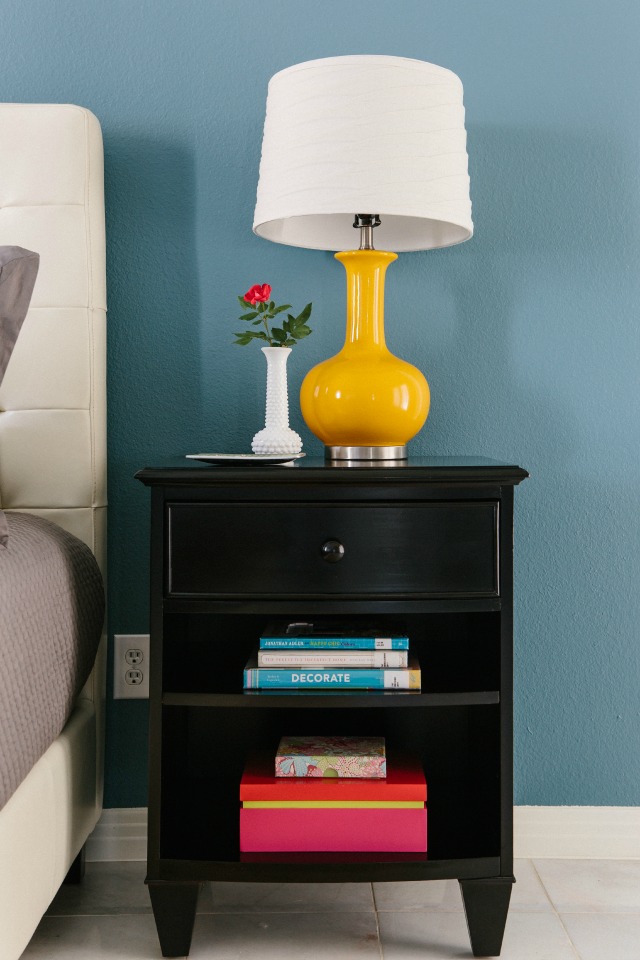 I don't typically have fresh flowers in our bedroom (although I wish I did!), but our yard has been full of blooms lately here in Texas and I couldn't resist bringing some inside to enjoy, like this jasmine that grows all along our fence.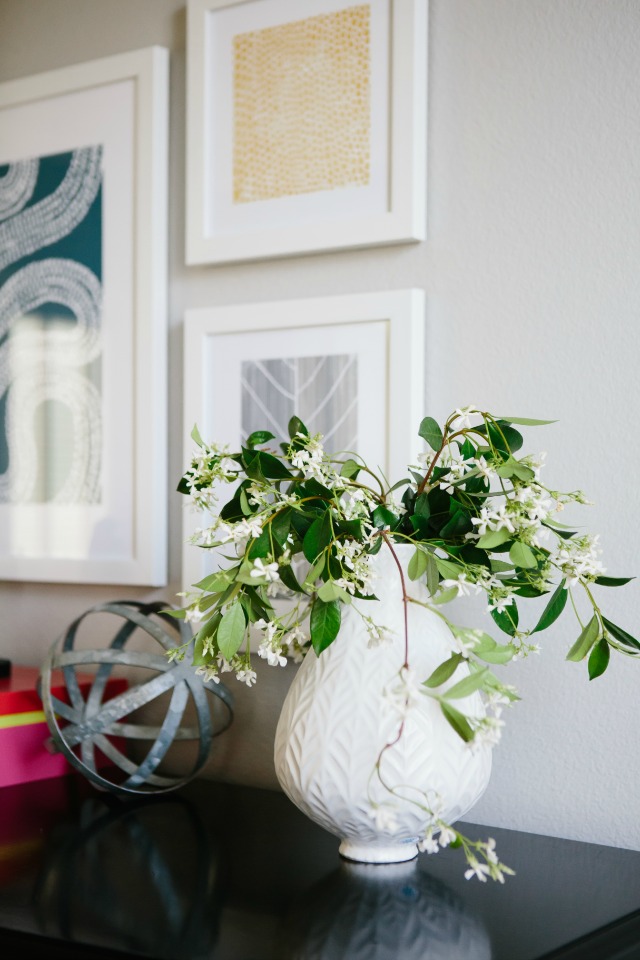 In addition to the great Minted prints, I wanted to add a little DIY art to the room. I created this bird wall art for the sitting area in the corner of our bedroom. I had been saving this bird fabric for awhile – it was actually an old tablecloth in its previous life!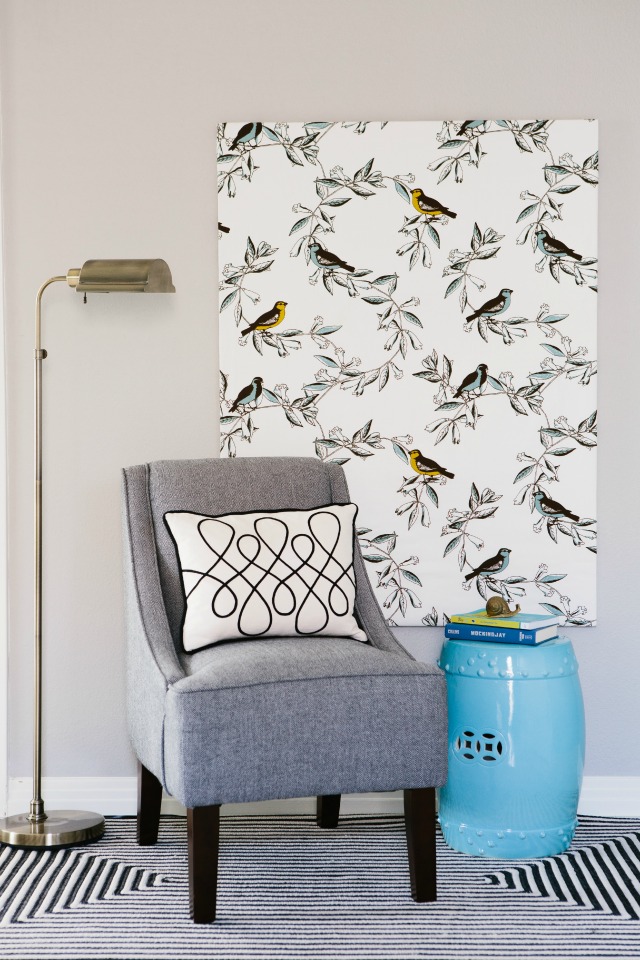 This is a simple project you can make for $20 if you have fabric (or an old tablecloth!) on hand. Read on to see how to make your own!
Supplies for Canvas Covered Fabric Wall Art
1-2 yards of fabric (an old stain-free tablecloth works great too!)
Large (3'x4′) canvas (buy the cheapest quality of canvas, not museum quality! I've found the best source to be a craft store like Hobby Lobby or Michaels, as they are regularly 50% off. I purchased mine for $20 during a 50% off sale)
Staple gun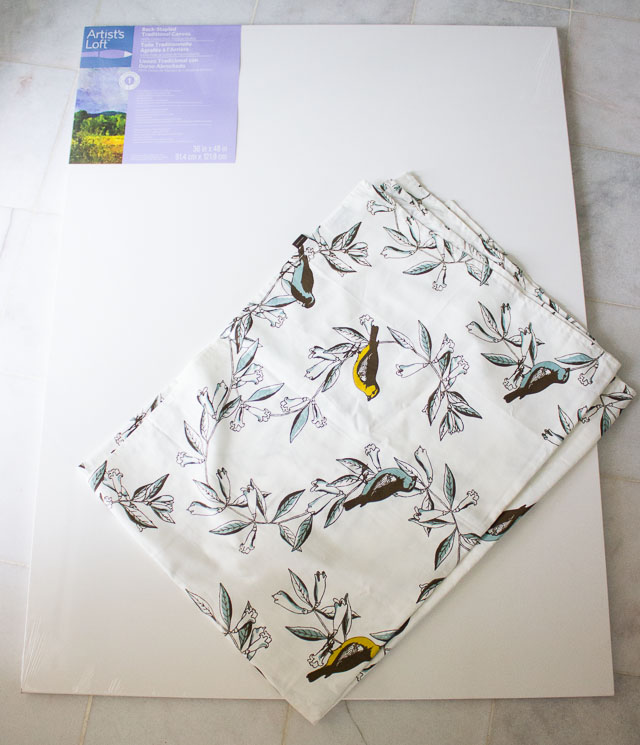 How to Make Canvas Covered Fabric Wall Art
Ok, here's a little secret – this is the exact same process as the fabric necklace hangers I shared last week, just on a larger scale!
1. Lay the fabric out across your canvas and position it so that it highlights your favorite parts of the print. Cut the fabric to size with 2-3 inches of extra fabric on each side. You may want to then steam or iron your fabric once it is cut to eliminate as many wrinkles as possible: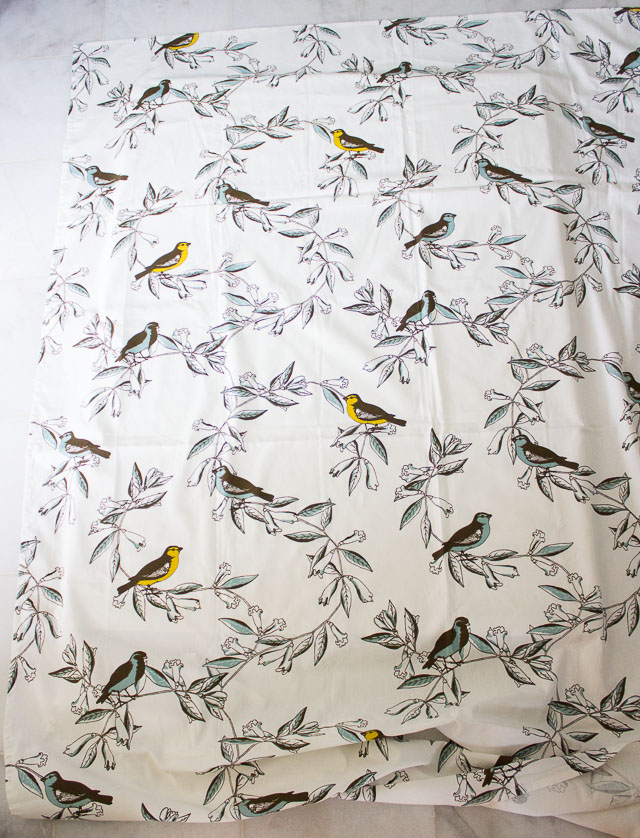 2. Lay the fabric print side down on the floor and position your canvas face down on top of it. Make sure the print is aligned straight on the canvas. Now start by adding a staple to the center of each side of the canvas frame with your staple gun. Pull the fabric taut before adding each staple. Once you have added a staple to each side, fold down the corners and staple them flat.
Finally, finish by adding a couple more staples to each side of the frame and trimming any excess fabric. Hang on the wall with a nail!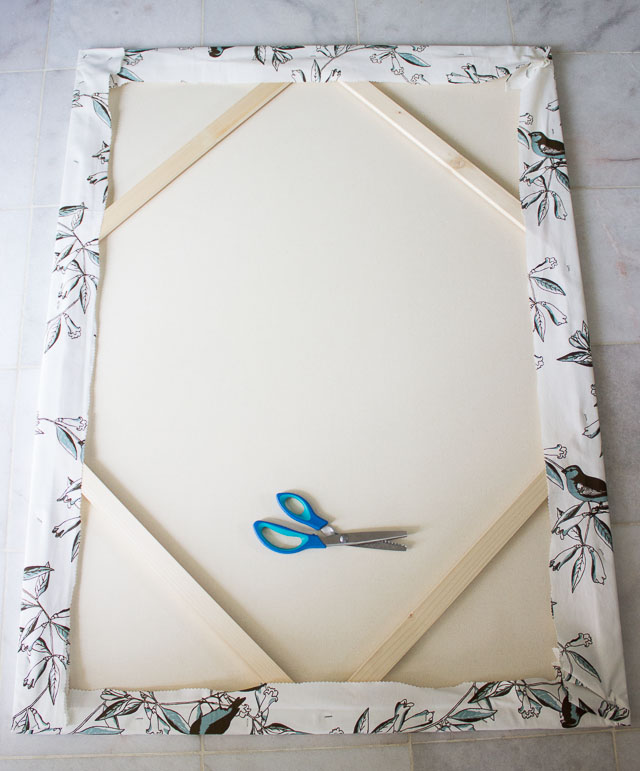 This is like a 30 minute project. So easy, and a great way to make a big statement on a wall without buying a huge piece of art.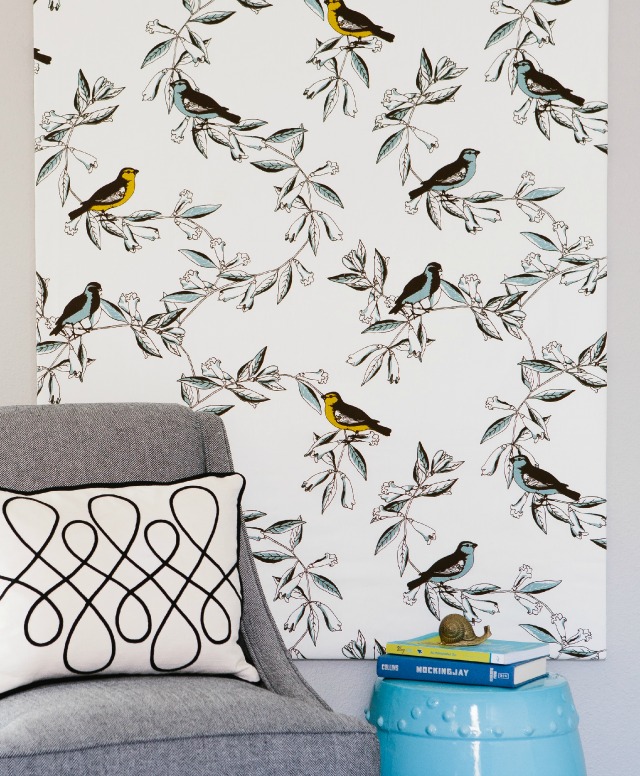 This post is sponsored by Minted. All content and opinions are my own.
Photos of finished master bedroom by Candice Stringham.