My Insanely Awesome DIY Outdoor Rug!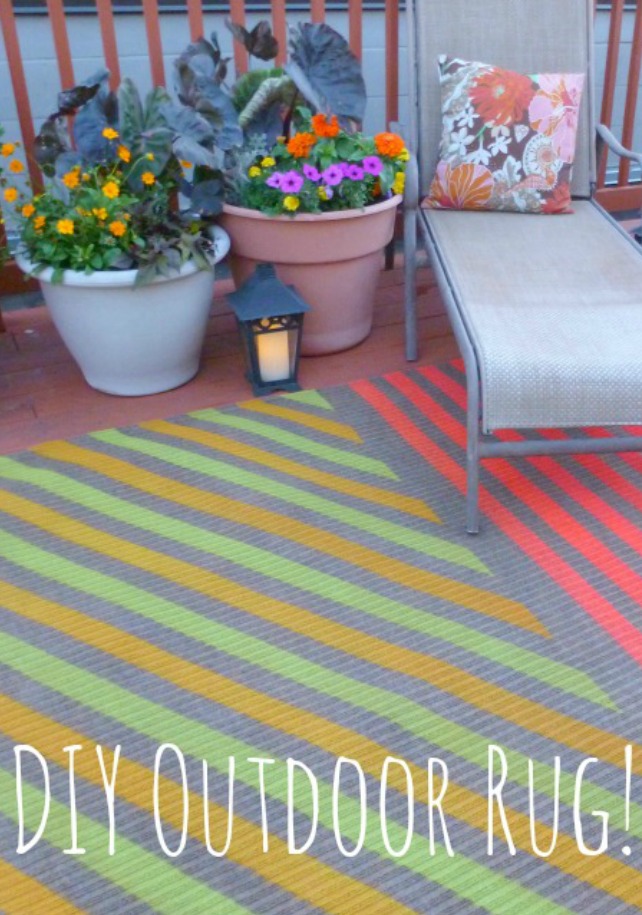 How to Paint a DIY Outdoor Rug
Introducing my DIY outdoor rug! Isn't it awesome?! Am I insane for making it? I did ask myself that a few times during the process in the midst of running through four cans of spray paint and a roll of masking tape, but I am pretty excited about the end result! With just a few materials you can end up with a one-of-a-kind rug for under $50 and a few hours of work: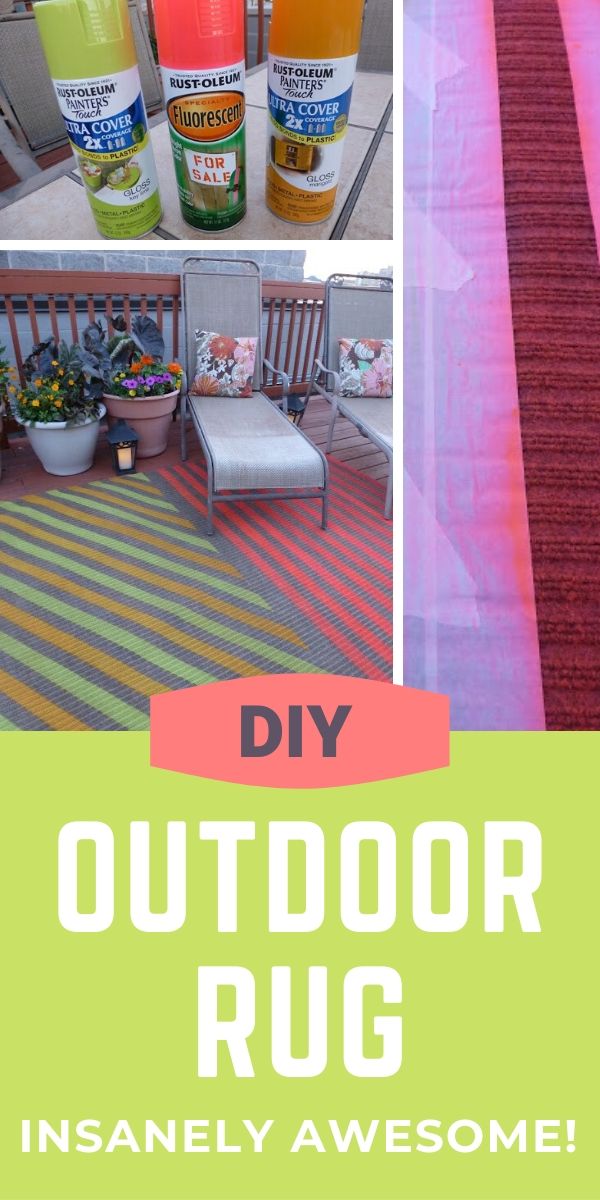 I would've never come up with this rug if it hadn't been for the great results we got from our DIY chevron doormats at the last Design Improvised DIY Night. Who knew it would be so easy to transform a rug with just masking tape and spray paint? I figured the same idea could be achieved on a larger scale.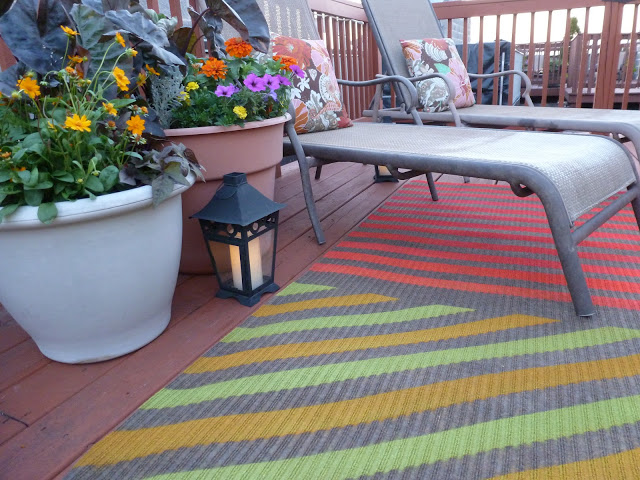 I initially thought I would apply the same chevron pattern as the doormats, but I pretty quickly realized I would indeed be insane to attempt that the taping work would take forever on such a large surface. Then I remembered this CB2 rug that I had featured in a recent roundup of my favorite patio decor of the summer. I decided to use this as my inspiration: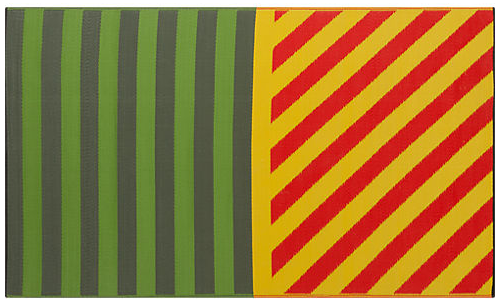 Supplies for DIY Outdoor Rug
Inexpensive plain outdoor rug (I found a very basic indoor / outdoor rug for only $19.99 at Target)
1 roll of 2-inch thick masking tape
Outdoor spray paint – I recommend Rust-Oleum Painters Touch (I used about 3.5 cans for my rug, but it will depend on your rug and the design you choose) NOTE: After a few months of having the rug outside, I would NOT recommend the Fluorescent Rust-oleum paint (shown in the middle of the photo below). It started to fade considerably from the sun, while the Rustoleum Painter's Touch still looks great.
Drop cloths (I like to use disposable plastic tablecloths – $1 a piece at dollar store)

How to Paint a DIY Outdoor Rug
Step 1: Tape off a design
For the taping, I laid the rug out in my living room and started free-handing (no measuring needed!) the design with masking tape, going a little past the edges of the mat. Rather than breaking off long pieces, I held onto the roll as I pulled the tape across the rug.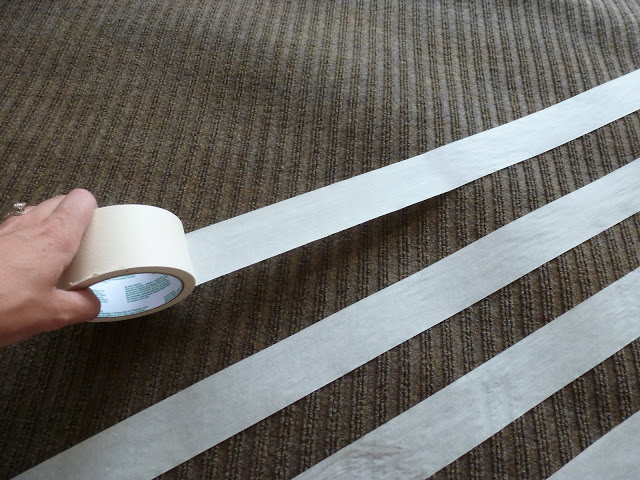 The total taping process took me one "Little Einsteins" and half a "Curious George" (two of Stella's favorite shows), so about 45 minutes. 😉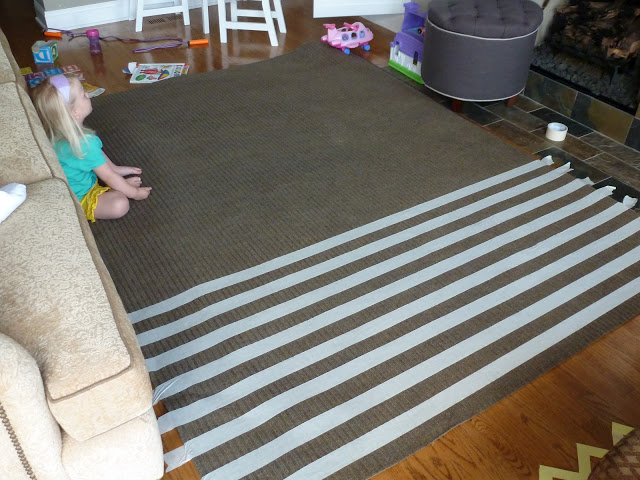 Step 2: Spray paint one section of rug
Now for the fun part, bring on the spray paint! I laid the rug out on my roof, using drop cloths around the edges. I started with the neon pink paint on the vertical stripes side, doing a couple applications a few minutes apart.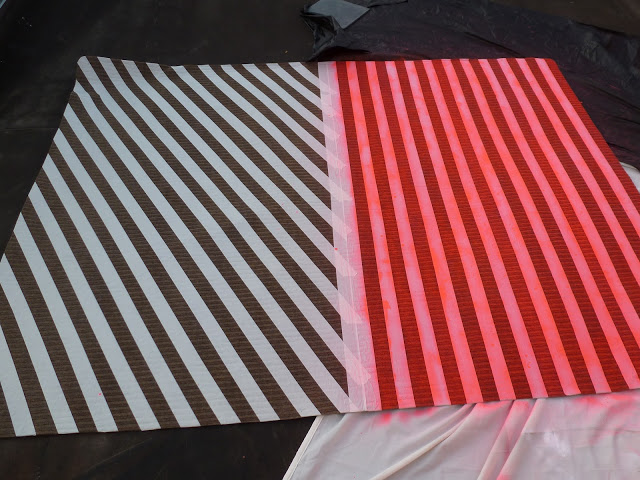 Step 3: Spray paint another section
Then I moved to the diagonal striped side, spraying every other stripe green. I let that dry for 15 min. or so then went over the remaining stripes in yellow.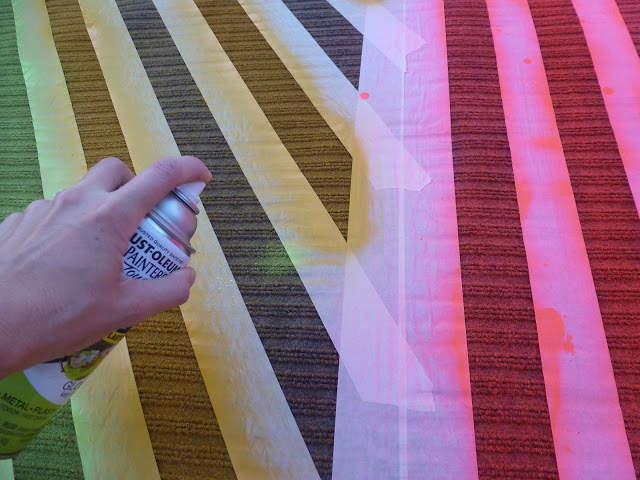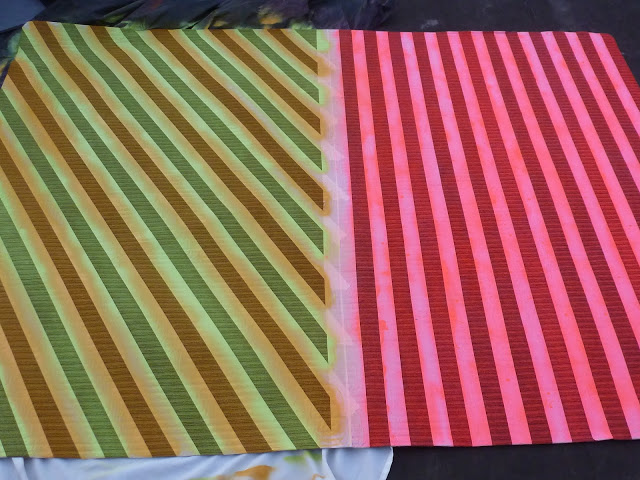 Step 4: Remove tape
If you are impatient like me, you can't wait the 24 hours or whatever it is for the paint to fully dry to peel off the tape. Seeing the bright colors revealed is the most exciting part! I pulled off the tape about 30 min. of dry time and it was fine. I then left the rug outside overnight for the paint to dry completely.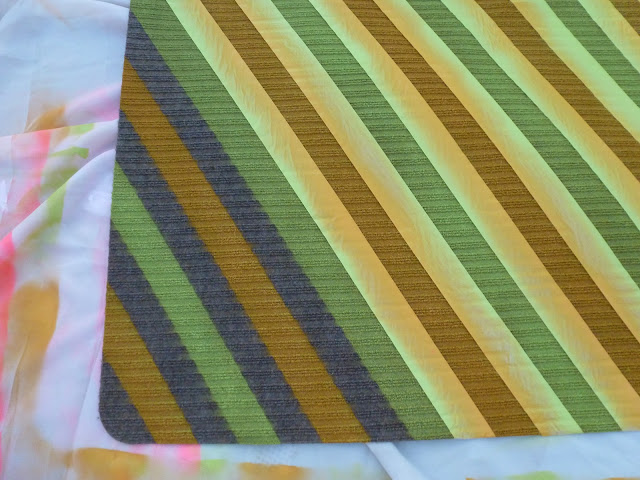 The total cost of the rug came to about $40 and took around 3 hours from start to finish – not bad. Hopefully it will hold up well under the elements – I will give an update at the end of the summer. In the meantime, I'm loving how much color this has brought to our roof!
Update as of 4/2013: I just put out this rug I made last summer. It still looks pretty good but being in the full sun and elements did fade the rug considerably after a couple months of use . Your best bet to maximize the life of the rug is to use it in a covered patio area or roll it up when not in use!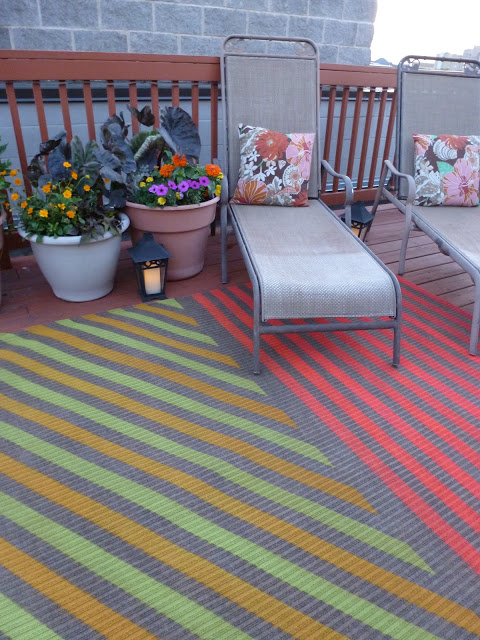 Like this summer patio project?