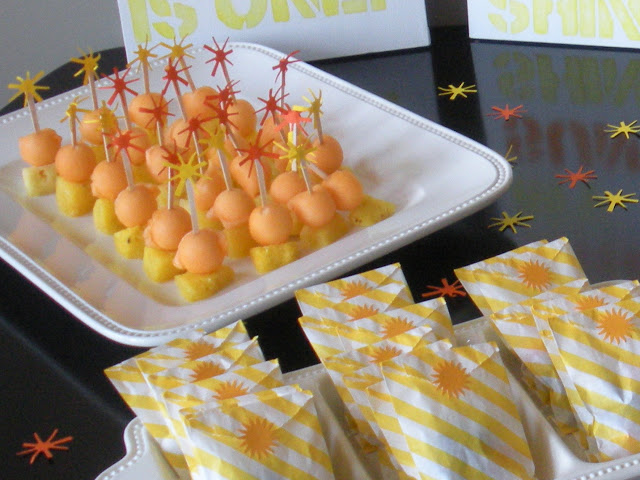 We celebrated Hazel's first birthday with a sunshine party at our house – perfect for a warm summer afternoon! Hazel really is a little sunshine, so the party theme couldn't have been a better fit. It is funny that her older sister Stella had a
rainbow party for her first birthday
. I must have a thing for weather related parties. 😉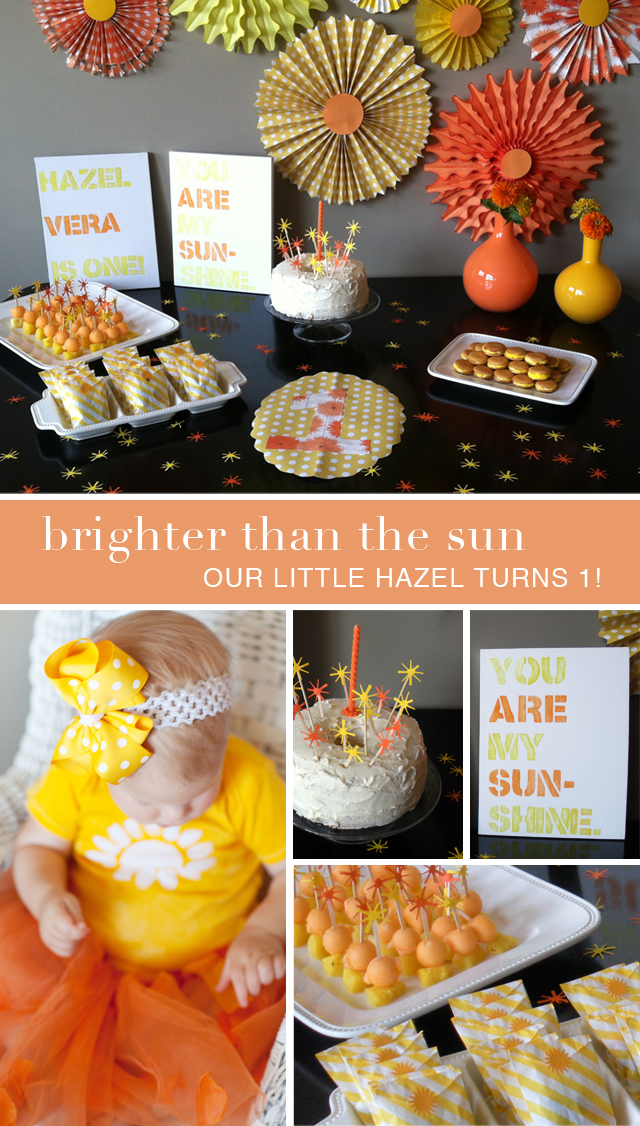 I loved how the orange and yellow color scheme turned out, and the wall full of sunshine medallions was a big hit!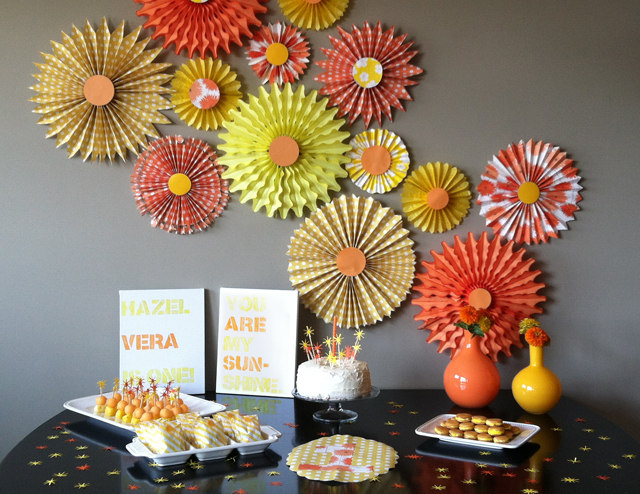 Here are all the bright and sunny details in case you want to plan a sunshine party of your own. It doesn't have to be a birthday party – it would be a great theme for a baby shower or really any summertime gathering.
Sunshine Party Invitation
This invitation is what sold me on doing a sunshine themed party. When I came across it on Etsy, I immediately fell in love! It was designed by Pinch of Spice.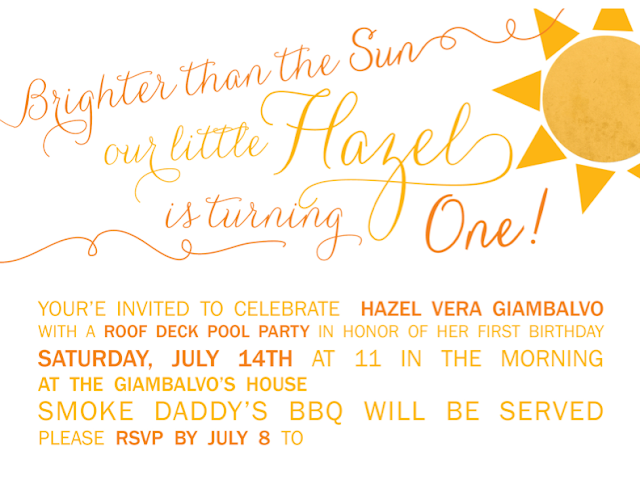 Party Dress
Hazel was shining bright from head to toe, thanks again to Etsy. I got her cute batik sunshine onesie from Peace Baby! Batiks, and her yellow and white polka dot bow from Sweet & Chic Bowtique.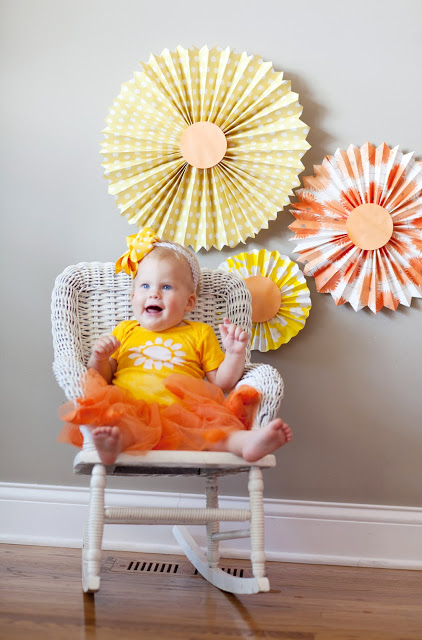 Sunshine Cake
I made a lemon angel food cake with lemon buttercream frosting. Hazel gobbled it up (it was quite yummy!), so perhaps that will be a new tradition for her birthday. The cake, as well as much of the table, was decked out in Midcentury sun confetti. I couldn't get enough of this confetti and had Peppermint Party (another great Etsy seller) make party picks with the confetti on them for the cake.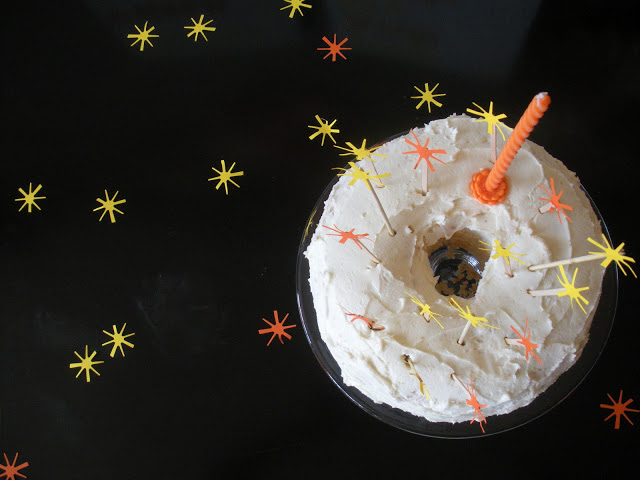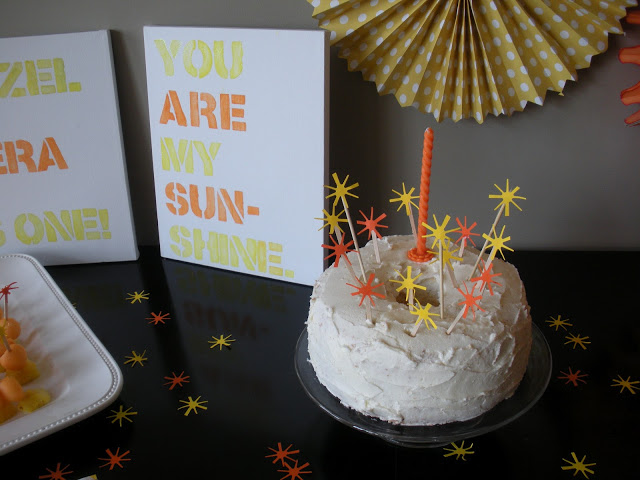 Medallion Wall
This was my favorite (and most time consuming) part of the party. It was inspired by
this wall
I had seen in Better Homes and Gardens. I used a mix of orange and yellow
Snow and Graham
and
Paper Source
papers for the medallions and sprinkled in some store bought tissue paper medallions as well. I think this would make a stunning backdrop for a party, wedding photo booth, etc.
Check out my pinwheel tutorial for some tips and tricks I learned along the way!
DIY Canvas Art
I wanted to add a little graphic touch to the party table and made these two canvases very inexpensively and easily with just stencils and craft paint. See my
DIY typography art tutorial
for all the details on how to make these.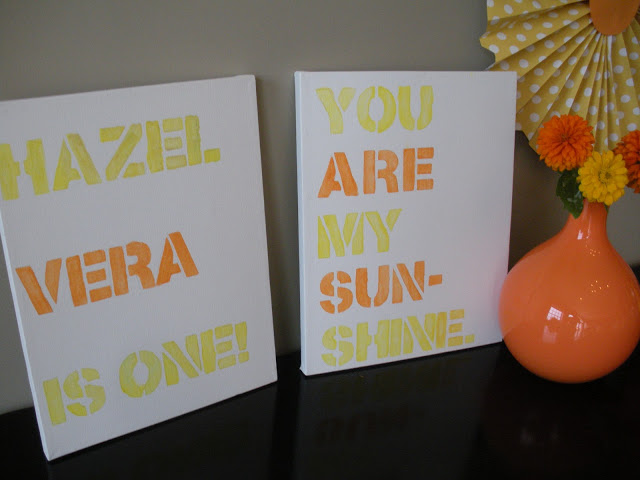 Food and Favors
For a new twist on the fruit skewer I stood a piece of pineapple and cantaloupe (orange and yellow of course) upright with those awesome sun party sticks. I purchased some yellow striped favor bags from TomKat Studio, filled them with candy, and then affixed a little sun confetti (also from Peppermint Party) with a little double-sided tape: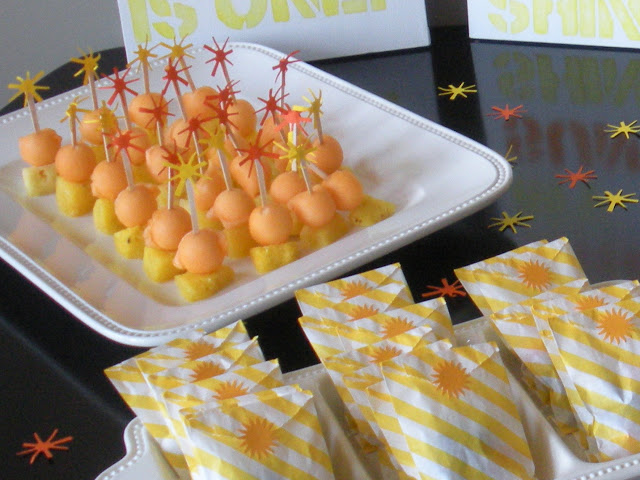 I also made some quick 'faux macaroons' by sandwiching some lemon buttercream between two vanilla wafers and rolling them in yellow sprinkles: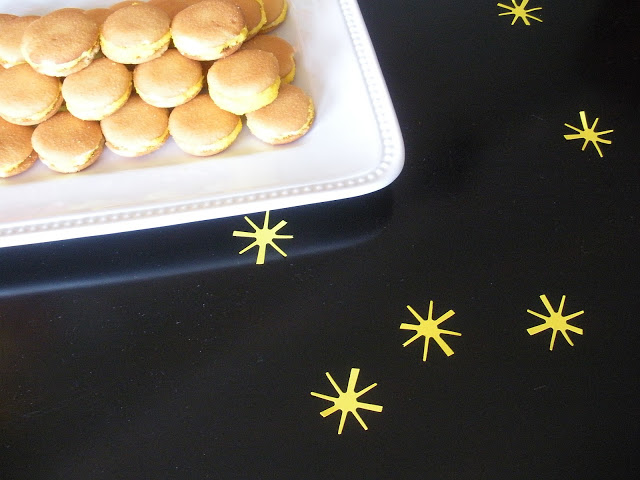 And that's it! Overall a good time was had by all – we also had some of Chicago's best bbq – Smoke Daddy's, so that helped. 😉 Here are a couple more pictures of the cutie pie and I can't thank my sister Heather and sister-in-law Marisa enough for helping me with all the party preparations! Anyone with toddlers knows that preparing for an event hosted in your home takes a village.