Stella's Sesame Street Birthday Party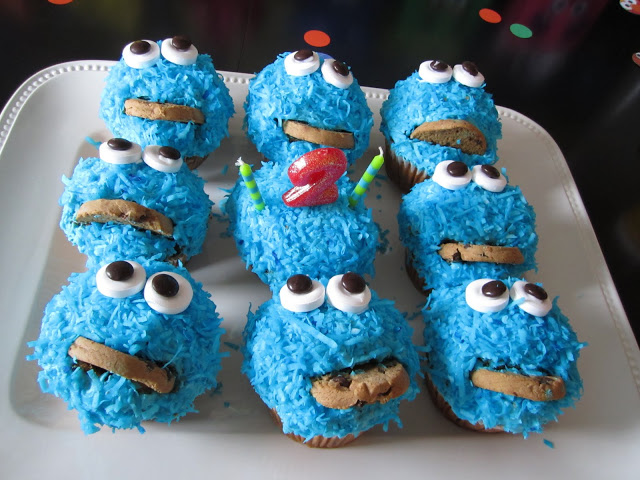 Elmo, Cookie Monster and the rest of Sesame Street arrived at our house this past weekend to celebrate Stella turning 2 years old. Despite having to postpone the party a week due to Stella getting sick at the last minute, the eventual party was a success…at least in the eyes of a two year old, who is still talking about her party a week later!
I have the crafters at Etsy to thank for pulling the party together… the website is my new favorite source for all things party and gift related. I had so much fun piecing together the decorations, invites, and favor bags from different sellers. Best of all they were all reasonably priced and saved me hours of trying to make them myself. For instance, I got these cute homemade invites for $1.50 each. What a deal considering the time it probably took to cut and paste each of the pieces:
 Sesame Street Party Invitations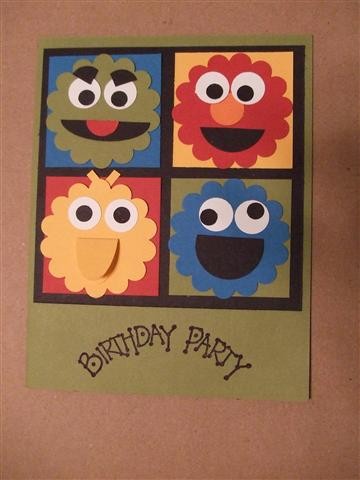 Etsy seller: HandmadeByTheHeart
Sesame Street Party Decorations
Here's the party table all set up! The Sesame Street favor bags and sippy cups for each of the kiddos made by Beyond Balloons

doubled as the main decorations.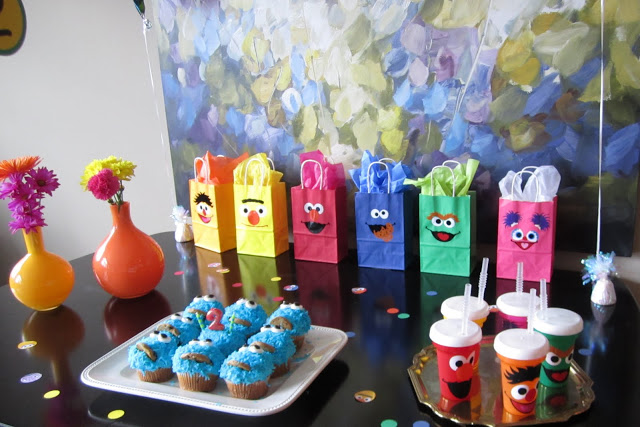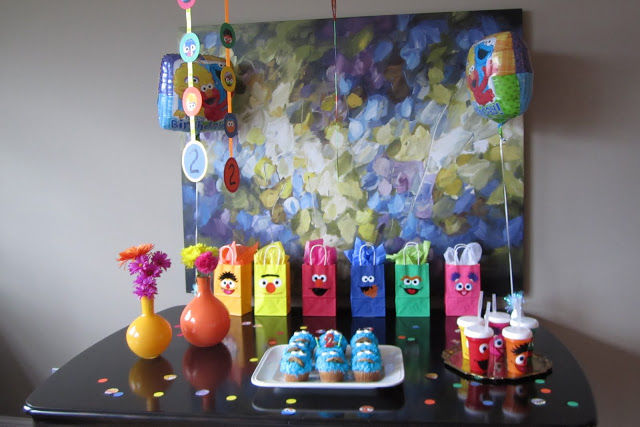 The danglers from the chandelier and the confetti on the table were made by
CraftsForKids
: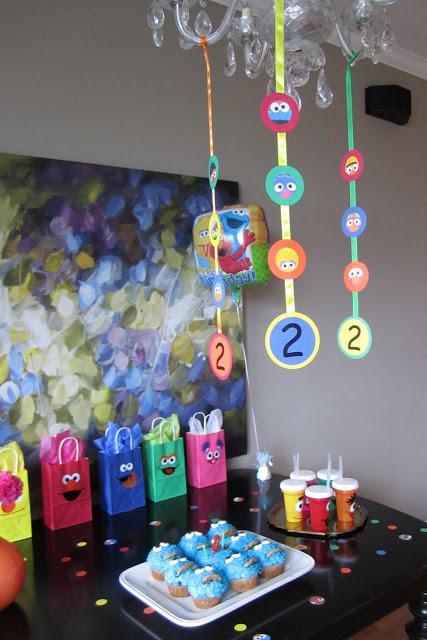 Stella's Sesame Street friends were rounded up for some easy mantle decor…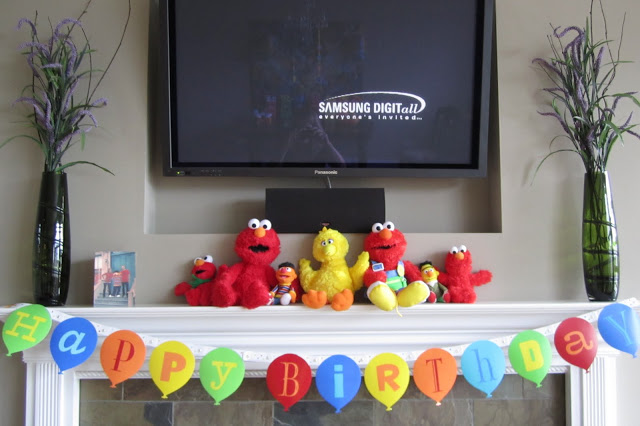 I reused the confetti with the character's faces for Stella's thank you cards – I glued one face in the corner of a 5×7 piece of colored card stock and one face on the envelope as the envelope enclosure…getting my money's worth! They would also be cute used for scrapbooking or craft projects…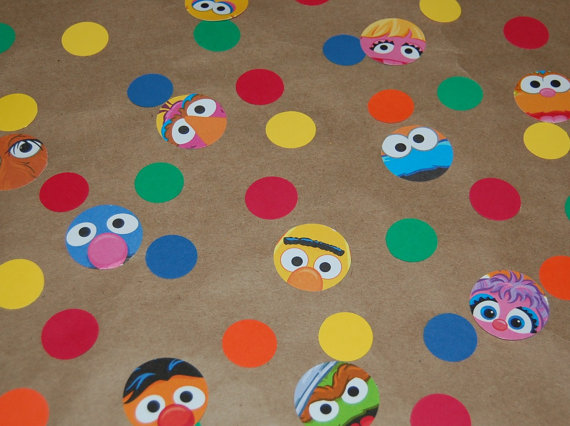 The birthday girl pre-party just dying to get her hands on the goodies!

Cookie Monster Cupcakes
My one homemade contribution to the party… Cookie Monster cupcakes! (they were actually store-bought chocolate chip muffins that I decorated… but close enough, right) I followed the directions on this website. I made buttercream frosting and dyed it blue along with some coconut using gel food coloring. The eyes are made from Lifesavers mints and M&Ms, and Cookie is eating Keebler chocolate chip cookies…

The Sesame Street Party Dress
The big 2 year old post-party… my favorite Etsy purchase was this sweet little Sesame Street dress from MadeByMyLovingHands that I know will be worn many times down the road: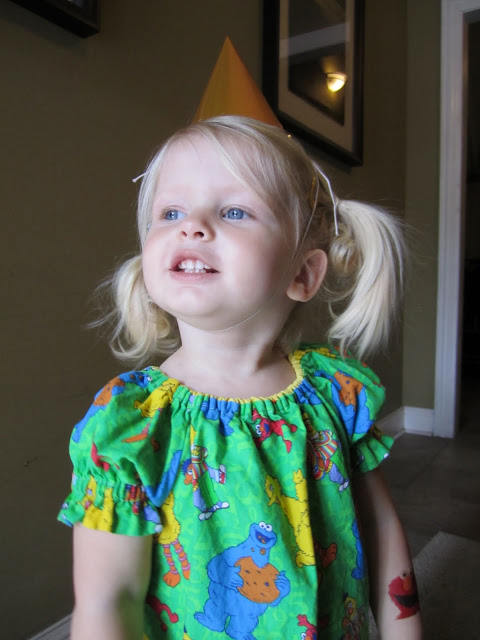 Her aunt even got her a Cookie Monster barrette from Etsy. Is there anything you can't buy off this site?!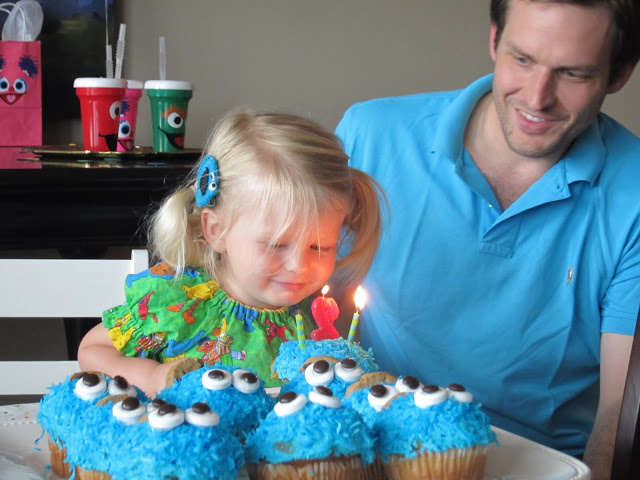 Until next year…