How to Create an Organized Craft Room
My new Martha Stewart Craft Space storage that you saw in my office / craft room reveal yesterday are such great pieces of furniture, they deserve a post all their own!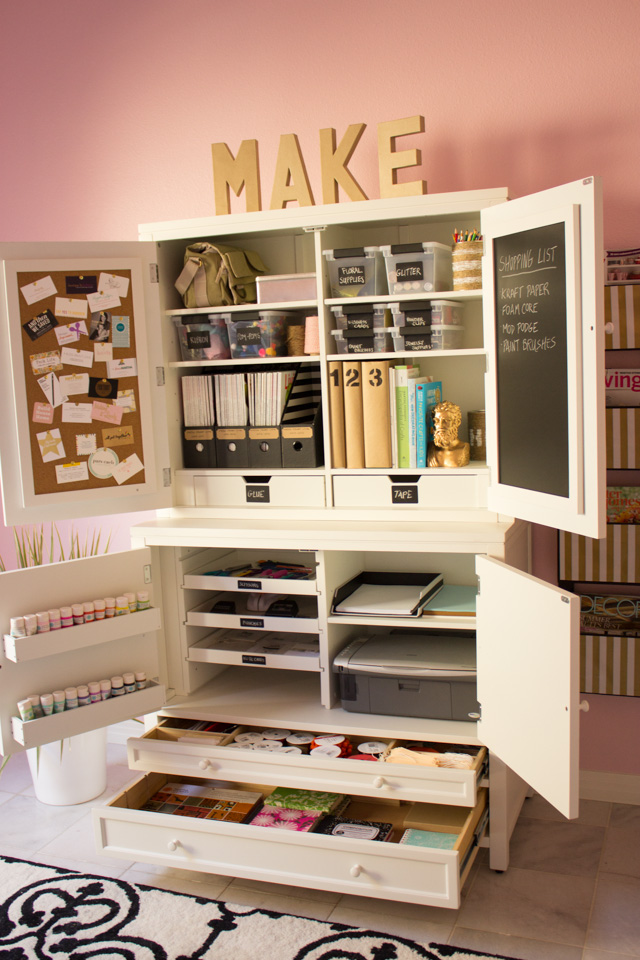 It is amazing how many craft supplies you can pack into them. The built-in shelves and dividers, paired with a few storage bins make it possible to store a million supplies away in a useful and pretty way.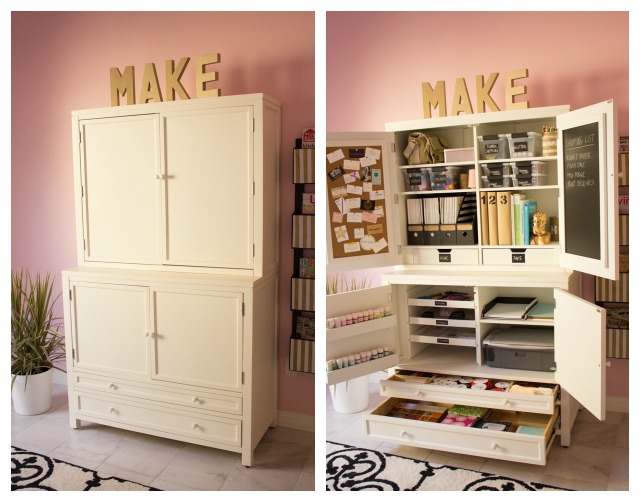 Up until now, my craft storage involved a bunch of stuff overflowing a few bins, none of it organized! Finding what I was looking for always took a bit of digging!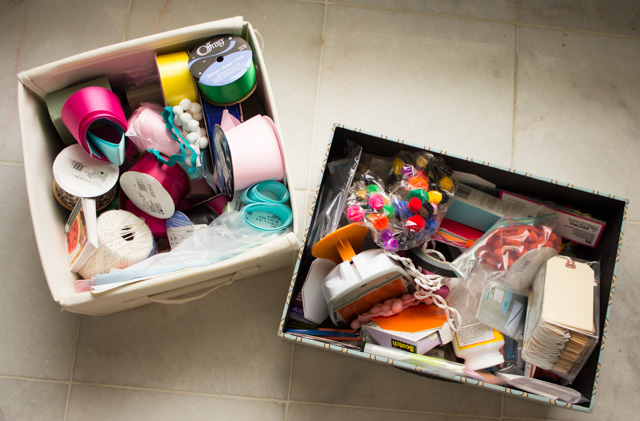 Once I had my own craft space in our new house, I laid out everything on the floor and tried to make sense of what all I had and how I could group similar supplies together. I had also spent some time dreaming up how I would store everything in my new cabinet.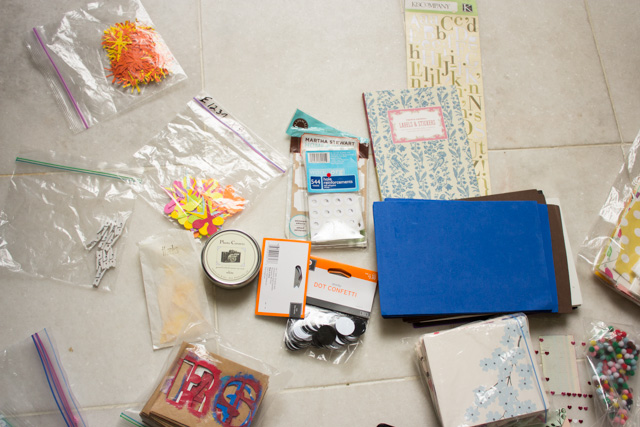 The top hutch now holds several bins with craft supplies, my camera bag, magazine files, and craft books: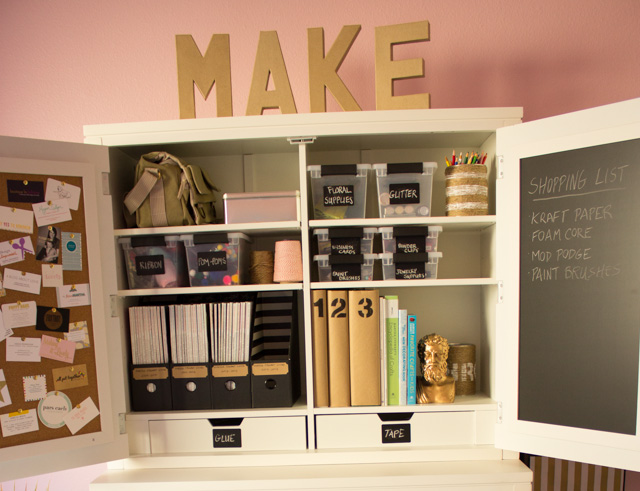 I purchased the black clip plastic bins from Target for a couple dollars each. I got a mix of small and medium sized bins and added chalkboard labels. These particular labels are nice because not only can you erase them if you swap out supplies, they are also repositionable in case you decide to move them around or take them off all together.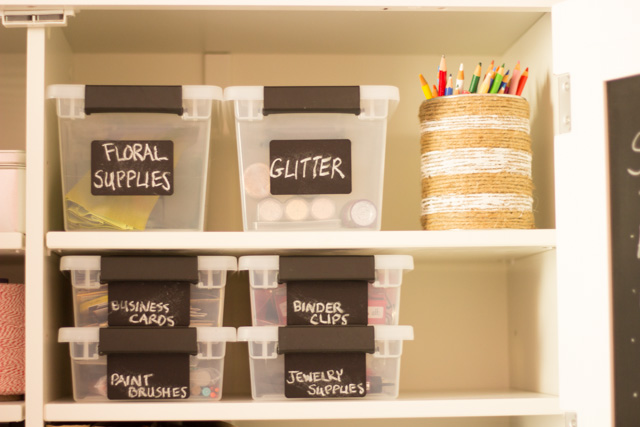 The 1,2,3 binders are just old three-ring binders that I recovered using kraft paper (the same way we used to cover school books). I then just used a number stencil and a Sharpie to draw on the numbers:

I used a few magazine files to store all my Martha Stewart Living issues, adding some kraft labels to the front. My husband laughed at me when he saw me ordering them chronologically but honestly I refer back to these for inspiration all the time, so they might as well be organized!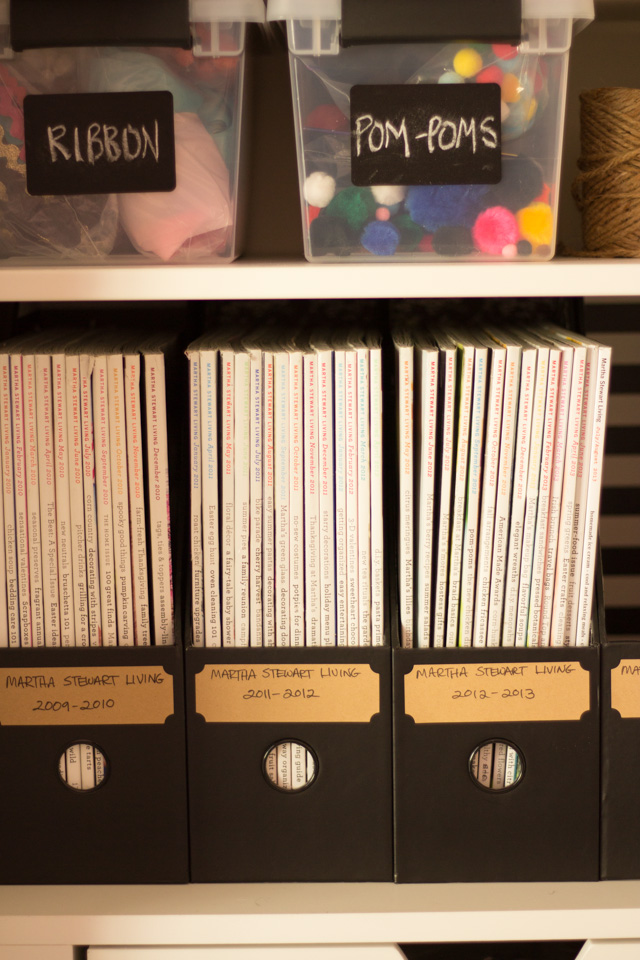 All my adhesives are kept in the drawers underneath: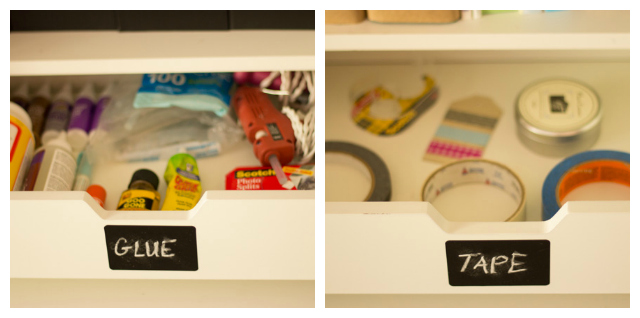 Even the cabinet doors are functional – one side has a chalkboard that I've been using for my craft supply shopping list: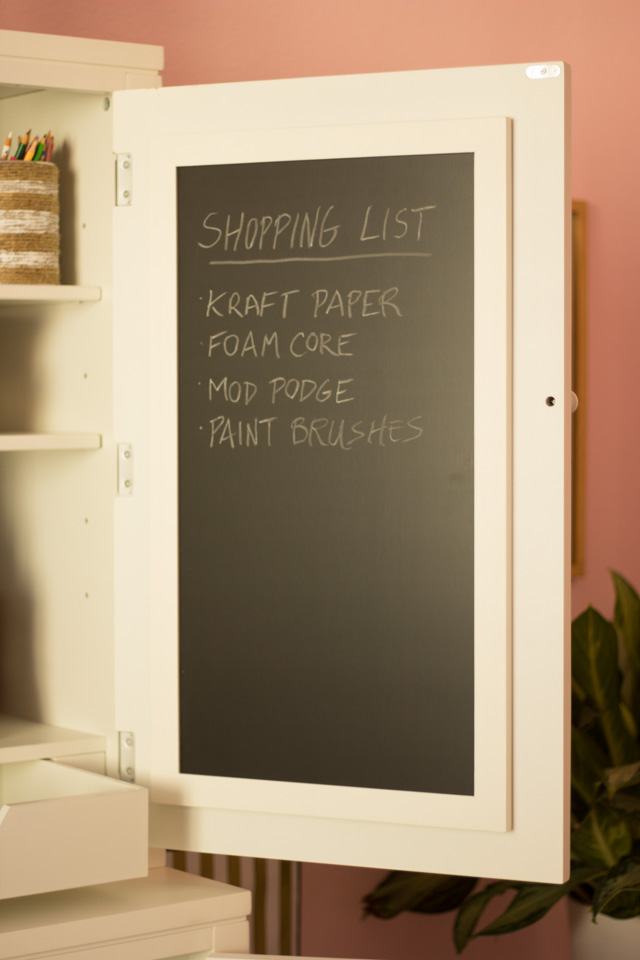 The other side is a cork board that I've pinned the business cards of my favorite bloggers on!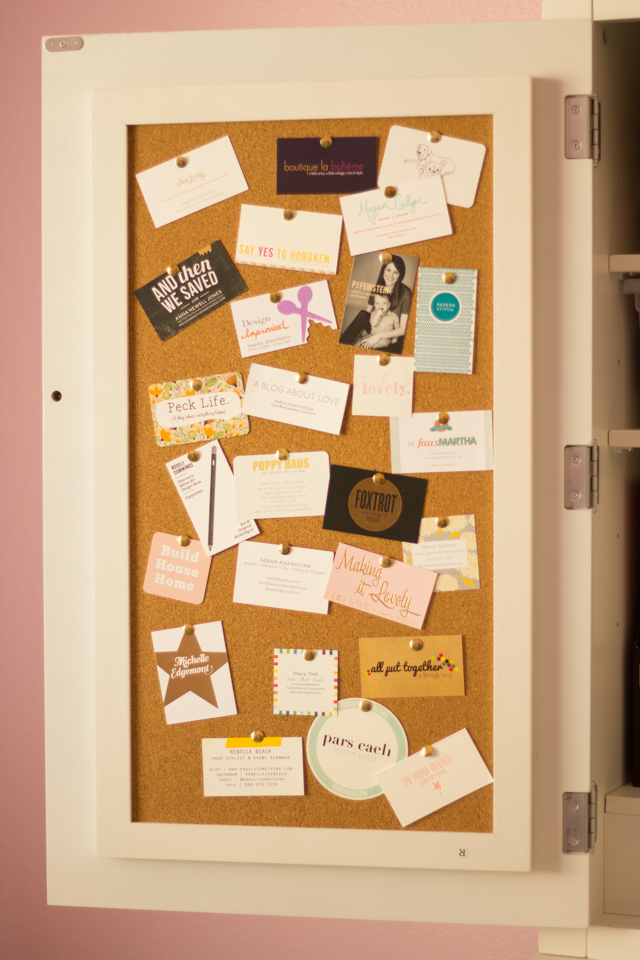 The bottom half of the cabinet has pull-out trays, some deep shelves, and drawers with little compartments: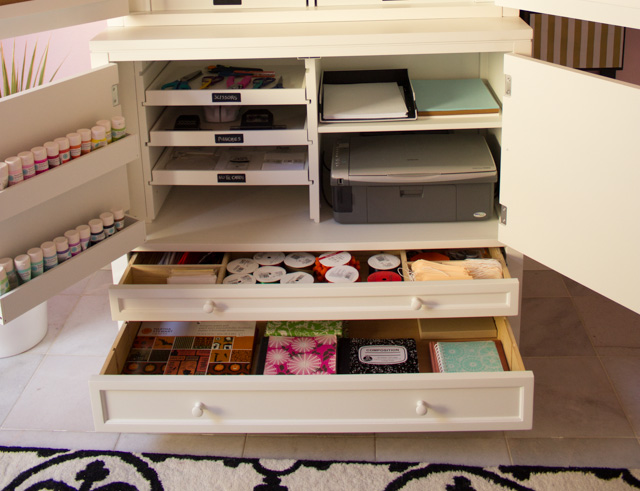 I am a diehard fan of Martha Stewart multi-surface craft paints, and therefore have amassed quite the collection. I use them all the time, and it is nice to have them organized like this: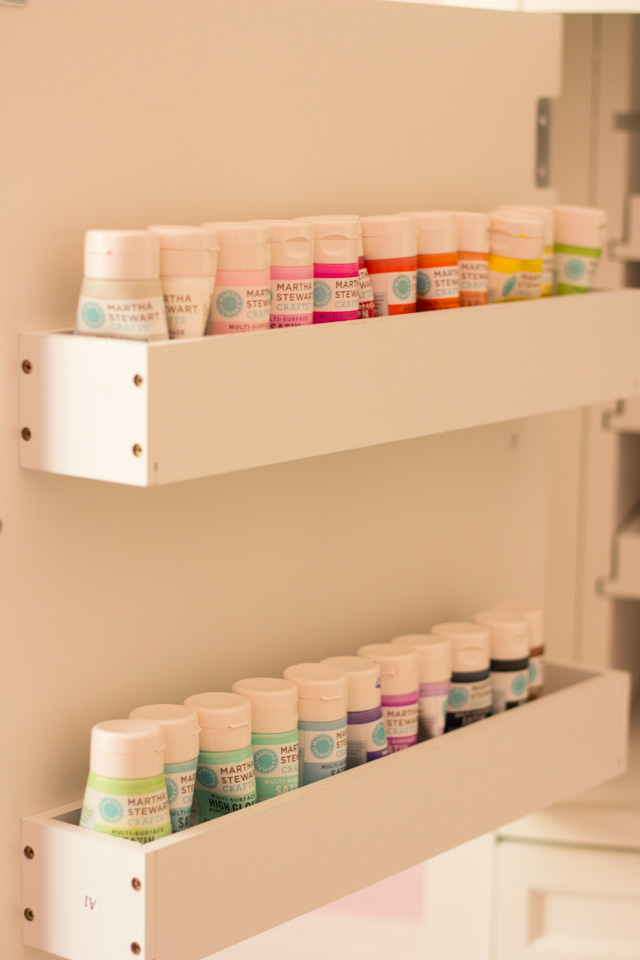 I thought these little shelves were perfect for my scissors and paper punches. The bottom shelf holds blank notecards. I added the repositionable chalkboard labels to these shelves as well.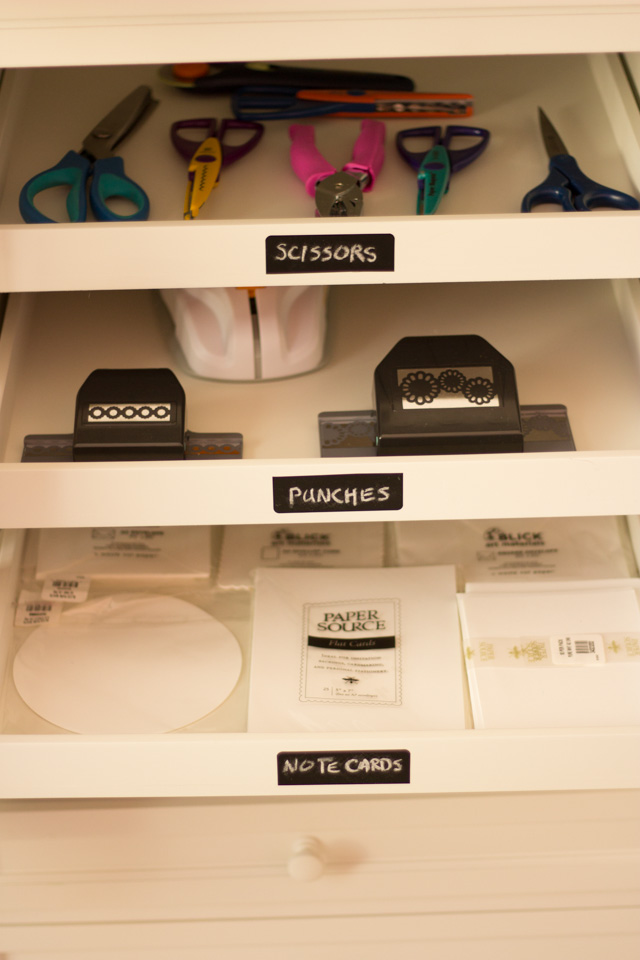 On the other side, I have room to store my printer and paper: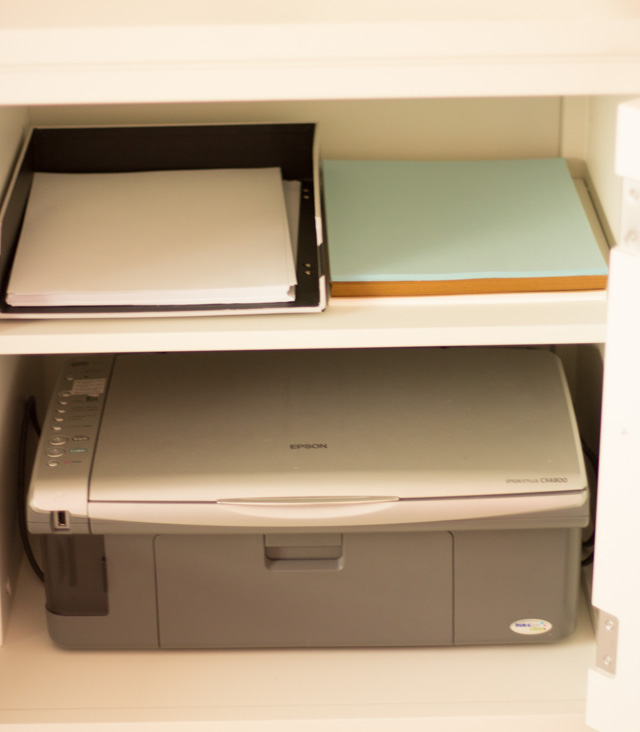 Lastly, in the two thin drawers underneath there is a ton of great storage! I love all the compartments in this drawer to store odds and ends like ribbon, confetti, and pipe cleaners: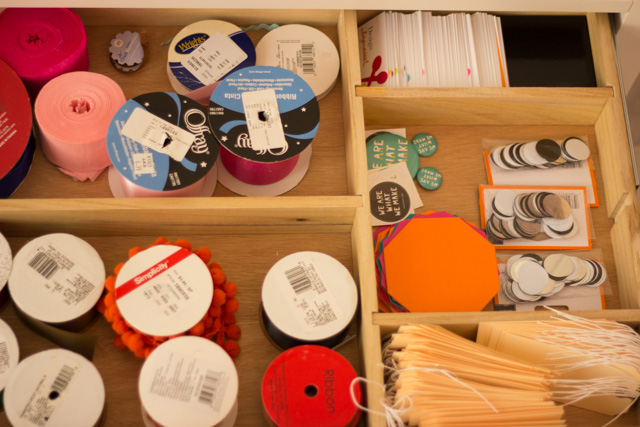 Tip: taking things out of their packaging like these pipe cleaners makes them look extra pretty when you store them. 😉
On the bottom drawer I've stored my scrapbook paper pads and extra notebooks.
Wow – this single piece of furniture from Home Decorators Collection packs a big punch, wouldn't you agree? Oh so much better than my previous storage system (or lack there of). I think it will make it really easy to keep organized too – at least that is my hope!
I hope this gives you some inspiration to organize your craft supplies. And don't miss out on the opportunity to win $150 from Home Decorators to put towards your own craft cabinet – enter here by this Sunday 9/8/13!
In case you missed it, make sure to check out my full office reveal!