St. Patrick's Day Dinner Party Ideas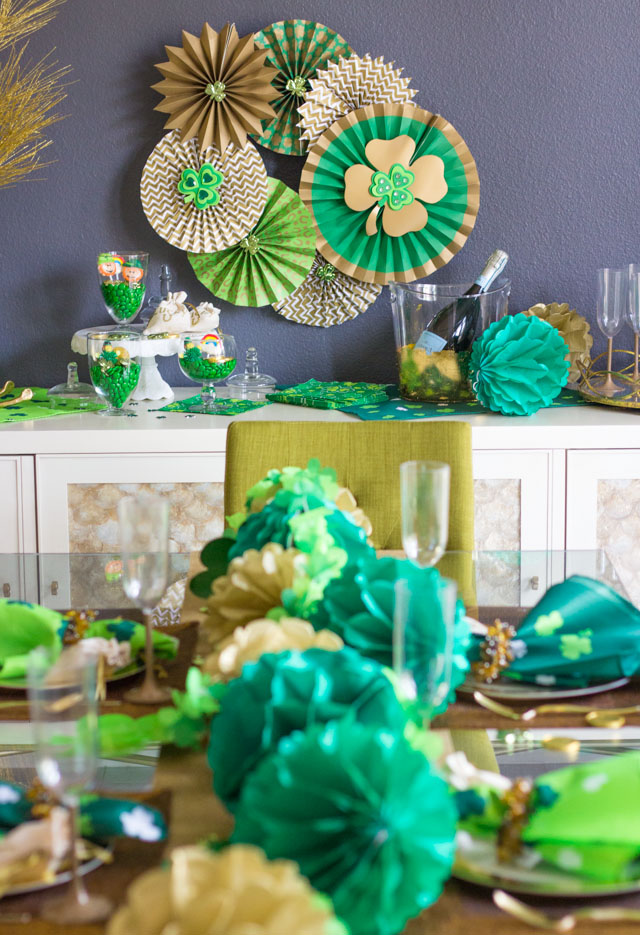 St. Patrick's Day Dinner Party Ideas
For the past five years we have celebrated St. Patrick's Day over a special dinner of corned beef and cabbage. It has been a fun tradition of inviting over a few family or friends, setting a special St. Patrick's Day table, and pouring black and tans to kick off the meal. Here's our first St. Patrick's Day dinner back in 2011 – how time flies!
Decorating the table has always been my favorite part of the dinner prep, and this year I got to take my decorating to a whole new level with some pretty supplies from Oriental Trading. It doesn't take much to create an elegant, yet simple dinner party for your guests. Read on to see how I did it!

St. Patrick's Day Table Decor Ideas
To set the tone of an elegant dinner, I incorporated several gold metallic accents along with the traditional St. Patrick's Day green. I've had these metallic beaded placemats for years and they were the perfect base for pretty gold (disposable!) cutlery and plates from Oriental Trading. My favorite part of the place setting are the shamrock "napkins". They are actually inexpensive bandanas! Put them in a pretty napkin ring and no one will ever know!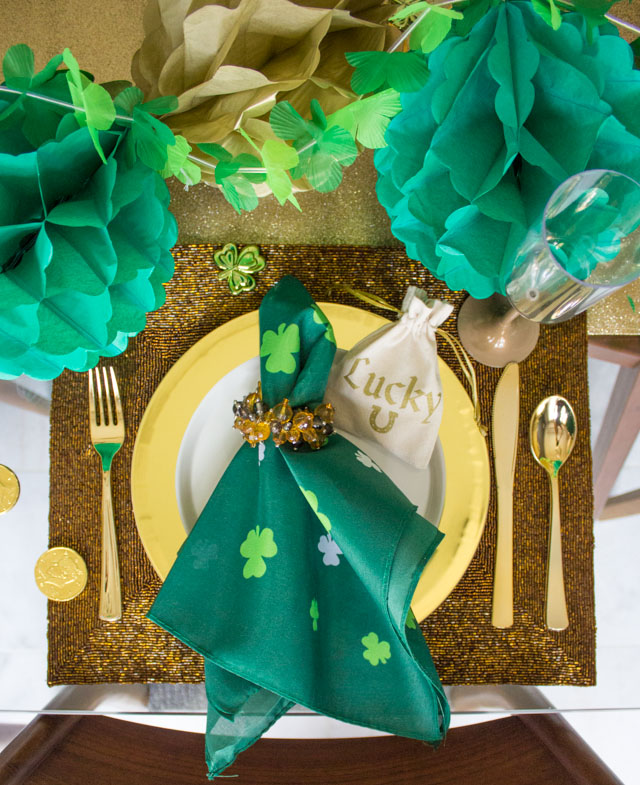 For a festive table runner that looks fancy but takes under 10 minutes to make, I just tied green and gold honeycomb balls onto a shamrock garland to create this honeycomb ball table runner.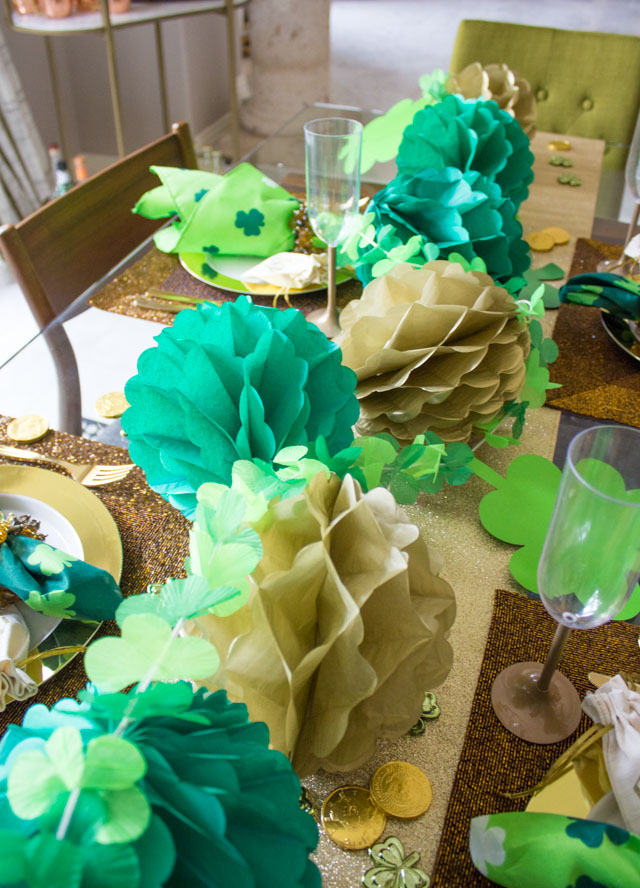 DIY Gold Foiled Ice Bucket
One of my favorite DIY touches for the St. Patrick's Day dinner is this gold foiled ice bucket. I have never gold foiled anything before and it turned out to be really easy! If you've never tried gold foiling, this is the perfect project to give it a shot. I can see using this ice bucket for many special occasions to come.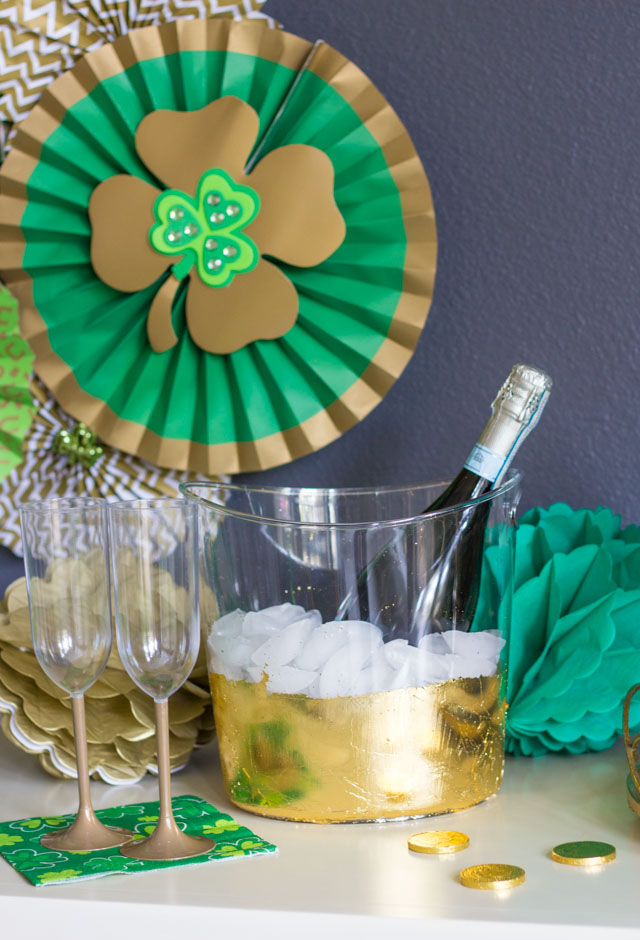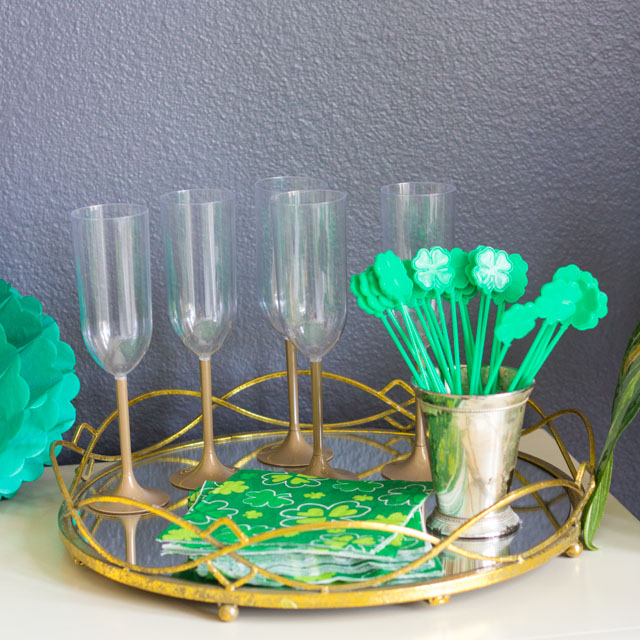 DIY St. Patrick's Day Wreath
I hung my St. Patrick's Day paper fan wreath above our dining room buffet to serve as the focal point for the dinner, and decorated the top of the buffet with my other St. Patrick's Day decor.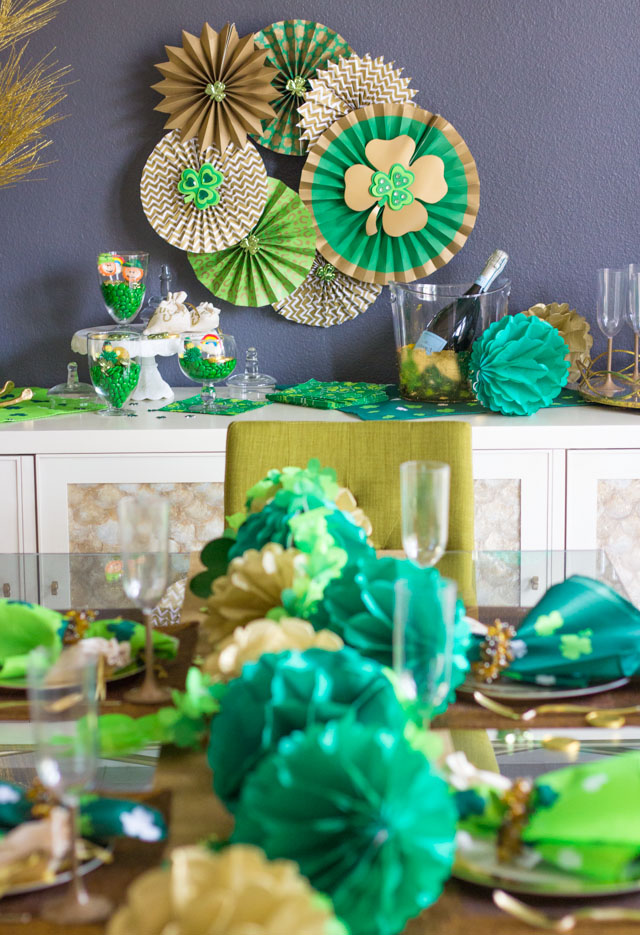 Head to Oriental Trading's blog for the full list of supplies and step-by-step tutorials for the honeycomb ball table runner, gold foiled ice bucket, and St. Patrick's Day wreath!