Sisters Day Out
May 29, 2011 | FILED UNDER: Uncategorized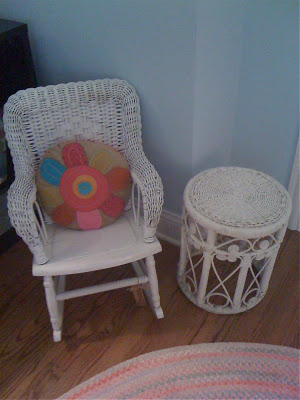 A couple weekends ago, Heather and I had a "sister's day out" doing something we both love – hunting for vintage treasures (or what Ross likes to refer to as junk). Whatever you want to call it, we had a blast.
We come from a long lineage of treasure hunters… our Grandma used to take us to garage sales and auctions on weekends and bought us each a shadow box to hold all of the special trinkets we scored. Our mom has always been a 'thrifter' and we shopped at Goodwill just as often as department stores for clothes and household stuff growing up. In the 70s before my mom and dad met, my mom happened to purchase a handmade leather purse from the Goodwill only to discover after later meeting my dad that
he
had actually made the purse for my grandma, who later gave it away to Goodwill (how crazy of a coincidence is that!). My dad has become an antique enthusiast over the years and often buys Heather and me an antique gift for holidays and birthdays.
So anyway, back to our outing. We hit up the first weekend of the season of the Randolph St. Market (also known as the Chicago Antique Market). First stop was for donuts and coffee at a yummy and very cute bakery called Dinkel's. See how happy I am to have a morning out on the town with no toddler in tow?!
We paid a little extra for 'early admission' and practically had the market to ourselves for the first couple hours getting a sneak peek of treasures as they were still being unloaded by the vendors.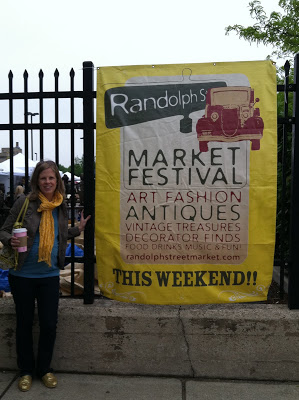 Here's me with my prized catch of the day – two vintage looking crewel pictures that capture Stella's personality perfectly (not too mention, she has a weird infatuation with snails!). I think they will be so fun in her room. The black frames are a little dark so I'm thinking of spray painting them white (of course):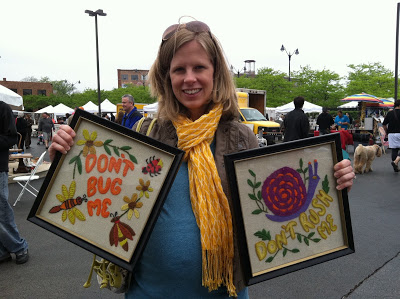 Stella's big girl room is the only one in the house I could buy stuff for because it seems like every nook and cranny in our other rooms are already filled with junk… I mean treasures. ;>)
I also got this little wicker chair and stool for her room. They aren't a set – I bought them from two separate vendors, but thought they looked cute together. Too bad she hasn't wanted to sit in it yet…