Faking Beadboard
February 23, 2011 | FILED UNDER: Uncategorized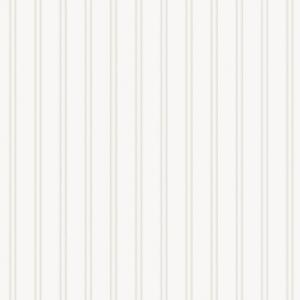 I've always loved the look of beadboard on walls – other than the traditional beadboard wainscoting, I particularly like beadboard ceilings and back-splashes. Here is a sampling of my favorite beadboard applications:

I love that this beadboard is colored and is extended to an extra tall height on the wall: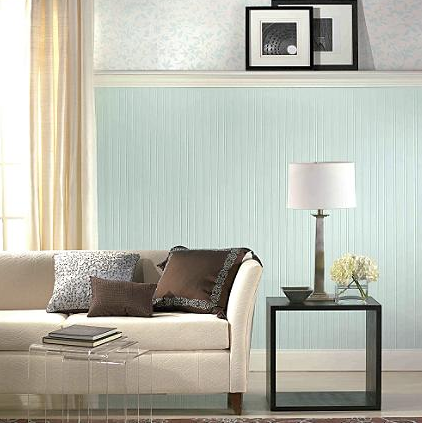 www.thisoldhouse.com
Adding a beadboard backsplash to a kitchen gives it a clean look: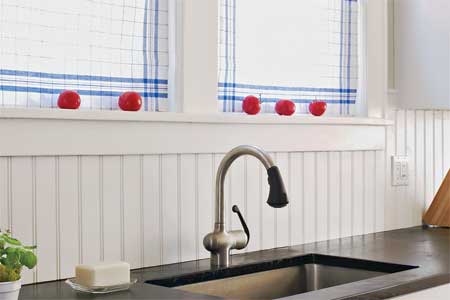 www.architectureplace.com
I would die for a beadboard ceiling like this in my future kitchen / breakfast area someday:
Beadboard doesn't work in every style of home, and it's probably not the best fit for a Chicago condo, but I definitely would love to use it in a future home down the road. Installing beadboard seems like it could be above my head and more work than I would like, so I was very excited when I saw this paintable "beadboard wallpaper" featured on the Martha Stewart show the other day: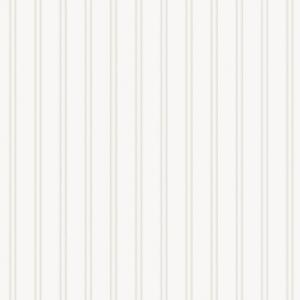 You can get the same effect as the wooden beadboard without having to go through the hassle of installing it. I'm not sure how the relative cost works out, but this Martha Stewart beadboard paper sells for $25 for a double roll (covers 56 sq. ft). Sounds pretty reasonable to me! And you can paint it any color you want and repaint it down the road. It is also washable for those of us with toddlers.
There is also this funky paintable faux bois wallpaper in the Martha Stewart line. I think that would have looked pretty cool had I used it behind
my living room built-ins
and painted it a contrasting color. Maybe I could use something like this in our master bathroom: