Pop of Color: Inspiration
January 04, 2011 | FILED UNDER: Uncategorized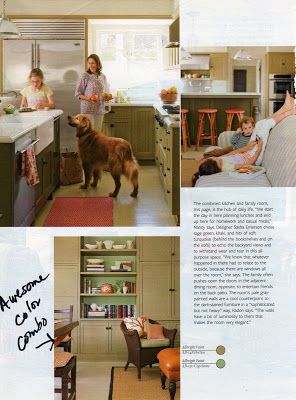 I thought I would start with a recent project I did to add a splash of color to our living room. We have these great built-ins on both sides of the TV, but I've always struggled with what to put in them so they look interesting, but not too cluttered, and not like I'm trying too hard (I'm still working on finding the right balance here!). But in the meantime, I had seen several pictures of how painting the background wall in a different color than the rest of the built-in can really add a lot of interest. Here are a few of the pictures I'd clipped from magazines that got me thinking of the idea: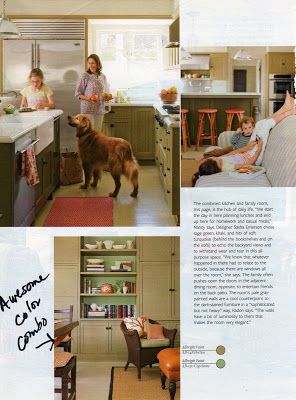 (Source: Better Homes and Gardens)
I loved the two colors between the khaki colored built-ins and sage background. Very warm feeling – however our built-ins are white and I wasn't planning on painting the whole thing!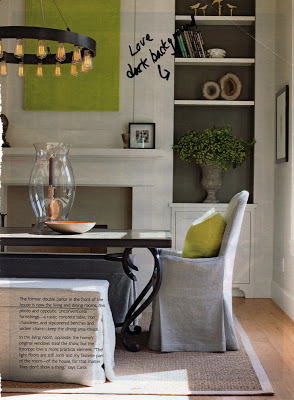 (Source: Better Homes and Gardens, March 2010)
I was really drawn to the contrast of the dark background against white built-ins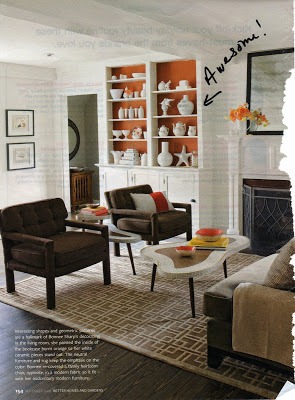 (Source: Better Homes and Gardens, Nov. 2009)
This picture was my favorite – I loved the bright choice of orange color (that was also used as an accent throughout the room) and how it really made all the white pottery pieces just 'pop' against the background
Painting the back of the built-ins seemed like a fairly straightforward, low-risk project. It wouldn't take much time or paint, and I could always paint them back to white if it didn't go well, so I decided to give it a shot (more in the next post!)