How to Make a Gorgeous Fiesta Flower Wreath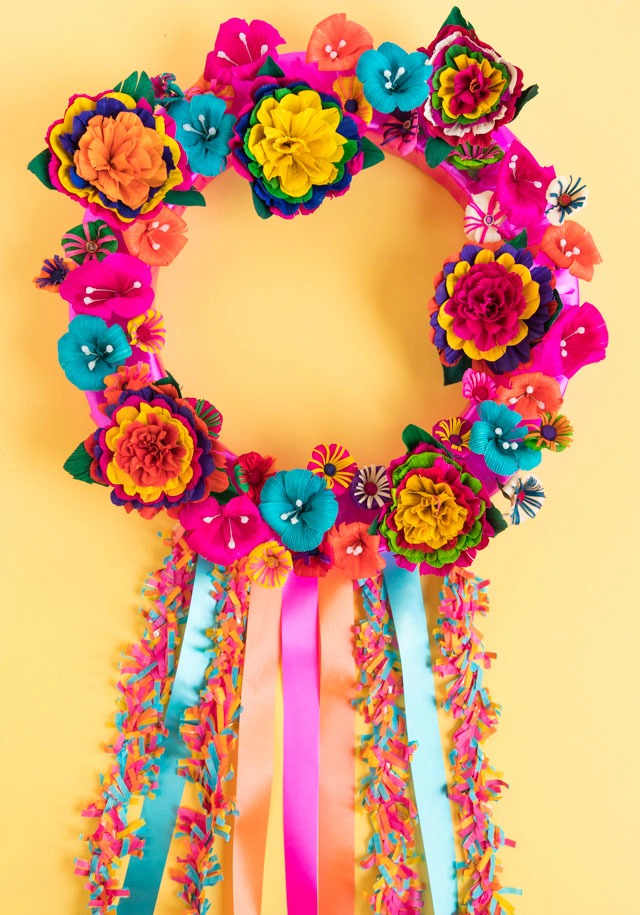 How to Make a San Antonio Fiesta Wreath
It's almost Fiesta time in San Antonio, and given that it is my 5th year celebrating this unique San Antonio tradition, I thought I was due for a new San Antonio Fiesta wreath idea! I partnered with Amols', a family-owned party business that has been serving San Antonio for the past 70 years and the headquarters for all things Fiesta. I used a variety of their vibrant cornhusk flowers and ribbons to make this stunning DIY fiesta wreath. Whether you are a San Antonian that celebrates Fiesta, or just want to add a festive touch to your front door for Cinco de Mayo (or all summer long!), then read on for my simple Fiesta wreath tutorial.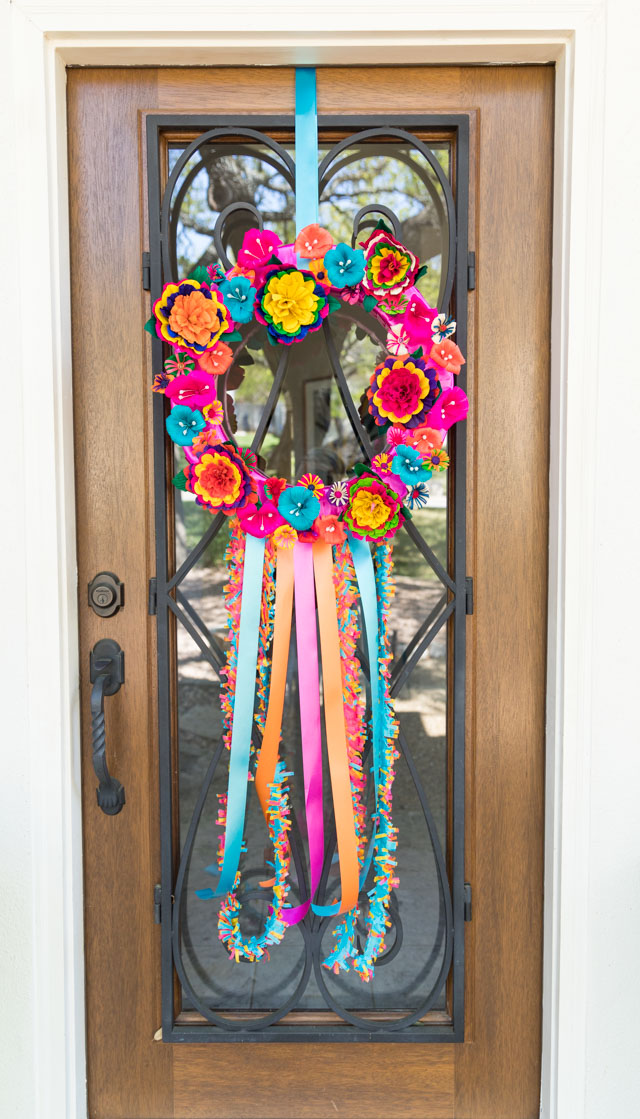 The History of San Antonio Fiesta
A brightly colored San Antonio fiesta wreath brimming with flowers and long strands of ribbon are often the first sign that Fiesta is on its way. Fiesta is a celebration that originated as a parade in the late 1800s to commemorate the Battle of the Alamo and San Jacinto. It has now morphed into a 10 day city-wide celebration spanning multiple parades, street fairs and concerts. Across San Antonio, you'll see Fiesta wreaths being hung on doors, along with lots of colorful papel picado and flower crowns worn by revelers. It is one of my favorite parts about San Antonio.
Fiesta wreaths are traditionally made with tissue paper flowers. When I made my first fiesta wreath back in 2014 I substituted cupcake wrapper flowers for tissue paper flowers. It turned out so cute! This time around I couldn't resist trying a wreath with Amols' vibrant cornhusk flowers. These 5″ wide two-tone flowers are only $0.99 a piece. Aren't they gorgeous?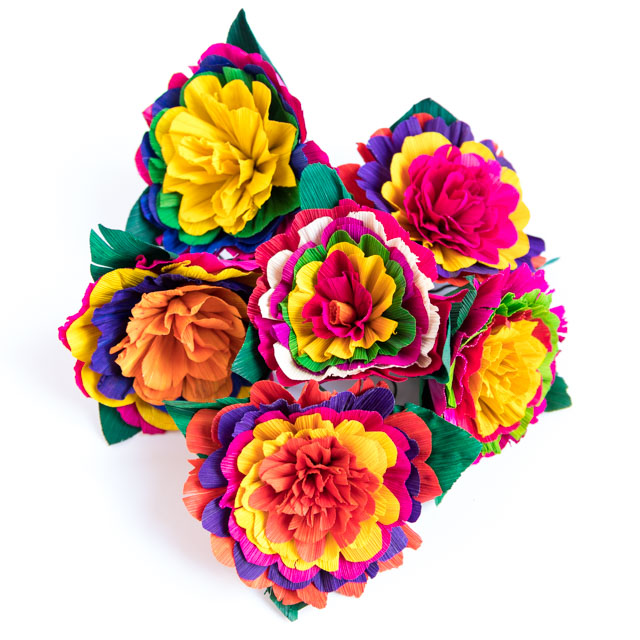 They also sell bunches of these delicate pansy cornhusk flowers for $3.95 a bunch. Not in San Antonio, no problem! You can find lots of products on their website.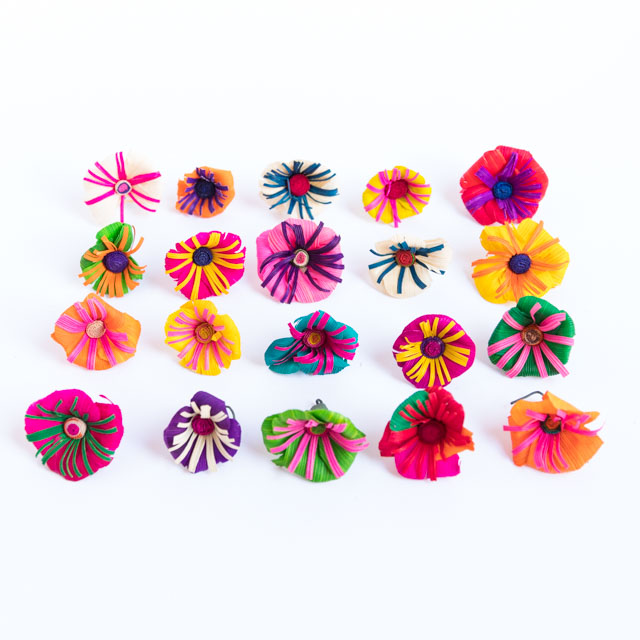 Supplies for Fiesta Flower Wreath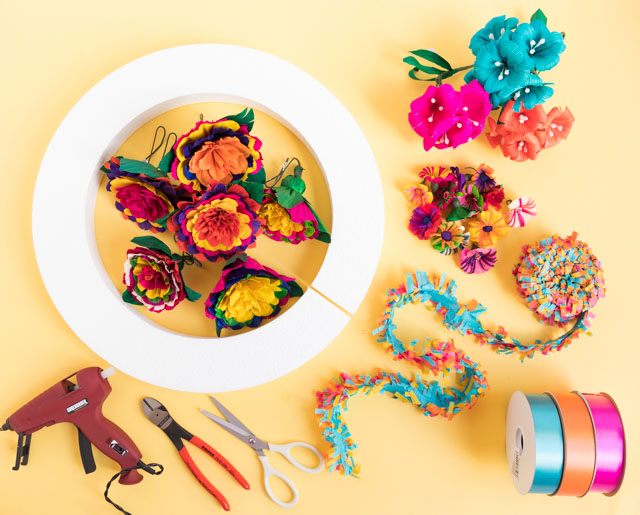 20″ foam shape ring
Corn husk flowers (I used 5″ two-tone flowers, campanita flowers and pansy flowers)
1 7/16″ floral poly ribbon
Wire cutters
Hot glue gun
How to Make a Corn Husk Flower Wreath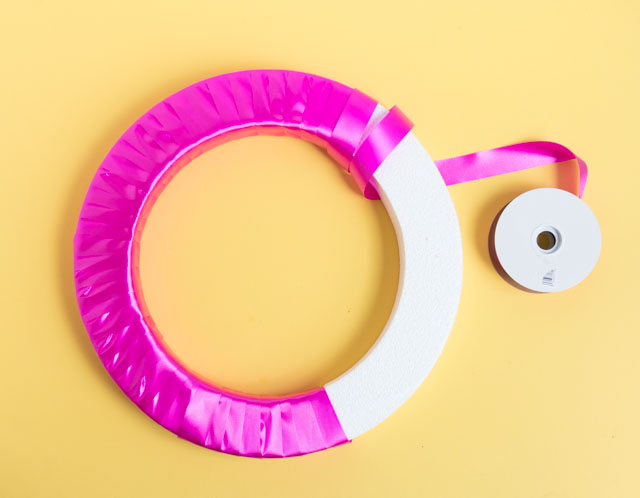 Step 1: Wrap foam wreath with ribbon
Wrap a foam wreath ring with floral poly ribbon, overlapping slightly as you go and securing the beginning and end with hot glue. I chose a pretty hot pink for my ribbon.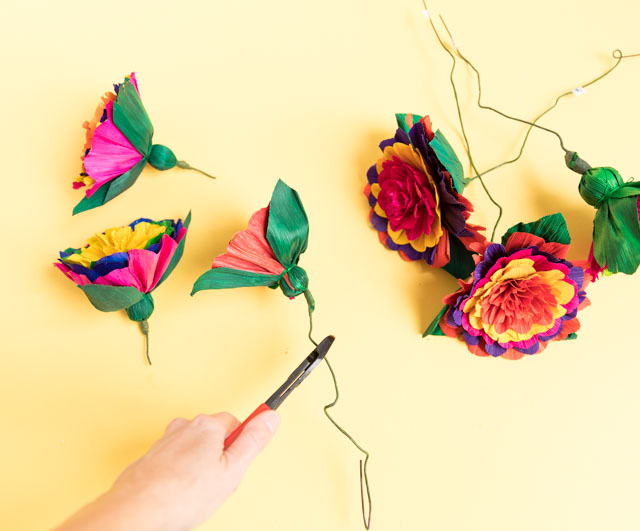 Step 2: Clip corn husk flowers from stems
Start with your largest flowers and use wire cutters to trim them from their stem, leaving about 1″ of a stem remaining. Insert your flowers into the wreath by poking them through the ribbon. I used six 5″ large flowers and spread them out across the wreath. You can add a little hot glue at the base of the flower if you want to make them extra secure.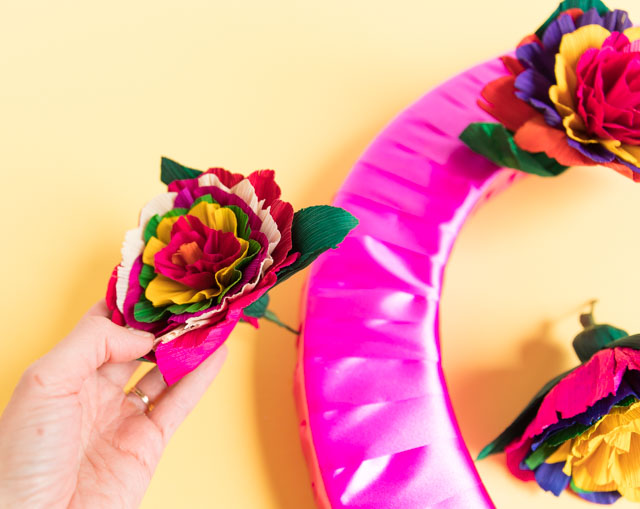 Next, I used three bunches of campanita flowers in pink, blue and orange. Similar to the larger flowers, I trimmed them with wire cutters, leaving a 1″ stem remaining.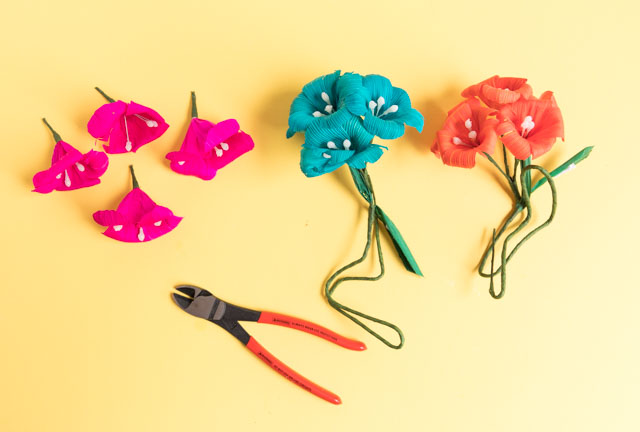 Step 3: Poke large flowers into the wreath
I then poked them into the wreath to fill in gaps between the large flowers.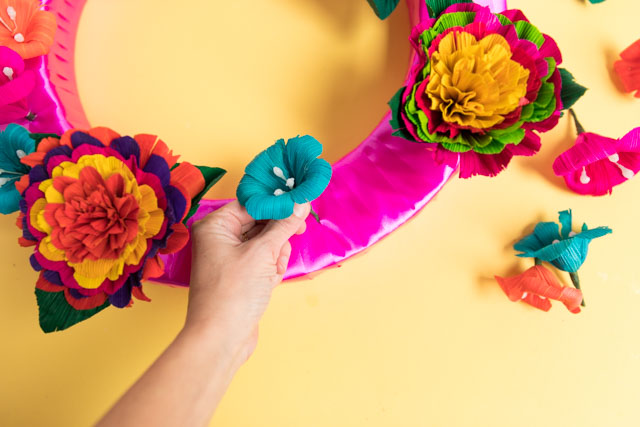 My wreath looked like this after adding in the campanita flowers: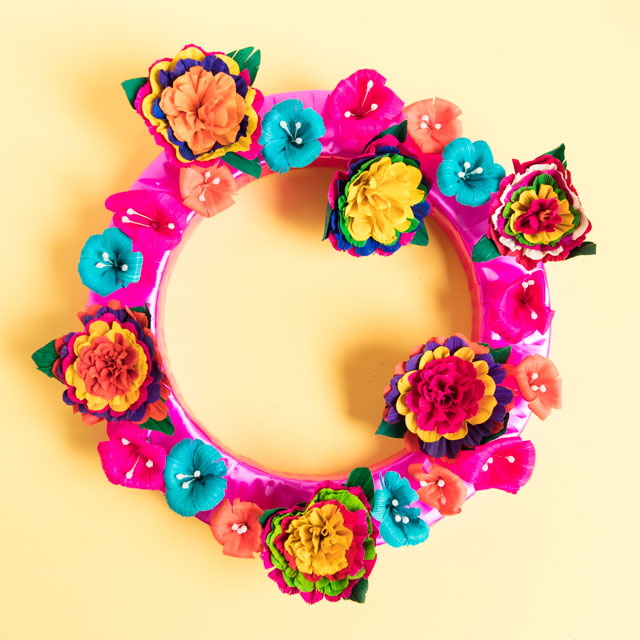 Step 4: Fill in gaps with smaller flowers
I used two punches of pansy cornhusk flowers to fill in the remaining gaps. You can make your wreath even fuller by adding more flowers, but I liked having some of the hot pink ribbon peeking through!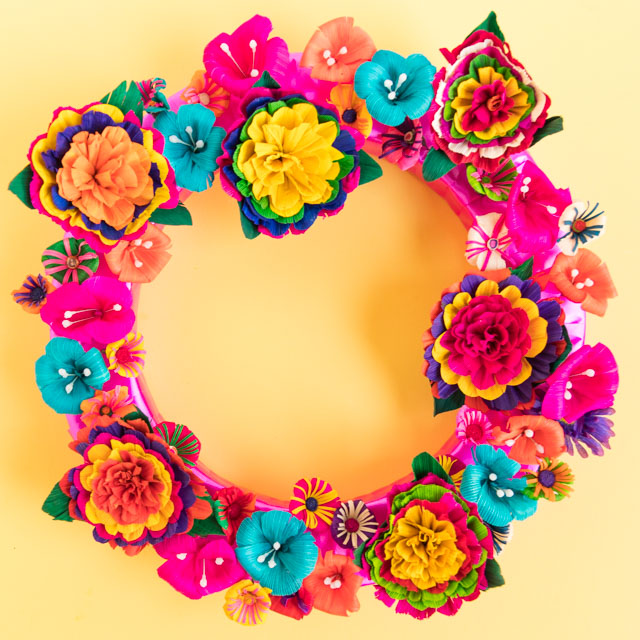 Step 5: Add ribbons to base
To complete your wreath, cut 3′ long strips of poly floral ribbon to hang from your wreath. I also incorporated some multi-colored tissue paper festooning for a fun touch! Add the ribbons to the back base of the wreath with hot glue.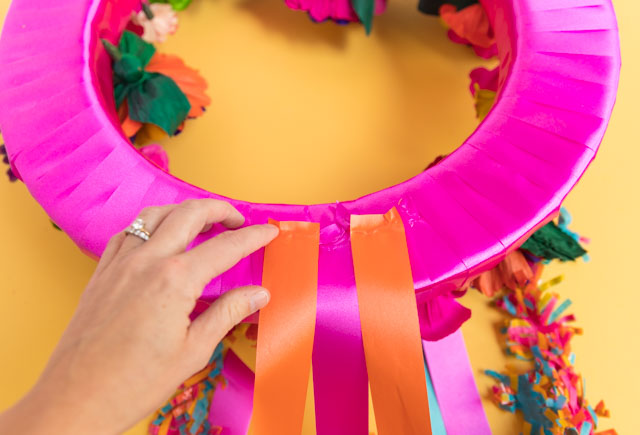 Hang your wreath and get ready to Fiesta!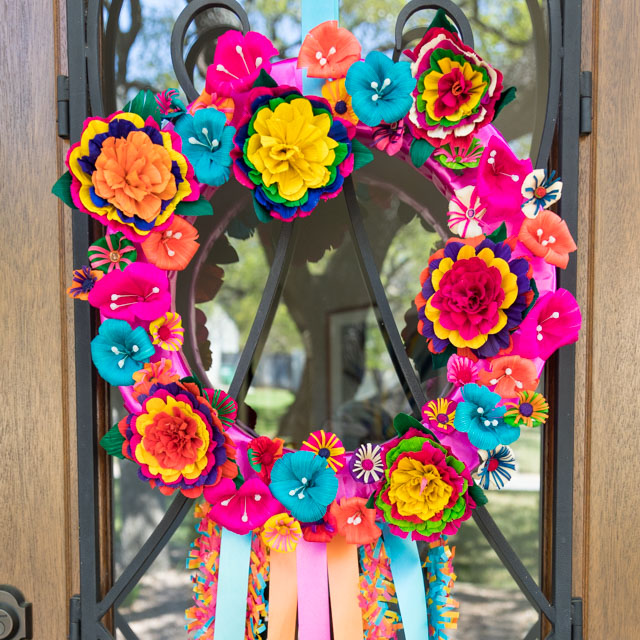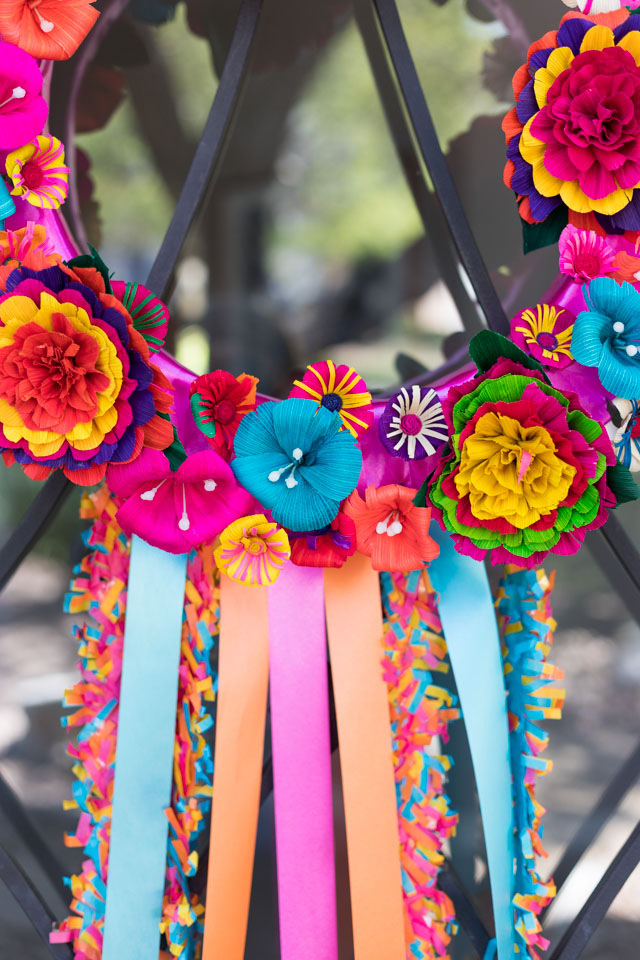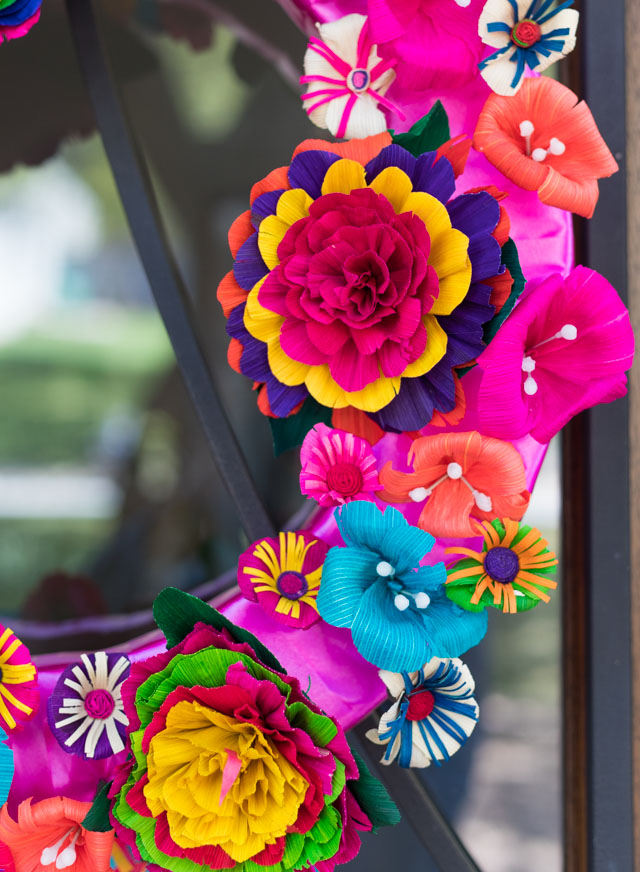 If you'd rather buy than make your wreath, Amols' has you covered! Check out their fiesta wreaths.
Don't miss my other Fiesta and Cinco de Mayo crafts and party ideas!
This post is sponsored by Amols' – America's Fiesta headquarters.