Babble Top 100 Nomination and Other News
November 01, 2013 | FILED UNDER: Uncategorized

Happy Friday everyone! Hope those of you in the U.S. had a fun night of trick-or-treating last night. I've got a few updates to share heading into the weekend:
Babble Top 100 Blogs of 2013
I have a big favor to ask – I'm nominated for the Babble Top 100 Readers' Choice Awards and I would love if you could please
share my nomination
by clicking on the Facebook "share" button (
go to this link
and then click on the button next to my picture). Any sharing you can do will make a big difference!
Thanks to you guys, I'm actually doing pretty well in the
Design / Home category
. I can't thank you enough for all you to do support Design Improvised. You're what make it all worthwhile!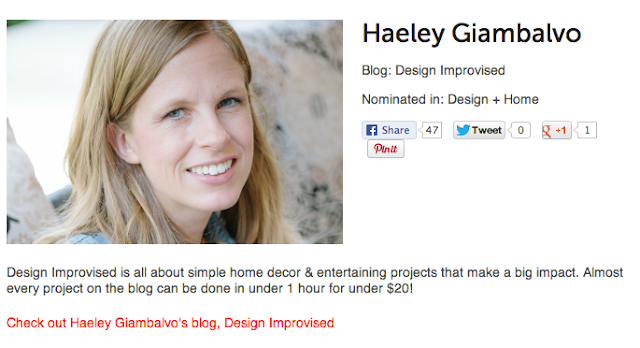 Source: Babble.com
San Antonio Mom Blogs Feature
I'm excited to be interviewed on the site
San Antonio Mom Blogs
today. Run by Colleen Pence, it is an amazing way to discover all the great blogs written by San Antonio area moms.
Colleen asked me about my favorite DIY projects, room designs, and what I like best about San Antonio. Check out
my interview here
!

Source: SanAntonioMomBlogs.com
Colleen's website was the best resource for me when we moved here and helped me get to know some area bloggers. Colleen also helps run the
San Antonio Bloggers Facebook group
– I couldn't be more thankful for Colleen's hard work to create an active community of bloggers here in San Antonio and her help in promoting our work!
"12 Months of Martha" Program
You guys may remember me crafting like crazy a couple weekends ago in hopes of getting a spot on the 2013
"12 Months of Martha"
team. The editors at
Martha Stewart Living
select a handful of DIY Bloggers to receive a box of Martha Stewart crafting goodies each month to make a project and blog about it:
Some of my blogging friends like
Studio DIY
and
Damask Love
were chosen for the team last year and I was dying to find a way to get into the program. I mean it's a full year of crafting supplies from Martha!
Well… I found out this week that I made the 2014 team!!! I'm can't wait to craft up some fun stuff for you next year. If you missed them, I made the
Halloween glitter art
,
jack-o-lantern lamp
, and
Boo wreath
using Martha Stewart products for a chance on the team.
Have a great weekend everyone and a big virtual hug to each of you for reading Design Improvised!