Learning to Knit!
March 27, 2013 | FILED UNDER: Uncategorized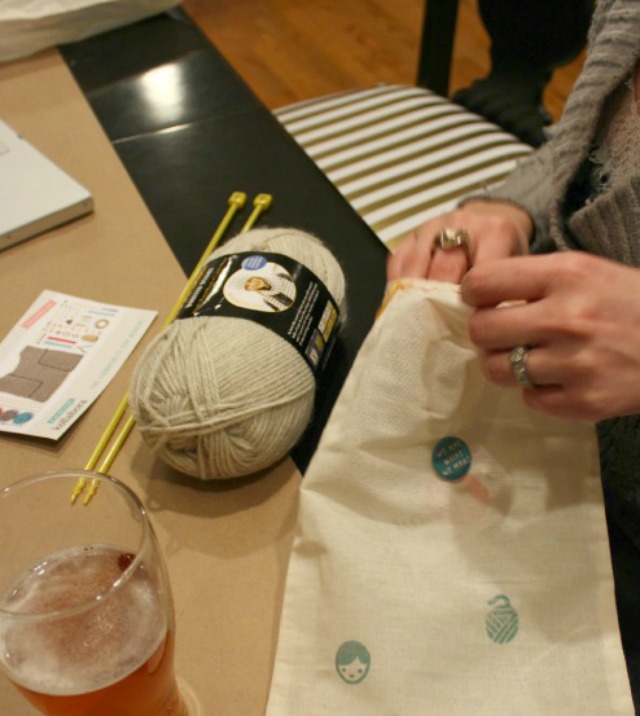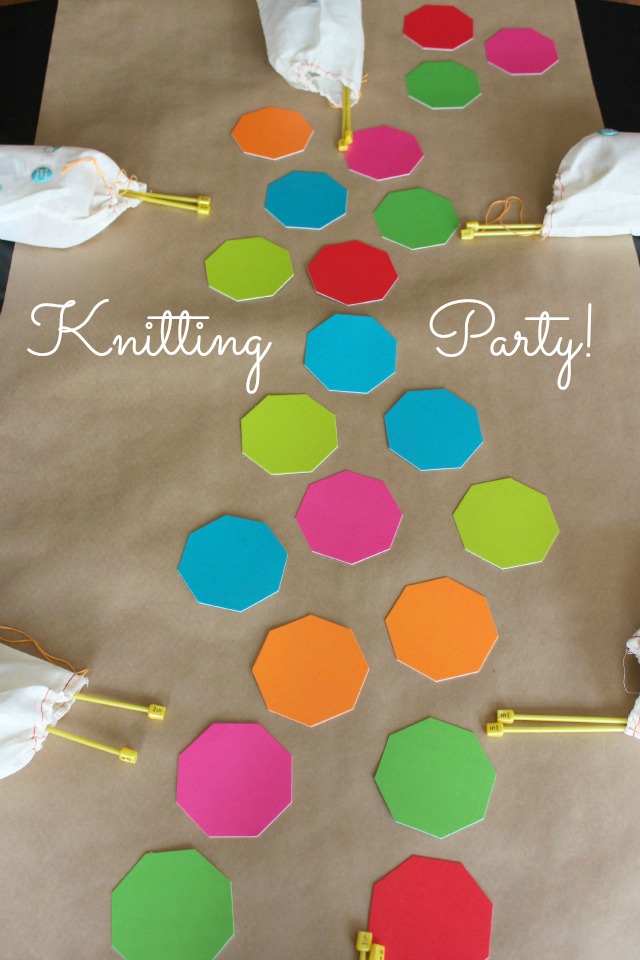 I've been crafting most of my life (have you seen some of my
earliest works
?). However, I have always shied away from sewing, crocheting, or knitting. Something about them seemed a little too daunting. So I was definitely intrigued when
Kollabora
asked if I would join in on their newbie knitting project. I decided I was up for the challenge!
Thanks to Kollabora, I invited over several crafty ladies who had never picked up knitting needles to a "learn to knit" party: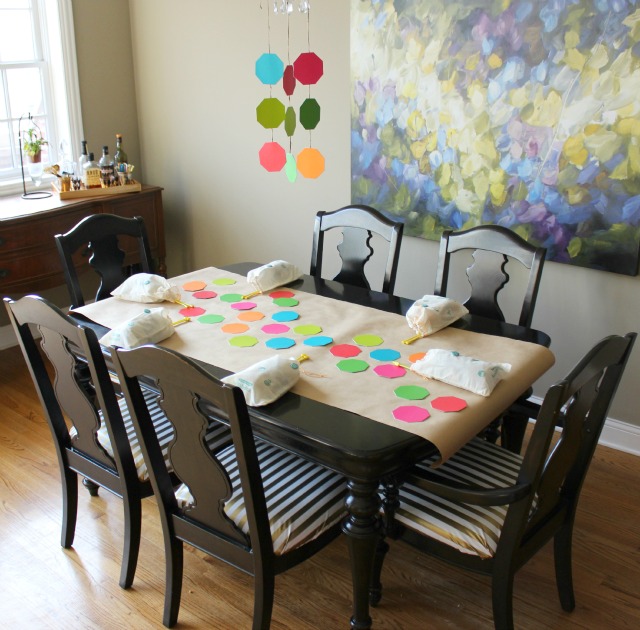 Kollabora supplied us with our newbie knitting kits, I supplied the bright table decor!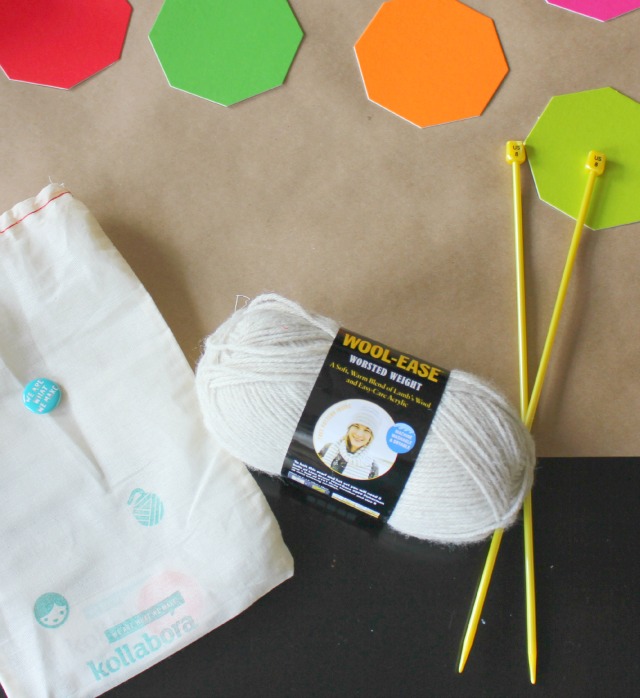 Remember those octagon coasters I used to make my shamrock garland? I used the rest of the pack to make this table runner (adhering them with double-sided tape onto kraft paper) and the danglers from the chandelier (I sandwiched a length of twine between two coasters using double-sided tape).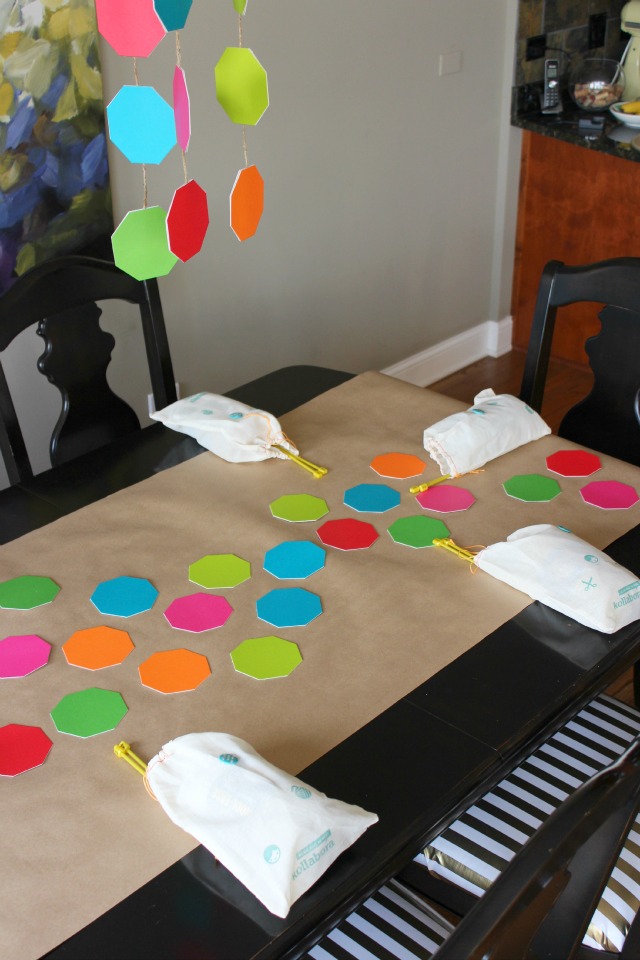 Now, onto the party! Our goal – to learn how to knit a
basic headband
by following Kollabora's
instructional videos
. Did we make a headband that night? No. Did we all catch the knitting bug? Yes!
Truth be told, it was awfully tricky to learn how to knit for the first time by watching videos. If we had one person in the room who knew how to knit that could guide us along, I think that would have helped.
Here we are, anxiously opening our knitting kits!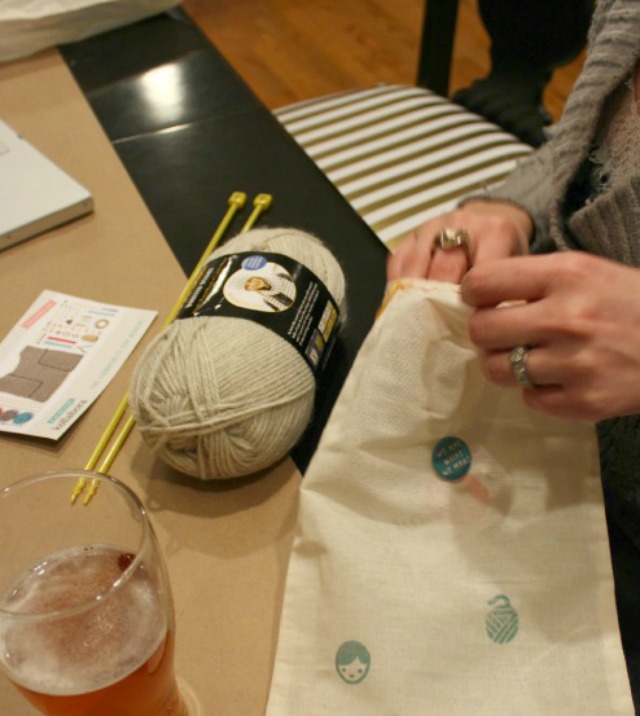 With a little practice, we all managed Step 1 – the basic slip knot!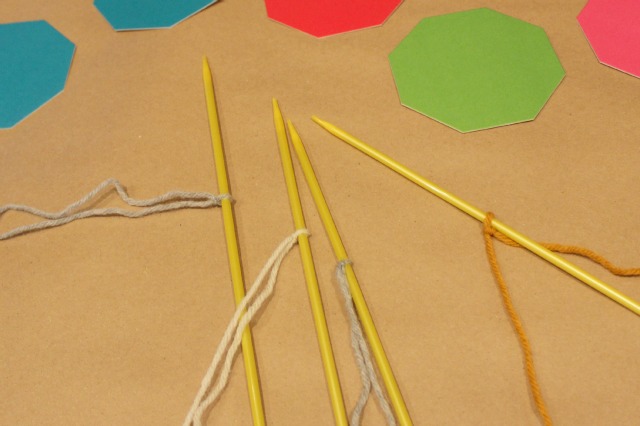 However, two hours later, this is as far as I had gotten after having to start over multiple times!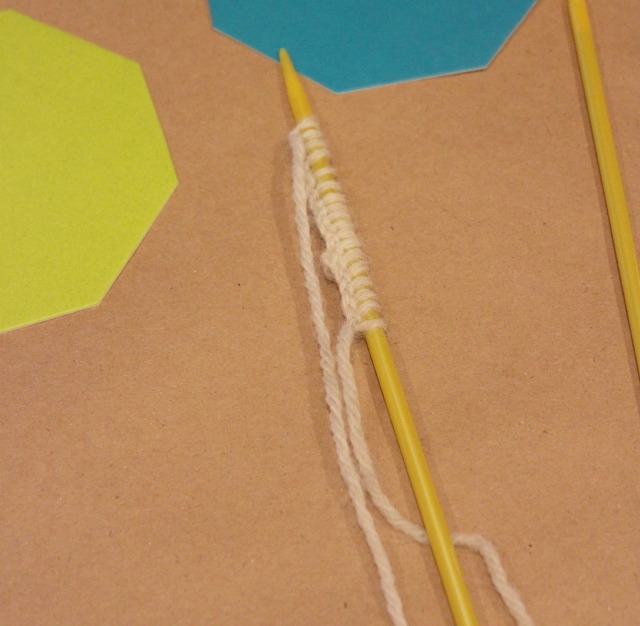 Despite fumbling with the knitting needles for two hours, there was something about knitting that I found to be very therapeutic – I was determined to figure it out. I tried knitting off and on over the past couple months since the party, unraveling my stitches numerous times. Then one day it finally just clicked – and boy, did it feel good!
I decided to make a knitted cuff (a little shortcut to the headband – exact same steps, just fewer stitches!). For all you seasoned knitters out there, here are the basic steps. Newbies, head over to Kollabora to watch the step-by-step videos!
How to Make Knitted Cuff
1. Cast on 10 stitches
2. Knit every row until the cuff is long enough to wrap around your wrist snugly
3. Cast off your stitches
4. Use a darning needle to seam the ends together.
5. Add any embellishments you want!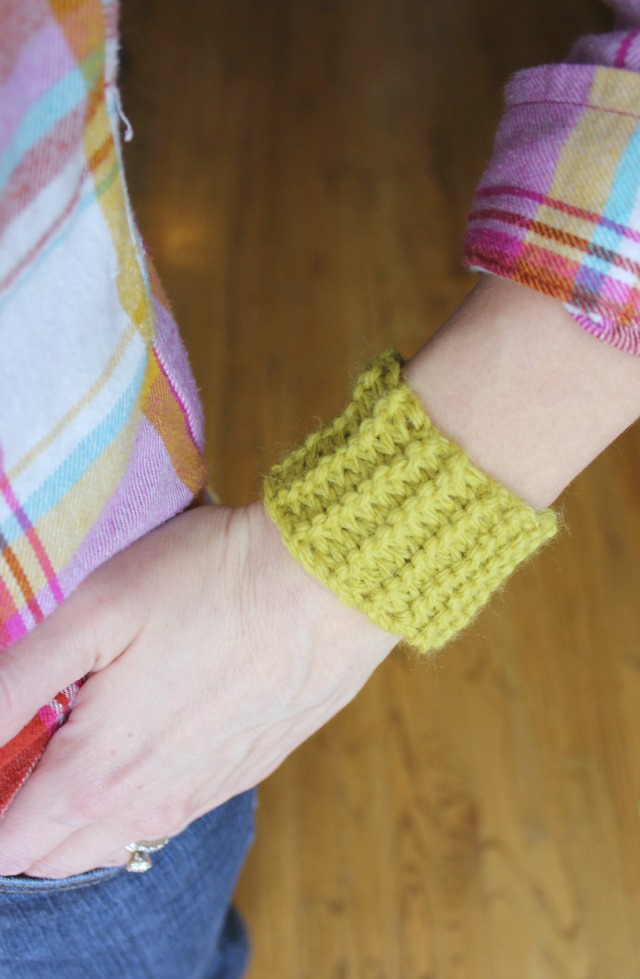 I loved my first one so much, I whipped up a second one. Despite not being a natural, I'm so glad I didn't give up – I've definitely caught the knitting bug. Next, I'm off to tackle purple and pink knitted headbands for Stella and Hazel!
How about you? Do you knit? If you're a newbie like me, head over to the Design Improvised Facebook page to win a free Kollabora knitting kit! (Contest ends 3/31/13)