New Years Party Ideas
December 21, 2012 | FILED UNDER: Uncategorized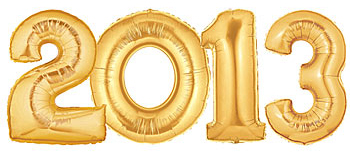 Are you thinking about throwing a New Years Eve Party to ring in 2013? If so, setting the atmosphere for the party is just as important as having a well-stocked bar!
Here are 5 quick and inexpensive decor tips to make this New Years a night to remember for your guests: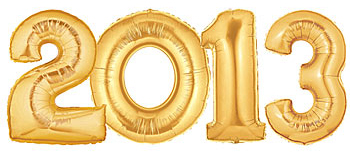 1. Go Metallic
Anything metallic (gold, silver, bronze) is hot this season. Roundup all the metallic glass balls used to decorate your tree (or snag some on the cheap at after-Christmas sales) and use them as party decor by sprinkling them down the middle of the bar or appetizer table, or by filling big glass jars with them. Repurposing Christmas ornaments is a great place to start for inexpensive New Years decor – just leave out anything red and green!
Hit up your local thrift store and find a variety of interesting knick knacks under $1 such as pretty bowls, vases, candlesticks or other interesting accents and spray paint them all a metallic color (or mix of metallics) to make an eye catching display interspersed with some candles.
2. Stock Up at the Party Store
The traditional New Years noise makers, silly glasses, hats, beads, etc. are always fun to incorporate into your party. They can also serve as inexpensive decor by putting them on display in big glass jars or scattering them around your tables. Plus, people can have fun helping themselves to them throughout the night.
Let guests get creative decorating their own party hat. DIY party hats are quite trendy right now, and what better way to wear one than on New Years? Just buy some plain plastic hats at the party / dollar store and then set up a table with a range of fun embellishments like feathers, streamers, pom-poms, office supply stickers, washi tape, etc.
3. Make a Statement
Transform one of your walls into the focal point of the party by purchasing some large kraft paper numbers at a craft store or cutting "2013" out of cardboard and have some fun decorating them. You could glue silver tinsel garland to them, spray paint them metallic, or use some of the fun supplies you bought for the DIY hats. The options are endless – just make them BIG!
If you have a really big wall, you could even spell out 2013 using balloons. Just tape individual balloons to the wall using painters tape in the shape of each number.
4. Dress-up Disposable Glassware
No one wants to have a sink full of wine glasses to wash after a party, nor do you want to serve wine out of the standard red plastic cups! Instead buy some disposable plastic champagne flutes and wine glasses.
You can dress them up further with a band of washi tape. Not only is a pretty addition, the tape can serve as a name tag if you set out markers next to the glasses.
5. Capture the Moment
What better way to capture the evening's fun (and let your guests show off their personalized party hats!) than with an easy photo booth setup in your house? Create a quick and inexpensive backdrop by cutting long strips of party streamers, stapling the top of each to a length of twine, and then hanging the twine across the wall. Fill a basket with fun props.
It isn't really even necessary to provide a camera as most everyone will probably have one or their iPhone on them, but if you really wanted to go out, you could provide one of these instant polaroid cameras.
This article was originally published in the awesome Dec. 2012 online magazine, Snowed In – check it out!