My Top 5 Tips for New Bloggers
September 05, 2012 | FILED UNDER: Uncategorized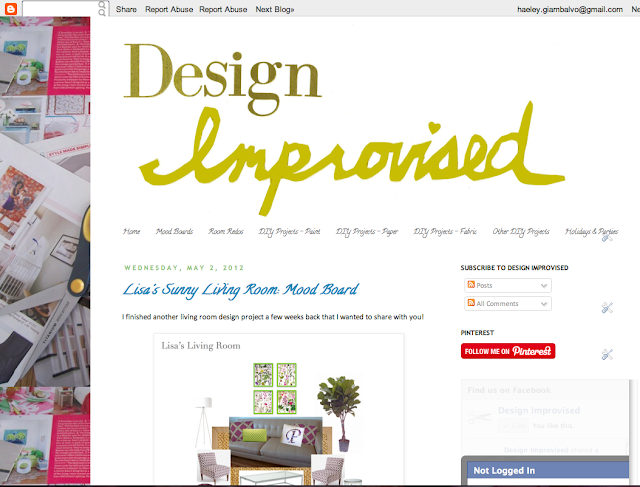 Coming out of Alt Summit NYC a couple weeks ago, my mind has been racing with ideas on how to continue to improve Design Improvised and make it more exciting for my readers. There are so many fun things I want to do – now I just need to find the time to do them. In the meantime, I thought this would be a great opportunity to pause and take a look at how much the blog has already changed since I started last year.
If you follow Design Improvised through a blog reader or an email subscription, it is worth hopping over to
the site
to check out it's latest look! It has definitely come a long way since this relatively sad state it was in just 6 months ago: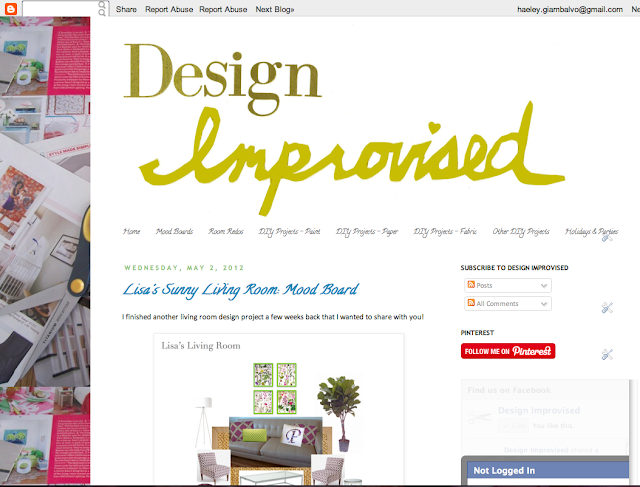 I want to share the tips I've picked up along the way in case you are a blogger in a similar position to when I started – loving to blog but knowing next to nothing about how to make your blog visually appealing and user friendly. Here are five easy changes I've made to my blog lately that have made a big difference:
5 Quick Ways to Improve Your Blog
1. Categorize your Posts with Pages
Blogs can often be hard to navigate because they are a long chronological list of posts, and your older posts are easily lost. I wanted someone coming to my blog for the first time to be able to easily see the different projects I've done without having to scroll through a bunch of posts. With Blogger, I made separate pages for the categories I tend to blog about the most:
Room Designs
DIY Nights
Projects and Crafts
Parties and Holidays
Flowers and Gardening
On each page, I have a single photo thumbnail for each project that the reader can click on and will take them to the full post with all the details.
How to on Blogger: On the left sidebar of your dashboard page, go to "Pages", then "New Page", then "Blank Page". From there you can name the page and then add text, photos, and links.
2. Add Social Media Vector Icons
What the heck is a social media vector icon, you ask? I had no clue either, but they are the nifty little Facebook, Twitter, Pinterest, RSS, etc. buttons that you can add to your blog so your readers can easily follow you through social media.
Social media vector icons come in all shapes and sizes, and there are a number of free sources for them – just google it!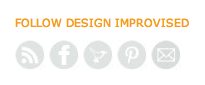 How to:
Adding these requires you to do a bit of HTML coding which can be tricky for the first time, but I found an excellent tutorial here that walked me through the process.

3. Add "You Might Also Like" Thumbnails After Each Post
I've always thought these were neat on the blogs I follow (and I usually would end up clicking through a couple to read some of the other posts). It turns out all it took were a couple clicks of the mouse to get them on my blog too! I think having them can definitely help grow your pageviews and keep people on your site for longer.

How to: The gadget is called LinkWithin. Go here to get it for your site.

4. Add More White Space
A great tip I learned is to look at your blog and take one thing out. Less is often more when it comes to good web design, and sites that are visually too busy can turn readers off quickly. For me, getting rid of the images of magazine clippings I had tiling down the left side of the page helped the look of my blog considerably.
How to: Play around with your template / layout to see how you might be able to simplify it.
5. Start Advertising!
Another great tip I learned is that it always helps to have your blog appear bigger than it is. In addition to some of the other changes I've made, one way to do this is through advertising – the idea being "if this blog advertises, they must be reaching a lot of readers". I started with Google Adsense, which is relatively easy to do. I have since joined an affiliate advertising program as well. I can't say either of them are big moneymakers yet, but I do think they help give my blog more credibility.
How to: If you use Blogger, you can add the Google Adsense widget just by going to "Layout", then "Add a Gadget", then choose "Adsense". Check out Shareasale to apply for affiliate programs.
More exciting changes are coming to Design Improvised – stay tuned for further changes to my blog's logo and design! In the meantime, I'd love to hear from other bloggers – what quick changes or additions have made to your blog that have made a big difference?