Duct Tape Embellished Flip Flops
September 03, 2012 | FILED UNDER: Uncategorized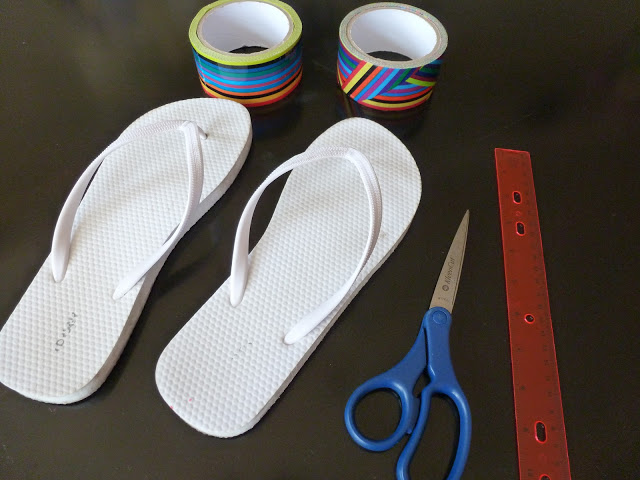 For this project, I strayed a bit from my typical
home décor projects
to join in on a fun craft challenge posed by three fellow bloggers
Shrimp Salad Circus
,
Her New Leaf
, and
WhollyKao
. The challenge – revamp an old pair of flip flops however you want. Introducing my fabulous duct tape embellished flip flops!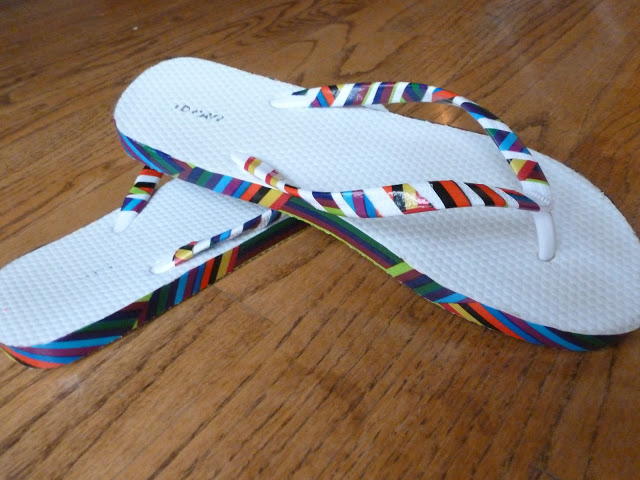 It may be Labor Day, but hopefully there is still a little flip flop weather left in Chicago. With plenty of old flip flops cluttering the bottom of my closet, I happily accepted the
myDIY Craft Challenge
.
As I started to think about what I could do with them, I also remembered I had several rolls of unused colorful duct tape lying around. You may remember me buying
this Kid Made Modern tape
on a whim. Well, I now have a use for it! Using them to decorate my flip flops was a fun little project I did while watching an episode of
Craft Wars
– here's how I did it.
Supplies for Duct Tape Embellished Flip Flops
Flip flops

(the cheaper and the dirtier, the better!)

Brightly colored or printed duct tape

Ruler

Sharp scissors

Nail polish remover or Goo Gone

Gorilla Glue (or similar)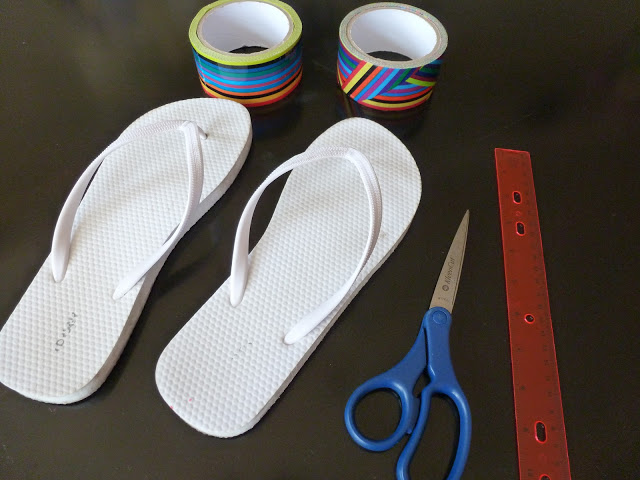 How to Decorate Flip Flops
Given that I completely winged it on this one, you can too! So feel free to follow my steps or adopt your own:
1. I measured the thickness of the flip flop and it turned out to be
1/2 inch
,
which happened to be exactly 3 lines of my tape. Having the lines as a guide helped simplify the cutting and measuring process considerably. (Note how dirty the edges of these flip flops are – I can't stand how quickly light colored flip flops turn drab like this, so covering them up with some bright tape might be just the perfect solution!)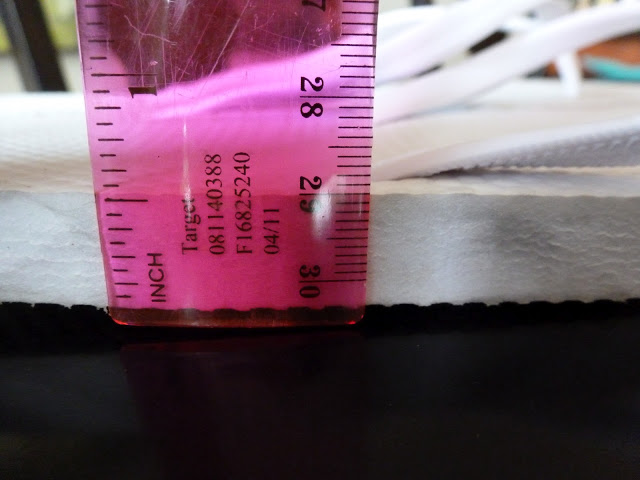 2. I started cutting out the tape while simultaneously wrapping it around the flip flop, starting in the front.
Once I made it all around the flip flop, I tried to line up the tape to make it as seamless as possible.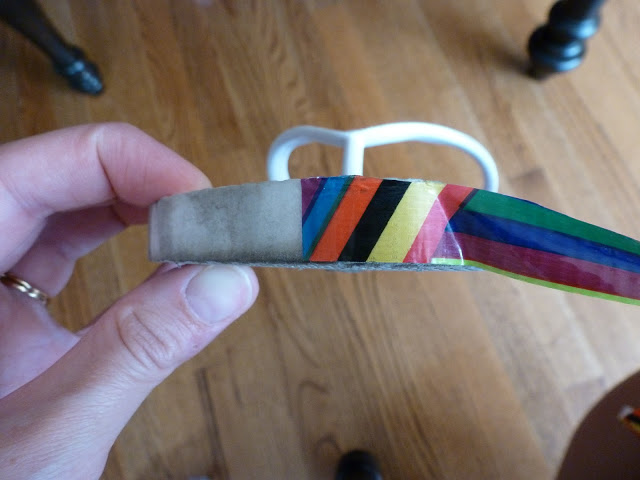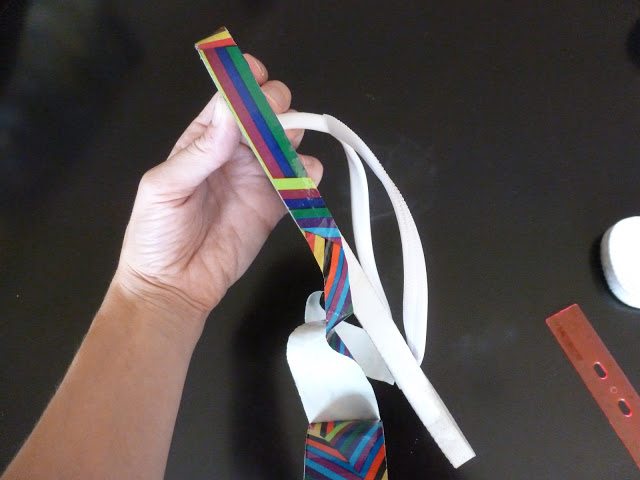 3. For the straps, I played around with a couple techniques but ended up wrapping around a narrower piece of tape (2 lines thick)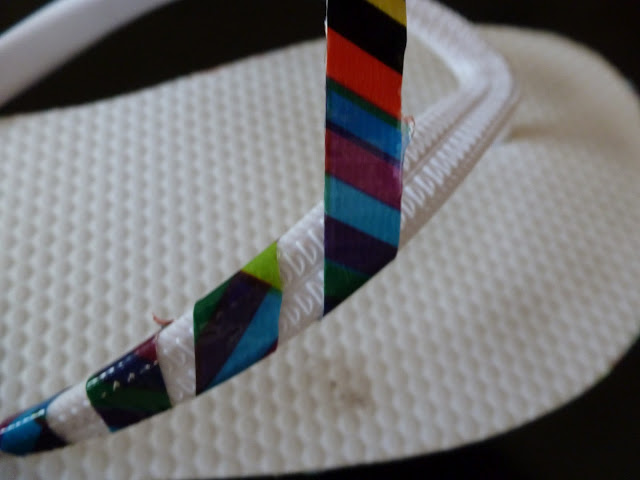 Some Tips and Tricks I Learned
Duct tape can be tricky to work with and likes to build up residue on your scissors quickly, making it difficult to cut. I used some nail polish remover and a cotton ball to get it off so I could continue cutting. Something like Goo Gone would also work.

My duct tape adhered pretty well to the rubber expect at the arches, where the flip flop curves in a bit. The tape started to separate, but a few dabs of Gorilla Glue did the trick to keep it in place.
Update as of 9/8/2012: The thinner tape I wrapped around the straps did start to shift a bit leaving a sticky reside behind. Next time I would just put tape around the base, as that is holding up well. Or, try a different solution for keeping the tape in place (one reader suggested trying Mod Podge in the comments below!)
Total Time: 1 Hour
Total Cost: A Roll of Duct Tape (although you'll only use a tiny amount)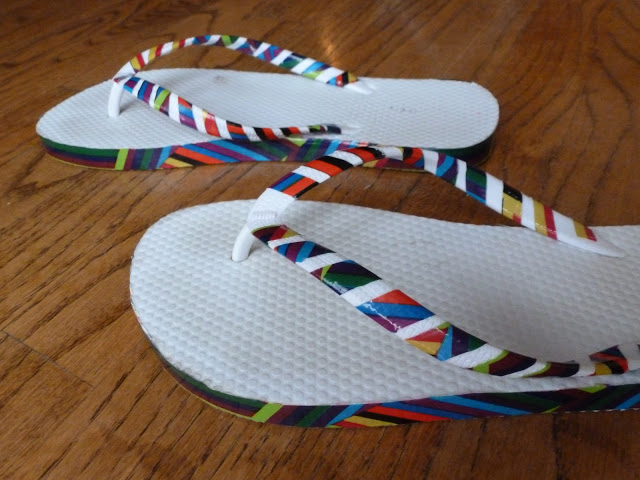 I've already worn these a couple of times and love that I was able to give a pair of dirty old flip flops a new life. I'm not sure the duct tape will be the most durable over time, but even if I can wear them a few more times this season I think it will be worth it.
What do you think? Would you do this to your flip flops? Check out some other ways crafters transformed their flip flops
here
: