A Project for Budding iPhone Photographers
June 11, 2012 | FILED UNDER: Uncategorized
If you have a preschooler, there is a good chance they can operate an iPhone better than you. In addition to playing games, listening to music, browsing my Etsy app (!), and looking at photos, my 2 year old is also known to snap a picture from my phone now and then.  It usually turns out to be a shot of her foot or an an up-close view of her forehead, but awhile back we decided to put her budding photography skills to good use by setting up her stuffed animal friends for a portrait shoot.  Her hands were a little wobbly, but she quickly got the hang of it and ended up with a few good shots among many blurry ones!
I thought it would be fun to frame them in her room.  I found these kits to decorate your own picture frames at Target (on clearance!) and let her do her thing with some tempera paint and glitter glue.
Then I printed out a couple of her best iPhone shots, along with a couple photos of herself to put in the frames.  The paint dried nicely – I especially like how the glitter glue turned out!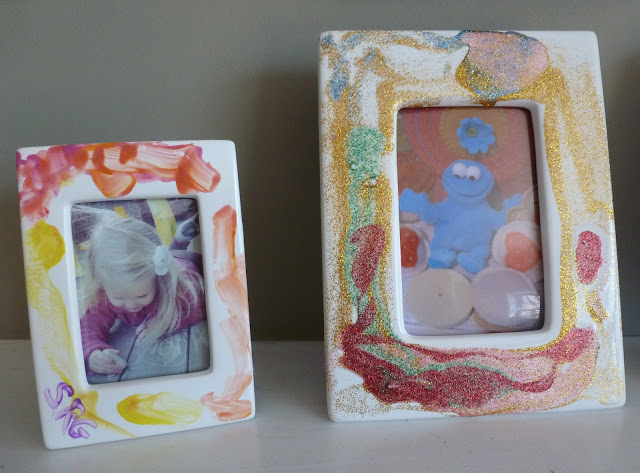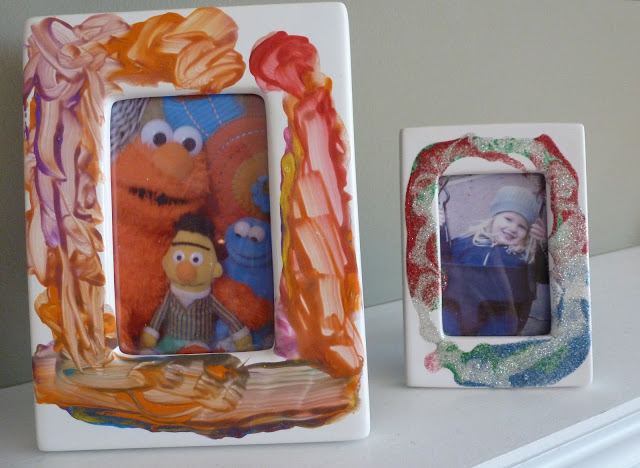 Now her completed photography / art project is proudly on display in her room!