Round Up: Make Your Outdoor Space Pop
May 25, 2012 | FILED UNDER: Uncategorized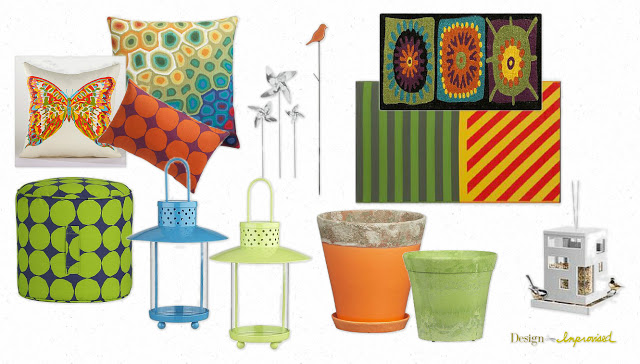 Welcome to my first installment of the 'round up' post. Every couple weeks, I plan on rounding up a few of the favorite things I've come across on the web, with a particular theme in mind. This week, we opened our roof deck for business with a few nights of grilling and an afternoon spent potting flowers, so it has me dreaming of all things outdoors. Hence, my selection of my favorite things for an outdoor patio or deck!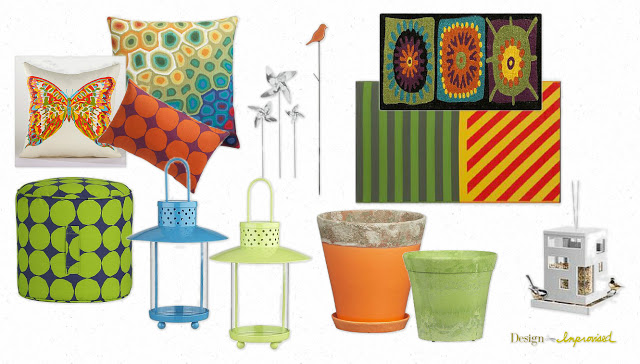 Sprinkle a handful of these pieces into your outdoor space for instant impact (from top left, clockwise):
1. Bright Pillows – one of the quickest and least expensive ways to transform a lounge chair or bistro chair
2. An Unexpected Accessory – pop a couple of these stainless steel pinwheels or bird stakes in your garden or large pots for a fun accent
3. Indoor / Outdoor Rugs – Adding a colorful rug to a patio or deck can really make it feel like another room in your house. If you don't want to splurge on a large rug, even a bright door mat can have big impact
4. Birdhouse – what bird wouldn't want to eat out of a chic birdhouse like this? Of course, on our roof deck, all it might attract is pigeons
5. Colorful Pots – mix a couple of them in with your usual terra cotta selection
6. Lanterns – nothing like a candlelight dinner al fresco while the sun is setting. Lanterns are the way to go, any other candle will never stay lit for long
7. Ottoman – if you don't have lounge chairs (or even if you do), add one of these for a place to rest your feet or an extra seat for guests
As always, I aim to find relatively inexpensive pieces. If you want to get the details on any of the pieces in this round up, follow
this link
!