Lauren's Bright and Cheery Nursery: Mood Board
May 13, 2012 | FILED UNDER: Uncategorized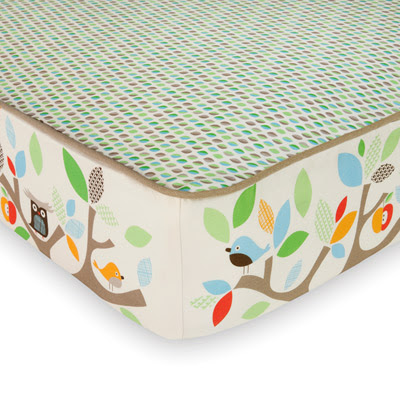 I had a blast with my latest nursery mood board design for a good friend: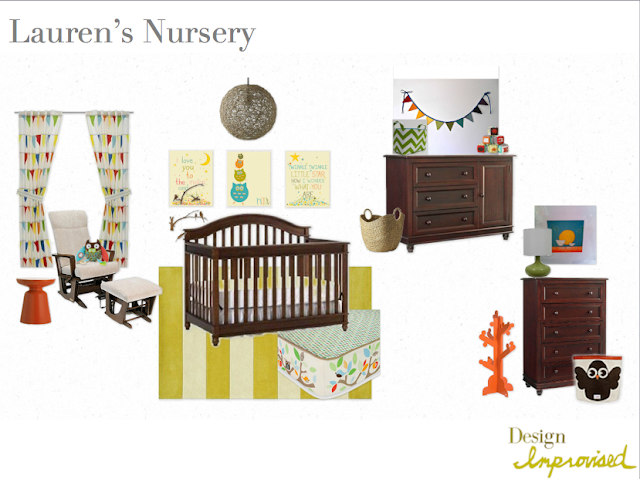 Client / Wish List:
My friend Lauren and her husband live in Philadelphia and are having their first baby in July. The best part, the baby's gender is going to be a surprise! That made for an extra fun challenge from a design perspective. Here is Lauren's wish list for the room:
A nursery that would work equally well for a boy or a girl
Design the room around the sweet Skip Hop bedding, furniture, and piece of art Lauren had already chosen for the room
Incorporate some the owl / woodland elements from the bedding without making it a completely owl themed room (I added this one as my own personal 'wish' for the room!)
Color Palette:
The color palette comes straight from Lauren's Skip Hop bedding. The colors are so bright and cheery, I wanted to incorporate a number of them throughout the room with a focus on pops of bright orange and green.
The walls in the nursery are currently white. I recommended to Lauren to either keep them white and bring in color through the accessories and wall art, or to choose her favorite color from the bedding and either paint just the focal wall behind the crib, or if she wants to paint the whole room to go a couple shades lighter than the bedding color (the top 1 or 2 colors on a paint swatch).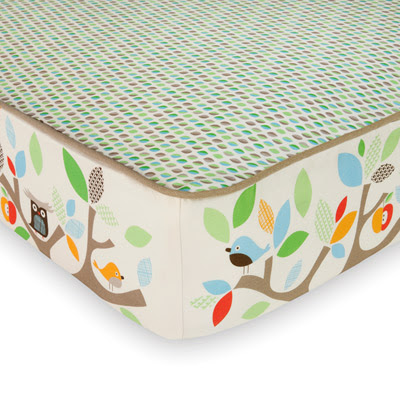 The Mood Board:
My favorite parts of the room are the sweet (and inexpensive)
Etsy wall art
behind the crib, the colorful
bunting curtains
from Ikea, and the
bright orange clothes tree
from Giggle.com. As always, I strived for relatively inexpensive, yet chic pieces: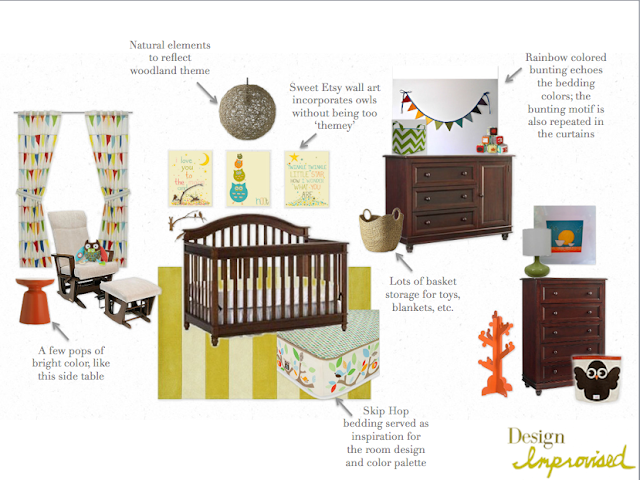 This mood board was a ton of fun to make… not only because it was for a good friend, but also because I discovered an amazing online tool called
Olioboard
to make it. Previously I had been using PowerPoint (designers skilled in Adobe Illustrator, Photoshop, etc. would probably scoff at me, but PowerPoint is all I know!). It got the job done, but Olioboard is so much more user (and client) friendly. In fact, you can click on any piece in the mood board and "shop it' by going straight to the retailer website.
From here on out it is all Olioboard for me. Mood boards on Olioboard are publicly viewable so check out Lauren's Nursery design (and 'like it'!)
here
.