Sprinkle Easter Eggs
April 06, 2012 | FILED UNDER: Uncategorized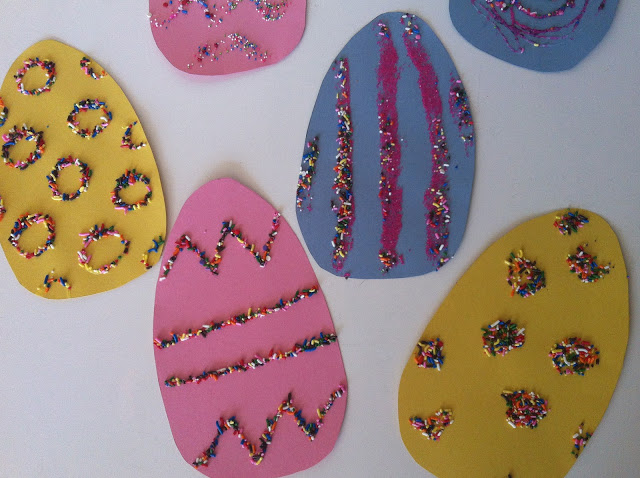 As is often the case, Stella was asking to "get out her sprinkles and make cookies" this morning when she spotted them in the kitchen cupboard.  I wasn't up for the (very messy) task of making cookies with a two-year old, but figured if she really wanted to play with her sprinkles she could.  So we made Easter eggs: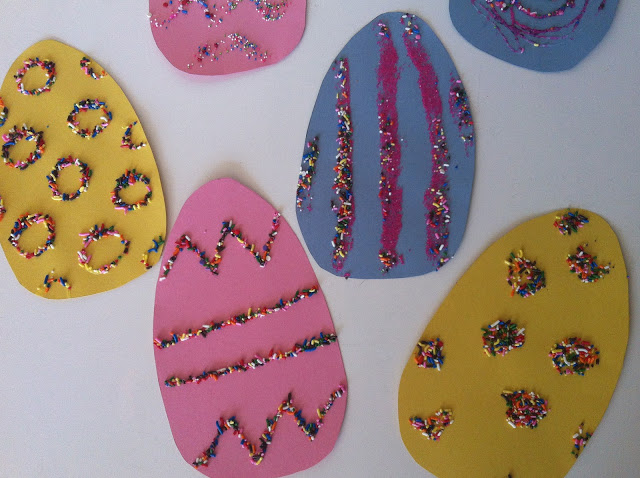 I cut out some rough Easter egg shapes from construction paper, made some designs on the egg with glue (both regular Elmer's glue and a glue stick work well), and let Stella go to town with the sprinkles:
She dumped them on and then shook off the excess to reveal the design.  Tip: do this on a cookie sheet to contain the mess… and be forewarned that eating the sprinkles is even more fun than decorating the eggs.  Just try to prevent them from eating sprinkles after they've touched glue!
Since there were a ton of extra sprinkles left on the pan I just poured them back into the container for future art projects:
The colors turned out quite pretty.  Glitter would work just as well, but wouldn't taste as good 😉