Blue + Yellow = Awesome!
April 16, 2012 | FILED UNDER: Uncategorized
Mixing primary colors in design can be tricky… take for instance the
red and green bedroom project
I tackled awhile back.  However, if you pair the right hues together, mixing primary colors can turn out really cool.  That is why I was struck by this image of a blue and yellow party I came across on Pinterest: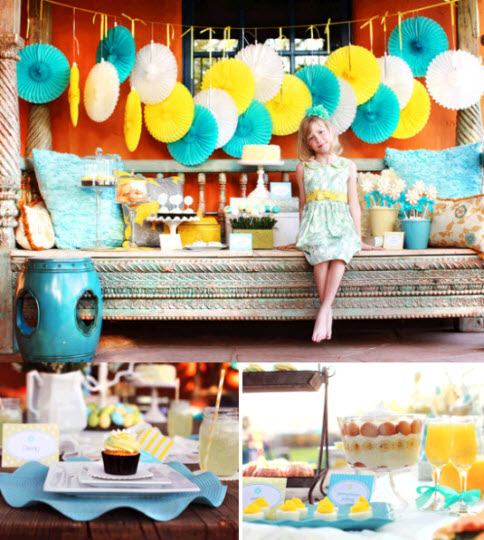 blog.hgtv.com
This version of the blue and yellow color palette seemed so fresh and unexpected. When you keep the blue a more turquoise shade and pair it with sunny yellow you have a winning combination.  I loved the color combo so much I decided to try it out on our Easter table:
The blue came from the place mats I found at Pier 1, blue polka dot plates, die cut Easter egg, and turquoise vase I had.  A fresh bouquet of daffodils and little fluffy chicks (fake, not real!) that I also found a Pier 1 provided the pops of yellow.
…and these coffee filter flowers I made by soaking coffee filters in water and food coloring, making some cuts to form petals and then layering the filters on top of each other.  I used a yellow marker to add a little more detail to the center of the flower: