Emma's Urban Living Room: Mood Board
March 13, 2012 | FILED UNDER: Uncategorized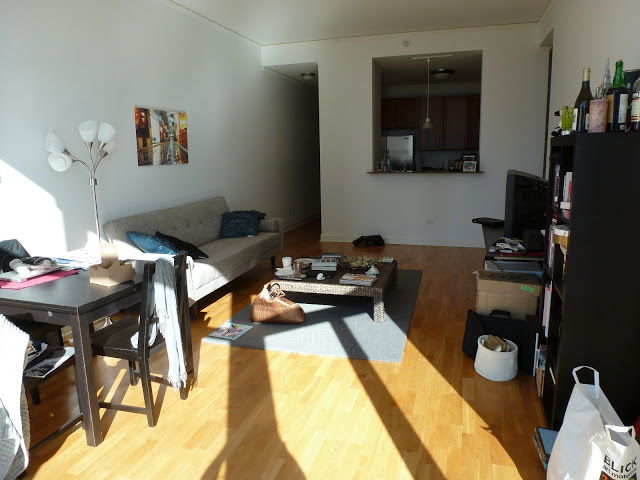 I've just completed another mood board design project and have officially caught the bug. I am loving all aspects of it… working with clients, helping them rethink their space, searching for the right pieces, suggesting some DIY projects for them, and pulling it all together into their (hopefully) new and improved room. So if you know of someone who needs a little help, send them my way! In the meantime, here is the scoop on my latest project:
Client:
Emma, a 30-something professional who recently moved into a downtown Chicago condo with a sweet view of the lake. She has a diverse background (grew up in Australia, has lived in NYC and Boston), an exciting job (in the area of anti-nuclear proliferation, of all things), and is anxious to spruce up her new place. Full disclosure, she is also a good friend 😉
Wish List:
Create an inviting space that allows her to entertain friends and takes advantage of the views
Build a cohesive look around some of her new furnishings (like her awesome grey Urban Outfitters couch), and part with some from her PhD student past (like the big desk that currently serves as a TV stand)
Provide more concealed storage for her books, papers, etc.
Showcase some of her favorite things (set of urban photographs from Aussie photographer, mini replicas of NYC skyscrapers, etc.)
The Room: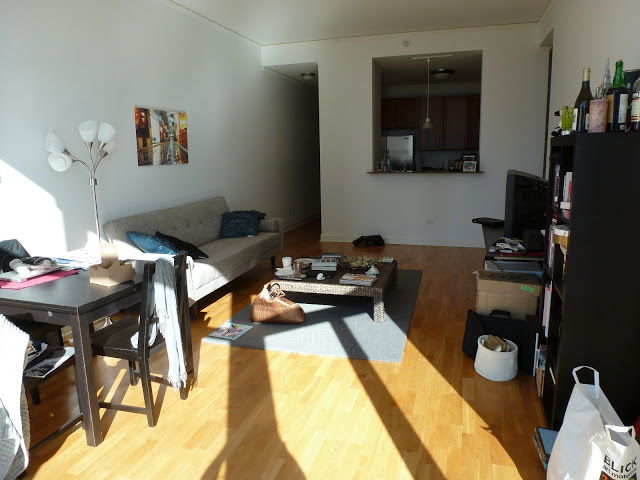 Emma has a nice big room to work with, but the current layout doesn't take full advantage of the views and the dining table is spaced far from the kitchen. It also lacks additional seating for guests beyond the couch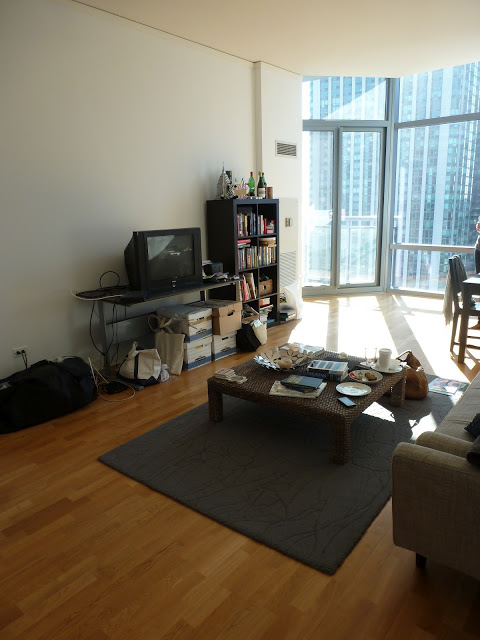 The big white walls could use some large pieces of art to serve as a focal point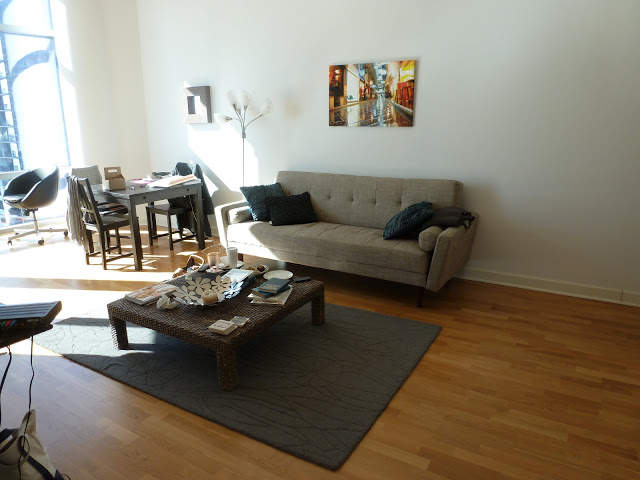 Of course the one picture I forgot to take was of the great view from the windows!
New Layout:
The first thing I did was help Emma find a new layout for the room. Never having done a floor plan before, I found a helpful online (free!) tool from Better Homes and Gardens. Check it out
here
. It's a bit clunky, but it allows you to enter dimensions for the room and the furnishings and is good enough to provide a rough mock-up.
The main change was reorienting the couch to look out the windows and creating a more defined living and dining space while adding some new furnishings: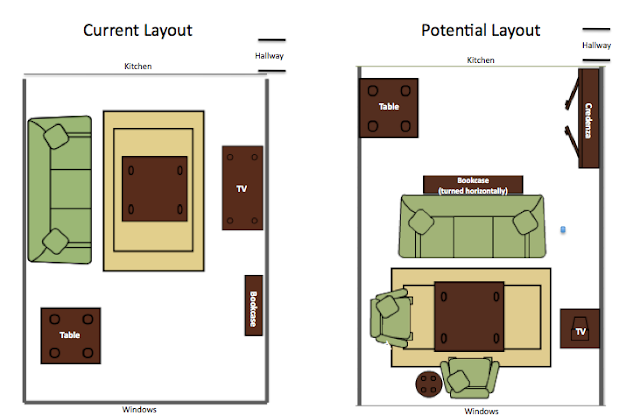 Color Palette:
I had brought a few ideas over to Emma's house, since getting a general color palette down is key before starting on a mood board. Emma already had a great grey/blue color scheme going and we decided to take it a little further based on inspiration from this palette with primary colors of deep navy and fog grey, and accent colors of ruby red, turquoise, and moss green.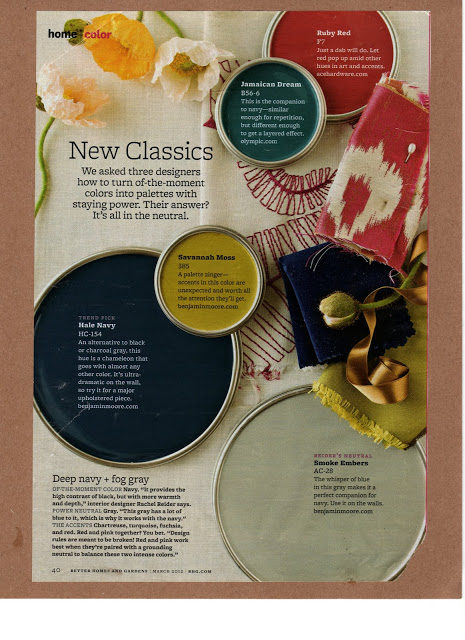 Source: Better Homes and Gardens, March 2012
Mood Board:
I ended up using Pinterest to organize the furnishings I came across online, prior to pulling them together in a mood board. It was actually really handy for that. Check out my Pinterest board on Emma's room here.
And here's the final product! I did a bit of a mock-up of the living and dining room space with some of the favorite things I came across, and sprinkled in some commentary. For the mood board pieces I strived to find good values (but still chic pieces!) from Target, World Market, Overstock, etc., one-of-a kind art and accessories from Etsy, and unique furniture from Craigslist: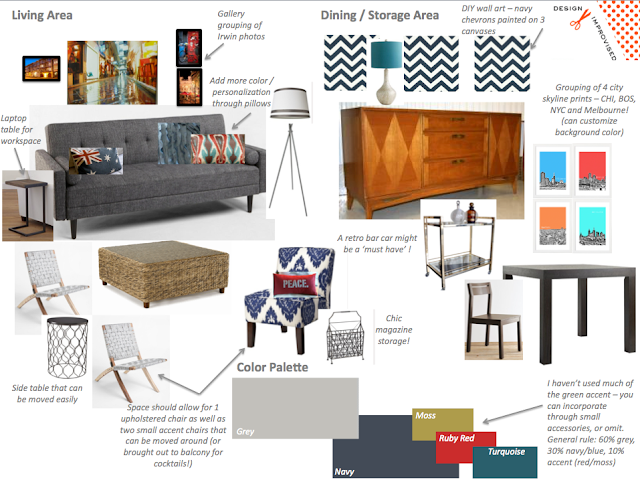 Because I had already squished a lot of images on one page for the mood board, but there were still so many things I wanted to include for Emma, I made a second page of additional options that would all work well together and would allow her to pick and choose. She has already purchased the two retro white chairs below, which I love!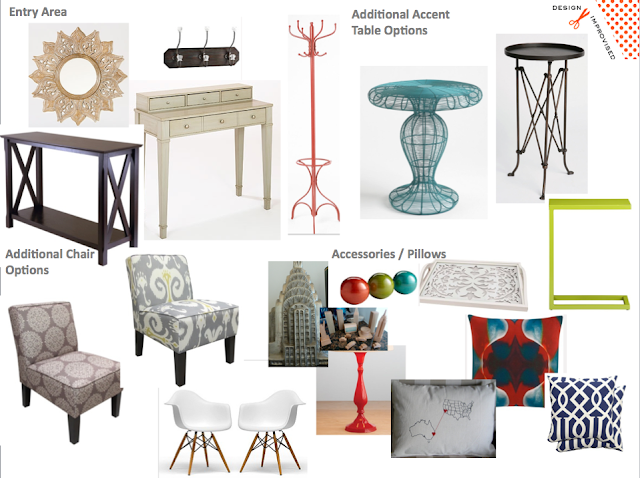 Phew, that was a long post… but the whole process was such a blast! Emma and I are planning a little furniture arranging, art hanging, wine drinking night soon so stay tuned for some "after" photos of Emma's living room.