Hallway Photo Wall
February 22, 2012 | FILED UNDER: Uncategorized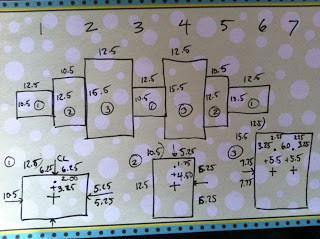 I can check one "to do" off
my list
thanks to my husband – hanging up a bunch of our daughters' photos. It feels good to have them up instead of in an envelope in the closet. It makes me smile every time I see them!
I started by picking up a bunch of the same white frames from Joann's Fabrics. Any time I need frames I tend to get them from there when they are 50% off (which happens about every couple weeks). They averaged about $8 a piece with the discount. Since I had a mix of color and black and white photos, and a mix of sizes (8x10s and 10x13s), I thought putting them in the same white frame would help make them all work together. I initially laid them out in a gallery-style arrangement to replace my "
map wall
" in the hallway: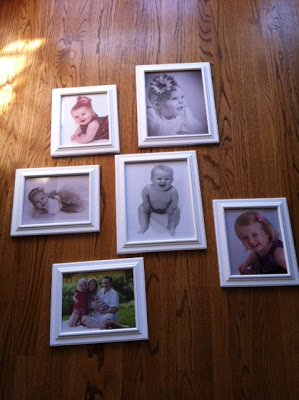 However, then I happened to put them in a row and ended up liking this arrangement a lot better:
I had put them side by side without a space and ended up kind of liking how that looked. It's a bit untraditional, but I've seen it done before like this: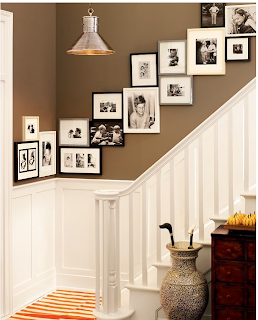 Plus, leaving no space between just happened to fit perfectly on the other wall in our hallway: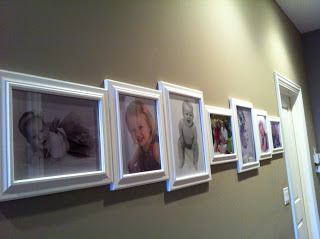 The cutie pies on display! What do you think about how the arrangement turned out?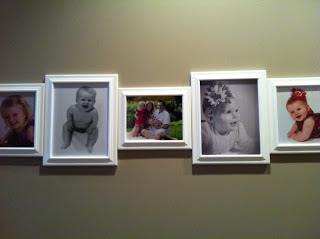 Getting the pictures up on the wall was no small feat. In fact, it took a Masters in Engineering. Check out this diagram Ross had made to make sure he spaced the nails correctly. Man, I love him!