To Pin or Not to Pin?
January 30, 2012 | FILED UNDER: Uncategorized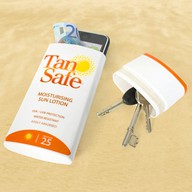 In case you haven't heard, Pinterest is taking over the world. At least the world of design-lovers, bakers, crafters, DIYers, and bloggers. If you are one of the few people who have never heard of Pinterest (heck, even my 60+ year old mother-in-law is on it…no offense Nancy, you rock!), here's a quick overview:
Pinterest is a website that lets you organize all the ideas and inspiration you come across on the web by "pinning" a picture of it to one of your inspiration "boards". You can create a board for anything you want… you can have a board on "Dream Kitchens", one on "Recipes to Try", "Valentines Day Ideas"… you name it.
In addition to pinning stuff you find on your own, you can see the stuff everyone else on Pinterest is pinning (the home page is an endless list of pins), and you can just scroll down and "re-pin" anything that tickles your fancy to one of your boards.
Here's what the home page looks like:
And here's an overview of my boards: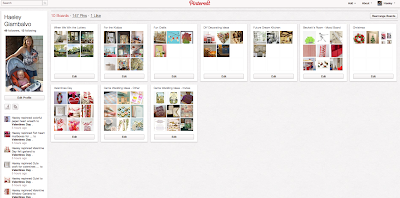 For folks like me who can't get enough of reading through design blogs and flipping through magazines for inspiration, this is the greatest invention of all time. In many ways it makes my binder full of torn out magazine pages obsolete!
I've been on Pinterest for several months now and am somewhat surprised that I haven't been completely sucked in by it… in fact, I've really only dabbled in it compared to some of my friends who's pins I follow. I think I am suffering a bit from inspiration overload. I find that when I'm just browsing Pinterest…scrolling down past one perfectly styled image after another, that my eyes start to glaze over after awhile and I feel overwhelmed. It is almost like Pinterest makes it
too
easy to save inspiration. Pretty soon I'd have 50 boards covering an endless list of crafts to make, new recipes to cook, DIY projects to do…but I'm so busy pinning that I'd have no time to actually do them! Has any other Pinterest user had this same feeling or am I just crazy?!
Here's a couple recent pins that caught my eye to give you an idea of what I mean…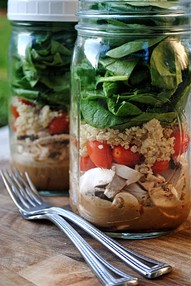 The perfect jarred salad to take on the go… but would you ever really do this or just throw it in a Glad Lock?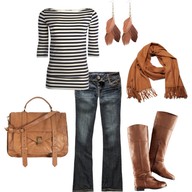 A beautifully styled outfit… but will it ever look as good if I don't have these exact pieces?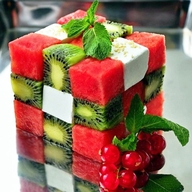 For the super ambitious… a rubix cube fruit salad! Enough said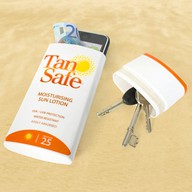 A clever use of an old sunscreen bottle, but would I ever take the time to clean one out?



The thing I've found Pinterest to be fabulous for is pinning images for a particular project I'm working on. Like I had a pin board to save images I came across for
Beckett's room
, and I have started a couple boards of
invitations
and
decor
for my friend Carrie's wedding since she's asked me to help her with some of the planning.
To be sure, I'll continue to go on Pinterest daily, but I must admit there is nothing more therapeutic for me than paging through a magazine with a cup of coffee and tearing out ideas as I go along 😉
I'd love to hear what everyone else thinks of Pinterest… what do you love about it? Hate about it? How have you used it? What are some of the coolest ideas you've come across? In the meantime, stay tuned for my next post on some cool Valentines Day decorating ideas I've come across on Pinterest