Beckett's Eclectic Red and Green Room: Mood Board
January 20, 2012 | FILED UNDER: Uncategorized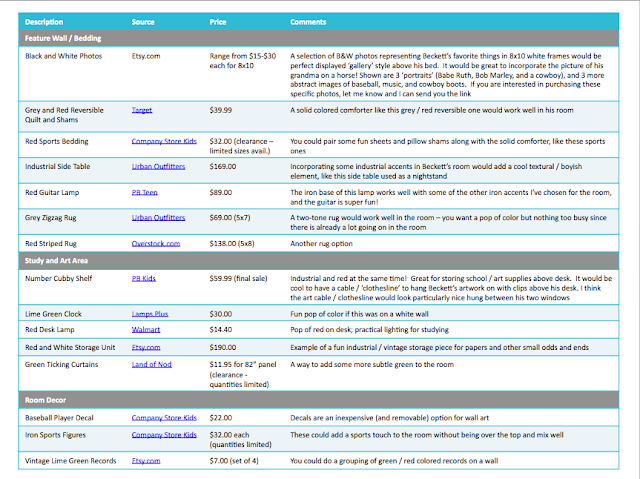 As I mentioned in my
previous post
, I did my first official design project a few months back for a 7 year old boy named Beckett. Never having done this before, I made up the process and 'outputs' as I went along. Here's what I ended up coming up with:
1) Inspiration Images
To get Beckett excited about his new room and prove his hypothesis that the colors red and green do show up a lot in his favorite interests (sports, reggae music, and cowboys!), I put together a smattering of inspiration images to get the project started: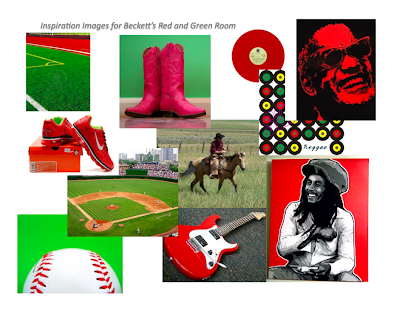 2) Color Palette
One of the most important (and toughest) parts before starting on the mood board was coming up with a red and green color palette that would work for the room. I'm sure if I had formal interior design training I would have known the color 'rules', but instead I searched online for images of rooms that I thought pulled off the color combo well.
Turns out, red and green can look pretty cool together as long as you vary the intensity and amount of the two colors. I really liked a muted army green paired with lacquer red accents. Like these example rooms, the green is often used on the wall with red brought in through furniture and accessories, and there is still a good dose of white in each room to prevent the colors from being overwhelming.
So I did a lot of looking at colors online and recommended a general color palette: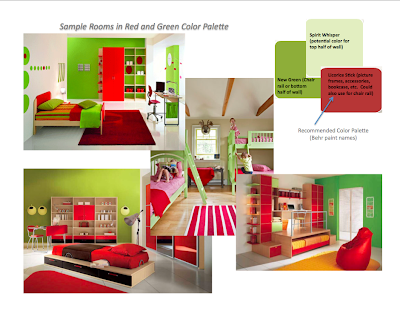 3) Mood Board
This was the new room on a piece of paper. On the left is the main wall behind the bed that shows a potential use of the paint colors. Beckett's room had a chair rail running around the middle of the wall that I thought would look cool painted bright red, with the feature wall painted green and the rest of the walls white. To bring in all his varied interests in a cohesive way, the main wall would have a grouping of black and white photos of Beckett's favorite things: baseball/Babe Ruth, music/Bob Marley, and cowboys.
There would be a study / art area that incorporated his existing desk from his grandmother, and for the other furniture and accessory pieces I suggested a mix of woods and materials with an industrial feel. Most of the artwork I found on Etsy: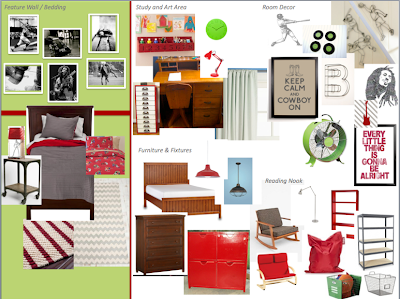 4) Source List
Every piece included in the mood board I detailed out in a source list so Michele could just click on the retailer link and purchase it right then and there if she wanted to! I also added some thoughts on how I saw each piece incorporated into the room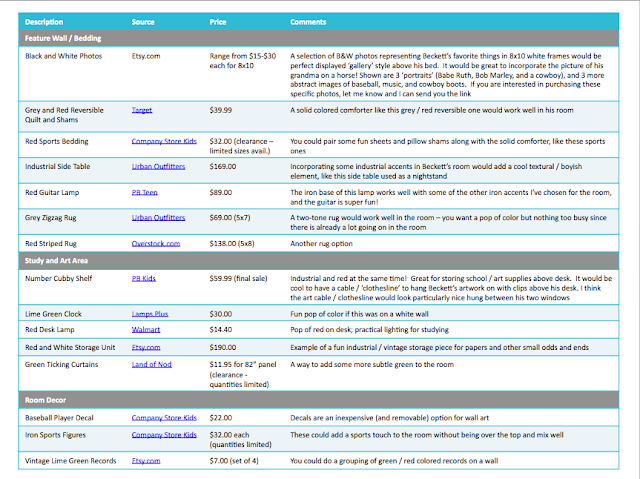 And that was it! This room inspiration is now in the hands of Michele and Beckett, but I hope they keep me posted on how it comes out.
I had so much fun on this first design project that I am anxious to do more (and have another Craigslist ad out there at this very moment…no takers yet!). I plan to keep my design fees low for now as I gain more experience so if you know anyone who could use help like this, please send them my way! I have a particular interest in kids rooms, but would be happy to take a shot at any room in the house.