A Few Festive Fix-Ups
December 16, 2011 | FILED UNDER: Holidays / Parties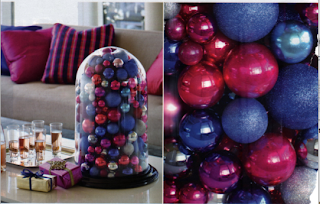 Each year I have fun trying to reuse my Christmas decorations and ornaments in a different way than I did the prior year. How fun it would be to just get new stuff every year for a whole different look / theme, but with four Rubbermaid tubs already filled to the brim with decorations, I think it's best to do with what I have, despite how ever-so-tempting those after-Christmas markdowns are on ornaments!
In addition to having a decked out tree, there are a lot of simple things you can do to make your house more festive and breathe new life into old decorations. I clipped several ideas from the December issues of my favorite magazines that I wanted to share.
If you're like me and have several boxes of glass bulbs that don't make it on the tree, why not fill a pretty clear bowl to show off on a dining or coffee table? If you're lucky enough to own a cool dome like this, you could use that too! I've used glass trifle dishes, vases, etc. before: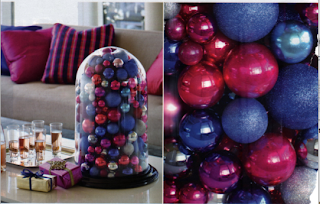 Martha Stewart Living, Dec. 2011
I have several small fake red berry wreaths that I use every year, however I've never thought to hang them from the banister with a ribbon like this: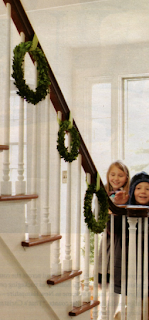 Better Homes and Gardens, Dec. 2011
Or if you have a bigger wreath, hang it from an interior window instead of the front door for a change: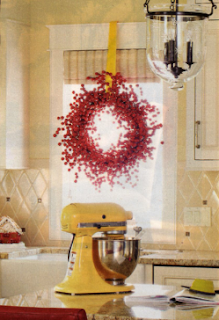 Better Homes and Gardens, Dec. 2011
If you have your dishes / china displayed in a hutch like this, mix in a few red or green pieces for the holidays and hang an ornament from the door, like here. You could hang an ornament or a bunch of bulbs from a closet door too for an unexpected touch!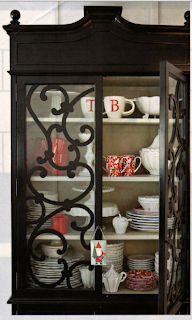 Better Homes and Gardens, Dec. 2011
Finally, you get a real tree for Christmas, or are lucky enough to have a yard with an evergreen, cut off a few branches and put them in a vase for an instant holiday arrangement: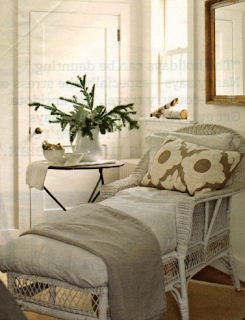 Better Homes and Gardens, Dec. 2011