The Thanksgiving Table
November 19, 2011 | FILED UNDER: Holidays / Parties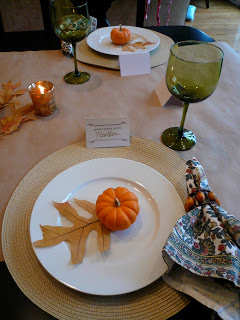 Thanksgiving has always been my favorite holiday and no one cooks a Thanksgiving feast better than my mom. While she claims she isn't a gourmet cook, her Thanksgiving lineup of Midwestern casseroles is legendary. 😉 However this year my mom is taking a break from cooking and we are staying home in Chicago and hosting the Thanksgiving meal for my dad, sister, and brother-in-law. I will be recreating all my mom's dishes – green bean casserole, corn casserole, potato casserole…maybe even the carrot casserole if I have time…
Because I know the food won't be quite as good as my mom makes, I will be planning a lavish tablescape to distract guests from that fact! There will be a centerpiece, there will be place cards, there will be an attempt to one-up the tablescape from last year 😉
Here are a few pics from Thanksgiving 2010. If you have a small pumpkin still laying around, this turkey centerpiece using corn husks is super easy (you can find the corn husks in the Hispanic food section of the grocery store).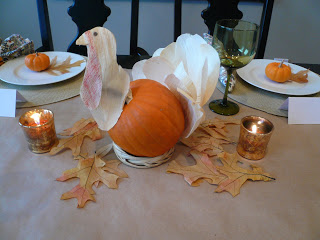 Click
here
for instructions (from Martha Stewart, of course)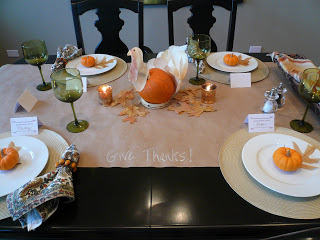 I ran a long piece of brown packing paper down the center of the table in lieu of a tablecloth and wrote a few sayings on it with silver pen.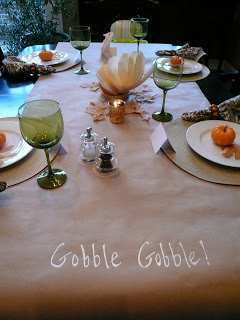 Pumpkins and dried leaves dressed up each plate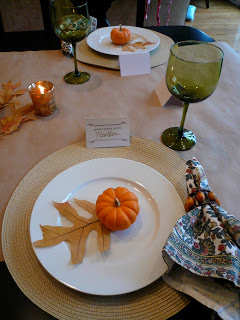 Wishing you a Happy Thanksgiving filled with family and good food. Send me pics of how you made your Thanksgiving table a little extra special!