Trick or Treat! Halloween Paper Crafts
October 10, 2011 | FILED UNDER: Holidays / Parties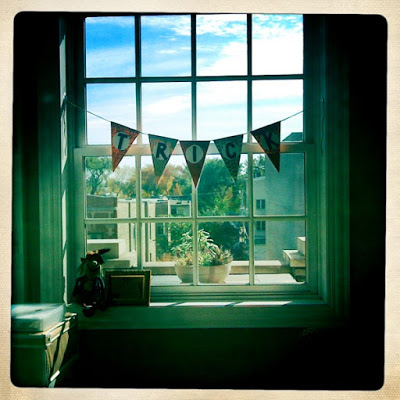 Stella's birthday a few weeks ago got me in the party decorating mood, and I've decided to keep it going… Stella is at the age where she is starting to 'get it' when it comes to holidays and her excitement about her bday decorations was all the excuse I needed to go nuts with Halloween decorations as well. Nothing is better than hearing Stella say "WHOA!" with big eyes when she discovered the new Halloween decorations that went up during her nap the other day.
I always like to dress up the house for fall with some fall foliage, pumpkins, and gourds and keep them up through Thanksgiving, but this is the first time I've really decorated for Halloween. I've found a lot of inspiration through my favorite magazines that I wanted to share.
The first was this cute banner I saw in Southern Living mag: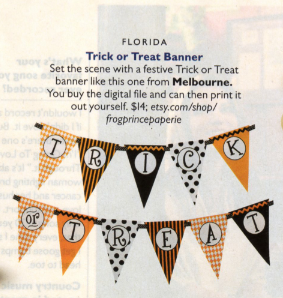 The girls and I took a spin through Joann's the other day and I had picked up this pad of Martha Stewart Halloween craft papers. They make some of the coolest paper sets. I have another one that I've used for random craft projects so I figured I would find good use for this too.
Then when I saw the banner idea… voila!….my first use for the paper! I just cut out similar sized triangles from different papers and folded the top over a long piece of twine and secured with tape. The letters and white circles I cut out freehand from some foam craft sheets I had left over (another awesome craft item to keep on hand for random uses!) and glued them to the paper:
Some of the Martha Stewart papers had cool pictures on them so I dug up some old frames I wasn't using and cut out the pictures to fit. My personal favorite is the row of spooky silhouettes: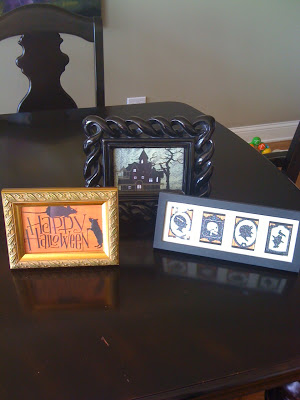 And just because I had plenty of paper left over…and once I start crafting I find it hard to stop… I made these invites for the little Halloween party Stella is having with her 2 buddies: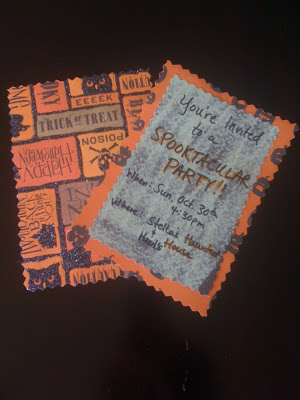 Here's another cute paper idea I found in Better Homes and Gardens. I have two lamps just like these and if I get around to cleaning all the gunk out of them from leaving them outside all summer, I'm going to do this: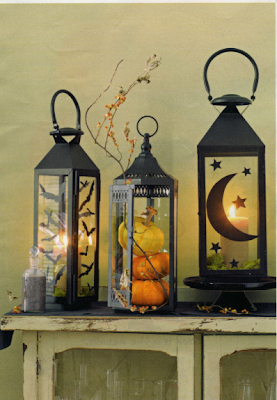 Here's a picture of one of the banners in the window… I'll take more (and clearer) pictures of the Halloween decorations once they are complete.